NEWS - Monday, October 31, 2016

More Forzathon Events Coming in November
Any fan of Forza Horizon 3 knows that they new #Forzathon feature has some great challenges and a few interesting rewards to go with it. Well, November is on it's way, and with it are 4 newly announced #Forzathon events.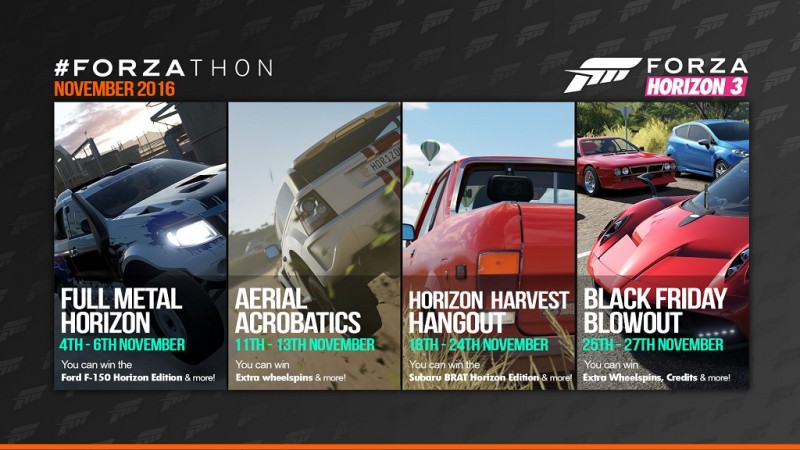 For those looking for the full details on what to expect, check out below:
FULL METAL HORIZON – 11/04/16 - 11/07/16 - "Get full contact with this Horizon Event"
FLAG BEARER – Play 4 Flag Rush matches to earn 12,000 XP
FIELD GOAL – Finish in the top 3 of 3 Flag Rush games in an ExtremeOffroad] to win 100,000 CR
HEAVY WEIGHT CHAMPION – Come in 1st place in 1 game of Flag Rush in an ExtremeOffroad to unlock the Roar Horn
NOT A SCRATCH – Survive 1 game of Infected in a ExtremeOffroad to win the Ford Shelby Raptor 13
AERIAL ACROBATICS - 11/11/16 – 11/14/16 - "Show off your aerial expertise"
DO A BARREL ROLL! – Perform 3 Barrel Roll skills to earn 20,000 XP
FLYING HIGH – Earn 3 Stars on 3 Danger Signs to receive 100,000 CR
EYES TURNED SKYWARD – Rack up 50,000 Ultimate Air skill points to win 3 wheelspins
DEADSTICK SPECIAL - 30% off AUDI #45 Flying Lizard, FORD Falcon XR8 and NISSAN Skyline GT-R V-Spec II
HORIZON HARVEST HANGOUT - 11/18/16 – 11/25/16 - "Gather together your Horizon friends and family"
A BOUNTIFUL HARVEST – Rack up 100,000 Landscaping Skill points while in a convoy to earn 10,000 XP
GATHER FOR THE FEAST - - Join and complete an online adventure in a [Holden Sandman] to earn 20,000 XP
GOBBLE, GOBBLE! – Join online freeroam to unlock Turkey horn
"FOOD FIGHT!" - Play in 20 Playground Games to win a BRAT GL Horizon Edition
BLACK FRIDAY BLOWOUT - 11/25/16 – 11/28/16 - "Don't miss out on these amazing deals!"
WHILE THEY LAST – Complete any event to receive 80,000 CR
SPEND MONEY, MAKE MONEY – Spend over 200,000 CR to win 3 wheelspins
INSTANT REBATE – Win 1 Auction to receive 50,000 CR
DOORBUSTERS! - 30% off Everything in the Autoshow!
We think a few of us here at XBA will be checking these challenges out, and we hope to see you there.


Source: Official Forza Webpage