NEWS - Thursday, August 24, 2017

Turtle Beach Releases an Affordable Wireless Xbox One Headset
Turtle Beach has anounced another "first" in the company's long history of making products for the gaming headset market with the availability of the all-new Stealth 600 wireless surround sound headset for the Xbox One family of devices (Xbox One, Xbox One S, and Xbox One X).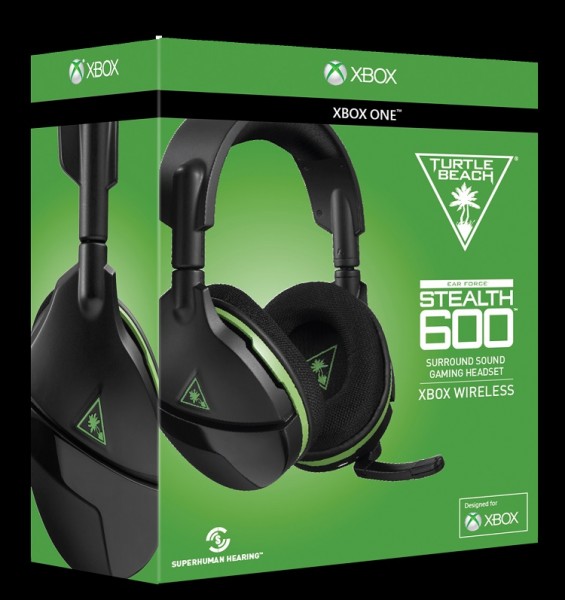 The Stealth 600 is the first-ever gaming headset available at retail that uses Microsoft's Xbox Wireless technology to connect directly to the console, just like their own wireless controller does. No wires, no base station, and no adapter needed. With the Stealth 600 paired directly to Xbox One, gamers simply need to turn on their headset and start playing. Beyond the ease of Xbox Wireless connectivity, the Stealth 600 is optimized to deliver immersive Windows Sonic surround sound and crystal clear chat through large, powerful 50mm speakers and a new flip-up version of Turtle Beach's renowned high-sensitivity mic. The Stealth 600 for Xbox One also features everything from Turtle Beach's unique ProSpecs™ Glasses Friendly and comfort-driven design to its exclusive Superhuman Hearing™ sound setting that gives players a competitive advantage to help them win more.
Limited quantities of the Stealth 600 are available in the U.S. starting today at www.turtlebeach.com for an MSRP of $99.95 (USD) while supplies last. The Stealth 600 for Xbox One, as well as the Stealth 700 for Xbox One, officially go on-sale at participating retailers worldwide on Sept. 4, 2017.
For a list of the details of the Stealth 600, check out the list of features below:
Xbox Wireless
Enjoy the simplicity and superiority of a direct connection from your headset to your console – no wires, no base station, and no adapter needed.
Windows Sonic Surround Sound
Xbox One's Windows Sonic for Headphones delivers immersive virtual surround sound to bring your games, movies and music to life.
Glasses Friendly
Unique ProSpecs comfort-driven design removes pressure on your glasses while you play.
Powerful 50mm Speakers
Large, powerful over-ear speakers produce crisp highs and thundering lows.
Flip-up Microphone
Turtle Beach's renowned high-sensitivity mic picks up your voice loud and clear, and flips up to mute.
Superhuman Hearing
From quiet footsteps sneaking-up from behind to enemy weapon reloads just before an ambush, Superhuman Hearing™ lets you hear it all. Hear Everything. Defeat Everyone.™
Independent Game & Chat Volume Control
Find the perfect balance between game audio and chat audio.
Mic Monitoring
Hear the volume of your voice inside the headset so you never have to shout.
Audio Presets, Including Bass Boost
Customize the way your game sounds with four audio presets, including Bass Boost.
All-Day Battery Life
Always be ready to play with up to 15-hours of gaming per charge.
We hope to have a chance to put this headset through its paces soon and let you know what we think.


Source: Press Release