NEWS - Wednesday, November 22, 2017

Games with Gold for December Announced
As is the norm with the end of each month, Microsoft has anounced the next batch of games that gamers can download for free, as long as they have an active Xbox Live Gold subscription. So, what games are coming in December you ask? Well, check out the list below: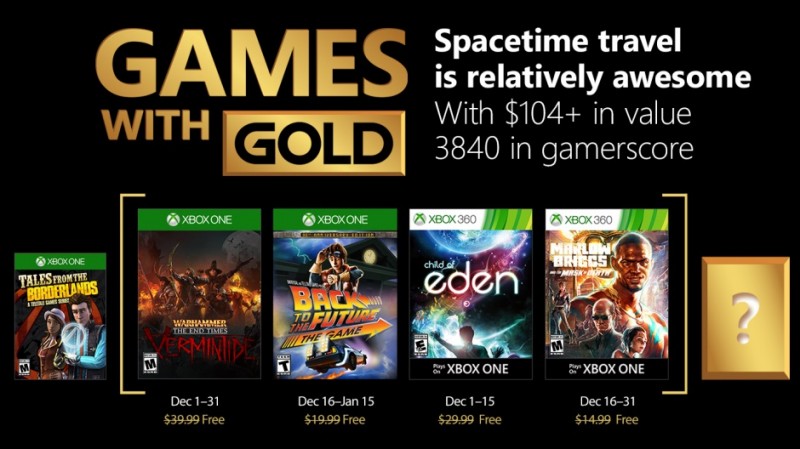 Warhammer: End Times – Vermintide - Available December 1 to 31 on Xbox One
Set in the renowned Warhammer Fantasy world, this four-player co-op first-person shooter is full of gorgeous graphics and immersive multiplayer gameplay. Enhanced for Xbox One X with native 4K support and more detailed textures, the improvements only help to heighten the game's unique visual look. Choose from five characters with differing abilities and strengths in your quest to drive the Skaven out of the proud city of Ubersreik. Use the loot and crafting system to your advantage as you amass weaponry ideal for your character.
Back to the Future: The Game – 30th Anniversary Edition - Available December 16 to November 15 on Xbox One
Marty's back! In this adventure game, the time-traveling DeLorean returns to Hill Valley, minus a driver, and Marty must protect the space-time continuum. With creative input from the film's producer, Bob Gale, and vocal contributions from Christopher Lloyd and Michael J. Fox, and introducing A.J. LoCasio as Marty McFly in a stellar performance, you be heading back to the future in no time.
Child of Eden - Available December 1 to 15 on Xbox One and Xbox 360
Experience the breathtaking sights and sounds of Child of Eden. With sound and vision in one display of synesthesia, Child of Eden brings simple, yet intuitive controls together with unique visuals and music that adapts to your playing style. Electrify your senses with this unparalleled music-action experience from Tetsuya Mizuguchi and Q Entertainment.
Marlow Briggs and the Mask of Death - Available December 16 to 31 on Xbox One and Xbox 360
Jump into the action as Marlow Briggs in this 3rd-person hack-n-slash homage to blockbuster action movies and comic book heroes set in the Mayan jungle in Central America. Save your girl and save the planet with a little help from a 2000-year-old Mayan Death Mask.
So there you have it, more games for you to download to your Xbox console and play for free....well, as long as you have an Xbox Live Gold subscription.


Source: Xbox News Wire