DCUO: My Ongoing Adventure as an Online Superhero (Part 2)
by Adam Dileva




Last week we published Part One of our ongoing series of my time with DC Ultimate Online. It's not a revew per se, but more of an ongoing diary of my extended time with the game. These articles will have review like qualities, with my likes and dislikes of the gameplay (e.g. mechanics, controls, etc.) but we are not going to assign a score, but just speak about my time with it. So, without further delay, here is Part Two of my "Ongoing Adventure as an Online Superhero".



QUESTS, QUESTS, AND MORE QUESTS



Like any good MMO, you'll receive quests from NPC's, wanting your aid in exchange for a reward of some kind. This isn't anything new. You'll do the standard go to area A to kill X amount of enemies and collect a number of items/resources before going back for your reward. Sure this type of quest is tired and played out, and there are other types of expeditions within, but get used to the standard kill or fetch quests for the bulk of your journey given what I have experienced so far.

Coming back to the whole "the game is bad at explaining things", I didn't realize that some quests didn't auto complete, even after speaking to the quest giver afterwards. Some quests will be in your quest log under a "completed" section, waiting for you to press 'A' and confirm and collect your reward. Why there needs to be this arbitrary input I'm still trying to figure out. Needless to say, I was confused when I couldn't find any new quests nearby, and that's because I hadn't 'handed any in' with this silly menu confirmation. Once I learned this leveling becomes much easier and quicker.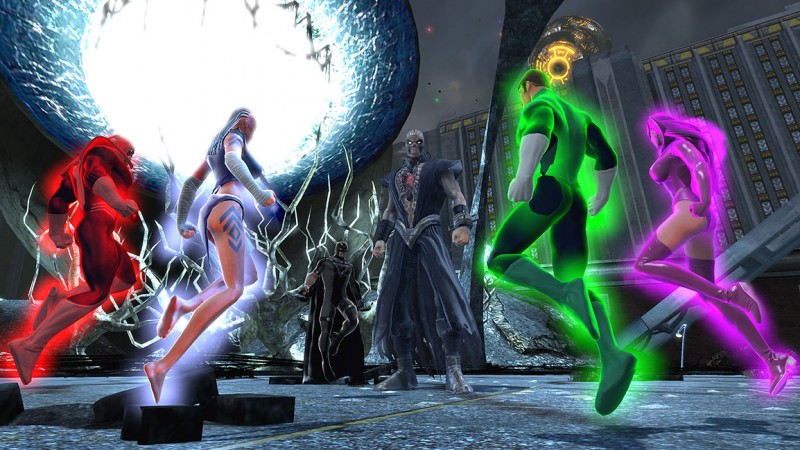 DING! LEVEL 10!



After a few hours of questing, exploring, and menu fiddling, I have finally reached level 10. Ding! This is one of the early milestones as you unlock a second loadout. Everyone starts out designated as a DPS, but at level 10 I can now actually specialize in the healer role. Think of them as stances that change your designation. Even though I already spent the points to get healing abilities, some abilities only perform a certain way when you're in a specific role. For example, I have an ability where when I'm in DPS 'stance' it does some minor damage, but if I'm in heal mode, it does a powerful heal over time. Same ability, different uses based on your current stance.

I'm still learning the intricacies of this multi-stance thing, but I'm liking it so far. When I'm solo'ing I have a completely different skill loadout than when I'm a designated healer (they may be the same skills technically, but they perform differently based on my current mode). Again, none of this is really explained and you'll only get some understading of somesort when reading the powers descriptions and through much trial and error.

Another lesson I learned the hard way was that your gear needs to be repaired. I was earning cash from defeating enemies and questing, but I found that I did not need to spend it on anything important at the time. When I went to one of the vendors in the starter HQ, I noticed that there was an option to repair my gear. Voila! It was great to be able to do significant damage once again. I would be been wonderful if this had been explained clearly somewhere. Am I starting to repeat myself yet?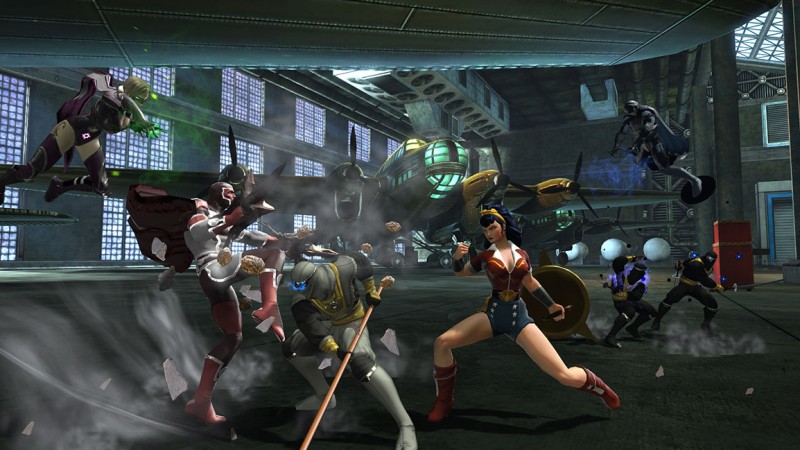 IF YOU'RE A SUPER HERO/VILLAIN, YOU GOTTA LOOK GOOD



So, you've spent all that time toiling over every detail when you created your character. Now that you're getting loot from quests (since you have figured out how to complete them in the menu) you're starting to look nothing at all like how you initially wanted to, but are forced to wear the new gear because of the massive stat upgrades. This is where my favorite feature of DCUO comes in and I wish more MMO's utilized it.

How you look has nothing to do with what gear you have equipped once you learn how to use the style menu. No longer are you forced to wear some hideous looking pair of boots or helmet simply because the stats are better than what you previously had. Instead, you're going to play around in the style tab to change the costume pieces to look exactly how you want to based on any items you've worn beforehand.

Let me explain. You started out the game with 'Boots of the Newbie'; they don't have any stats but they look cool and really suit how you want your character to look. Later on you finish a quest and are given 'Cool Looking Boots for Awesome People', and while they look sweet, the stats are terrible or do nothing for the build you're aiming for. In most other MMO's you'd be stuck either wearing the newer awesome looking boots and taking a hit against your stats, or spending some type of currency to make some other pair utilize the looks of 'Cool Looking Boots for Awesome People'.

DCUO has figured out this dilemma in a brilliant way. Any item you've ever worn can be used for your costumes visual appearance. So even if you're max level and have the best gear in the game, you can make yourself look like the default gear you started with, or any combination of gear you've acquired along the way without it affecting your stats. It essentially keeps a copy of these previously worn items in a virtual closet where you can mix and match on a whim with any item you've ever worn. The only catch so far that I've noticed is that by wearing an item you bind it to your character, making it unsellable. That's a fair price to pay for having permanent access to various different styles for each piece of gear if you ask me.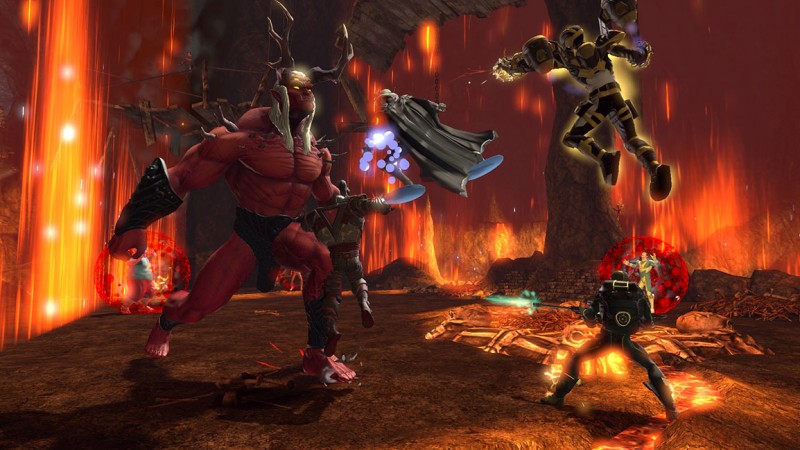 DUNGEONS? YOU MEAN MISSIONS WITH TONS OF OBEJECTIVES AND REQUIRED TEAMWORK! OH GOD, WHY IS THAT TEAM MEMBER RUNNING OFF ON HIS OWN?



Many MMO's tend to keep the best content tucked away in dungeons, and later at max levels or raids. This is where you generally enter an instanced linear adventure with a team, fighting enemies on your way to attempt to defeat its boss for the chance at some of the game's best loot for its current level. I got to partake in my first four player instance while writing this part of my article, and it wasn't quite what I envisioned.

As expected, enemies in these missions hit like a truck and you won't be able to solo them easily, so you better stick together as a group and work in unison. Once you realize that these missions aren't like your standard dungeons, as enemies respawn in set intervals, and that it's not a linear path, communication is key.

Oh god, player De4dp0oooL just ran off and died somewhere on his own, leaving the rest of us one man down with a ton of mobs on us. We survive somehow, thanks to my healing spec. Instead of simply killing everything on your path from point A to point B, there are many side objectives that must be met in this "Area 51" mission. Someone needs to deactivate a set amount of computers to spawn the first miniboss while the rest of us keep the enemies clear.

Damnit, De4dp0oooL just brought back six more enemies with him when he was running back from dying and one of these enemies killed one of the other group members since I was already low on mana. Sigh.

Anyways, after the miniboss we run to the next compound and have to fulfill similar objectives before spawning the next miniboss. Finally, we reach the end boss even after a few more bonehead moves by group member De4dp0oooL. We're doing well, the bosses health is steadily going down and I'm able to keep the group up no problem at this rate. Uh oh, the boss went invulnerable and spawned a half dozen enemies on top of us. I'll give you one guess who thought it was a good idea to AOE attack them all at once, causing them to all attack him, forcing me to franticly spam my heals to keep him alive. Yea, you know who.

I manage to keep De4dp0oooL alive until the next phase of the fight. Time goes on and we finally win the battle. Hooray! Now where's my loot? I'm used to bosses dropping a single piece or two of loot where group members have to randomly roll or agree upon who gets what, but instead I'm offered a choice of two different pieces of loot that I get to choose from. One is decent but favors DPS stats while the other is exactly what I want and is meant for a healer. I make my selection, get my loot, and we're done! That was fun, especially when you get to see the end result screen that shows everyone's DPS, healing, deaths, and more. We all know who was the dead weight in the group, but we won, so whatever.

Granted, this was my first time and I believe the first for a few of the others as well (no one else was using a microphone), so it took about 40 minutes or so once we realized we had to fulfil the objectives to spawn the bosses. It was fun and different than what I'm used to. I only had access to this single mission at the time of writing this (I just unlocked the second level 14 later on in the day), so I'm not sure if they all use the same overarching structure, but I'm liking it so far.

There are also Legendary missions. Here, instead of playing your custom character that you've worked so hard to build exactly the way you want, you get to use a famous DC persona instead, complete with their special abilities and powers. The catch is that only a select few are free to play at any given time (I'm not sure if these rotate like in MOBA's), so if you really want to play as a specific character, you'll need to open your wallet.

My first attempt at one of these Legendary missions was a complete disaster in the truest sense of the word. Our group went in and it was apparent that this instance was new to all of us, as the objectives were very vague. We kept killing enemies, but they obviously kept coming, so keeping the group up was impossible as time went on. Eventually we figured out that we had to grab these glowing power blocks and bring them to the boss to make him vulnerable to attack, but by that point the rest of the group was usually dead. We eventually had to give up, again, because there was no communication with the others being muted or not having mics.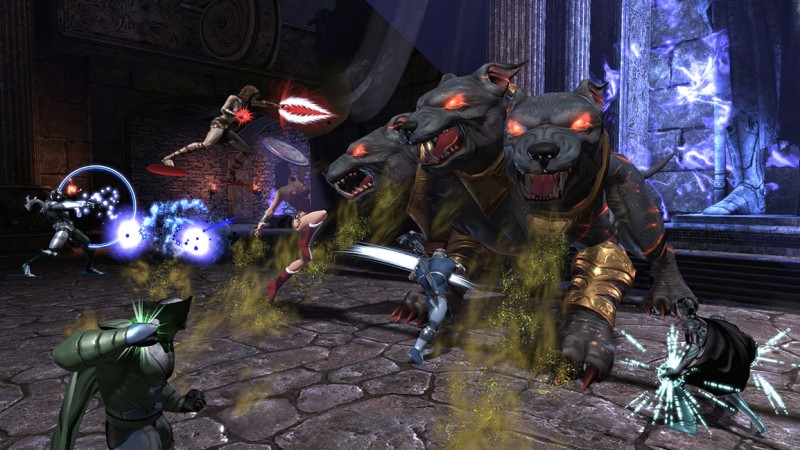 GET READY TO WAIT IF YOU AIN'T PAYING



Any MMO at its launch is usually a very rocky experience at the best of times, so I fully expected crashes or long queue times, as it's something you come to expect with many MMO launches under your belt over the years. Luckily there were no crashes but none of my friends were able to get on because of the massive queue.

Full disclosure: 3 month memberships were given to the XBA staff, myself included, to check out the game and play together as a group.

Even though it's fully free to play, there is an optional monthly membership you can purchase that gives you a ton of bonuses for doing so. Truth be told, I'm not sure about all of the items yet, but I'm glad to have some of the perks so far, the biggest ones being the extra inventory and bank space, and the premium queue.

Free to play members will queue to log in with all the other free players, whereas ones with membership get priority access. I waited usually 10 – 30 seconds to get in where my friends who are playig for free are complaining because of the almost hour long wait time they have to endure each time. Yes, this will die down in time, and this is mainly at prime time weekend playing hours, but not having to wait an hour to simply play is quite a nice benefit of the membership.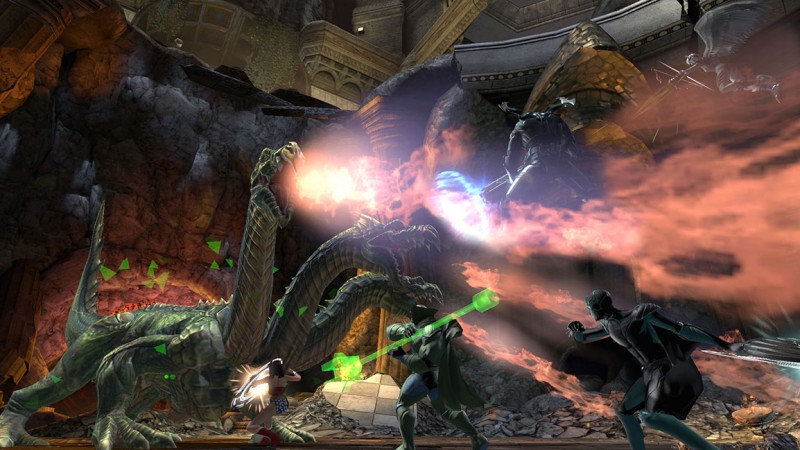 MY JOURNEY SO FAR



So far I'm enjoying my time with DCUO on the Xbox One. I know once the queue is obscenely busy, but once my friends can log in at a moment's notice, the experience will be even better as we'll communicate as a team. At this point of my adventure, the game has some technical issues and it definitely shows its age and some old ways of thinking in terms of MMO mechanics, but that doesn't matter when your group finally defeats that big boss and you get some awesome loot. Am I going to be playing DCUO forever? Probably not, but at this current time I'm enjoying being an online superhero. Now if you'll excuse me, I have some quests to do and levels to gain so I can become a better healer for my groups.

Stay tuned for Part 3 of my online superhero journey!