Interview: Kevin Carthew - Creative Director of Team17
by Adam Dileva






Interviewee: Kevin Carthew, Creative Director of Team17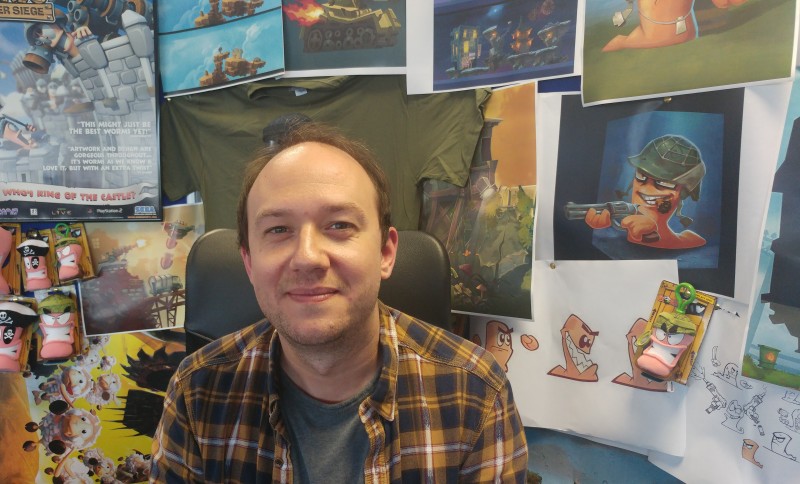 XBA: What IS the proper term anyways? Worm-head? Worm-ite? Worm-addict?
Team17: Oh that's a tough one! But we're going to pick Worm-head because we've been sneaky and we can see it's what you use further below so it must be your fave!


XBA: Loving the new art direction that W.M.D. is taking for the worms. Does this change implement any gameplay changes or is it strictly an aesthetic thing?
Team17: Returning to 2D has allowed us to give the worms a modern, cartoon-inspired reimagining. There's been a lot of behind the scenes work on our landscape generator, as we wanted to be able to create beautifully hand-drawn maps. These are now possible thanks to the improvements made to the generator and the introduction of individually hand-drawn pieces. We've intentionally kept the sky and backdrops clear and simple as best suits the gameplay.

Now we've returned to 2D, it's allowed us to introduce one of our new gameplay features, buildings. Now for the first time ever, worms can enter buildings found on the landscape, but they'll only be revealed when your opponent also has a worm in that particular building. It makes for some great strategy, especially in online matches as you can't see which worms are hiding where!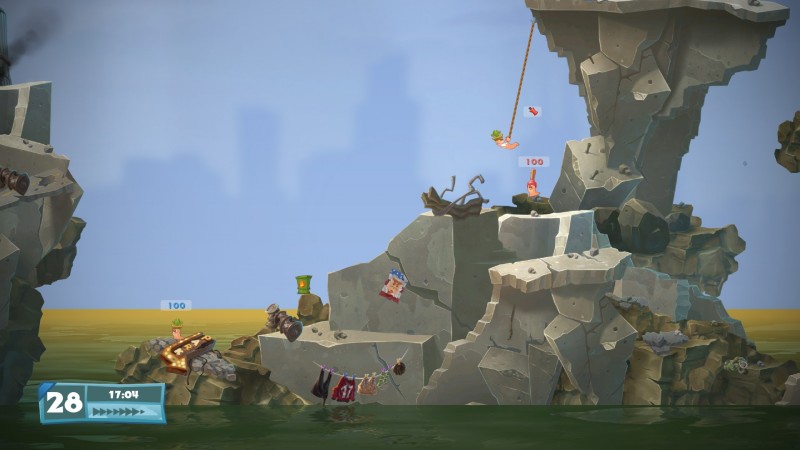 XBA: For us Worm-heads, which previous version would W.M.D. most resemble in gameplay?
Team17: Worms W.M.D looks back at the original Worms Armageddon code base as we really wanted recreate those classic physics which are well adored by the fans.


XBA: Is there a final tally of NEW voicebank sets, graves, hats, etc. for customization? How many of these items will be locked behind progression, and will it be single player or multiplayer progression unlocks?
Team17: All together there are 166 different customization items including voicebanks, victory dances, hats etc. Some of the fanfares, voicebanks, victory dances and gravestones are unlocked via XP, some of the hats are linked to completed the challenges and then finally we have a golden bazooka and silver grenade weapon skins which are unlocked by reaching rank 1 and rank 5.


XBA: What's the number of new themes? Will there be a slider/toggle for amount of 'items' spawned?
Team17: There are 6 different themes: Rainforest, Frontier, Downtown, Motherland, Countryside and Orient. You can completely customize your game scheme so you can have none, few, some or lots of mines, oil drums, magnets, sentry guns, vehicles, mounted guns etc. You can customize crate drops, weapon availability, crafting supplies, round times and so much more.


XBA: From what's been shown off so far, it looks as if vehicles and buildings will be the biggest game changers for W.M.D. How exactly do the new vehicles change the combat flow and how do you prevent them from being too overpowered?
Team17: We've worked incredibly hard on balancing the new vehicles and ensuring that they don't become an instant win by jumping in one. Once you're in a vehicle, your opponents can easily take it over on their next turn. The vehicles have their own pros and cons. They'll potentially increase your movement but may be difficult to fire, they'll shield you from damage whilst you're in one but likewise they won't last forever and you want to make sure you're not around when they explode!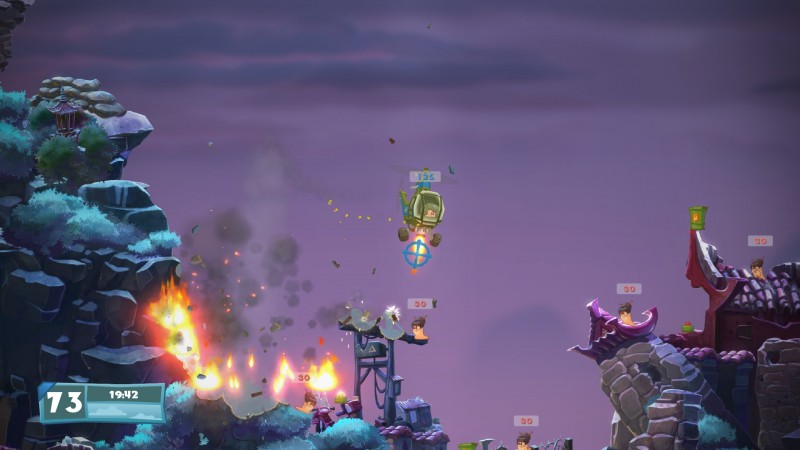 XBA: In regards to the new mounted weapons, will you be able to retreat after its ammunition is done like a regular turn?
Team17: Yes, after using a mounted gun you'll be able to retreat afterwards if you want to.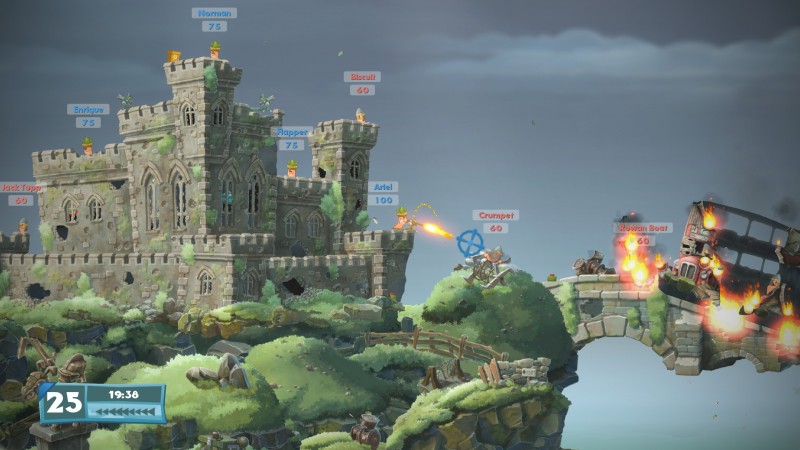 XBA: Regarding jumping, will we have the classic forward and backflip, or the backhop and 'steerable' backflips?
Team17: You can jump and double jump and the jumps can be influenced with a bit of after touch of the direction you want to go too.


XBA: It's been said that the Ninja Rope of old will be returning, which is super exciting. I used to play Rope Races for hours a day. Will this be the Ninja Rope like in Armageddon physics-wise? Will Rope Racing make an official return? Rope Knocking? Parachuting from a rope?
Team17: For the Ninja Rope we've looked back at the original code from Armageddon so it's back to having pole like physics, so fans will be able to do tricks! We don't have any rope race maps at the moment but we have an image importer to generate maps on the PC Steam version, and we've already seen fans upload their own rope race maps to the Steam Workshop!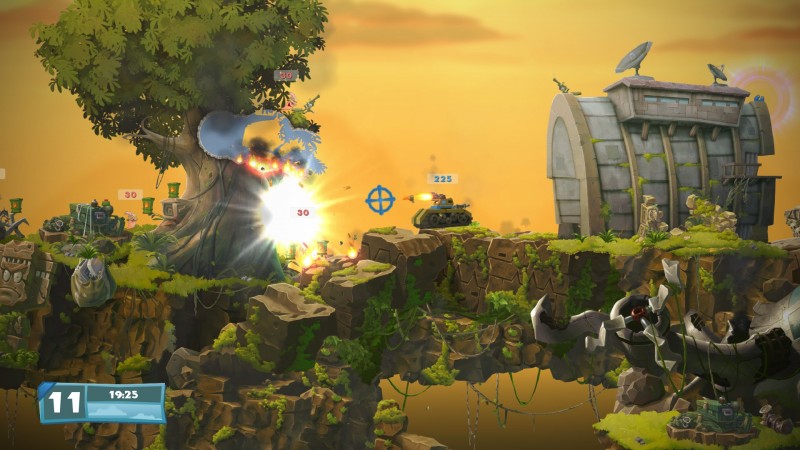 XBA: Speaking of Armageddon, it's still generally regarded as the best and most complete Worms offering, even after all these years, and still has an active player base. Is W.M.D. attempting to persuade Armageddon die-hards to jump over to this new offering, especially with the tease of old-style Ninja Rope?
Team17: It's fantastic to see people are still playing Armageddon 17 years later but if they enjoy Armageddon then we think they'll appreciate and enjoy Worms W.M.D. It retains those classic physics, revitalizes the 2D aesthetic and the first time you use a vehicle is just awesome fun!


XBA: Is the core gameplay still going to be heavily artillery focused or is there going to be more variety of close range weapons / CQC (Hadouken, Baseball Bat, etc.) as well?
Team17: There are all sorts of weapons in Worms W.M.D. There's definitely something there to suit all situations or people's particular playing styles. There are 35 standard weapons and utilities in the game but then also 46 different types of craftables, taking the total weapon count to over 80!


XBA: Will the worm 'classes' be returning like in Revolution/Battlegrounds?
Team17: There's no classes in Worms W.M.D, we've got a lovely new redesigned worm however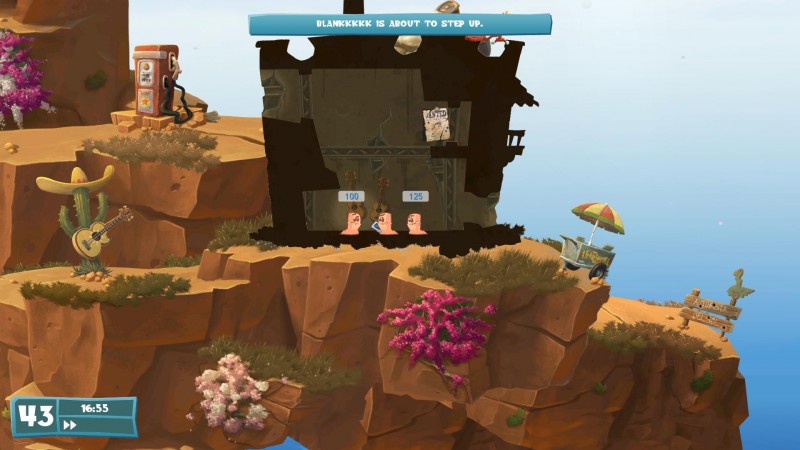 XBA: I find that many weapons rarely get used because some are almost TOO situational. Anything to combat this?
Team17: With the weapons there's a lot of variety so that there's something there for everyone. Different weapons will be available depending on the game scheme and crafting supplies etc. We like to give players that flexibility there.


XBA: What new innovations can we expect to break new ground for the series to keep it fresh?
Team17: In Worms W.M.D you can expect:




NEW Vehicles: Worm warfare gets serious with the introduction of vehicles for the first time in the series. Dominate the landscape in warfare-ready tanks, take to the skies to unleash hell from above in helicopters and navigate the landscape in the mech.


NEW Buildings: Buildings are a fantastic new addition which offer a great tactical advantage to the classic Worms gameplay. Players can now enter buildings amongst the landscape and fire off shots from inside, but when the turn passes, their worm will be hidden inside.


NEW Crafting: Weapons and utilities can be crafted during the player's turn or even in between turns during online play, as the opposing teams take their turns. Crafting really expands the weapon set and adds in many brand new fun weapons including the Party Balloon, Luzi, Electric Sheep, Sticky Grenade and Concrete Angry Donkey to name but a few. Players will start the game with a specific amount of crafting ingredients, depending on which game scheme is chosen. Or none at all if they choose the Classic scheme! Further ingredients can then be collected from crafting crates or scavenged by dismantling existing weapons. Can't reach the enemy worm and you've only got a Baseball Bat? Dismantle it and craft a grenade!


New and classic weapons: Over 80 weapons and utilities at your fingertips, including many returning classics and a slew of new additions such as the Dodgy Phone Battery, the Unwanted Present and the OMG Strike.




XBA: You've announced that W.M.D. will support up to 6 teams of 8 worms each. Online 48 worms is going to be complete madness (and what I'm most excited for)! Any unforeseen technical issues that had to be figured out to allow this?
Team17: It's SO much fun! We added the functionality early in to game dev so we could give it plenty of testing with our QA team and usability wise for feedback too as it's something we really wanted to add in.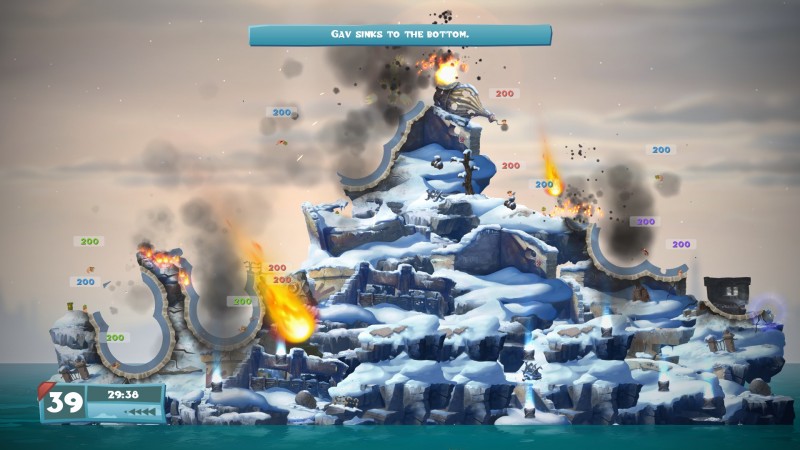 XBA: Will a map editor be included? If so, how robust and what will be new?
Team17: We've got an image importer available for the PC Steam version which allows players to import PNG images to transform into playable maps which they can then publish to the Steam Workshop. We've seen some awesome creations for this already!


XBA: What plans are in place to keep the online community thriving? I find it's near impossible to go back to older Worms titles and try to find an online match once a newer version releases (save for Armageddon).
Team17: We've already released one update on Steam since release and we activity stream and play with/against the community! We've got quite a few plans for how we want to support the game post launch too.


XBA: What's the one feature or weapon you're most excited for players to get their hands on with in W.M.D.?
Team17: I'm a big fan of all the new features but I think when players first use a vehicle they're going to have so much fun!


XBA: Any pre-order bonuses or something for longtime Worms purchasers with previous saves?
Team17: We had a pre-order campaign for the All-Stars pack which included cross-over content from games such as Rocket League, Saints Row IV and Goat Simulator. This content is also available in the Day One boxed edition on PS4/Xbox One.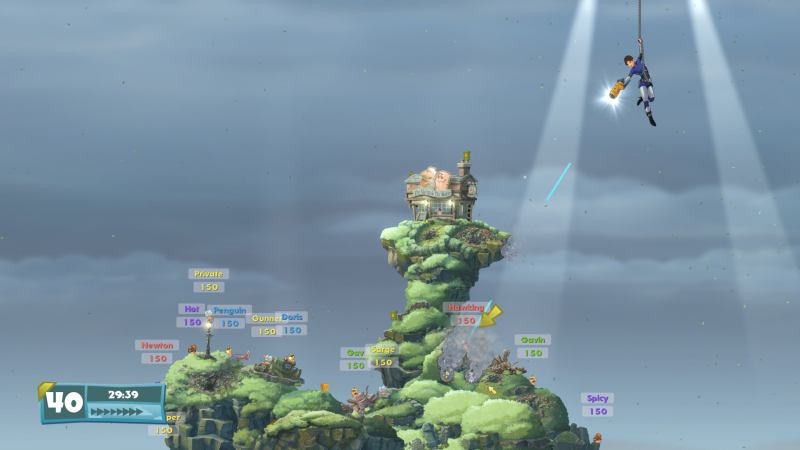 XBA: Can we get a somewhat more specific hint at the release window?
Team17: Worms W.M.D released on Aug. 23.


XBA: The most important question yet: Banana Bomb or Holy Hand Grenade? There is only one right answer!
Team17: Depends on who you ask here! I'm personally a big fan of the Banana Bomb.