Mobile Edge Core Backpack Plus Accessories - Designed for Gamers
by Adam Dileva






Mobile Edge Core Gaming Backpack with Molded Front Panel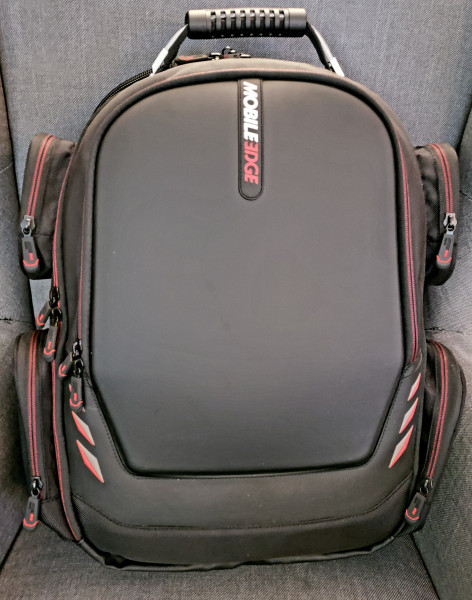 SKU: MECGBP1 (20% off PROMO Code: Mobile20)
Color: Black (with red accent)
Material: Ballistic Nylon
Product Weight: 4.2 lbs
Fits Laptops: Up To 17"
Product Dimensions (wxhxd): 16" x 19.5" x 9"
Laptop Compartment (wxhxd): 16.4" x 11.5" x 2"
Lifetime Warranty
MSRP: $129.99 USD
Supplied for review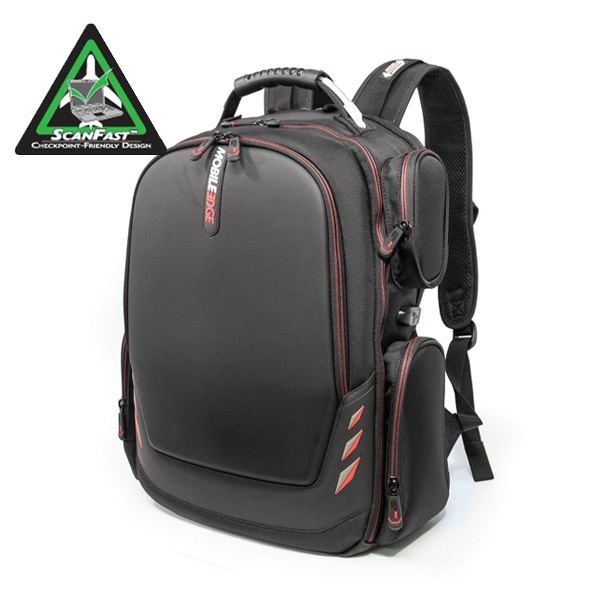 I used to think that a backpack is like any other. Sure, the bigger name brands were more expensive and built a little sturdier, but they all had the same purpose; to stuff your gear into and take with you on the go, wherever that may be. That was, until I got to review the Mobile Edge Core Backpack last year. For my full thoughts, you can check it out HERE. Long story short, not all bags are created equal and Mobile Edge made a near perfect backpack meant for gamers that want not only enough room and compartments for their gear, but the ease of mind knowing it'll be safe as well.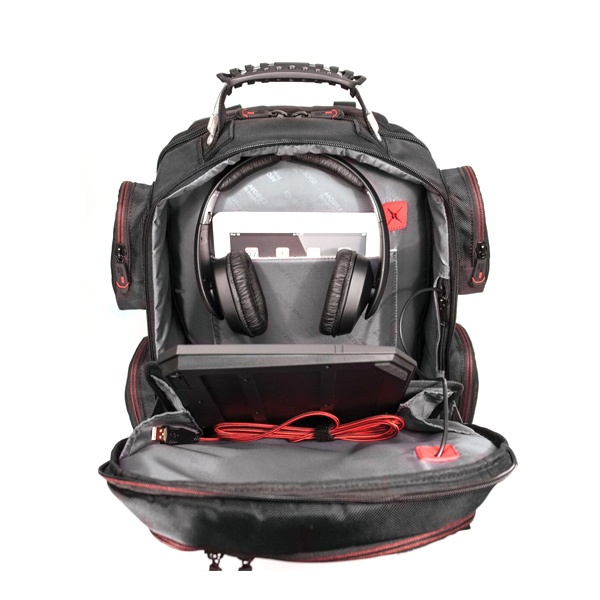 I've gone through tons of cheap backpacks before getting the Mobile Edge Core. You know, the ones you get at Walmart for super cheap and in less than a few short weeks the zippers break off, the stitching starts to fray and holes start to rip into the fabric. I once checked in an old budget backpack with some of my electronics and gear for a flight, only to have it come out the other end a mess with a massive hole ripped into the side. Thankfully I didn't lose any of the gear inside, but since then I've always brought my backpacks as carry on and prefer build quality more than anything else.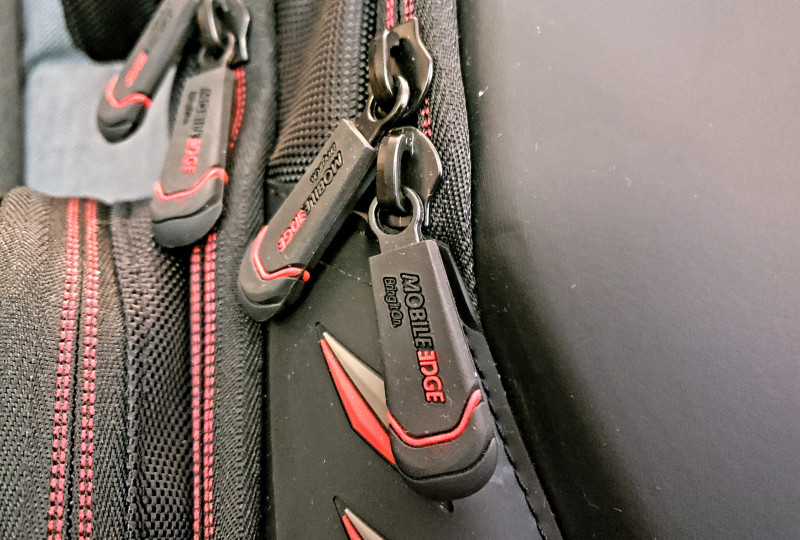 Using the Mobile Edge Core exclusively since I've had my hands on it, this has never been an issue and proves that quality can make quite a difference. If you're like me and travel somewhere, you probably bring more gaming items and electronics than clothes and things you actually need. My usual go-to's for a trip would at a minimum be my headphones, laptop, Surface, mouse, Switch, phone, laptop, camera, power banks and of course all of the corresponding power adapters and cables. If it's going to be more than a few days, I've also been known to bring a console with me as well. That's a lot of stuff to fit into a backpack. While doing so will work in most, putting expensive electronics in a plain backpack isn't going to keep it safe as it could be and won't be organized. This is where the Mobile Edge Core Backpack excels, as this is its main priority and purpose.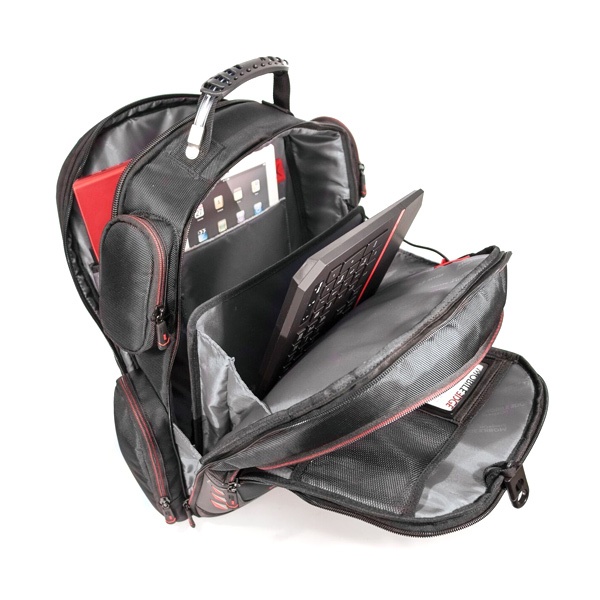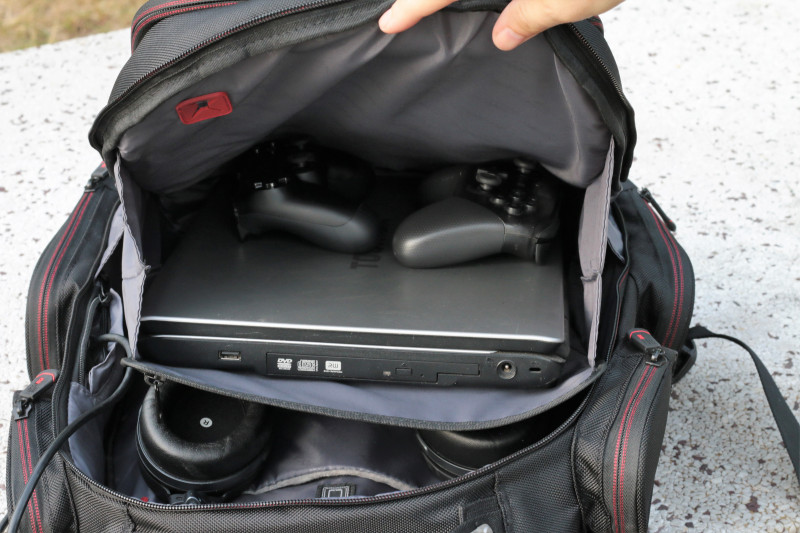 Let's start out with its look and feel before delving into the other features that make it stand out far and above the competition. Made from Ballistic Nylon, the majority of the backpack is black but has some red trimmings and accents. It's subtle enough to be stylish, but isn't garish or over the top like how most gaming gear tends to be. The build quality is simply fantastic. If you're like me, you simply throw your backpack down once you get home, and with a cheap backpack, this will cause wear and tear over time. The material is strong, the stitching seems very firm and it feels very premium overall. The front has a molded panel that is sturdy enough to protect it from anything you might bang into or lean against, a welcome change over the previous model I reviewed with the Velcro panel instead.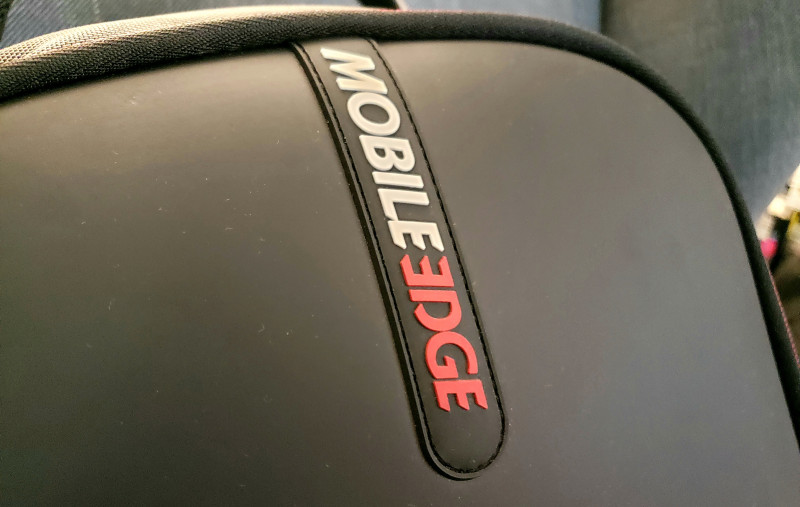 If you have a heavy bag on your shoulders, they eventually become sore and tired from all the weight pulling down. Again, this is with inferior bags though. With the Mobile Edge Core, the straps themselves are incredibly padded and gives more comfort regardless of how much weight is within the bag. Having packed the bag full and went for a walk around the park, it never really felt heavy due to the weight distribution or cut into my shoulders. There's even a small section of the straps that have elastic in them, labeled as Shock Absorption. This way it stretches a little bit, say if you were jogging or something, and relives some of the downward force with every step.




The back panel has a ton of padding as well, so when it's resting on your back, you feel more of the cushion rather than the objects inside. It's also ventilated, so your back shouldn't become sweaty as quickly. There's also a trolly strap, so that if you're like me and take a backpack and a suitcase on a trip, the bag can sit on your luggage and the handle pulls through the strap, causing it to not fall off. It's a small detail, but one that is very welcomed. I've also had backpacks where the main handle on top has torn because of poor stitching. That's absolutely won't happen here. Inside the gripped hard plastic is a wire, which is then protected in a casing. Where it attaches to the bag is actually a rivet of some sort, so there's no worry of any tearing apart there.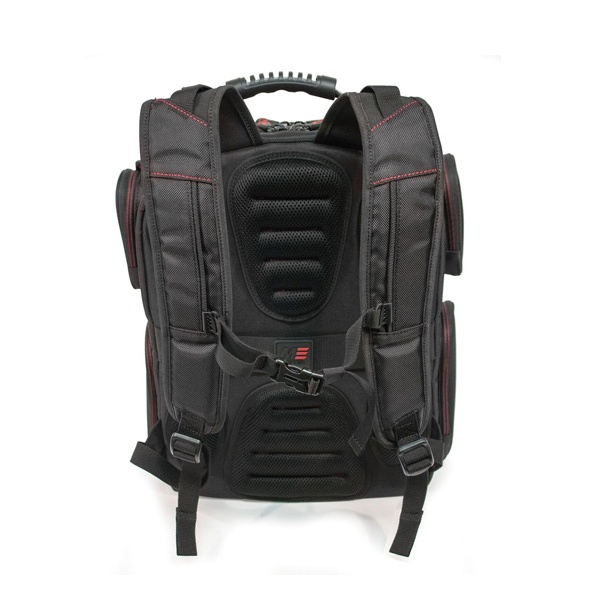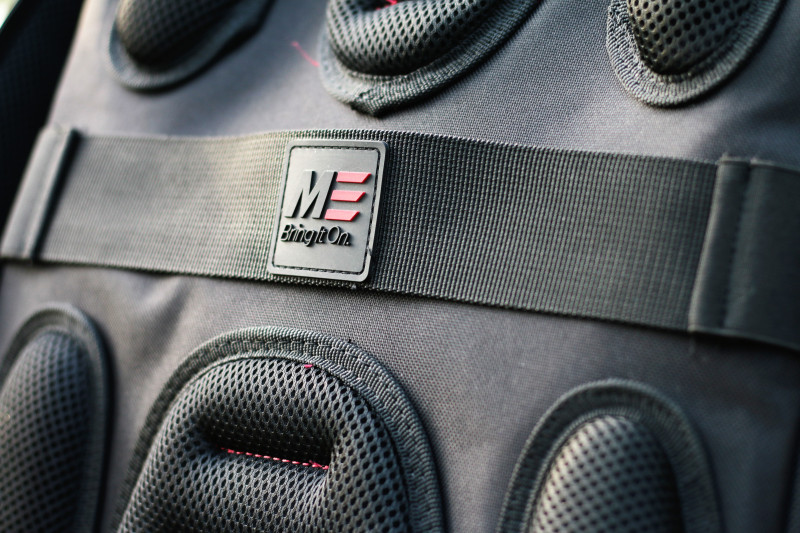 With standard bags, I always had to get creative when packing a bunch of my gaming equipment. I used to have to be very conscious of how I layered my devices, as I never wanted things to become too tight, or controllers to have their sticks pressed up against. There's more than enough pockets and compartments in the Mobile Edge Core that you won't have to worry about this again. No longer do you have to stack devices on top of one another, as you'll now have a separate compartment for nearly any device you could think of bringing along on your trip.


Its main pouch will fit your laptops up to 17" or your main consoles. I even tried fitting in my original fat PS3 and my launch Xbox One and it had no problem fitting snugly inside. Beside the main compartment is a zippered section where you could place your power brick and cables, as well as two specific spots for your controllers. Again, it's great having designated spots to place each type of device, knowing where it is exactly if needed and not worrying it'll become damaged. Also in the main pouch is where you'll find a slot for your iPad or tablet. It's a little bit of a tight fit for my Surface Pro 2 with keyboard attached, but it does fit. This tablet slot is also lined with a poly-fleece, keeping your screen from becoming scratched as well; another small detail that goes a long way. Right above that slot is a little hook that can be used for your headphones, this way they don't get squished or pressed against. Even though the last Mobile Edge bag I reviewed had the same feature, it's again not labelled easily to see and I almost forgot it was there.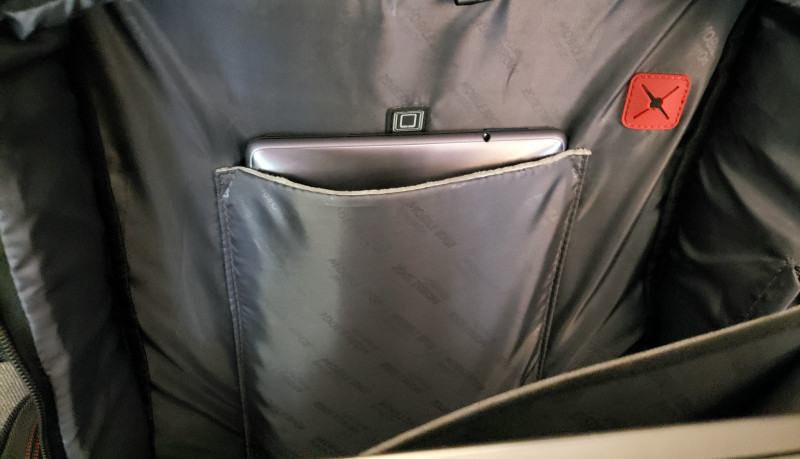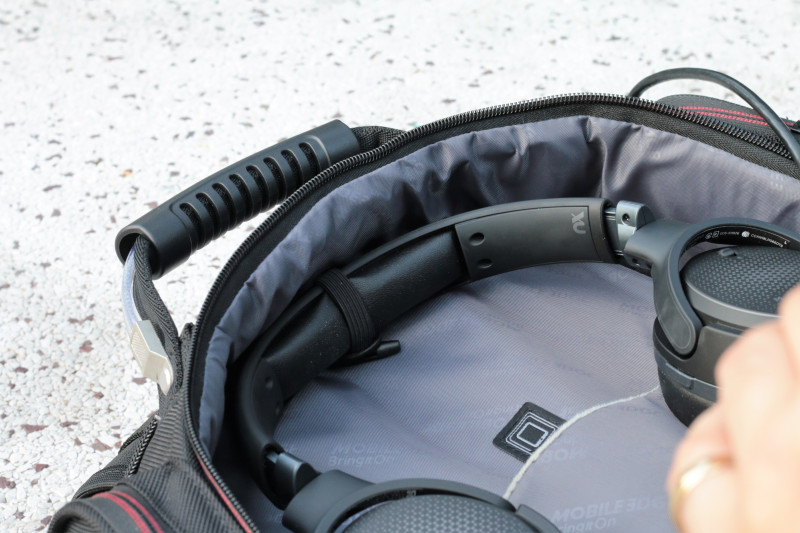 The second large compartment can zip down all the way to fold out completely flat, making loading and unpacking the bag much easier, but there's a second reasoning for this. The second half that folds down, that touches your back, actually has a checkpoint friendly design to help you get through TSA checkpoints quicker at airports. You know when you have to take out your laptop but you've buried it in the bottom of your bag and have to take out a bunch of other items to get to it right? Well, this pocket is somewhat opague so that TSA agents can look inside without having to take it all out. Granted, this doesn't guarantee that you won't get checked for screening, but it makes accessing what you need when being hurried through a busy line that much quicker. It's a small detail with a specific purpose. The other side in this main zippered pouch has a longer slot, meant for your keyboard or another other lengthy devices you might be bringing along.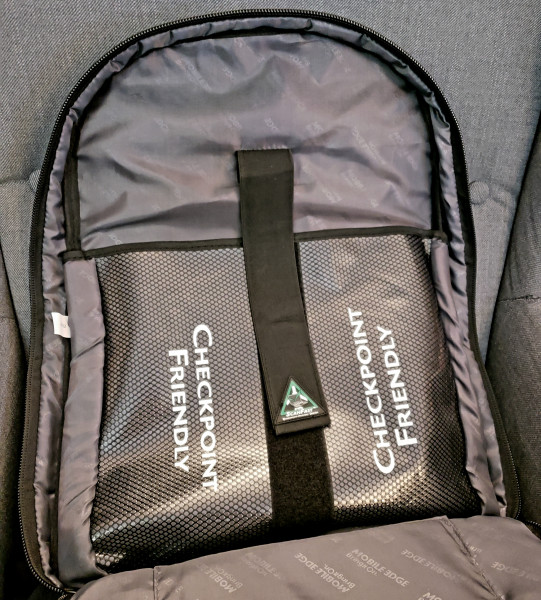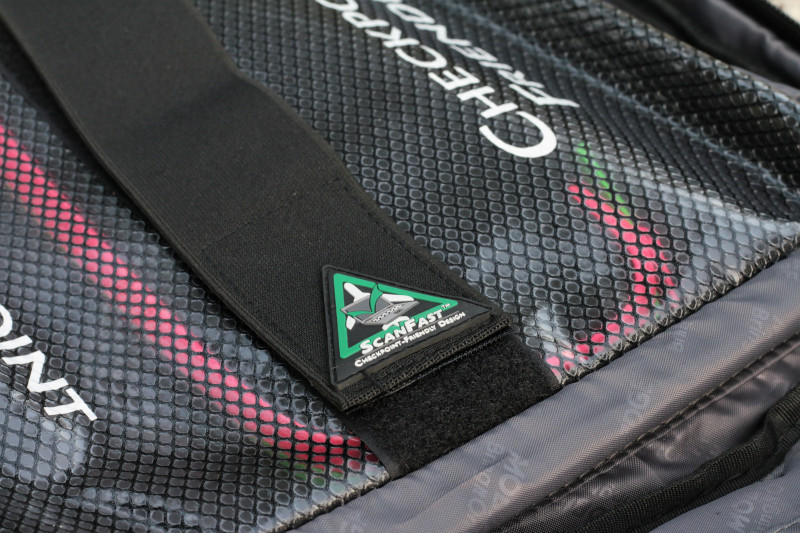 On the outside of the bag you'll notice four zippered pouches, two on each side. The upper ones are slightly smaller, able to fit a can of pop, mouse, phones or other smaller accessories easily. The bottom ones are slightly longer, able to fit a bottled beverage, power banks, water bottles, cables or anything else. The front pouch when unzipped is where you'll house your smaller accessories. Inside here are dedicated spots for business cards, pens, keys, bluebooth speaker, cables, USB sticks, memory cards and more. There's also one pouch inside here that's large enough to hold a bulky power bank if needed, which is where you'll also find the pre-wired cable.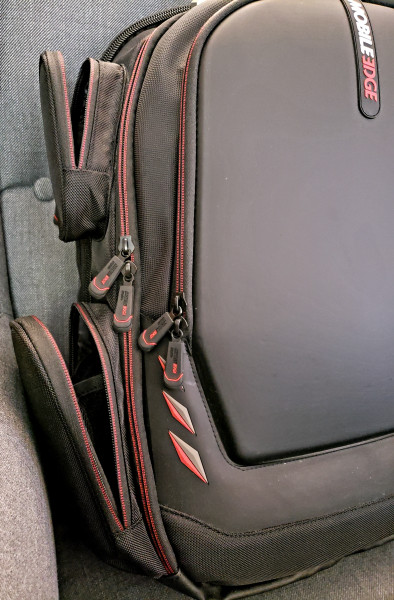 That's right, this backpack comes pre-wired, allowing you to not only stuff away your power bank inside and still have access, but looking on the outside of the bag between the two right outer pouches, you'll see a USB 3.0 slot. I blends in seamlessly with the bag but allows access to charge any of your devices on the go. So while you've got the bag on and walking wherever you're going, you could plug in your phone or other device and use it at the same time as it charges. It's a feature I didn't think would get much use in the beginning, but after putting my power bank inside the bag, I ended up using it more than I actually expected, making the Mobile Edge Core standout even more amongst the competition.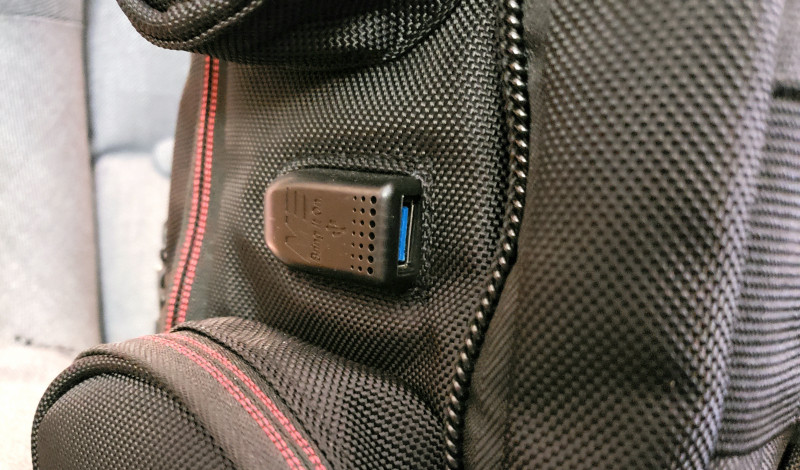 From the outside, the bag looks quite large, but it doesn't feel like it at all, even when I had nearly all of my devices inside with every compartment filled. Even though it's designed for gamers, obviously you could place other items in it, but every facet has been thought of with gamers in mind. I really like that it's aesthetic isn't too over the top like most gamer gear and that's its tailored specifically for people like me that have a ton of devices and want to bring them along when I go places.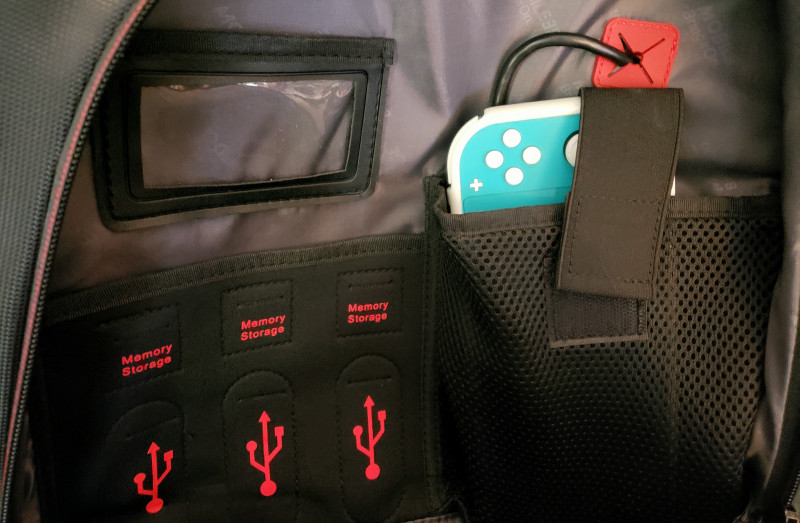 With all that being said, it is pricey for a backpack. Retailing for $129.99 (though look above for a coupon code), it's easy to roll your eyes and brush it off as too expensive, but bear with me, as I probably would have done the same if I hadn't had the opportunity to check this one out for myself. If you travel frequently and have a bunch of gaming gear you always bring with you, then you know the plight of doing so in regular bags. With the Mobile Edge Core, this price is easily justified after a trip or two, not only because of how it's tailored for gamers in every way, but its build quality alone means it will last much longer than replacing cheaper bags constantly. Having used the previous model for some time now, it's showing no signs of ripping or breaking, regardless how I treat it. They also come with a lifetime warranty, so you know you're covered if something should happen.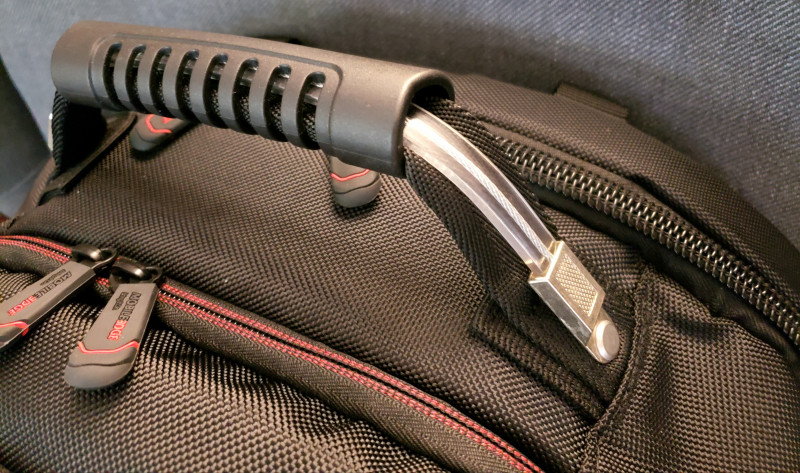 While I've yet to bring the Mobile Edge Core to a con or big event due to recent current world events preventing me from doing so, I have loaded it up and taken it places. It still amazes me how many devices I can fit in the bag, as its looks can be decieving otherwise. When I fill a bag with thousands of dollars' worth of equipment and devices, I need to know that it'll not only all fit into one bag to make my trip easier, but that it will arrive safely. I have that peace of mind with this bag. I never expected that I would enjoy a backpack so much, but here we are, and I'm constantly impressed with how much I can fit inside, but also how comfortable it is.
Overall: 9.8/ 10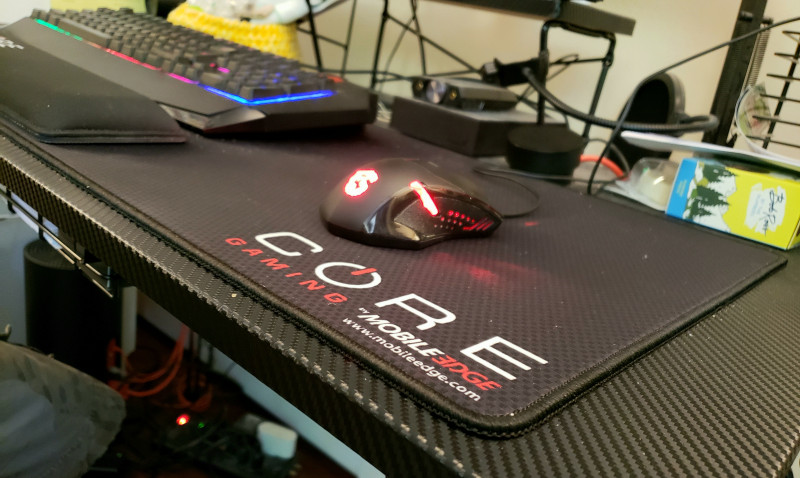 SKU: MEAGMP2 (20% off PROMO Code: Mobile20)
Color: Black
Material: Neoprene
Warranty: 2 Year
Product Dimensions (wxhxd): 32.5" x 15" (830mm x 380mm x 4mm)
MSRP: $29.99 USD
Supplied for review

I used to use a mouse pad with one of those wrist rests for years and simply became accustomed to it over time. I bought a desk for gaming in mind, and because of my mouse pad with wrist rest, I never had one of those large mouse pads that fill the whole width of the desk. Well, years went on and eventually my faithful mousepad wore out and I got tired of the wife and friends complaining about my wrist pad for the mouse, so I decided to ditch it.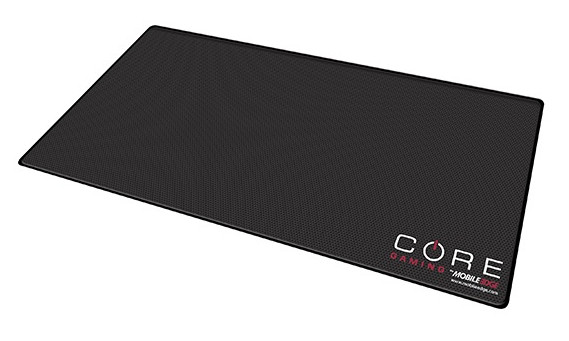 Enter the Mobile Edge Core Gaming Mouse Mat – XL. Having never had a full size mouse pad without a wrist rest, I wasn't sure how accustomed to the new design I would be and how it would affect my gaming. This mouse mat was also much bigger than I was expecting, sizing in at 32.5" x 15". It's designed to be large enough to fit both your keyboard and mouse, leaving you ample room regardless how you like to have your setup or how much room you need for your aiming.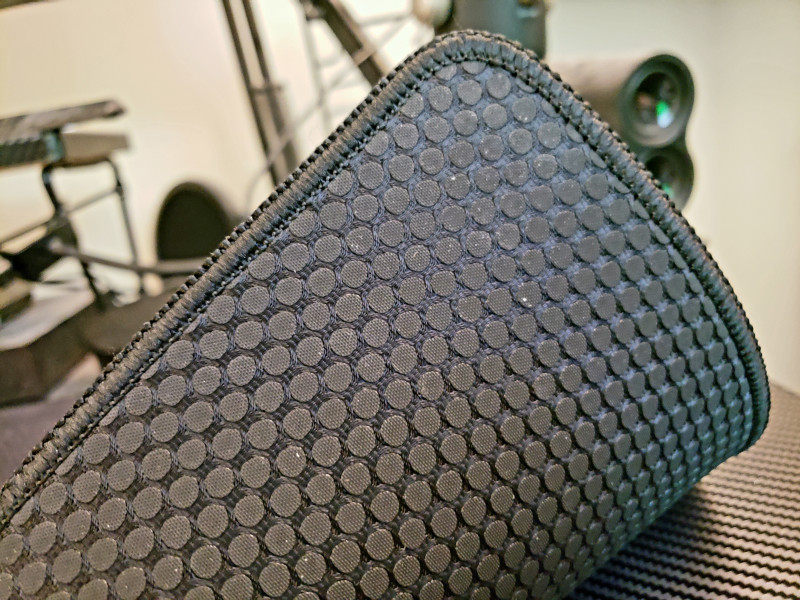 The bottom of the pad is a non-slip rubber-like material, and once I placed it on the desk, it's not moved since, even with hours of gaming so far. Given that I used to use a competitor gaming mouse pad, I wasn't sure what to expect for its mouse precision and tracking, as I'm used to something much different. While it did have a different feel to it, the smooth fabric glides nicely with the mouse and I've never had any problems there. Also, since it's so lengthy, you can easily roll it up and take it on the go if you're planning on gaming elsewhere or at a LAN party (which easily fit in the Core Backpack). I've gone from one setup for my mouse and keyboard, to something completely new, and I actually enjoy it much more this way now that I've acclimated.



Mobile Edge Core Gaming 18.5" Gel Wrist Rest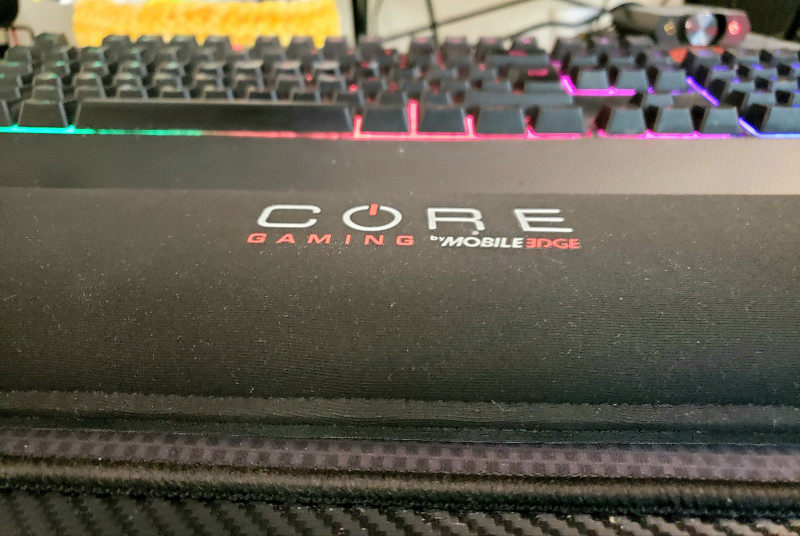 SKU: MEAGWR1 (20% off PROMO Code: Mobile20)
Color: Black
Warranty: 1 Year
Product Dimensions: 18.5" x 4" x 0.875"
MSRP: $29.99 USD
Supplied for review

Another item I've never used previously is a Wrist Wrest for a keyboard. While I used a mouse pad wrist rest for as long as I can remember, I'm not sure why I've never had one for the keyboard before. Until I used the Mobile Edge Core Gaming Gel Wrist Rest, I never realized how much fatigue my wrists had previously, as my arms would be flat on the desk, but then had to angle up my wrists to type. With the Wrist Rest, now my wrists are flat as my fingers type, and as a bonus, I now have the proper ergonomics while using my keyboard. I'll admit, it took some getting used to, as I've simply never used one before, and the wife still isn't the biggest fan, I've actually started using it completely full time when on the PC and have had no issues.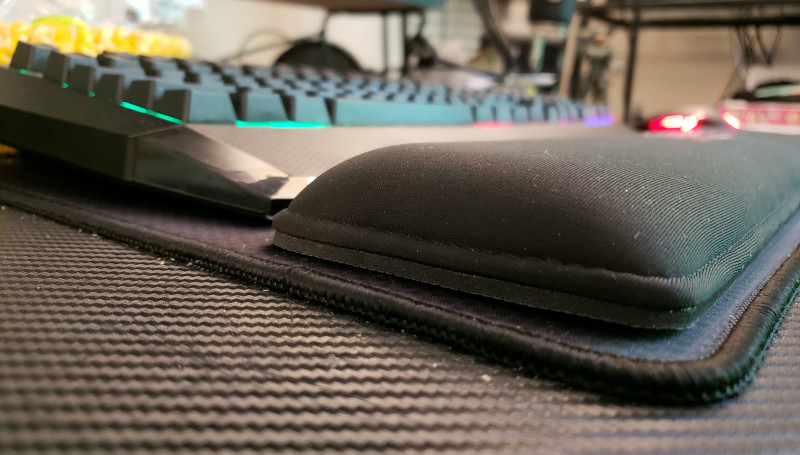 Just like the Mouse Mat, it has the same rubber-like bottom that keeps it from slipping and sliding around, even if it was on a bare desk. I use a full sized keyboard with a number pad, and the wrist pad matched up lengthwise perfectly. Mobile Edge touts that it incorporates a dual lock stitched frame, as to prevent any cloth from fraying over time with heavy use. I've not had it long enough to support the claims over a long period of time, but with at least a month of non-stop use, it seems to have no issues and appears the claims to be true.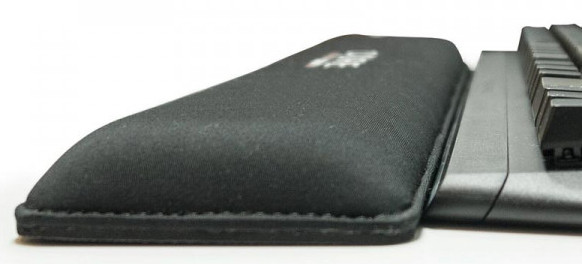 My only minor complaint is that the logo that's printed on the foam part of the wrist rest is already starting to crack and peel off. Not a deal breaker by any means but worth noting. The fabric is soft and the foam interior gives just enough firmness to support your wrist, but plush enough for comfort as well. Again, another product that I've never used previously, but can't see myself without now that I've become accustomed to it.

**Editor's note: All of the above products were supplied for review and XboxAddict is an affiliate of this product(s)/company. Should you wish to purchase any related items through the links in this article, XboxAddict may receive a portion of the sale**