PHOGS! Interview with Developers at Bit Loom
by Adam Dileva






Name & job title of interviewee: Douglas, Henry and James, Developers at Bit Loom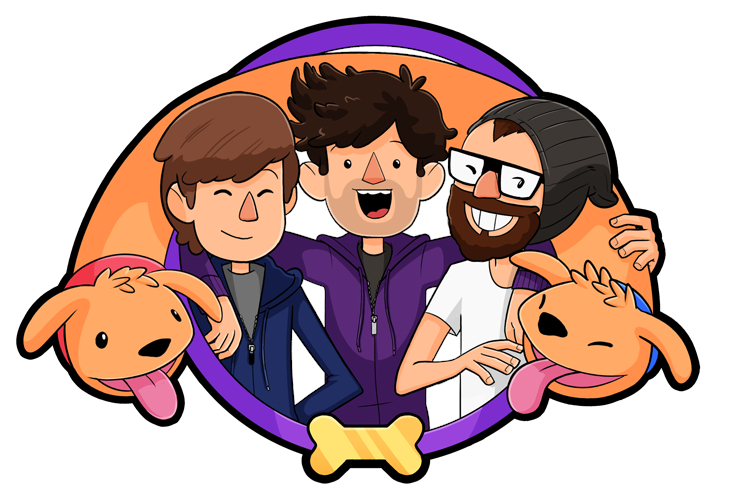 (XBA): Thank you for taking the time to do this interview about PHOGS! So let's just get right into it! For those that haven't seen the trailer for PHOGS!, could you give them the quick elevator pitch as to what it is, why they should play it on Xbox One / X|S and what makes it so unique?
(PHOGS!): PHOGS! is a co-op puzzle adventure game where you and a friend explore a colourful cartoon world as a pair of conjoined dogs, Red and Blue, attached together by a long stretchy belly. Everything in PHOGS! is about the double-endedness of Red and Blue from swinging across monkey bars to hosing water through your body. Every level has you discovering new ways to work together and help the inhabitants of the Phoggyverse, finding secrets along the way.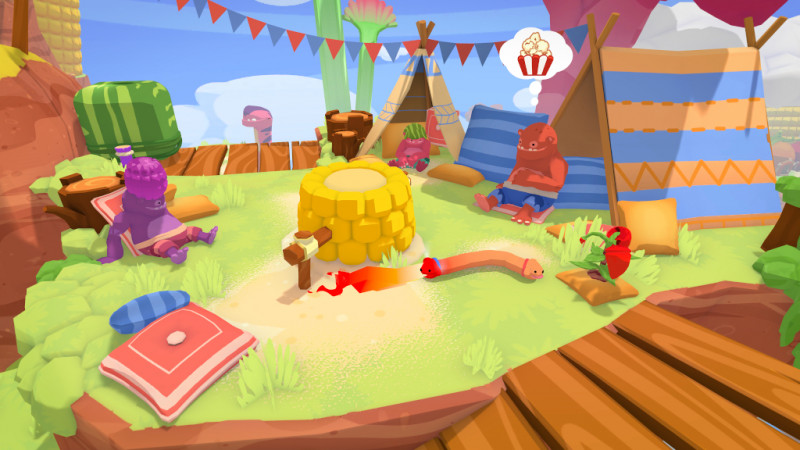 (XBA): I recently just tried the demo for PHOGS! and I have to say, even from its opening moments, I was smiling at not only the cutest two headed dog (I didn't know that was possible), but how colorful and whimsical the world was. How has the feedback been primarily from players who tried the demo? What are players enjoying most about PHOGS!? Were there any suggestions or changes players have requested that took you by surprise?
(PHOGS!): Since we started showing the game at events and recently with releasing the demos we've been continually blown away by people's responses. I think it's all too easy to forget how weird and wonderful so many parts of the game are when we've been deep in its development for so long, so seeing fresh reactions to it is always a delight.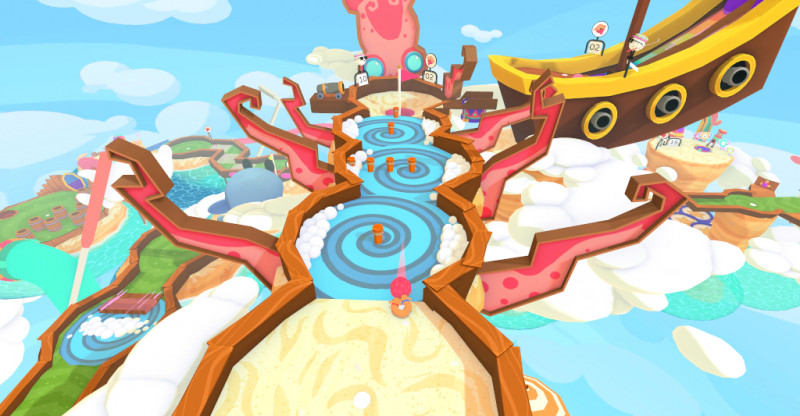 (XBA): I gotta ask. How did the idea about a two headed dog with stretchy belly come about? Is it based on one of your dogs in particular? Are there any unlocks for different dog breeds? I have an adorable Pomeranian/Chihuahua with no teeth; Is the PHOGS! dog cuter?
(PHOGS!): The idea for the Phogs themselves came about in a few roundabout ways. Before development started we bounced around the idea of a game about a strange hose creature that connects pipes together to redirect liquid. While generating ideas for different projects we jokingly came up with a dog character attached to a golfer who would chase after the ball every time they hit it. While definitely silly it didn't feel like it had much potential for depth but the idea of an excitable dog who interacts with the world exclusively using their mouth clicked and led to us combining the ideas into the Phogs you see today. As a dog owner you should know that all dogs are automatically at the cap of cuteness and therefore equal, the Phogs being no exception.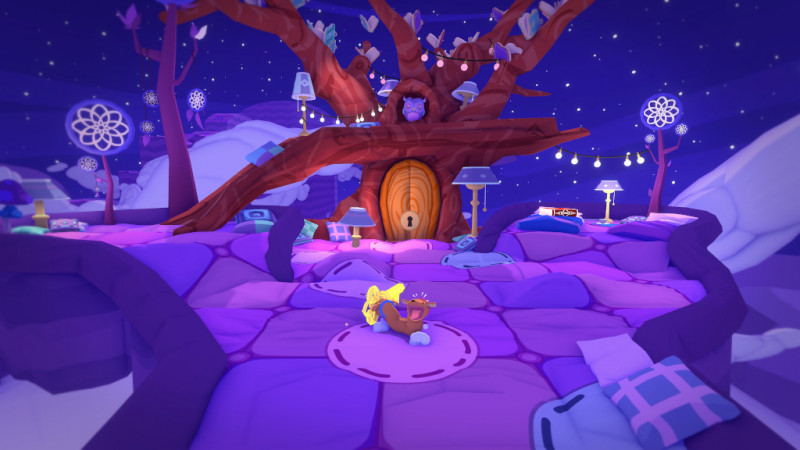 (XBA): Having played the demo, I really enjoyed the unique artistic style. How did you decide upon this colorful and playful aesthetic? Did a game about an adorable dog play a role in the overall visual design and color palette?
(PHOGS!): The visuals and gameplay both evolved at roughly the same time. We knew from a very early stage that it made sense for the game to be a lighthearted and playful experience and so made sure that both the art style and gameplay supported that goal. The design of the Phogs and other ridiculous but charming creatures felt natural to the game and world we were building.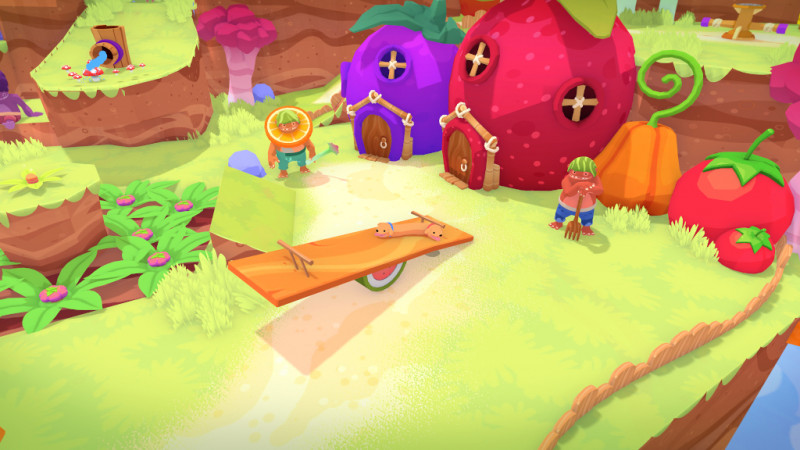 (XBA): PHOGS! looks like the perfect family friendly co-op game that I can play with my 8 year old daughter. What is your target demographic? How did the gameplay design come about for using both heads to interact with objects simultaneously?
(PHOGS!): We always wanted the game to be family friendly, not only for kids but a game for the whole family to enjoy. This in part came from the fact that we wanted to encourage cooperation as much as possible, especially with the initial idea of tying the players together both physically and in game. We wanted people to have to talk to each other while they played and we always tried to come up with ways to get people to coordinate and communicate.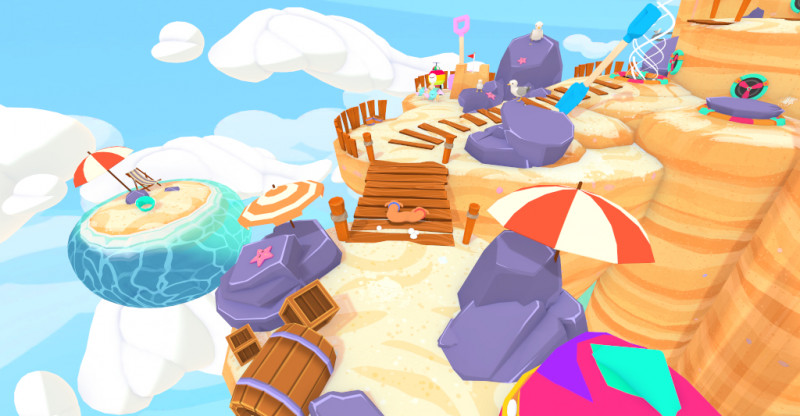 (XBA): It looks as if co-op is local and online! That's fantastic. How does the online co-op work, simply drop-in drop-out? Was online co-op a design choice early on or something that was added later?
(PHOGS!): In the very early stages we were focused on local play since we weren't sure we'd have the resources to implement online ourselves. However after partnering with Coatsink we were excited about the possibility of having friends and families able to experience together even if they can't be in the same room. The online system is fairly flexible, you can invite and join friends mid game although you'll be reset to the nearest checkpoint if you're in a level to avoid any unwanted weirdness. Also both players will get the opportunity to save their progress locally so no one loses their hard work.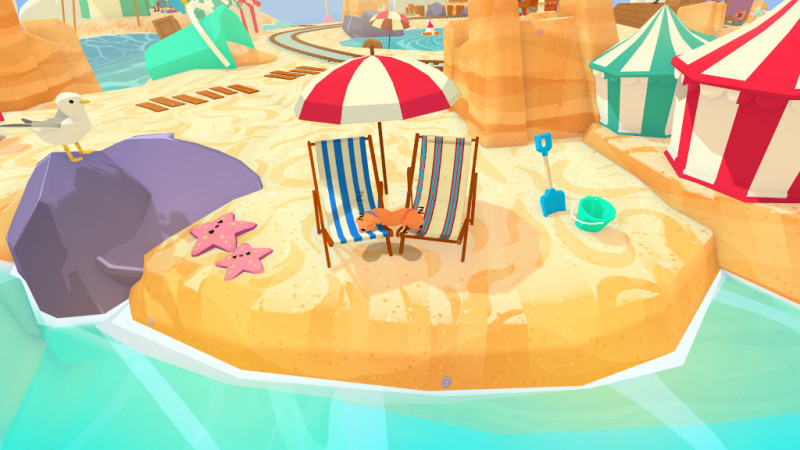 (XBA): Being the team's first game, how has the development process been from beginning to launch? What are some of the biggest things you've learned as a team along the way? What's this about winning a University Award back in 2017?
(PHOGS!): At the very start of our journey, we entered the Dare Academy competition run by Abertay University where we graduated. We entered with a working prototype of the double-ended character and over the course of the competition, we experimented with all sorts of ideas and ended up with the first demo, some elements of which are still in the game today. The climax of the competition was getting to show the game alongside the other entries at EGX, one of the biggest game expos in the UK. We ended up winning the competition there but the best part of it was getting to put our game in front of a large number of people and see their reactions.

Getting to take the game further from this has been a pretty whirlwind experience, we've learned so much about putting a pretty big game together and actually getting it ready to be put into the public's hands. It's been incredibly fun and liberating with the space that Coatsink gave us to experiment and really push the game to be the best it could be.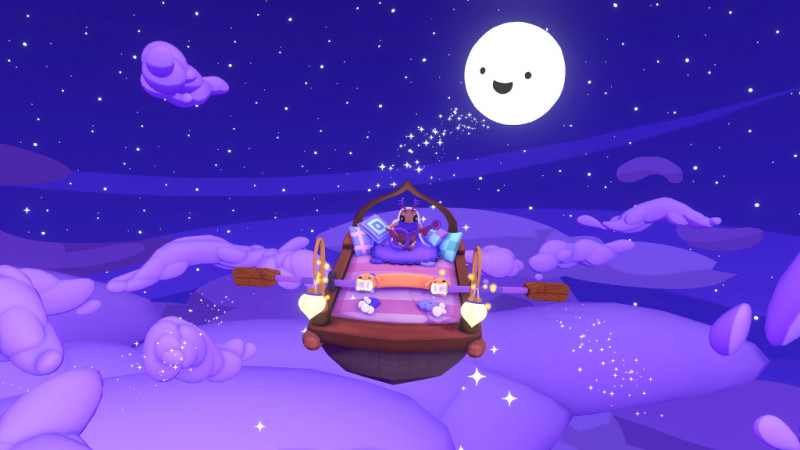 (XBA): Looking at Coatsink's game list, it seems like a great fit for a game like PHOGS! How did the relationship with publisher Coatsink come about? How have they supported the team and helped development?
(PHOGS!): Much to our surprise they actually approached us after seeing an early demo of the game we were showing at EGX in 2017. We talked with them for a short while after and quickly realised that it would be a perfect fit. Since partnering they have helped the game become so much more than it could have been otherwise. Aside from raw funding to keep our hungry bellies full they have assisted us with their talented team on art production, animation, sound design, multiplayer implementation, porting, QA and even marketing. There's no doubt that PHOGS! would be a far less ambitious project without their help and patience.





(XBA): Now that the fancy new consoles are out, are there any specific enhancements for Xbox Series X|S owners aside from the hardware?
(PHOGS!): We have been focused on getting PHOGS! polished and ready for release so everyone has a great time playing across all the different platforms as such we have not implemented any of the next gen specific features. I'm sure if it is something we see a lot of people requesting we can investigate it.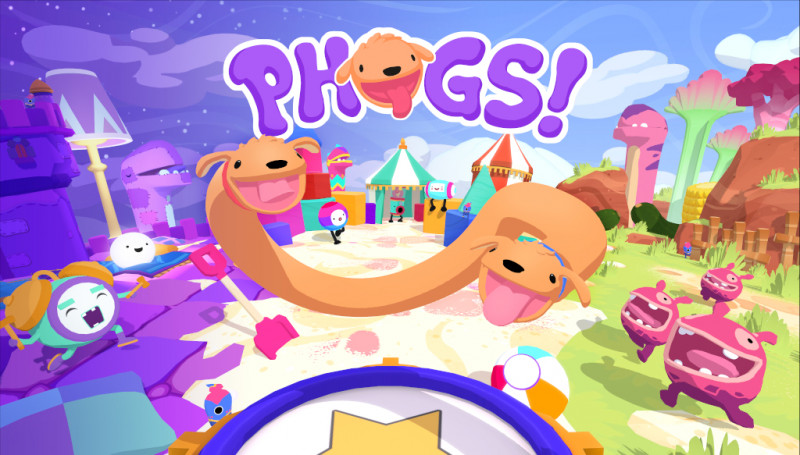 (XBA): It's no secret that our world and the gaming landscape has changed dramatically within this past year. How has your team adapted to development in a post-Covid world development wise? Has Covid caused any major development hurdles at the studio? Do you see this as a chance to find new players since many people are staying at home looking for new games to play?
(PHOGS!): We think PHOGS! is best played with a friend and nowadays lots of people are looking for new games to play with people they can only meet up with online and we do hope the game is able to bring people together in that way. In terms of development we have gone from two people working together and one working remotely to all three of us working remotely, although it was not a huge change it has definitely made some parts of development slower especially the testing of the game, though having the ability to play online co-op has made a huge difference.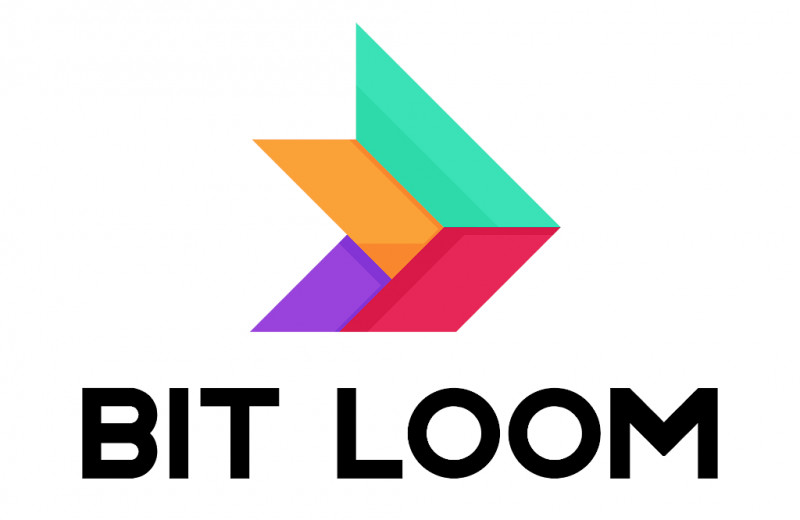 (XBA): I see that PHOGS! will be releasing on GamePass for Xbox users. That's fantastic to hear, as I've played numerous games that I would have never given second thought to even looking at if it wasn't for the service. Obviously without going into specifics, how did this decision come about to include PHOGS! with GamePass? Do you have higher expectations for the game knowing it'll have a much wider audience that might give it a go?
(PHOGS!): Coatsink who are co-developing and publishing PHOGS! have been a huge help in finding platforms for the game including Game Pass and we are really excited for people to see it pop up in their Game Pass library when the game launches. We all use Game Pass and it is a great way to discover new games and smaller titles that would otherwise be missed.




(XBA): Thank you again for your time and being able to answer our questions. We look forward to giving walkies to PHOGS! and will absolutely be checking it out!
(PHOGS!): We hope everyone has a blast going on an adventure with Red and Blue. For anyone who's extra excited about the game we have been lucky enough to collaborate with Insert Coin who have some amazing PHOGS! merch based on designs by the games UI artist, Caitlin.


**You can expect our full PHOGS! review shortly in the future**