King's Bounty II - Preview
by Adam Dileva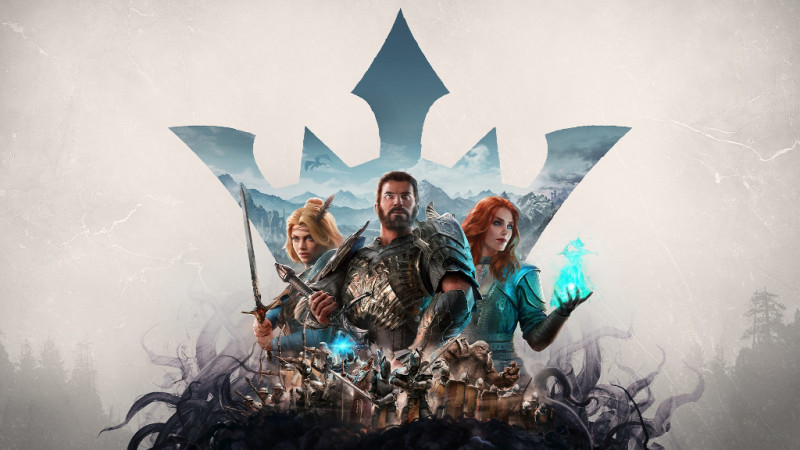 While sequels are commonplace, what isn't so common is when a game more than three decades old finally gets a direct follow up. King's Bounty originally released way back in 1990, and while it had some spin-off / spiritual successors over the years, it never got a direct sequel, until now. Fans that have been waiting a long time for more King's Bounty should be excited, as we were allowed to check out the first ten hours or so in a preview build ahead of its August 24, 2021 release.

Now, this preview was the PC version, but we were told the console experience would essentially be the same, so I specifically played it only with an Xbox Series X controller and every setting maxed to try and get a feel for what the console version should play like on my Xbnox Series X come next month. After playing for quite a few hours with multiple characters, I'm now looking forward to the final launch on Xbox. Developed by 1C, King's Bounty II makes its return as one of the classic iconic turn-based RPG with tons of improvements for a new generation of gamers to experience, expanding its lore with a whole new story, enemies and more.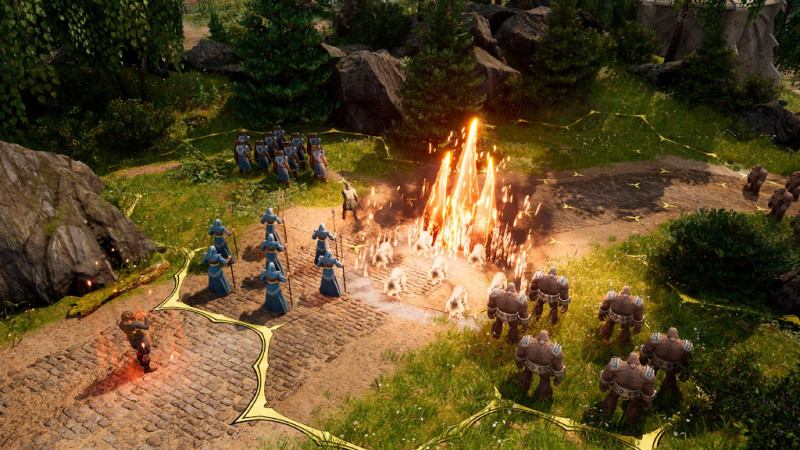 Taking place in the land of Nostria, it seems the world as a whole is taking a turn for the worse. Bandits litter the roads between towns, conspiracies and dangers are everywhere, creatures lie in wait for any travelers and overseas kingdoms have started to become defiant, denying the King's rule over them. Maybe a savior will emerge to become the kingdom's last hope to reunite the lands, even if those heroes are accidental.



Your journey begins by first picking one of three characters, so naturally I had to try each one out to see how they differ. Aivar, a warrior who used to be a knight of the Royal Guard was one day banished when he refused to cooperate in a coup. He escaped to a faraway land, eventually earning a reputation for himself as a masterful mercenary and leading his own troop, the Hounds of War. Eventually captured and jailed, one day he is set free by Prince Adrian with an offer that may give him his previous role and life back. Things seem too good to be true though, so he stays cautious of the offer. Being a warrior, he specializes in more physical based combat, adding damage, resistances and more when you take on battles. While he may not be capable of using magic himself, units under his command are boosted greatly due to his leadership, even earning more experience per battle.

The mage Katharine comes from a noble bloodline, spending many years away from Nostria lands searching for arcane magic and knowledge. The funds for these expeditions eventually stopped, so she returns to attempt to regain her power and rights from the King. Being a mage, she of course sides with magical abilities compared to Aivar, utilizing very powerful magical abilities and spells. Having instant access to Air, Fire, Death and Darkness spells which will help greatly early on in battles.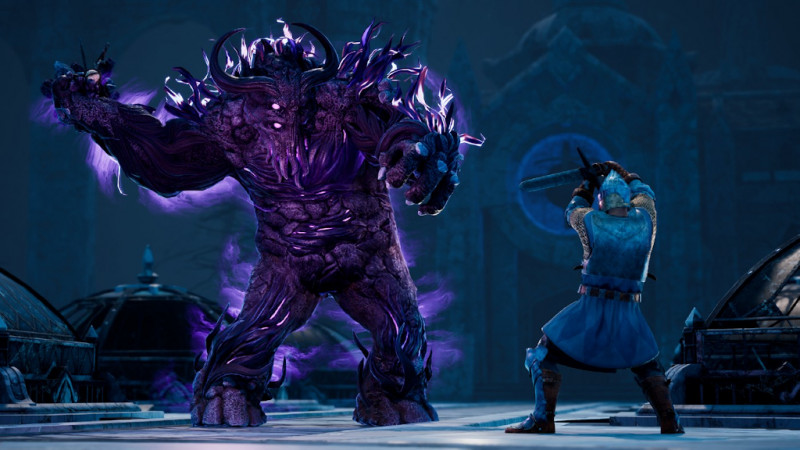 Lastly, there's one more character you can choose, but I'm unable to really talk too much about them at all. What I will say though is that they are somewhat of a hybrid between Aivar and Katharine, and I enjoyed their backstory more so than the other two. Between all three characters I did enjoy my playthrough with Katharaine the most, simply because of the arcane use of her spells which made a massive difference in battles early on.

What I found quite interesting with King's Bounty II since I never played the original was how it feels like its gameplay is set within two completely different genres. Most of the time you'll be exploring the lands of Nostria in third person, akin to The Witcher, Dragon Age, etc, then combat is something completely different with its hexagon turned based strategy. Truth be told, I struggled with combat early on, and while there's a brief tutorial, it doesn't really teach much strategy wise, something I had to learn with plenty of trial and error.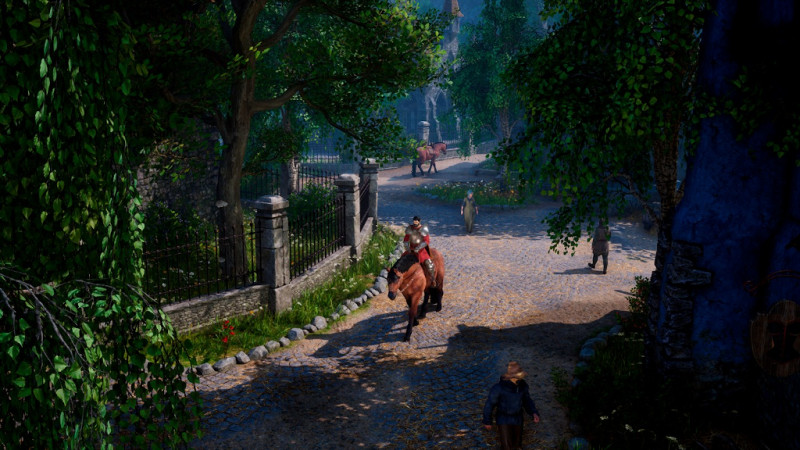 I did quite enjoy the exploration part of King's Bounty II, either on foot or horseback, taking my time to search for glowing objects usually containing sellable loot and gold. As you explore the lands you'll come across different pillars, some used for fast travel, others for mana and experience. There's also a surprising amount of side quests that are completely optional, though highly recommended for the rewards, loot and experience. Once you reach the first city after meeting the Prince, the world itself feels quite alive, bustling with NPC's going about their own business, even having conversations among themselves. There are even notices left up on the boards across town written by citizens, some being quite humorous if you take the time to read them. While not completely open world like other games, you are able to play non-linearly and explore however you wish within its set boundaries.



Instead of brute forcing your way through every problem and conflict, you're sometimes given multiple ways to solve the issue, or forced to side with one person or another. Early on you're given two sides of a conflict and you'll need to decide who you want to fight and scare off based on who you think is in the right. Decisions are based on one of four influences of Power, Finesse, Anarchy or Order. The more you decide to align with one of these ideals, you're character will eventually categorize your character as such. I chose Order when I played as Aivar and the opposite as Katharine to see the different options given, so I'm curious to see how this expands much later in the final game and if your choices will actually 'matter' or not in the end.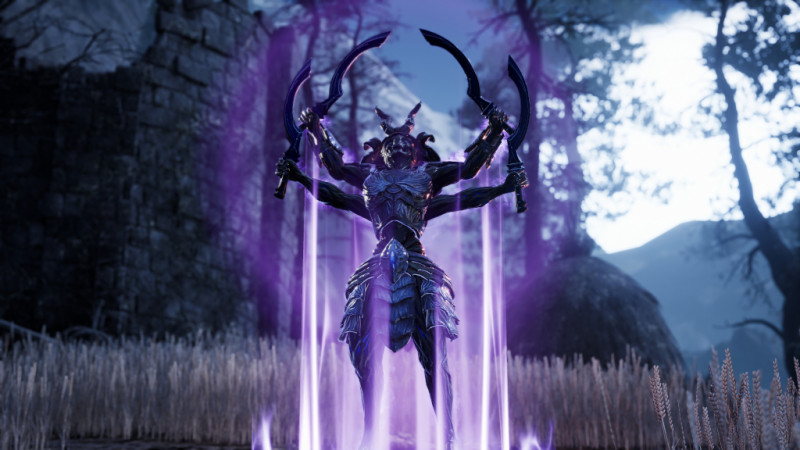 The other portion of King's Bounty II comes with its strategic combat. You command an army of units, leveling them up if they survive battle and combining different types of units. While hexagon turn based combat isn't new or unique, it feels like it's done in an exciting way, complete with tons of challenge. The first battle you take part in gives you a slight tutorial of how to move units, send attacks, use abilities and magic use, but it's so brief and doesn't do anything to teach you strategy at all.




Even just a couple battles in, I initially lost most of my units due to poor planning and execution. Once they die in battle, they are permanently gone, so you're going to want to be careful as possible. You can replace new units by recruiting them via quests or purchasing them at a vendor (much like hiring), but it will take some time to get the hang of battles, especially once you make it further than the main city, as they will require much more planning to be successful. Different unit types exists, like typical bandits, sword and spearmen, hounds, and even undead that can join your army. Some unit types are better suited for different situations, so it will take time to figure out all this on your own. Some even have certain ideals tied to the influences you choose in quests, which will make them more powerful or weaker in battle, so there's a lot to take in.

One major factor of my combat success came with my spell book. Aivar initially can't utilize any spells other than single use scrolls he finds or buys along the way whereas Katharine has access to many from the beginning. Yes, you could spend talent points earned from leveling up and give Aivar access to spell lines, but then comes the question about being masterful in one way of fighting or being more rounded. I struggled quite hard with Aivar's more physical based combat approach, especially versus an elemntal army, having much more success with being able to use Katharine's spells once per turn. Being able to use a high damage spell on a mini-boss fight made a massive difference, so I'll probably choose Katharine for my first playthrough when King's Bounty II releases in August. Of course there's a mana cost for using spells, and you can only use one spell per turn, so you still need to be quite strategic in choosing what spells to use and when.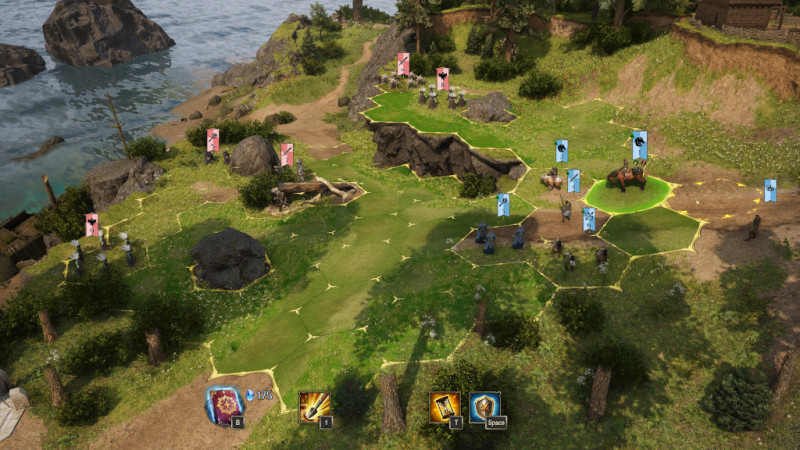 With launch just over a month away, I'm quite excited to experience it on console and with a slew of bug fixes already outlined for its day one patch. I never really have any crashing or major issues, more so questioning game balance and combat difficulty. Given that this preview was based on an early build I don't hold anything against it except maybe its somewhat questionable voice acting quality, but I'll refrain from final judgement until its release. Even though it was the PC version we experienced, it felt natural with a controller in hand aside from a few minor UI quirks and such.

I'm not normally one for strategic games like this, but King's Bounty II does a great job and blending two different genres. It kept me engaged while exploring its world and finding numerous side quests to keep me busy, yet challenging me in nearly almost every battle, wanting me to amass and level a powerful army that I can control strategically. King's Bounty II is the epitome of the saying "good things come to those who wait", even if that wait has been thirty years.



**King's Bounty II was provided by the publisher and previewed on PC with an Xbox Series X controller**