Eldest Souls: Depths of the Forgotten Update
by Adam Dileva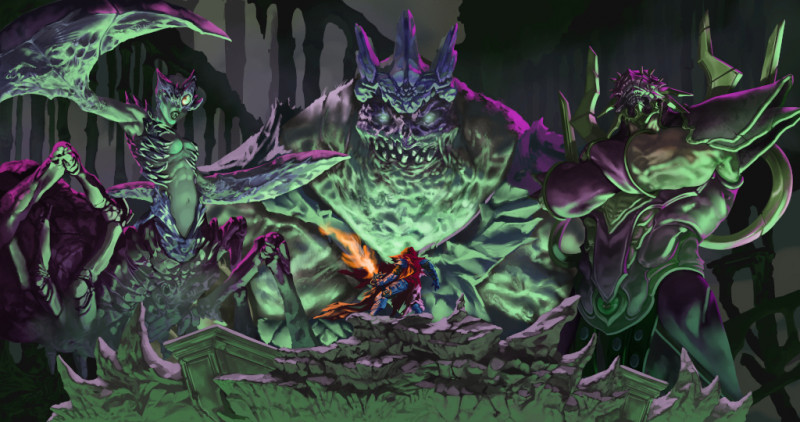 I quite enjoyed my time with Eldest Souls when it released almost a year ago (which you can read our full review HERE), as it was a 16-bit boss-rush that was hard as nails. While I normally struggle with Souls-likes, its combat was on point and I only died because of my own mistakes. For how much it frustrated me, I saw what made it great.

Almost a year later and now Eldest Souls has received its latest update and expansion. The most important thing is that this Expansion DLC is simply an update and completely free for all owners, so it's time to redownload and check out what's been added in this additional content. Developers Fallen Flag Studio said that this Expansion is meant as a thank you to their fan base but to also address feedback they've also received along the way from dedicated players. Depth of the Forgotten of course adds new boss fights, the game's bread and butter, but more content as well, including lore.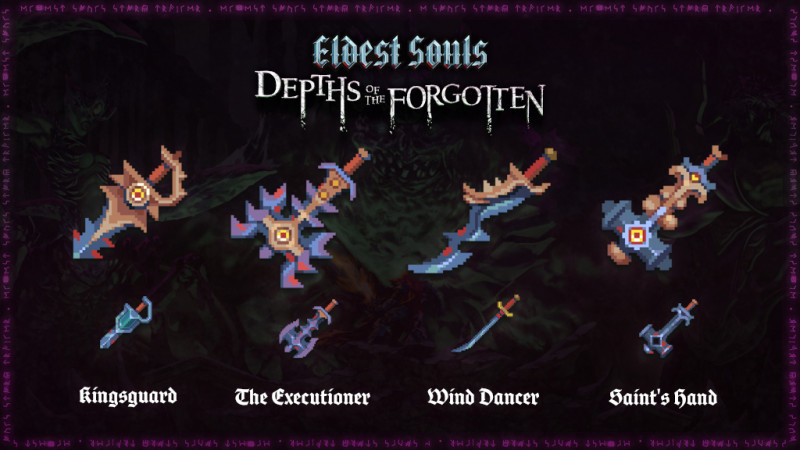 So let's delve into what's new in this latest Expansion: Three new areas (The Sea Below, Moonlight's End and The Forgotten Depths) each house a new and unique challenging boss, waiting to kill you dozens of times over like the previous ones have. There's a new Boss Shard, of which each of the new bosses possess a piece of it and is said to be incredibly powerful if reformed together. This new shard has not only a handful of new infusions, but also coincides with a weapon customization system as well. Speaking of weapons, there are four new ones to unlock and even a new NPC that has new lore to uncover.

While three bosses are clearly the highlight here, and may not sound like much on paper, but if you've played Eldest Souls before you'll know how long it can take to learn some of these fights to finally be successful. Again, being a completely free update, they went above and beyond to encase it in a full Expansion, complete with lore and backstory as opposed to simply dropping in some new bosses without any reason as to why they are there.



To access this new content you'll need to have beaten the first four bosses in the core game. From here you'll then need to explore and figure out what you'll need to do, as it's not blatantly obvious with a large sign saying "New Content Here" with an arrow pointing you in the direction. The core gameplay is unchanged, staying true to what you've already come to enjoy. For those that are new to Eldest Souls, you go from fighting one boss to the next, usually quite large and you're going to die quite often as you learn their patterns. You can't dodge through attacks though like in Souls games, so you need to generally attack a few times, dodge out and wait for your next moment.

I won't delve into each of the three new bosses in depth, but figured it would be good to give you an idea what to expect, to see if it would entice you to re-download Eldest Souls to try out the new content. Zylad – Lord of Steel first appears to be a normal sized warrior or sorts with his armor and a red jewel in his chest, but he then starts to float around, clearly possessing some sort of magical powers. He summons a massive red sword that is constantly trying to spin and slash at you, blocking off much of the movable area in the arena. He can summon spears that float above and then come down, showing a circle radius on the ground moments before hitting. He can zip around the arena, summoning more regular swords, almost shooting at you like a machine gun and can do a wide frontal cone attack that you need to be very careful of. Then he can also summon red scythes, more massive red swords and you're going to have to constantly be watching what's coming from every direction. Being a bit more aggressive seems to work best here.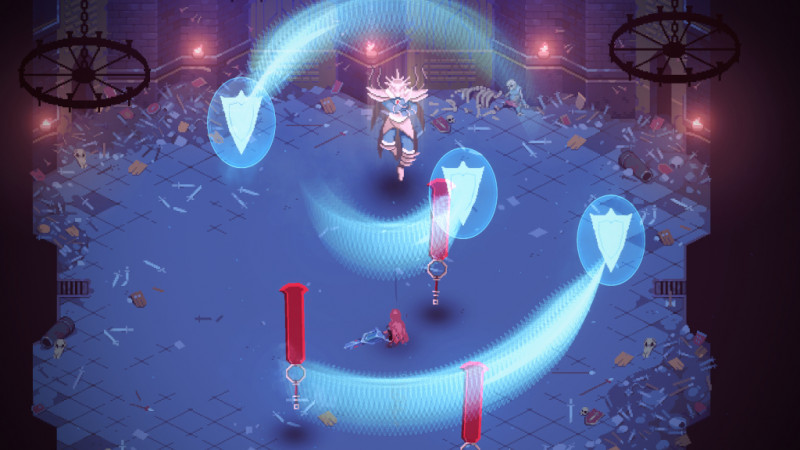 The Rejected Daughter is the next fearsome boss you'll encounter. Think half spider half woman, but her hands are massive blades. She leaves massive circles on the ground which should be avoided, sometimes cutting off roughly half of your area to maneuver. A spider fight wouldn't be complete without you being slowed with some webs of course, but there are also three pools of water along the edges of the room that may help you when you take some serious poison damage.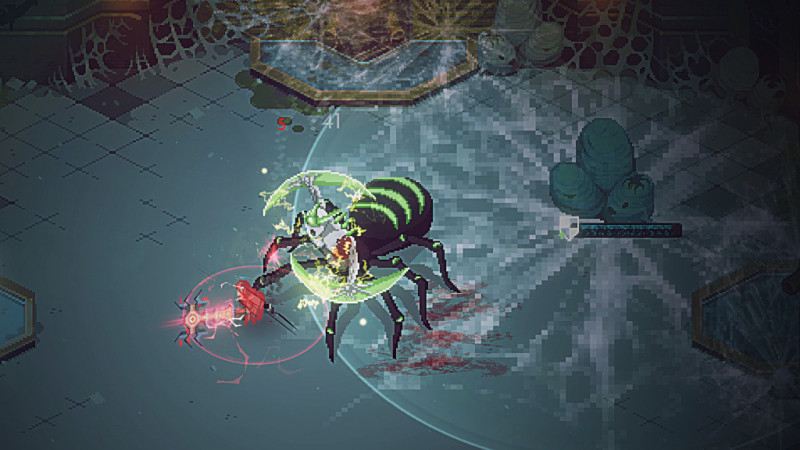 The final boss, while the coolest looking, is also by far the most frustrating. The Rotting Crown is a King, massive in size from gluttony but also decomposing, showing his guts and bones as he sits on his floating and moving throne, complete with crown dawned on his head and piles of bones that litter the edges of the room. He has a massive mace that can reach in an arc in front of him and force you to back pedal quite often. Not only will you need to watch for electric balls that can float around the room in random directions, but patterns on the floor that need to be avoided where attacks are about to happen. Making matters worse, he can summon undead skeletons that crawl along the around slowly, causing a huge circle of damage around them as they try and harm you. With two massive bells hanging on either side of the room, you'll need to figure out what these are for, but good luck, as his health pool is massive and is easily the most challenging boss of the three.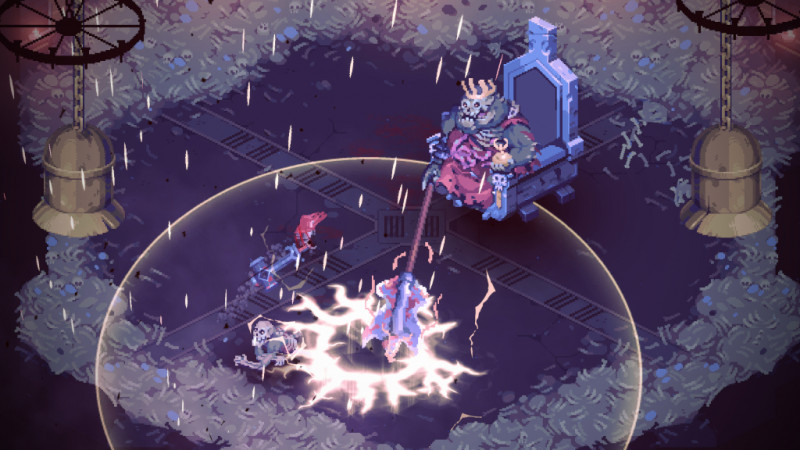 Depths of the Forgotten Expansion DLC is a fine addition to an already exhilarating and challenging game, adding more of what made it so great in the first place. The fact that it's a free update is just the icing on the cake. The pixel artwork is top notch as the original game had, as is the fitting soundtrack that plays in the background as you die multiple times to the new bosses. Your success in the Depths of the Forgotten is going to be based on your previous knowledge, skill and builds from the core game itself, but for a free update, it should be applauded that developer are supporting their fan base with quality content long after launch.

**Eldest Souls: Depths of the Forgotten was provided by the publisher and reviewed on an Xbox Series X**