Thrustmaster eSwap S Pro Controller - Pared Down but still Pro
by Peggy Doyle






The Thrustmaster eSwap S Pro Controller is a newer and slightly pared down version of their eSwap X Pro controller. It has less swappable parts and fewer rear buttons to map. It does however have a 'New and Improved' D-pad, an upgrade from the eSwap X Pro.


Specs:
Width: 160mm/6.3inches
Depth: 120mm/4.7inches
Height: 60mm/2.4inches
Weight: 260g/0.6lbs


Included in the box are:
1 x eSwap S Pro Controller gamepad
2 x swappable mini stick modules
1 x power cable (USB-C)
QuickStart guide and warranty information


Controllers comparable and referenced in this review:
Thrustmaster eSwap S Pro controller - $169.99 CAD
Thrustmaster eSwap X Pro Controller - $199.99 CAD
Xbox Elite Controller Series 2 - $229.99 CAD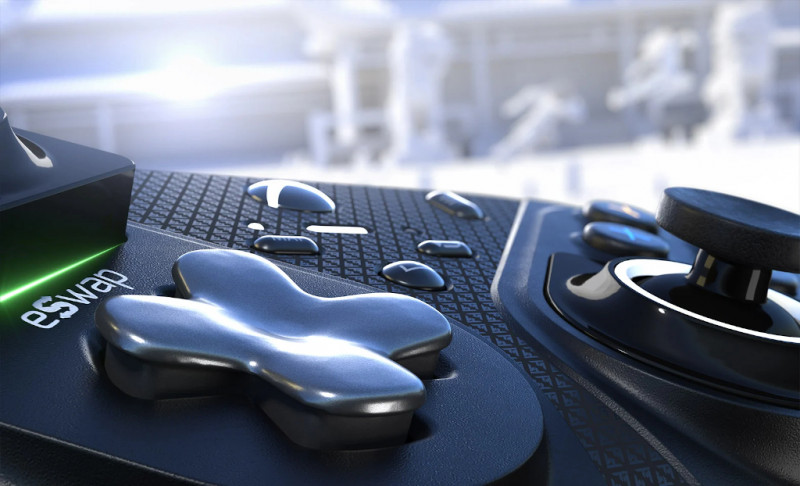 The Thrustmaster eSwap S Pro controller is plain and straight forward at first glance. It's plain black with the standard ABXY buttons you are familiar with from Xbox controllers in the same green, red, blue and yellow letters. However, once you look closer you can see some differences. The start and menu buttons are placed much higher on the controller to make room for the mapping buttons that have taken their place in the center.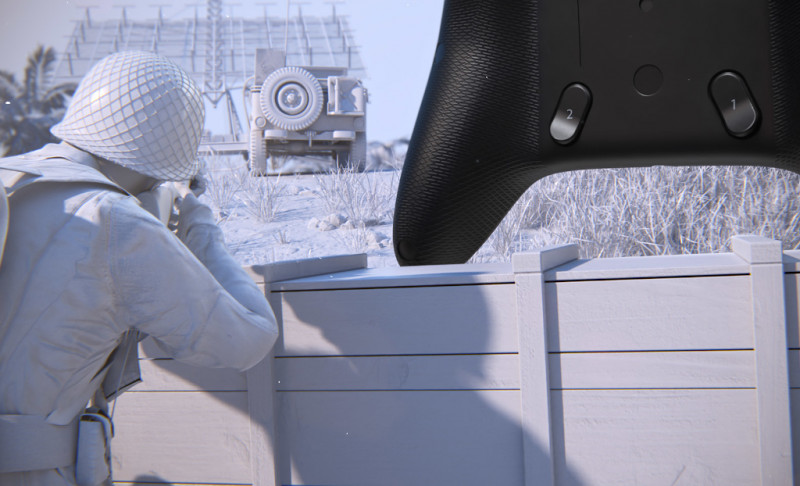 Light weight but a solid build and feel. No spaces discernable at joints or noticeable clicking or sticking with buttons or triggers. No rough edges or burs that you sometimes find on plastic joints.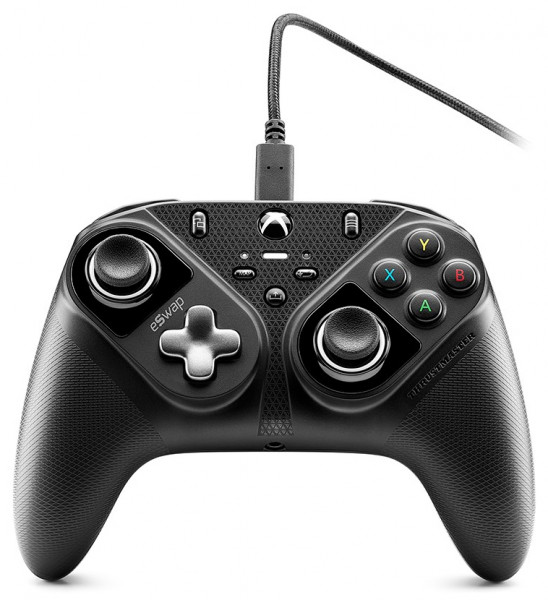 The sticks can be swapped out and replaced with taller and higher sticks. I asked someone who is more of a competitive player than I am as to why different height thumb sticks are important. Short thumb sticks are for quicker movement speed while taller ones give you more precise aiming. A lot of gamers I know play with one of each. The idea is 'simple' they tell me, the shorter the stick, the more it reacts to small movements your hand makes.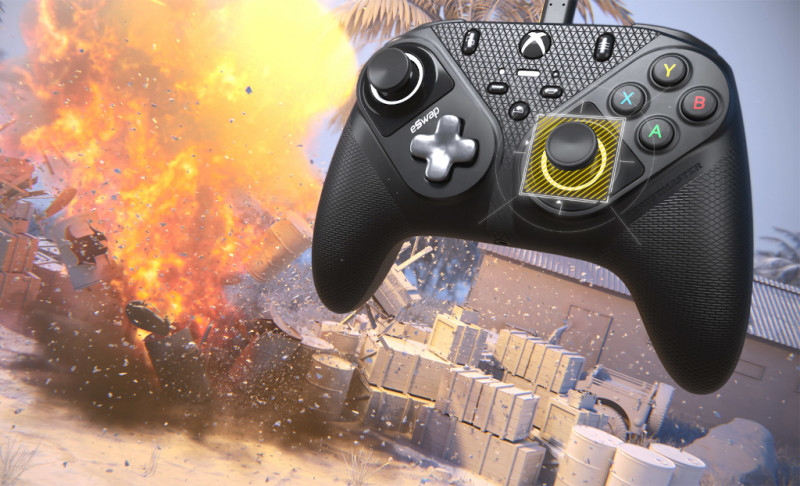 Holding the controller for hours at a time was no issue. I found it slightly more comfortable than my regular Series X controller and I assume that is due to the weight differential since the other dimensions are practically identical. Being wired it was slightly lighter than a standard Xbox Series controller with batteries, and significantly lighter than the Elite Series 2 controller. The weight difference isn't significant either, but I suffer from some issues with my hands and even a slight difference was noticeable to me. The Series X controller weighs 287g with two AA batteries inside. The only time I experienced any discomfort was when I consistently tried to find a comfortable way to position my hands to use the mappable buttons on the back. I found it caused some straining in my knuckle joints after a period of time.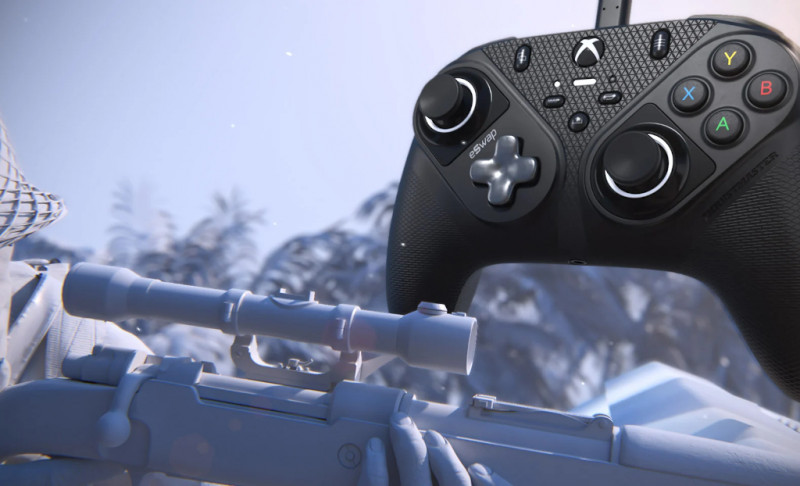 The standard ABXY buttons can be found on the eSwap S Pro controller, but they have a flatter shape and shorter travel distance than other controllers. They felt more like clicking a mouse versus pushing a controller button, and I preferred the buttons on the eSwap controller to any others that I own. No sticking or clicking and a quick response time. The eSwap's D-Pad is the same shape as other standard controllers but it has rounded edges and feels smooth when using it. Again, like the buttons, it had smaller travel distance and a lower profile. The newer Xbox Series controllers and the Elite controllers both have an almost parabolic disc shaped D-Pad. I'm not sure I have a preference, but I would give a slight advantage to the eSwap S controller for the smooth feel of it.



The mappable buttons on the back of the eSwap S pro controller, M1 and M2, are easy to map. Having only two versus the four on the eSwap X controller (and the Elite Series 2 controller having four paddles) may be an issue for some, but I often don't have more than one or two things remapped at any time, so it wasn't an issue for me. They are significantly smaller than the paddles on the Xbox Elite Series 2 controller and therefore don't stick out as far to the sides. I am aware that some gamers find they accidentally hit the paddles when playing so they may find the smaller buttons a benefit.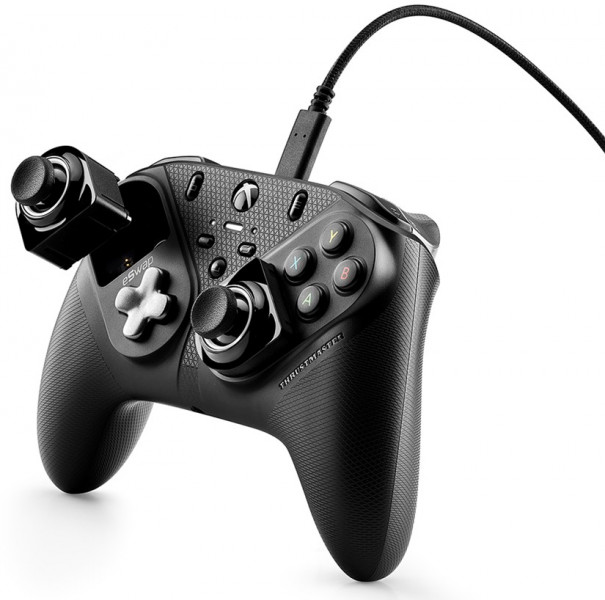 Trigger locks are commonplace with most pro controllers, and the eSwap S pro is no different. It allows you to activate trigger locks on one or both triggers. There is only one lock placement though, differing from the two on the Elite Series 2 controller. The ThrustmapperX app (free to download through the Xbox store) is used to create custom profiles and mapping for the controller. It was extremely easy to use, allowing you to create multiple profiles and remap buttons easily. It also allowed you to adjust the stick sensitivity. It includes details like changing your sticks dead zones, sensitivity curves, and trigger % factor.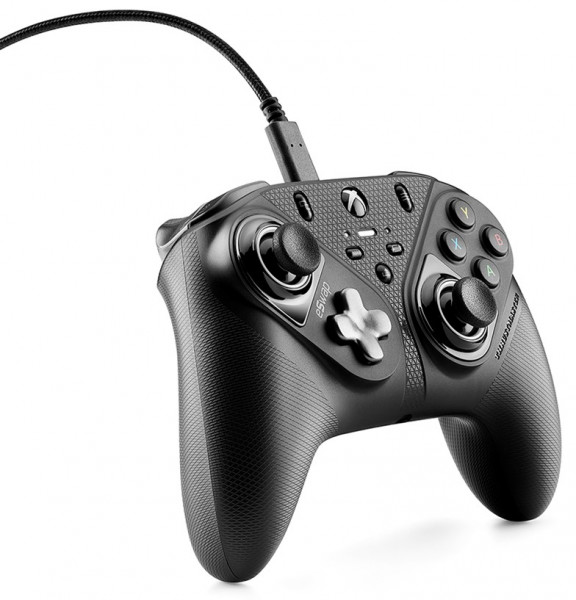 Sticks can be swapped out for a higher stick; they simply pop out as a full unit instead of just swapping a stick like the Elite Series 2 controller. This makes it a bit more clunky to swap but they are also bigger and less likely to lose the sticks you are currently not using. The pieces also seem more durable. I wasn't given any of the higher sticks to try so I can't really comment on them though. Some gamers like to use one tall and one short stick, so it's nice to have the option to buy additional sticks, or replacements should you encounter drift, breakage or wear and tear. A quick search gave me an estimate of $29.99CDN each for the replacements. One difference between the eSwap S and eSwap X is that the X also allows you to swap the location of your left stick and your D-Pad, ultimately allowing you to have the configuration similar to a PlayStation controller. In general, I prefer the Xbox layout so this didn't bother me, but quite a few gamers I know, especially those who play fighting games, prefer the PlayStation layout and thus may be drawn to the eSwap X as it allows both layouts and formats. All sticks are concave with the eSwap S Pro controller. Gamers have their preferences, and if you really want convex, you could easily grab some silicone thumbstick covers for them.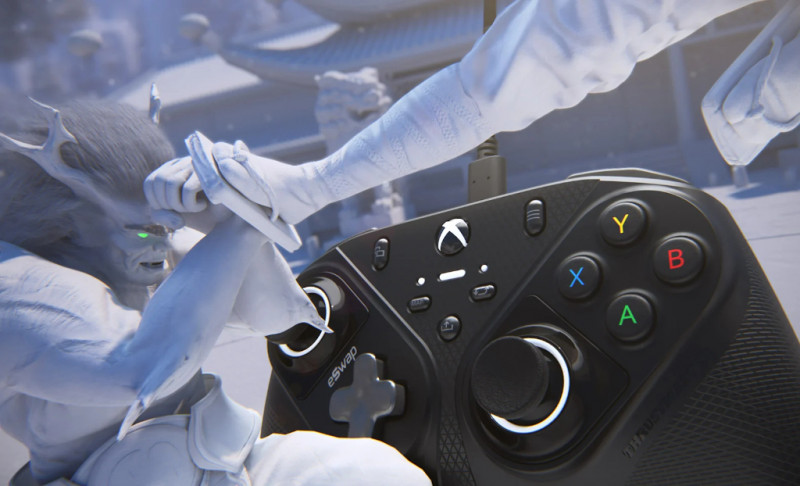 In summary, here are my thoughts on the Thrustmaster eSwap S Pro controller:

Best For: Single player games like platformers and action/adventure games.
Okay For: Some FPS games and will give some benefits with a few extra commands, mapping to rear buttons and also trigger locks and stick sensitivity customization.
Not the Best For: Competitive fighting games or competitive FPS. Also, I can't really recommend it for smaller hands based on my personal time spent with it, approximately 3 weeks and hours of daily use. Also, if you want wireless, this is not for you, it's wired with USB C.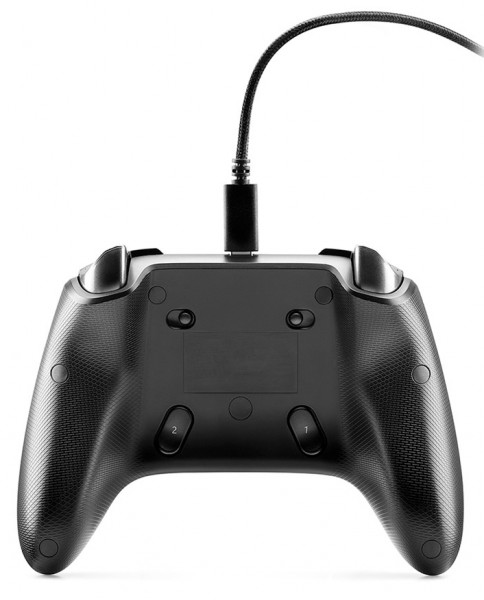 My biggest issue with the Thrustmaster eSwap S Pro controller was that I couldn't really use any of the extra features that made this seem special in the marketing. I didn't receive any of the addition sticks to check how the height differential reacts in games, and I really feel like the buttons on the back were too far out of reach for me. I don't think I have small hands, but as a female gamer I think this controller is more geared towards those with longer fingers and larger hands. I could just reach them, but it was uncomfortable and cause some strain when trying to hold my hands there continuously.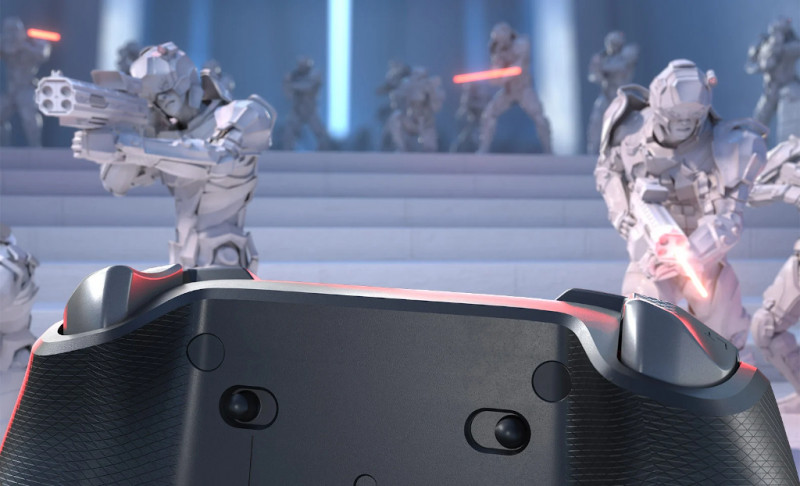 If you want to take full advantage of button mapping and swappable layouts, I can recommend that you grab the eSwap X Pro controller over the S, but if you want something that gives some basic modifications, the eSwap S Pro is an excellent choice at a significant cost savings. Even though I didn't use the back mapping buttons much, I loved using the controller. I found it light weight, durable and I really like the way the buttons, sticks and triggers felt. This would be recommended on those features alone.


**Thrustmaster eSwap S Pro Controller was provided and reviewed on an Xbox Series X**


Overall: 8/10