Turbo Golf Racing - Game Preview Impressions
by Adam Dileva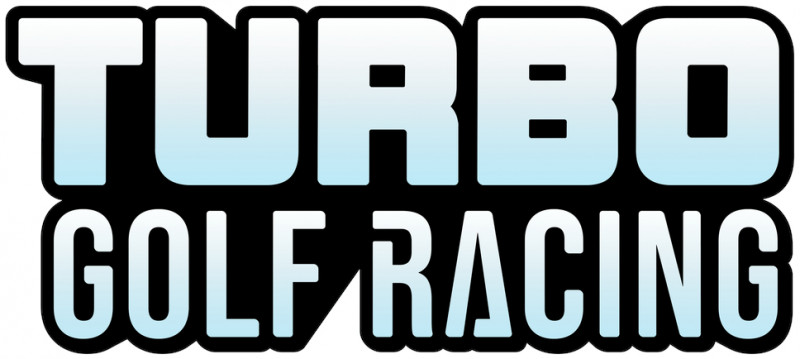 There's always something great about having a game you're looking forward to announced that it's not only coming to Xbox Game Preview so you can get your hands on it well before the official launch, but even better when it simultaneously releases for Xbox Game Pass as well, allowing millions of other players to also check it out as development progresses. Having checked out the beta a few months ago, I was quite excited to see how Turbo Golf Racing was shaping up and what's been changed worked on from feedback so far.

Given that much of the game is unchanged since the beta I played, there will be sections of this article taken from my previous beta impressions, and while we don't score games that in are in Game Preview given that they are still being currently developed, we'll see if we give a recommendation or not at the end. Being in Xbox Game Pass, this makes it kind of a no-brainer if you're a subscriber as you can download right now and begin playing, but is it worth your time to smash some balls down the field in your vehicle? Let's rev those engines and find out.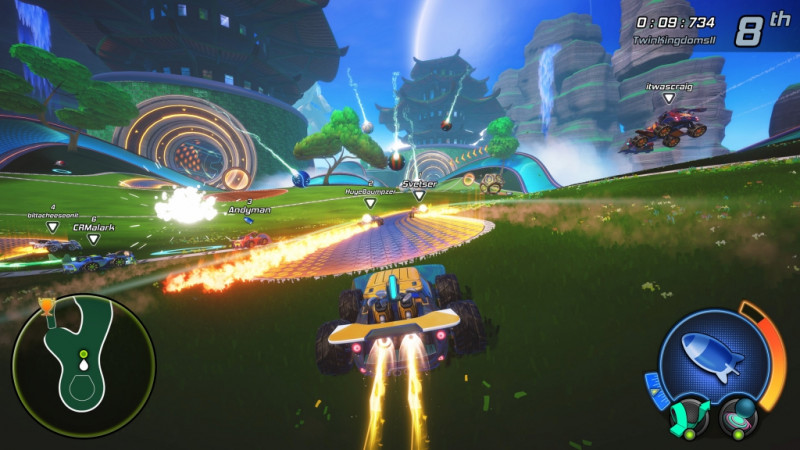 Developed by Hugecalf Studios and published by Secret Mode, I wouldn't fault you for thinking that Turbo Golf Racing was from the same developers of Rocket League. At one point when it was first announced I legitimately thought that Turbo Golf Racing was a spinoff or some sort of special mode for Rocket League. This is because the artistic style is very similar to the uber-popular game, but the premise is very different.



While the core premise to Turbo Golf Racing is, well, golfing, your club is your vehicle, so you and your fellow opponents all play simultaneously, boosting down the course to try and get your ball on the hole first. Instead of scored by how many hits it takes to land your ball into the hole, it is synchronous racing to the hole for eight players online. Not only do you have to simply smash your ball towards the hole, you can jump, flip, boost and even use power cores and abilities that makes it much more interesting.

More than just boing regular cars, your vehicles have exaggerated body kits, shields in the front to smash your ball that's larger than your car, interesting color pallets and some fun accessories to show your personality. With a boost enabled vehicle it'll take some practice to figure out the best way to knock your ball down the fairway to where you intend. There's a lot of factors that determine where your ball is going to land, from your speed, angle, if you've jumped, flipped and more. For example, knock the ball at a weird angle from your front bumper and it won't necessarily launch forward in a straight path.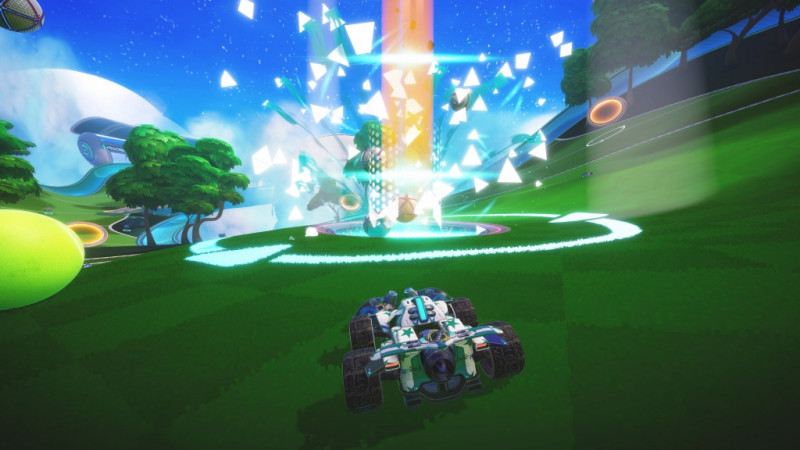 There's a line that will show you the angle the ball is about to go before you hit it, but you've only got a quick moment to adjust since you're barreling down the fairway to the ball with your turbos enabled. It definitely takes some practice to get used to, but eventually it does start to feel natural as you make purposeful shots and even aim for the boost rings and power-ups. You can refill your boost meter if you drive on the 'fairway' on dedicated strips or by doing flips with your vehicle. Having your ball go through one of the floating rings will make it boost much further, so there's some strategy when it comes to the path you want to take to the hole but these shots require some deliberate planning and setup usually. Do you play it a little safer and try to hit the ball straight down the course, or take some risks and try and launch the ball through some rings so you can play catch up? For me, finding a balance between the two tended to work best, but eventually I was able to smash my ball where I intended or corrected a hit with one of my power cores.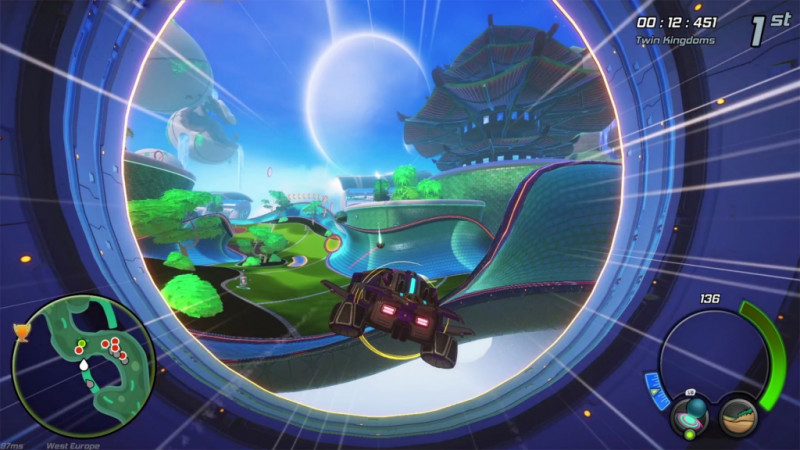 While the main draw of Turbo Golf Racing is its online multiplayer aspect, there is a Single Player mode for those that want to work on their skills before boosting their way to online competition, and while I commend that there's been an effort made for solo play, it's currently so bare-boned that it's barely worth spending the time in. Sadly it's not even against bots, you simply play courses by yourself, but instead acts more like a time trial mode. Sink the ball into the hole within specific time limits and you'll earn stars. The more stars you earn the more courses and bonuses you unlock, so it's a good place to start to learn the courses and how best to utilize your vehicle but that's about it.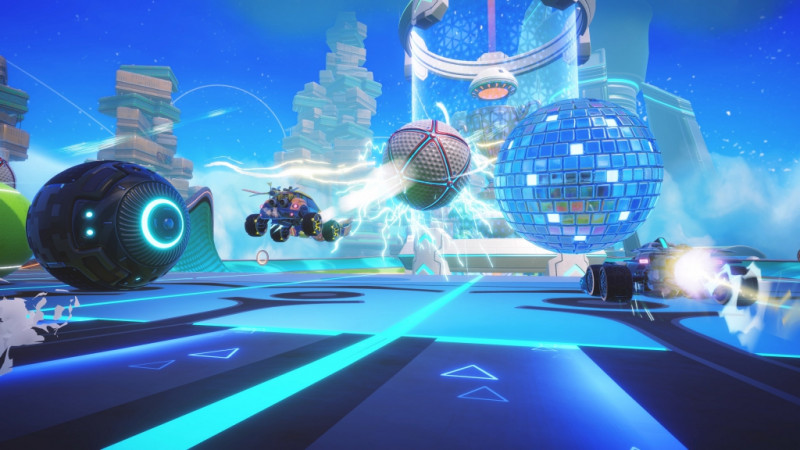 Turbo Golf Racing shines best once you head online with some friends and take each other on or against anyone across the world. Grouping up with friends is obviously the most fun, but trying to outrace and outplay your competition is also quite exhilarating when shots to the hole are made within seconds of each other. While there's currently only a handful of maps across a few different areas or difficulties, I'm sure the course count will be added to as development progresses. Some courses are quite basic and straight forward while others have forks on the main path that has you choosing which way you want to go and even has antigravity platforms to reach higher sections of the course.

Unless I completely missed an option or setting somewhere, it seems there's no voice chat available within the game itself, instead opting for an emoji style of communication that's bound to your D-Pad, another reason its best to group up with friends via Party Chat. While this made for thankfully quiet matches and no toxicity or having to mute annoying players, it also felt somewhat lonely at times even though you're playing against others, but maybe this was a conscious decision given its Golf roots.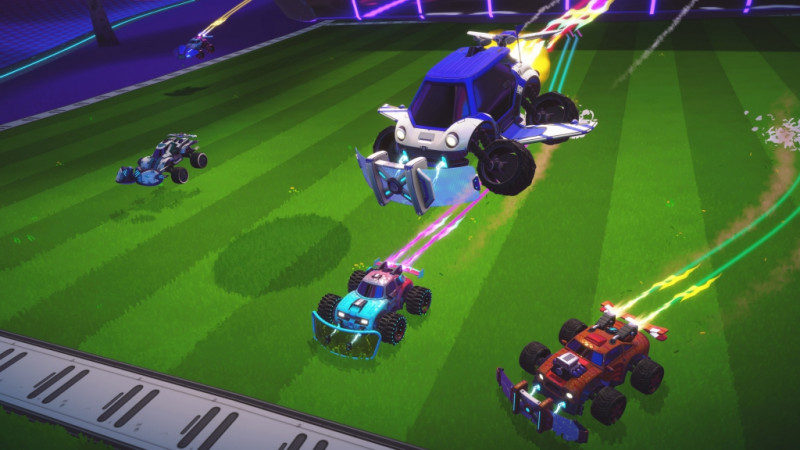 Thankfully you're unable to be grieved by other players messing with your ball, as each player can only hit their own, making everyone else's semitransparent. There's also a Shot of the Match that highlights some of the amazing plays of the game, though I've landed a massive long shot and got nothing, yet have seen minor little bumps that somehow got Shot of the Match.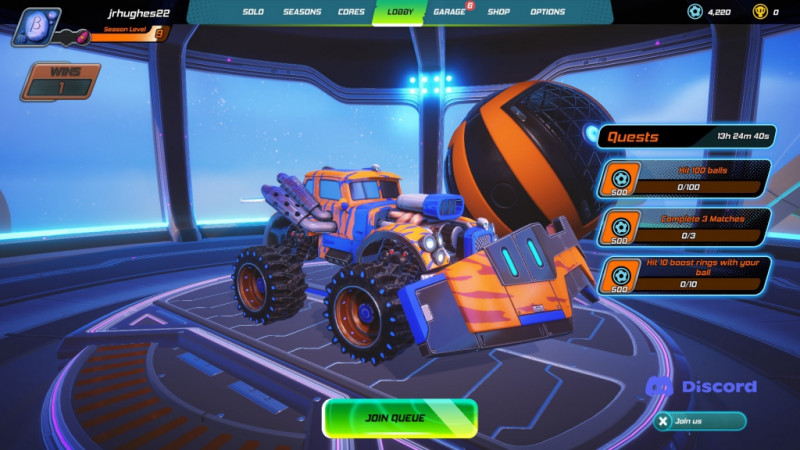 As you race along the course to get your ball to the hole, you'll notice three different power-ups: Rockets, Shields and Boost Refills. If you OR your ball goes through these you'll get the power-up to use. Boost Refills are self-explanatory, Rockets allow you to fire a missile at a locked on enemy and the Shield prevents someone else's rocket from hitting you. Being hit by a rocket is much like a shell in Mario Kart, making you briefly stunned and stopping your momentum, great when you do it to others, not so much when it happens to you.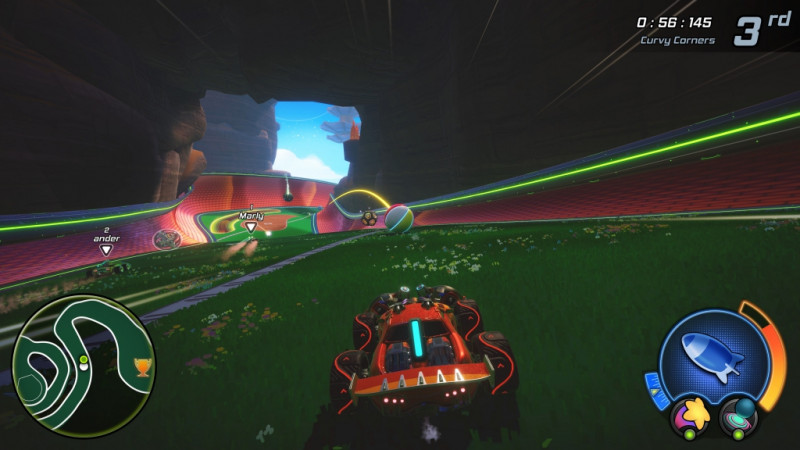 There are a handful of Power Cores you can earn and unlock as you progress that come in two different categories: Active and Passive. These vary and can drastically change how successful you are in your matches. Certain ones will have sand traps not affect you, maybe make your ball larger for easier hits, a pulse that knocks the ball outwards from you or even a magnet that pulls your ball in towards you. The magnet Power Core has had me win many holes with it as I sit near the hole and correct my poor shot and pull the ball back in towards me for the finish. There is of course a cooldown period between uses but I've been enjoying experimenting with the different Power Cores and combinations to see what works best for my playstyle.

There's a leveling system in place, so you gain XP from matches, even if you don't win, and certain milestones you'll earn some rewards. You'll earn badges after each round of matches as well, so you're constantly making progress, more based on how well you play and placed. There is also a 'Battlepass' system in place, allowing you to work towards special unlocks and rewards. The cosmetics can be quite fun, as there's a plethora of special ball skins, body kits, spoilers, wheels, icons and more. There's also a store where you can spend your earned currency and even Trophies for the 'best' items that you earn from winning tournaments online.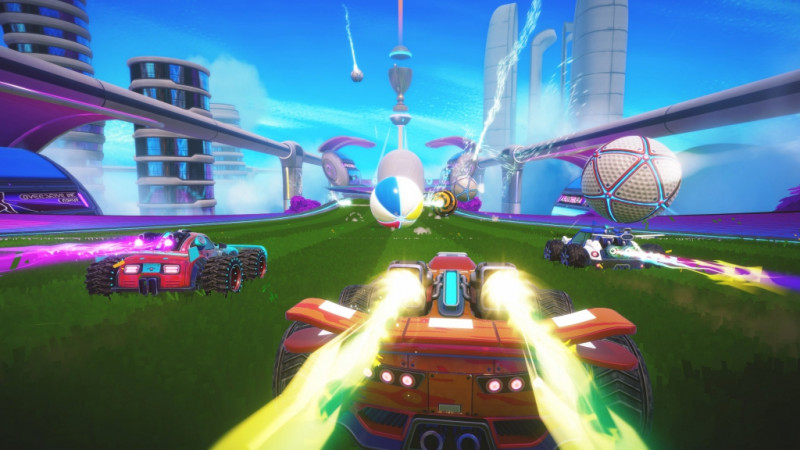 Being in Game Preview, Turbo Golf Racing isn't ready for its full release yet with developers hinting at about a year of 'early access' but have stated that there are going to be numerous updates and free content and pack planned for the future. While it may be currently light on content, especially when it comes to the courses, I have no doubt this will be remedied in future updates and content additions.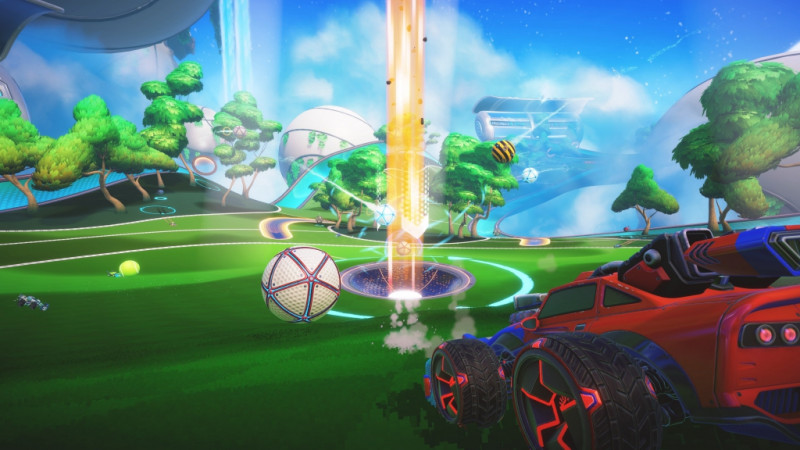 Even if Rocket League wasn't your type of game, Turbo Golf Racing was quite entertaining with each hole only taking a few minutes it was fun to quickly jump in, play a few holes and then move onto another game when I was short on time. Gathering some friends will no doubt be where Turbo Golf Racing shines, so it's time to boost down the fairway and sink your oversized ball into the hole before the other racers.

**Turbo Golf Racing (Game Preview) was provided by the publisher and previewed on an Xbox Series X**