Roccat Magma Mini Keyboard Review
by Adam Dileva








Features and Specifications

Form Factor: 60%
Connectivity: USB-A Wired
Cable: Fixed with rubber finish - 1.8m
Lighting: 5 Zone Programmable RGB, 10 LEDs
Switches: Membrane
Polling Rate: 1000 Hz
Adjustable Height: Yes
Keyboard Rollover: Max 20 Keys, Anti-ghosting
On-board memory: No
Software: Swarm
Weight: 460.0g/16.23 oz with cable
Product Dimensions: 308 x 132.2 x 36.6 mm / 12.12 x 5.20 x 1.44 inches

Included Inside

ROCCAT Magma Mini Gaming Keyboard
Quick Start Guide

Just like other Roccat products, they tend to keep things simple when it comes to what's included inside and the unboxing experience. As you remove the tape keeping the box together and open the top flap, you'll simply see the keyboard encased in some protective plastic with the cable tucked away along with a small Quick Start Guide; that's it. I really enjoy Roccat products after reviewing a handful, just don't expect to be wow'd by the unboxing experience, as it's quite basic.


Hello Roccat



Having previously reviewed both the Roccat Vulcan II MAX and Mini, I'd learned quite quickly how a 65% form factor keyboard differs from a full sized one, something that I've struggled with. I've since gone back to making the Vulcan II MAX my daily use keyboard as I find comfort in its full size and I didn't realize how much I utilized the Num Pad until I didn't have it. I struggled with the Vulcan II Mini due to its 65% form, not due to any fault of Roccat, as it was simply my first foray into smaller keyboards.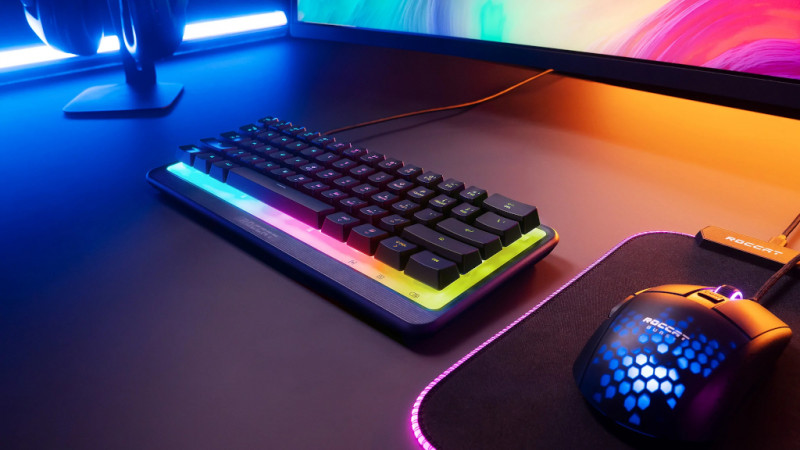 Now that the Roccat Magma Mini is here, I was more prepared to try out this keyboard knowing what to expect, though this is even slightly smaller at 60%, which once again took a good amount of time to get used to. I actually aimed to have this review completed probably a week earlier, but I still wasn't comfortable with the 60% form factor, so decided to take another week to see if time would improve my usage and up my typed WPM (words per minute). The extra time did help with my comfortability, but I'm still nowhere near my WPM when compared to using the Vulcan II MAX due to its full size, again, not to any fault of Roccat, it's just difficult to break decades of habit and comfort using a full sized keyboard my whole life.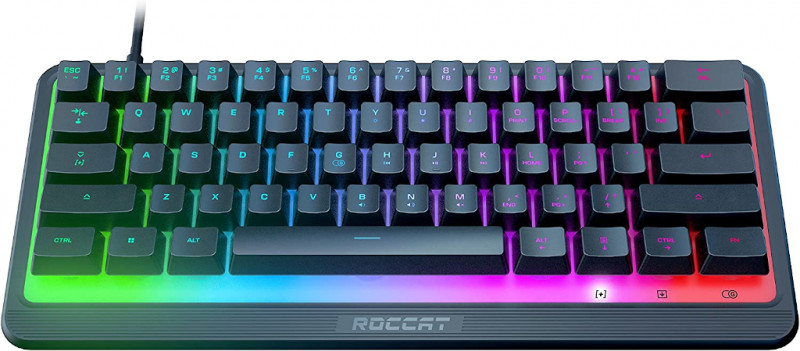 Priced at $49.99 USD ($69.99 CAD), I won't lie, I was a little skeptical of how the Magma Mini would perform due to being more in line with budget pricing when compared to other keyboards. Also, it may be surprising to know that in 2023 Roccat is releasing a membrane keyboard. That's right, the Magma Mini is not a mechanical keyboard. Now if that alone causes you to have some hesitation or skepticism, believe me, I was with you. How and why would someone choose a non-mechanical keyboard these days? Well, turns out there's a good amount of reasons, so Roccat has crafted something for that audience. Regardless of my own preferences, I can see the appeal the Magma Mini's features for others.

Being a 60% form factor, this frees up a lot of precious real estate room on your desktop. I don't have a small desk, but noticed immediately how much space I gained from using this smaller keyboard. Like Roccat's other products and lines, you can expect no shortage of RGB, and while it may not have as many lighting zones, they've done something clever with its top plate that spreads the RGB across the whole keyboard, but more on that shortly.


A few more notable features before delving into specifics: The Magma Mini is a wired keyboard (USB-A), which I don't mind, but unlike the Vulcan II Mini, the cable is permanently attached, which was a little bit of a letdown, especially if you plan on using this on the go and traveling with it due to its small size. The cable also comes out from the top left corner instead of the middle that you'd probably expect. I actually liked this, as most use their mouse with the right hand, so it gives just a little more room for movement.





Key Rollover (KRO) is important when it comes to keyboards, as this is the amount of keys that can be pressed simultaneously without having to take fingers off the previous keys. Go over this amount and the latest key wouldn't register. With 20 KRO, this shouldn't be an issue, and combined with anti-ghosting in place, you won't 'lose' any keystrokes or have any errors in the order pressed.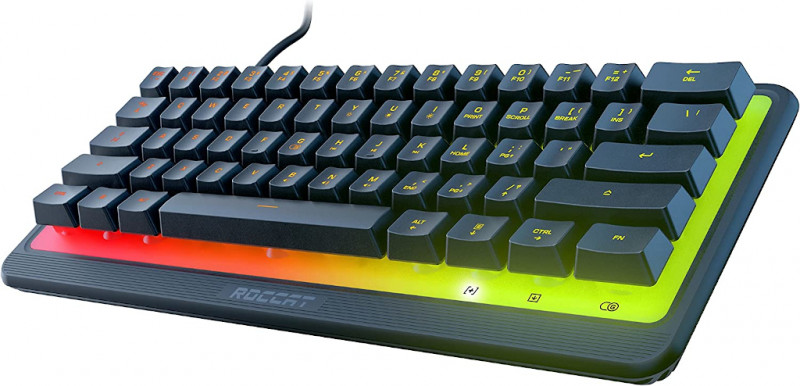 And while I'll go more in depth shortly, Roccat's EASY-SHIFT[+] buttons return. With a 60% keyboard, you're 'missing' keys, so this is the work around, adding different function layers. What was probably the most surprising was how predominantly the Magma Mini advertised its IP33 certification that makes this keyboard quite spill and dust resistant.



IP33 Means Clumsy Resistant

Are you clumsy and spill things on your desk even though you probably shouldn't have placed that drink beside your keyboard when you know better? If you're accident prone then the Magma Mini might be worth a look for this reason alone. With an IP33 rating, even some serious spills onto the keyboard directly shouldn't have any adverse effects due to its membrane design instead of mechanical. They key caps housing is a raised plastic, so the water that flows down the base of the keyboard shouldn't affect the keys at all as it runs down the slight angle. If needed you can even take the keycaps off and clean the sticky parts if it happened to be an adult beverage or your favorite sugary pop.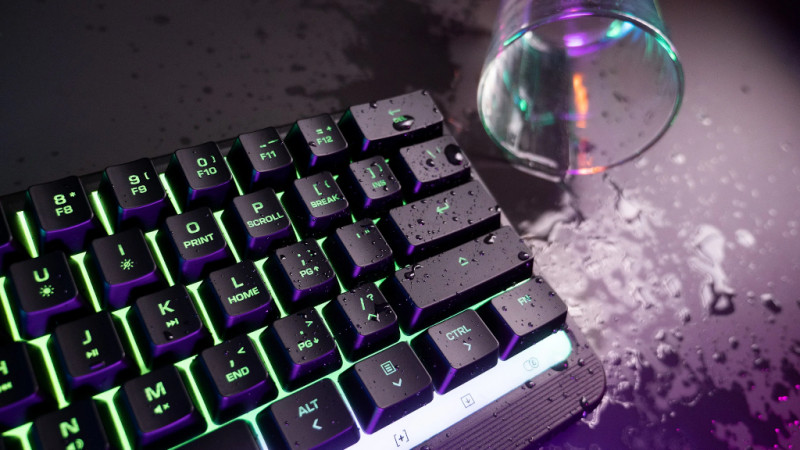 No-Frills

Given its entry price, you can expect a very plastic keyboard, and I don't mean that in a negative way at all, just be aware that it's not a premium feel like the higher end keyboards you may have experienced in the past. Not only because of its 60% form factor, but the membrane and plastic casing makes the Magma Mini incredibly light weight. The small heft doesn't mean it feels cheap though, as the plastic shell actually doesn't give much wiggle room or flex when I was testing how durable it was, though I do miss the feel of a solid aluminum chassis or casing on the outer edge.

The Magma Mini is a no-frills budget priced keyboard, and even though it does have a decent amount of features, it still manages to stand out with its colorful RGB that shines through brightly even with its small size. The Roccat logo sits on the casing below the keyboard and that's all you'll find for branding aside from another small logo on the USB-A end of the cable.


I've always enjoyed a raised keyboard with a sharper angle by using the included feet to lift the top end of the keyboard, not sure why, but it's just my own preference. Most keyboards come with two feet angle placement options (three I guess if you count not using the risers and having it flat), which is what I expected here as well. Oddly enough, the only foot settings you can choose from is flat (unused) or raised. There's no middle option, and even when using the feet, it doesn't seem as high when placed beside my Vulcan II MAX and I wish it had a sharper angle option.

On the bottom of the keyboard the feet have a rubber strip and three smaller ones at the bottom edge to prevent the keyboard from slipping, and on my desk sized pad it didn't move at all, but it did slip ever so slightly when placed on my blank desk surface when I was typing more frantically (as I'm a heavy typer). The 1.8m cable should be plenty long enough to place whenever needed on your desk without issue, but the cable has a rubber-like finish on it instead of a more premium styled braided cable. Again, due to being hardwired into the keyboard itself, I would have really preferred a removable option.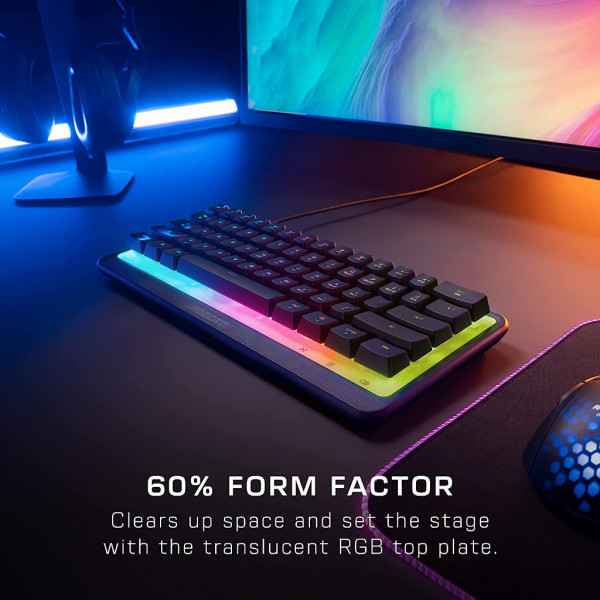 Keys and Membrane

I know, I know, the thought of a membrane keyboard seems odd these days, as mechanical is essentially the new normal. I love that 'clickity clack' of mechanical keyboards, especially when I'm in the zone and my WPM is on fire. Truth be told, when I'm on my PC late at night long after the wife and kid have gone to bed, more than once I've been told she can hear my typing, again, because I'm a heavy typer with my mechanical keyboards. This made me curious at how much of a difference a membrane keyboard would make acoustically, especially later at night when it's quiet in the apartment and I'm typing heavily away.

While not completely silent, the sound difference with each keystroke was quite dramatic. Given that I enjoy the loud clicky sound from my Vulcan II MAX, hearing almost nothing was quite impressive. Maybe you need and desire to have a quiet workplace or don't want to disturb others around you, this is a situation that may interest you in a membrane keyboard like the Magma Mini, as the key presses still feel satisfying with its midway actuation point yet is still responsive. The small bump of the actuation point gives that tactile feel, and while not quite as prominent as a mechanical keystroke, you still know that you've pressed the key even when it's so quiet.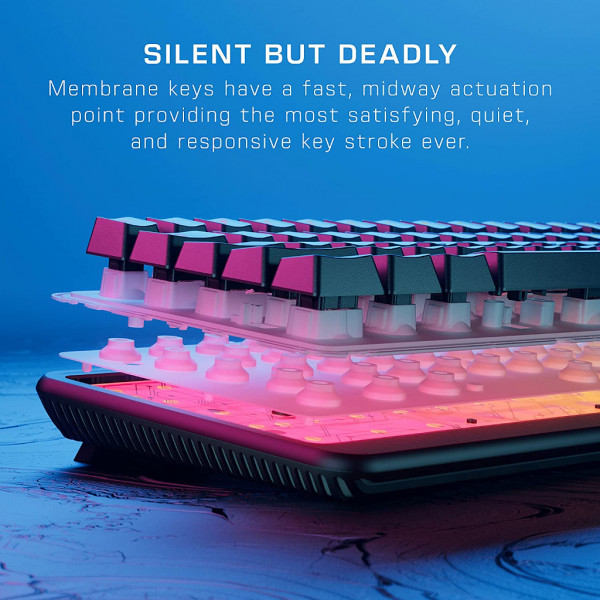 Because of this design, the switches are not removable or swappable and they keycaps themselves are the full size and weight. The caps themselves can be removed for cleaning purposes but don't use the typical cross connection from other mechanical keyboards, so replacements will be probably be much more difficult to find if needed.

I didn't realize the difference from the 65% Vulcan II Mini when compared to this 60% Magma Mini, most notably the loss of the dedicated arrow keys and the right side dedicated keys for Del, Home, PG Up and Down. Until I didn't have them, I never realized how much I actually use them. While you can still use arrow keys on the Magma Mini, you need to combine the FN key with the keys they double up with to do so. Now there is a way to change the default of these keys to be the arrows, but it took some research and emails to find this out, more effort than most people will probably take.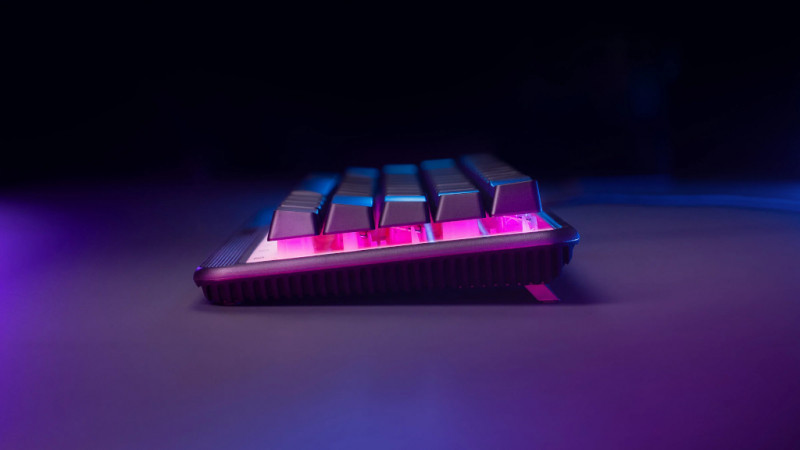 The keycaps themselves are made from typical ABS plastic with the numbers, letters and symbols allowed to shine through with the bright RGB. Over time this type of plastic does tend to rub and become shiny, but that took a good number of years with my older keyboards, so not something you should need to really worry about for some time. Take off the key cap you'll notice the raised rectangle that attaches to its base when then fits into the switch housing, this is how your accidental spills shouldn't be a problem when these happy accidents occur. Removing the caps did take considerably more effort than my mechanical Vulcan II MAX and worried me that I was going to break or crack the base part of the key, though unless you need to clean or remove something underneath, hopefully you won't need to do so.





EASY-SHIFT[+]

A smaller keyboard means you simply don't have all the keys as a full sized one. That doesn't mean you lose functionality but you'll need to teach yourself over time how to do so. This is where Roccat uses its Easy-Shift[+] system to allow a secondary function layer to the keys with some clever combinations. This can be completely customized to whatever your needs are and even set specific macros if needed. Even after reviewing three separate Roccat keyboards, I still struggle with the Easy-Shift[+] system partly due to it not being explained well in the software or elsewhere. I completely understand its functions and reasons, but even after quite a while using Roccat hardware, I've not committed the secondary functions to memory when using the smaller form keyboards, probably why I defaulted back to the full sized Vulcan II MAX. When I spend more time trying to figure out what button or combination to press instead of instinctively knowing, it can become a little frustrating when I want to quickly use a specific key.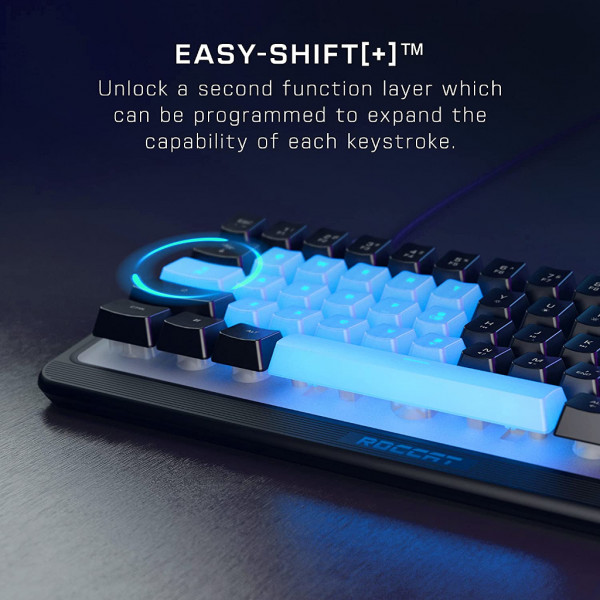 Subtle yet Noticeable RGB

Roccat doesn't skimp on its RGB, even with the smaller 60% Magma Mini. With 5 zones of RGB, it may not have quite the RGB levels as its bigger brothers with individual RGB under each key, what they've done with the large white cover plate under the keys is clever and makes the colors pop from underneath. This large plate is semitransparent and just enough of this white portion surrounds the outer edges of the keys that it's still offering some bright RGB, something I didn't expect with the smaller 60% form factor.

Swarm Software

You're able to unbox the Magma Mini and plug it in to use without any other drivers or software needed, but to really make full use and unlock its potential, you'll want to download Roccat's Swarm software. This is how you'll configure a lot of settings, from the RGB, macros, to even the sounds of the key clicks. Maybe you want your keyboard to sound like an old Typewriter or some laser 'pew-pew's', this is where you can customize it all.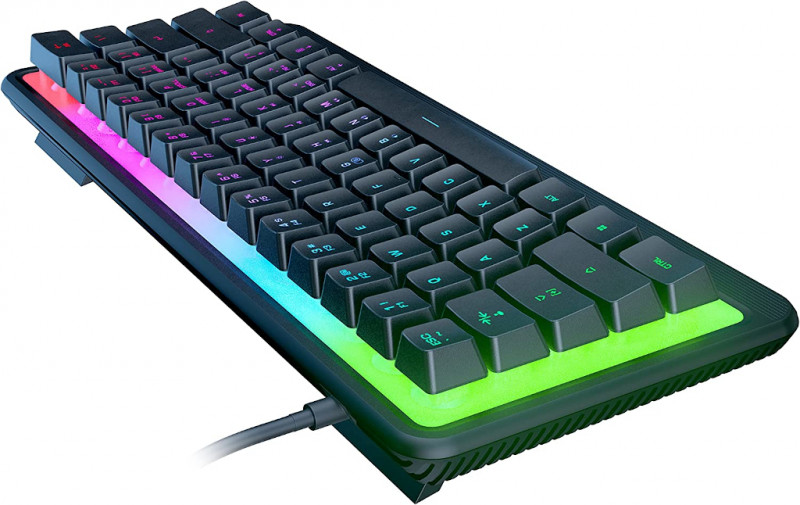 You can also change the RGB settings within the software as well, giving you a few different choices based on how you want the lighting to react, brightness, colours and more. My favorite though is the AIMO Intelligent Lighting. AIMO is almost like an AI that adjusts to what you're doing, learning as time goes on. It's a really interesting effect and if you have other Roccat peripherals or AIMO compatible devices, it will all sync flawlessly together as if it's one unit.

Final Thoughts

Just like when I initially reviewed the Vulcan II Mini, I struggled with the Magma Mini early on simply due to its smaller form factor, though to no fault of Roccat. I'm used to a full keyboard, so making the adjustment now down to a 60% was quite challenging for the first week or so. Even after writing this whole review on the Magma Mini, it certainly took me significantly longer with a dramatically lower WPM due to the constant mistakes and wrong key presses. After about a week I did start to slowly adjust, and by week two it started to become better still.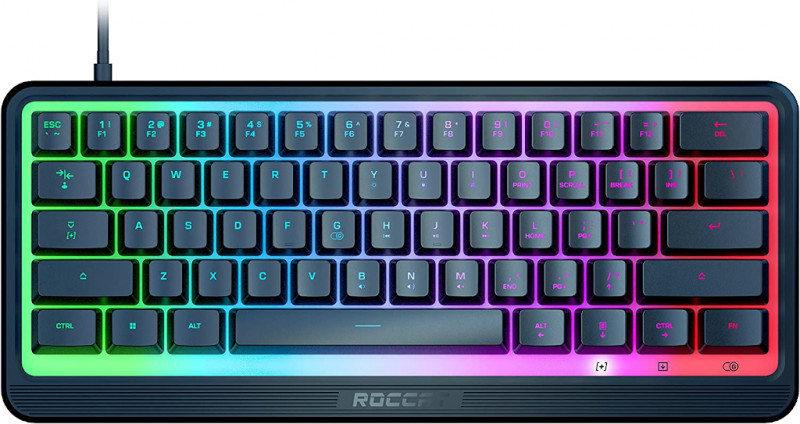 The space gained on my desktop by using a 60% keyboard was quite dramatic, especially useful if you'll be playing a lot of games where you need room for sweeping motions with the mouse, or if you simply want more space on your cluttered desk. Transitioning to the 60% does take a while to become accustomed to, as does remembering key combinations that I take for granted having dedicated keys on a full sized keyboard, but for those that are already using a smaller form factor keyboard, the Magma Mini should feel much more natural.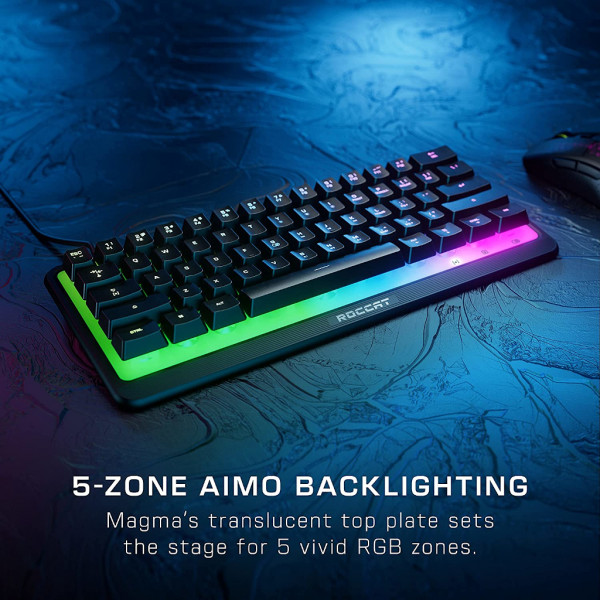 Does the lack of dedicated arrow keys annoy me? Absolutely. Does having a hard wired cable that I wish was detachable instead for portability constitute for a deal breaker? No. Will some scoff at the idea of a membrane keyboard instead of mechanical? Sure. While I don't see the IP33 spill and dust resistant feature a main selling point for my own use since I'm more diligent on what I'll place on my desk for drinks, some may that are clumsier or have had spilling accidents in the past. For a keyboard that is quite affordable and reasonably priced, the Roccat Magma Mini is worth looking into, as it checks a lot of boxes, especially if quietness is one of your selling points with its membrane design.

**Roccat Magma Mini Keyboard was provided and reviewed with a PC**



Overall: 8.5 / 10