Turtle Beach Stealth Pro Review
by Kirby Yablonski






Features:
Drivers: 50mm w/ Neodymium Magnets
Wireless Transmitter
Bluetooth (connects to mobile phone)
Variable Active Noise Cancellation
Frequency Response: 10Hz - 22kHz
Dual Rechargeable Battery Packs
Microphone: Unidirectional Noise Cancellation
Separate Built in (concealed) Mics as an Option
Simultaneous 2.4Ghz & Bluetooth Wireless Connectivity
Range: Up to 50 feet/15 meters
Price: $449 (CDN)/$329 (USD)

Hey Folks, long time no see, or review that is. I am honoured that my first review back is Turtle Beach's newest flagship headset, the Stealth Pro. As you should know by now given my past hardware and/or peripheral reviews, I am a big fan of the use of audio in a game, be it weapon effects, environmental effects, voice acting, explosions and more. For game audio to shine, speakers or headsets can make or break the aural experience. Turtle Beach has been making peripherals and headsets for consoles for a long time. Their latest release is a result of the years of work, experience, and I would hope fan feedback. Regardless, I have put the headset through its paces, and I finally have some things to say about it.



The box that contains this newest headset looks premium and it feels like it too. It opens like a book with the headset inside, staring at you once opened, waiting for you to pull it out of the packaging to experience what it offers. Under that you will find a transmitter/charging station, two rechargeable batteries, a 3-foot USB-C cable, a 6.5-foot USB-C transmitter cable, a carrying pouch, a quick start guide and of course a free Turtle Beach sticker. The headset itself is very stylish. It is mainly black with some nice greyish trim around the over-ear earcups as well as on the bracket that holds said earcups to the headband. The headband has a nicely padded area to ride on the top of your head, while the adjustment sliders are metal allowing for a firm and strong feel which matches for weighty feel of the unit as a whole.

I was able to wear the headset for long gaming sessions, some lasting 4 hours or more, and it never felt uncomfortable. I wear glasses and at no time did Stealth Pro push on the arms of any of the different pairs of glasses that I wear. If I had any complaint(s) here, it would be that it could get warm under the leather-like wrapped memory foam; however, I do have to admit that I was using the headset in my home office on the third floor of our house which gets quite warm on sunny Spring/Summer days. So, if you are using the headset in a warm or hot room, you may get some sweat on the earcups. I can't really blame Turtle Beach for this though, but it was worth mentioning, nonetheless.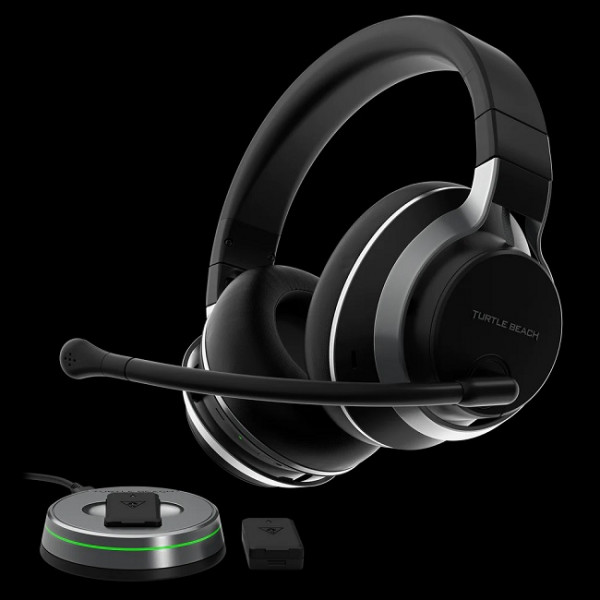 The Stealth Pro comes with a transmitter/charger that plugs into the Xbox console. This small circular unit has two main functions. The first is that it sends the wireless signal to the headset itself. The second is that you can charge your spare battery in it while you use the headset with a other charged battery. There is an LED ring around the transmitter/charger which indicates, via different colors and light patterns, when your headset is paired/not paired, if your headset is muted/disconnected, and when your battery is fully charged. I do have a complaint in this area, and it has to do with the lighting. When you first plug in a depleted battery, it flashes red three times, no more, no less. When the battery is fully charged, you get a green flash; however, if you are not there to witness the three green flashes, you will never know if it is charged, as it does not permanently stay green (flashes or not) to indicate the fully charged status. It just flashes when done and that is it. For me this is a huge swing and a miss, as I would have to put the battery into the headset, turn it on, turn the Xbox on, and then head to the Xbox dashboard to see the battery meter. If I didn't do this I would not know if it was charged as there was no lights to indicate so. In my humble opinion, the transmitter/charger should have remained a solid green, or flashed green at various increments until the battery was removed.

Turtle Beach has embraced the use of an earcup dial this time around, well, at least on the right side of the headset. You could change the function of it should you wish. For the Xbox, which we are focusing on, the dial allows for volume control, and when playing multiplayer or in a party, you can use it as a secondary function to adjust the chat/game volume. This is relatively simple as you hold down the mode button for 3-seconds. Although it's just a press of one button, but still takes some time to get used to as the mode button is one out of three that are in a row (Mode/Power/Bluetooth pairing) and you have to make sure you get used to pressing on the right button and not the other two. For the life of me, I don't know why Turtle Beach doesn't try to separate the buttons to both earcups instead of cramping them all together on one. I believe it would make any of their headsets even more user friendly with the buttons spaced out.

With the Stealth Pro being the premium headset from Turtle Beach, it is compatible with the Turtle Beach Mobile Audio Hub app. Simply download the app from your phone's OS store, connect via Bluetooth to the headset, and viola, you have the option to control volume, chat/game mix, choose from pre-set equalizers, create your own EQ setting, and more. It's very simple and quite handy to have should you wish to utilize it. It's a great feature, and something I wish they incorporated into the actual Xbox console. Regardless, I found myself doing adjustments via my phone more then with the buttons on the headset.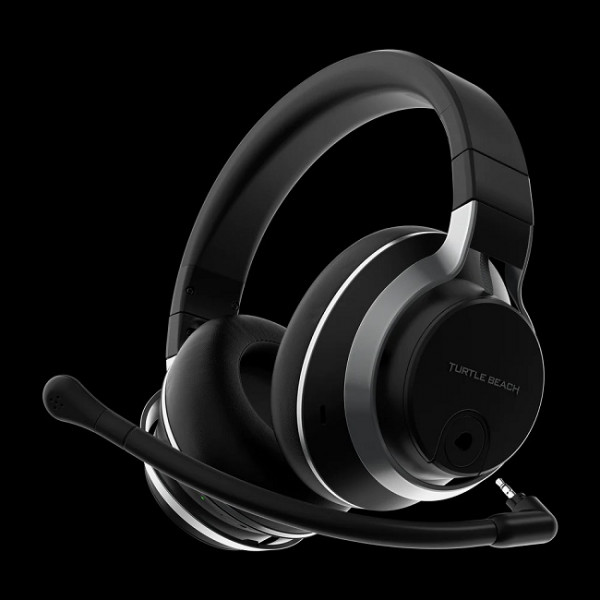 As with all headsets I review, I tend to put them to the test using various games that I am playing at the time. This time around Destiny 2, Forza Horizon 5, PGA Tour (EA Sports), Call of Duty: Modern Warfare II and Tiny Troopers: Global Ops were my main games. The headset has four EQ presets including Signature Sound, Bass Boost, Bass & Treble Boost, and Vocal Boost. I left the Stealth Pro in Signature Sound mode as who am I to question the engineers who designed this headset. Once again Superhuman Hearing is included, but I always choose not to use it as I find it a bit overkill, but I do know people who love this feature.

I play Destiny 2 on a regular basis, so my time with the headset and the game was a lot. Bungie's soundtracks for each four month season have always been immersive and impactful, and what I listened to through the Stealth Pro's did not let me down. Every instrument, beat and tempo sounded great. Now, there has been a bug in Destiny 2 where the sound effects become distorted for no reason, so I won't be commenting on the general sound effects the way I usually do, given this bug was noticeable during my review time. Switching over to COD: Modern Warfare 2 I found it was a blast to play online using this headset. I was able to hear enemies all around me, gunshots and explosions in the distance, and I could hear the various types of weapons throughout the multiplayer levels. I was fully immersed using the Stealth Pro, and dare I say more so then when using other headsets, including one of my favourites, the Astro A40TR'with a mix amp.

Next up is Forza Horizon 5, a game that is well known for its vehicle sounds, the environmental effects found in Mexico where you race for glory, and of course its soundtrack, which features a wide array of music genres. The whole audio package created by Playground Games was a treat during my review time. From the various cars, such as 4-cylinder hot hatches, V8 muscle cars, to the V10s and V12s found in many exotics, they all sounded different and made their presence known. I noted how when racing in the rain it sounded like the weather was all around me, and depending on which car view I was using, the nuances of various sound effects during each view was notable. Combine all this with the music, and the Stealth Pro performed at a level persistent to what I would have to say is at the top of its' class.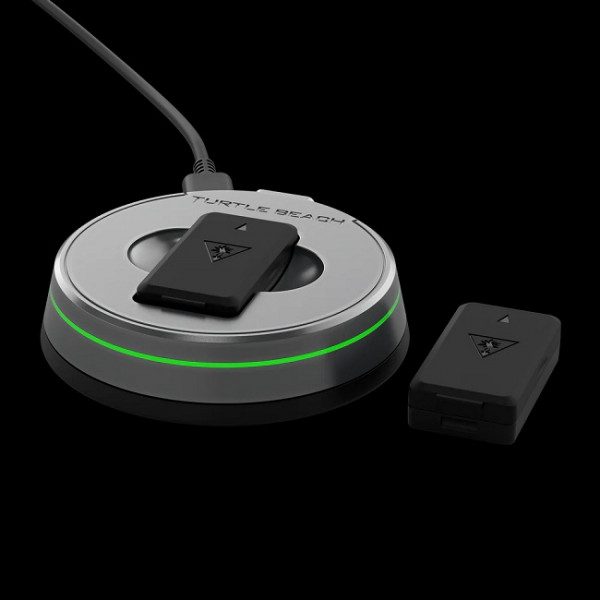 The two other games I found myself playing during my review time with the headset were games that allowed me to relax and enjoy the on-screen fun. Tiny Troopers: Global Operations is a quirky, cartoonish game that didn't push the Stealth Pro Headset, but nonetheless still sounded good. From the cartoon-like voices and action, the cute soundtrack, to the limited but noticeable background sound effects, nothing sounded bad at all. The game does not push the audio envelop, but it was nice playing it through the headset. As for the other game, EA Sports PGA Tour, a game released in April, allowed me to virtually hit the links in what was a new entry into the PGA Tour franchise. What I noted was how the winds on a course like Pebble Beach surrounded me and then when playing other courses, you could clearly hear such sounds as birds chirping, trees swaying, the gallery whispering, and the sound of a driver or iron smacking the ball, all with clarity and some directional effect when required. The Stealth Pros took the various sounds of PGA Tour and immersed me into the courses I was virtually versions of real life courses.

Overall, I would say that the surround sound effects that were heard in the games I played were impressive, using Windows Sonic (it is recommended in the start up guide to use this mode), but as with all headsets, it's still virtual given there are only one driver in each earcup. Still, you'll have occurrences when sound hits that it indeed surrounds you. When turning up the volume, and listening to effects (e.g., explosions, various guns, multiplayer mayhem) there was pretty much no distortion. Gaming with the Stealth Pro in the various titles that I did play never seemed to disappoint me. I did play some Diable IV during the early access too. I thought I would go full volume, and I have to say that not once did the 50mm drivers sound "overdriven" as everything stayed clear, concise, and without issue. The best way I can explain myself in this section of the review is that the Stealth Pro did not favour one over another regarding lows, mids and highs. It was balanced sound and seemed to stick to the level that the game's developers intended it to.

The battery life for each battery is rated for 12 hours, and I would say that I got that amount of time, if not more, with each battery. Being able to place a discharged battery in the transmitter/charger while using the second 'charged' battery was great, and I never felt that I was going to run out of power. The battery is placed in the left earcup under a removable plate. It's simple and fast to swap one battery for another. Although I would have preferred a direct connection to the Xbox as there would be no need for a transmitter for the signal, I somewhat understand why. I didn't notice any delay in any game audio coming out as sound in the earcups. As for the microphone, those who I gamed with online or chatted with in a party noted how my voice sounded very good and a fair representation of what I sound like in person. The noise reduction system is effective too, as you can hear the difference when you turn it on and off again. I think some people will really enjoy this feature, give now it does reduce outside noise quite a lot.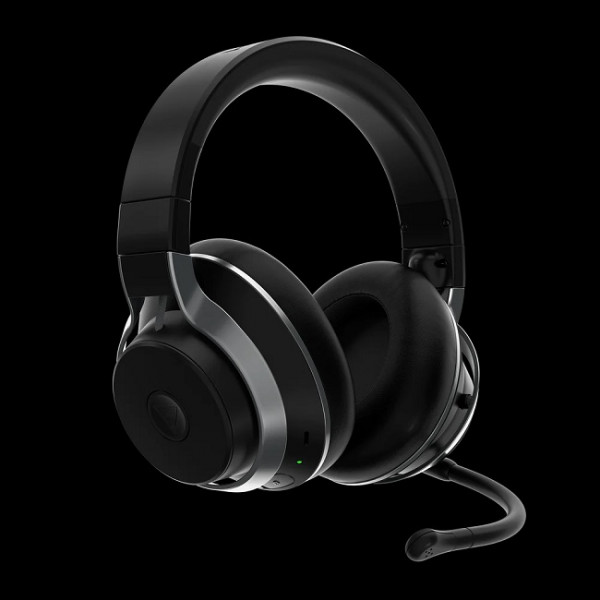 The Stealth Pro headset can also be used as a mobile phone headset. Now I am not going to lie, I didn't try out this feature too much, as I tend not to use a headset with my phone; however, I did take a call or two while gaming, and it was flawless. I could speak with whoever called me while still being able to game. Finding the right volume mix between game and call was a bit tough, but nothing to take away from the feature. Finally, I did not watch any movies or what not, but I did check out some YouTube trailers and videos and found that they synced up to the on-screen action/content without any issue and that all the sound was clear and concise.

So, what is the bottom line you ask? That is a great question. It is my opinion that this is pretty much Turtle Beach's best sounding headset yet. It is chalk full of features including some great noise cancellation, a well performing microphone, and detail in the sound from the 50mm drivers, all cumulating in what I would categorize as an almost unmatched experience in a gaming headset. The only thing that may sway you from the Stealth Pro is the price, which is $449 (CDN). Yes, that is a lot, but when you look at other flagship headsets from other companies, the entry fee is right around the same price as those others, as you pay for what you get, and with the Stealth Pro you get what can best be summed up as an incredible headset, even with the quirks noted above.

Overall: 9.5 / 10