Preview of Hello Neighbor 2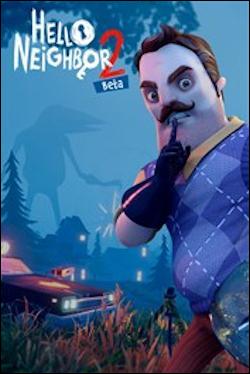 Hello Neighbor 2
by Heather Webster

May 10, 2022

Have you ever been one of those people who are super curious about what kinds of secrets your neighbor might be hiding? Then Hello Neighbor 2, developed by Eerie Guest Studios and published by tinybuild, has made a family friendly stealth horror game might just be the game for you. This game's focus is to dig up whatever secrets your creepy neighbors might be hiding. There is a twist to this game that definitely makes it far more challenging than you would think though. The neighbors are controlled by artificial intelligence and learn from everything that you do in effort to progress the game and story. We were lucky enough to check out the Hello Neighbor 2 beta, so here's our impressions so far.

You enter the town of Raven Brooks as a local journalist named Quentin, on the hunt to discover what has happened to all the missing people in town in this sandbox style world as your playground. Go anywhere and explore everything, encounter your AI neighbors and see what's happening with them. Some will stalk and monitor your every move in the open world, and some will protect their home when you try to break in.


Meet the neighbors and find out their deepest darkest secrets, like what could be hiding in those croissants from the baker, why would the mayor be worried and need an attack dog for safety? Find your most creative solutions by combining various items, terrain and platforming skills to solve various puzzles. Every new neighbor you encounter has been created with unique AI and behaviors so you will really need to reach deep into your skills to outsmart all of them and uncover their secrets.


The sandbox platform of Hello Neighbor 2 makes it so you still have to do the different events of the game but you can modify how you complete them based on how the artificial intelligence has adjusted to your attempts... feels kind of like Star Trek crews battling the Borg! This is also what caused me to jump a little bit like being at a haunted house full of jump scares, because just when you think you have gotten away from your neighbor, there he is, kicking you out of his house after finding that you broke in to begin with. When I did my run away a few times, nothing really was the same twice, I'm not sure if that's because there are still bugs in Beta form or what my experience was, but I had a tough time figuring out what I was supposed to do because there was no real outline to follow for base instructions.


I did a little bit of research as I often like to do when playing a new game, and I discovered that this game was part of an ARG that tinybuild had combined with another, called Secret Neighbor, where they had to complete in-game events and piece together codes through the discord for Secret Neighbor that took about 2 weeks. The devs then progressed and released various alpha versions of Hello Neighbor 2, making changes all along the way. As of Apr. 7 2022, you can officially pre-order this game and have early beta access as well as release day launch. The Deluxe edition comes with Exclusive Beta, Back to School, Late Fees and a Hello-Copter which is a drone that Quinten operates with a remote.


The graphics were created using Unreal Engine and that is always something that I enjoy when it comes to visuals and the soundtrack doesn't have anything out right now about it but hopefully down the road closer to release we will find out more.

All you really get to know is that you are a reporter, there are missing kid posters all over the place and your goal is to find out what your neighbors are up to. That does not mean that I am not eager to see the final product and continue the journey through Raven brooks though. Thus far, even though I've been thoroughly confused, I have still enjoyed my time with it, bugs and all. If you haven't had the ability to access Hello Neighbor 2 and try it yet, unless you preorder it you will have to wait until December 2022 when the full game is set for release, the deluxe version on Dec 1st and the standard edition on Dec 6th.