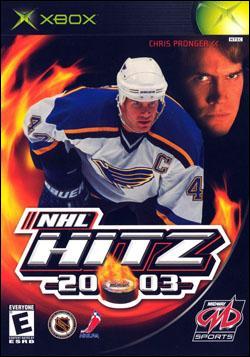 NHL Hitz 2003
by Chris Groves

July 19, 2002
NHL Hitz 20-03, when it arrived last year, it was one of the first sports game for the xbox. It pleased numerous gamers with its clean graphics, fun, over the top gameplay, and was essentially a perfect hockey game. It was, for many, not a serious hockey game which it was intended to be that way.


The graphics did not improve all that much but some different animation sequences appear when you body check players. For example you can hip check your opponents and they will fly forwards in a single flip, and seriously flail about, whereas last year, they didn't even hip check. More details have been coded into the game.

Another cool element they added is the mini games. Some mini games I would never of dreamed of in a million years. Here is the complete list see for yourself: Three in a row (in other words Tic Tac Toe,) Own the ice, King of the rink, keep away, shootout and can't forget the shooting gallery. There is also a hockey school mode that helps you learn the basic controls.

A great thing Midway added is bigger arenas which slows the game play down just a bit so you can actually see what you are doing. They also keeped the three on three action which I fine better then five on five but that is my opinion. And if any one is wondering if they still have fantasy arenas the answer is yes. Tons of new fantasy arenas.


A great element midway decided to keep that set this game apart from all the other hockey games and even every other sports game was the artificial teams. In NHL Hitz 20-03 you can still play as some of the old artificial teams from 20-02 but they added a lot more variety like the dinosaurs, the crocodiles, the demons the bats, the pigs etc… They added some teams from the pass like the 1989 Calgary team, 1994 Quebec team, 1997 Detroit team etc…

They obviously upgraded the roosters so all the trades that were made in the last year are in this game. Also the commentary is not as repetitive as the last one. The soundtrack really gets you pumped and if you don't like the songs you can play your own songs off you hard drive.

One thing I would of never of thought to see in Hitz was penalties and in NHL Hitz 20-03 there is some. So now when you loose a fight you don't get kicked out like in 20-02 but you and the guy you fought with are sent to the penalty box which is not that bad because you get to play some 2 on 2 hockey which is a lot of fun because you have lots of ice surface to play with.

You still have the franchise mode and the season mode which is good if you have a lot of free time but if you don't you can play a quick exhibition game here and their against any NHL team your little heart desires.

There you have it hockey like you never seen it before.