NEWS - Friday, July 1, 2022
TennoCon 2022 Unveils Event Schedule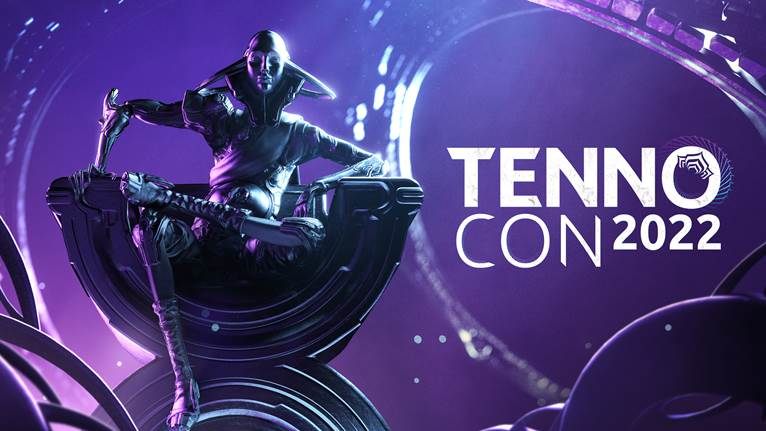 TENNOCON 2022 DIGITAL EVENT SCHEDULE: JOIN DIGITAL EXTREMES FOR ONE OF TWITCH'S MOST POPULAR SHOWS OF THE SUMMER FEATURING AN IMMERSIVE WARFRAME IN-GAME EVENT, TONS OF GIVEAWAYS, AND MAJOR WORLD PREMIERES
Tune-In to TennoCon July 16 for a Thrilling Day of Warframe News, Activities, and Reveals, Including the World Premiere of 'The Duviri Paradox' Gameplay, and Bullet Jump In-Game to Experience the World of Duviri First Hand with the New Duviri Amphitheater In-Game Event
Digital Extremes is preparing its 70+ million Warframe players around the world to take a front row seat at TennoCon on July 16, offering exclusive access to community activities, developer panels, live Q&A sessions, in-game experiences, and major world premieres at the digital celebration of the global hit sci-fi action game. Streamed to multiple platforms for free, Warframe players can link their Twitch and Warframe accounts in advance for a chance to claim rare drops throughout the day, including a highly-sought Titania Prime drop during TennoLive. Warframe players can also jump in-game during the TennoLive keynote presentation for an immersive relay event - The Duviri Amphitheater - and join their Warframe friends for a brief interactive look at the world of Duviri.
In a new TennoCon trailer, Digital Extremes' Rebecca Ford, Director of Community and Live Operations and voice of Warframe's 'The Lotus', sends a heartwarming message to Warframe players everywhere and teases a new immersive in-game relay experience for TennoCon before unveiling the schedule of activities for the day:
"TennoCon has always been about community - and inviting Warframe players to gather for TennoCon is always the best part of the year," said Rebecca Ford, Director of Live Operations and Community at Digital Extremes. "Our entire team is hard at work to make this year's TennoCon truly unforgettable, and also a little bit of a brain twister. We cannot wait for players to step into the world of Duviri with us in-game at TennoCon as we set the stage for the future of Warframe."
Warframe's 7th annual TennoCon kicks off July 16 at 12 p.m. ET featuring a day packed full of exclusive developer panels, live Q&A's, giveaways, and community activities, culminating with Warframe's TennoLive keynote presentation at 5 p.m. ET. Players tuning into TennoCon this year will discover an opportunity to experience the world of Duviri first-hand in several different ways. Not only will TennoLive present the world premiere of live gameplay from Digital Extremes' much-awaited open world Warframe expansion, The Duviri Paradox, but a new in-game immersive relay event developed for TennoCon 2022, The Duviri Amphitheater, will take players on a quick trip into Duviri to experience a small taste of the wild paradox timeline and world that Digital Extremes is creating. To join the immersive in-game relay event during TennoLive on July 16, Warframe players can navigate to Earth on the Star Chart and select 'Duviri Amphitheater' from the map. The Duviri Amphitheater in-game event will not be accessible until TennoLive begins at 5 p.m. ET.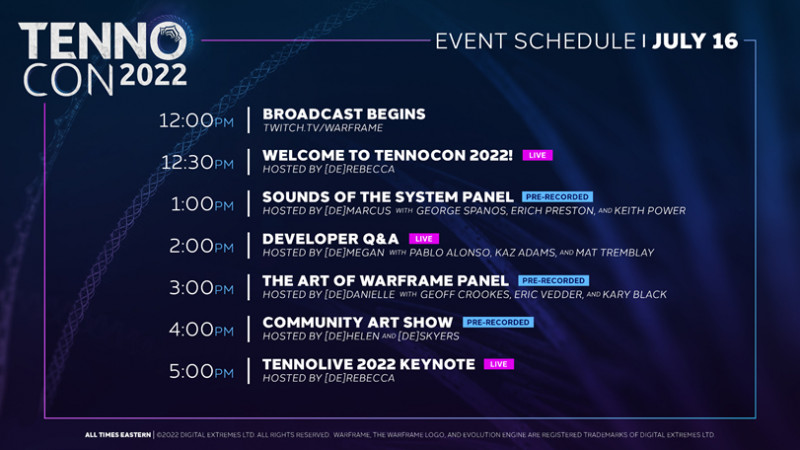 Streaming for free across multiple platforms on July 16, including Twitch, Steam, and YouTube, players won't want to miss out on a rare opportunity to gain access to free rewards by simply tuning into the show. The following rewards are available to players that link their Twitch and Warframe accounts and join the fun at TennoCon. Viewers watching on Steam can also claim TennoCon and TennoLive Drops by following the steps below. Rewards will be delivered to players' Steam Inventory on completion.
Reward

How to Obtain

Twitch Drop

Vericres (Warfan) + Renayla Sugatra

Watch TennoCon on July 16 for 30 Consecutive Minutes from 12:30 p.m. ET - 5 p.m. ET

Twitch Drop

Titania Prime

Watch TennoLive for 30 Consecutive Minutes on July 16 Starting at 5 p.m. ET

Exclusive Operator/Drifter Cosmetic

The Stranger's Hood

Redeem The Stranger's Hood from the Warframe In-Game Market
Available Saturday, July 16 - 18
Warframe players won't want to miss out on an amazing lineup of giveaways, prizes, and in-game content. Players joining the celebration can tune into TennoCon and TennoLive for a chance to win custom giveaways including an HP OMEN Laptop, HP OMEN Keyboard, HyperX Headsets and much more! Plus, logging into the HP OMEN Hub will give players free in-game items, including an Ephemera! For more information about TennoCon's digital and physical giveaways at TennoCon visit the Digital Extras page on the TennoCon website.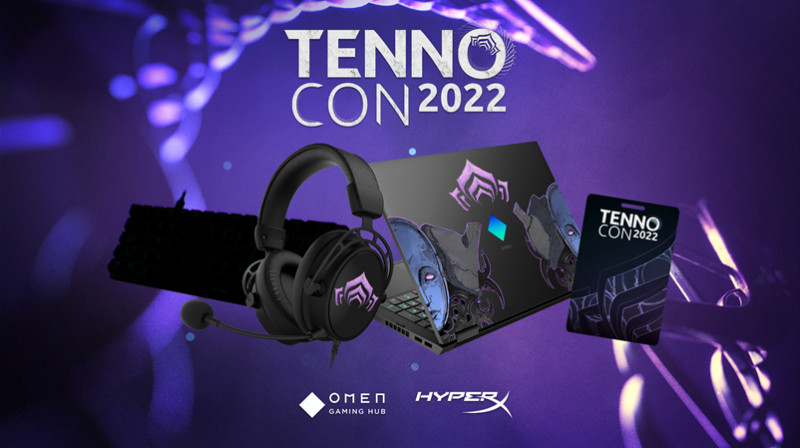 Players can prepare for Warframe's big celebration with a TennoCon Digital Pack, offering access to a new Operator Suit, Armor Bundle, Baro Ki'Teer's Relay Access and much more. Players wishing to upgrade their wardrobe and commemorate the day with official TennoCon swag can purchase a TennoCon physical merchandise pack, featuring an exclusive TennoCon shirt, pin (with lanyard and charm), along with a digital Orbiter Display and Glyph as an added bonus. To purchase a TennoCon Digital Pack, visit the TennoCon website. To purchase a TennoCon Merchandise Pack, visit the Warframe Store where additional heavy discounts can be found on a variety of Warframe merchandise through August 1 as part of Darvo Merch Deals. TennoCon 2022 physical merchandise will ship this summer, following the TennoCon festivities in July.