NEWS - Saturday, February 26, 2022

First DLC for Farming Simulator 22 Announced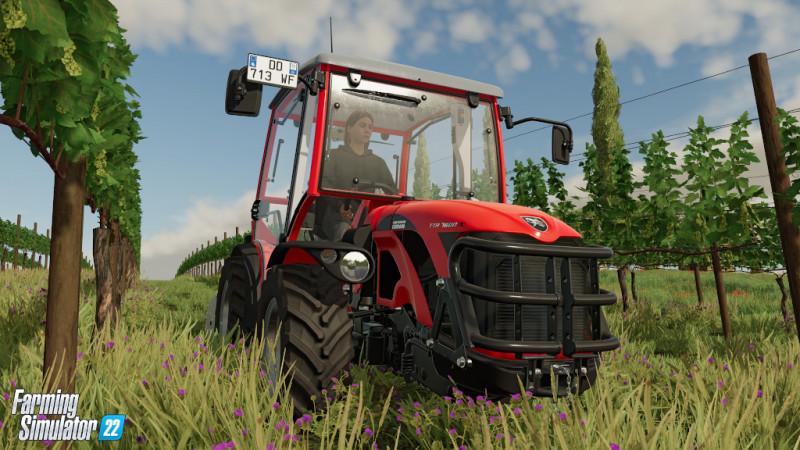 FIRST DLC FOR FARMING SIMULATOR 22: ANTONIO CARRARO PACK ANNOUNCED
Compact and versatile tractors for lush and beautiful vineyards: Publisher and developer GIANTS Software announces the first pack for Farming Simulator 22. Ten new vehicles by historic Italian manufacturer Antonio Carraro allow players to expand their flourishing business of vineyards and olive orchards.
Release on March 22nd for PC & consoles
Pre-Order starts now
Included in the Year 1 Season Pass
More Machinery For Grapes And Olives
With the Antonio Carraro Pack, GIANTS Software emphasizes grapes and olives, two of the new crops in Farming Simulator 22. "When Farming Simulator 22 launched, we instantly got positive feedback from our fans in regard to the new crops", comments Thomas Frey, Creative Director at GIANTS Software. "We're proud to build on that, together with Antonio Carraro, a leading expert in creating solutions for farmers working in specialized agricultural fields. Together, we enrich virtual vineyards and orchards with even more dynamic gameplay."

Specialized Equipment From Italy
All the new additions to the vehicle fleet allow players to operate with extreme maneuverability in special conditions, where other tractors can't handle the terrain with steep gradients and narrow spaces. A variety of tractors are included: the classic Supertigre 635, the versatile TTR 7600 Infinity or the articulated reversible quadtrack flagship, the MACH 4 R.

Antonio Carraro tractors offer extremely compact construction combined with tight turning circles and optimal visibility to all sides, allowing you to reach every single vine and grove. Especially useful are reversible driving seats, allowing farmers to change direction in an instant. Also included are the TGF 10900 R, the TONY 10900 SR / TR / TTR as well as the TTR 4400 and the Tigrecar 3200.

Available on March 22 - More to Come!
The Antonio Carraro Pack releases on March 22 for Farming Simulator 22. The game is available for PC, Mac, PS5, Xbox Series X|S, PS4, Xbox One, and Stadia. A Year 1 Season Pass is available, extending the game with even more content in the future. The Antonio Carraro Pack is included. GIANTS Software will also continue to release free content updates and user-generated content on the official ModHub.