NEWS - Saturday, May 7, 2022

Wick and Skull Announces Tiny Tina's Wonderlands Inspired Candle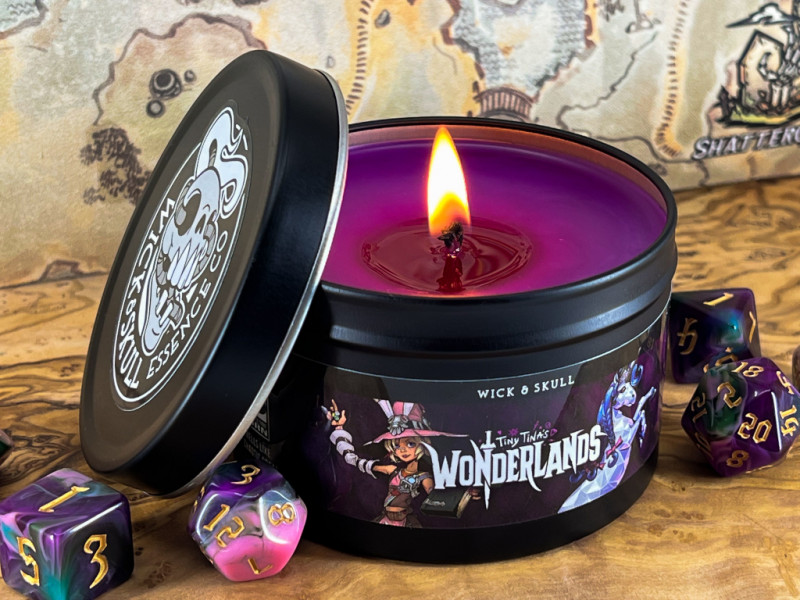 Loot, Shoot, and… Sniff! Wick & Skull Announces Tiny Tina's Wonderlands Inspired Candle
Backed by industry veterans of iconic brands like Filthy Casual and Epic Meal Time, Wick & Skull kicks off new partnership with Gearbox Entertainment with "Chaotic Great" Candle
In the words of Tiny Tina, "Roll for initiative, baby!" Wick & Skull, the only company pairing the vibrance and curiosity of gaming with the aesthetics and ambiance of candles, is adding a tiny yet wonderful addition to their lineup – the "Chaotic Great" Candle. Inspired by the recently released Tiny Tina's Wonderlands, the candle is available starting today at the Wick & Skull website.
The "Chaotic Great" Candle arrives alongside Tiny Tina's Wonderlands, an all-new, fantasy-fueled looter shooter game from the unpredictable mind of Tiny Tina. And with a little luck, the dazzling combination of Dark Plum, Sugar Crystals, and Magical Musk is all but guaranteed* to repel the Dragon Lord's forces and attract the rarest of rare loot drops. Probably.
Co-Founders Sterling Toth and Mike Gaboury are extremely proud to reveal this addition to the growing lineup of quality candles from Wick & Skull. After establishing popular brands like Filthy Casual and Epic Meal Time, Gaboury and Toth are now giving gamers a unique, tangible way to bring their passion for their favorite franchises to life through scent, no matter where they might be.
*Wick & Skull literally cannot guarantee any of this, on any level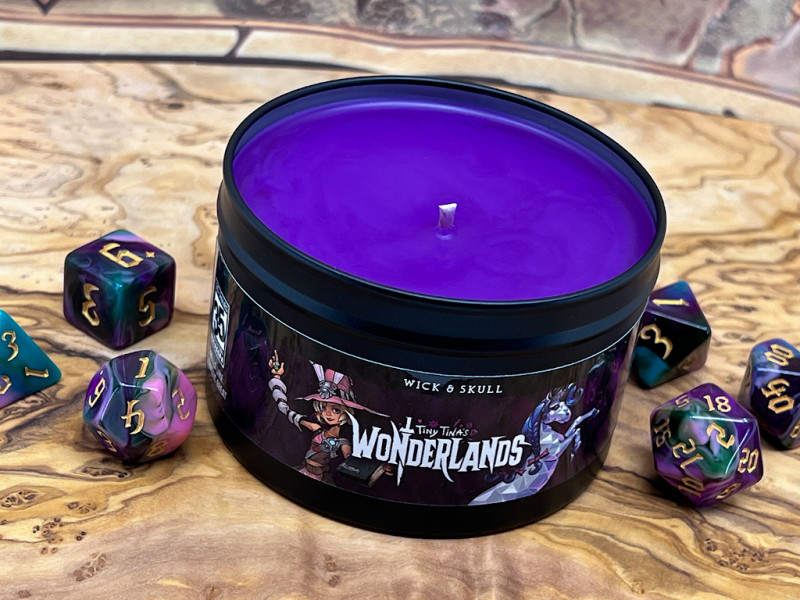 About Wick & Skull

You may be wondering why we started making scents. We love candles and use them daily around our homes. One day we realized there are no candles designed for gamers and specifically for enhancing the gaming experience.
We started with making candles that we could light while playing our favorite games and further transport us into the world we love being in. Playing these games while having our candles burning really brought the gaming experience to another level.
In fact, we loved it so much we decided we wanted to share it with everyone, and that's where you come in.
We're told the sense of smell is closely intertwined with memory, so together we can create even deeper gaming memories for all. We hope you'll join us on our quest to enhance the gaming experience, and enjoy it as much as we do.
Trust us, we make scents.