NEWS - Thursday, September 29, 2022

Ghostbusters: Spirits Unleashed Collector's Edition Announced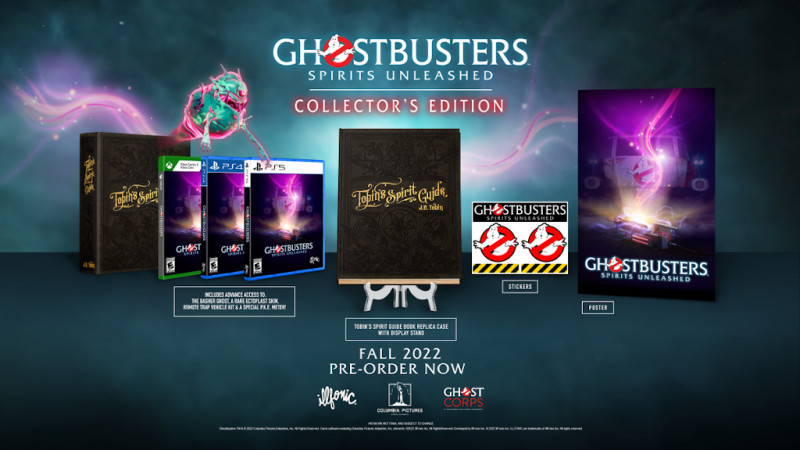 GHOSTBUSTERS: SPIRITS UNLEASHED COLLECTOR'S EDITION HAUNTING CONSOLES IN OCTOBER
Available for Pre-Order Now
The Collector's Edition for the asymmetrical multiplayer game Ghostbusters Spirits Unleashed is launching this fall for PS5, PS4, Xbox Series X|S and Xbox One. This extra spooky edition is packaged inside a replica case of the Tobin's Spirit Guide and includes an exclusive poster, stickers, and a display stand. Purchasers will also get Advance Access to the Basher Ghost, a rare Ectoplast Skin, Ghostbusters RTV Kit Ghost Trap, and a special PKE Meter. The Collector's Edition will be available at various retailers where games are sold worldwide.
From developer IllFonic, this action-packed four versus one game allows fans to play out their Ghostbusting fantasies. Play solo or with up to four others as either the iconic Ghostbusters in a team of four versus the Ghost in an asymmetrical multiplayer battle (online or solo offline with AI support). As players progress, they will unlock cosmetics and upgrades for both Ghostbusters and Ghosts to evolve their gameplay experiences.
Ghostbusters: Spirits Unleashed has all the iconic gear and gadgets, from Proton Packs to PKE Meters and Ghost Traps, that fans and new players to the universe will enjoy. Ghosts have multiple abilities in their arsenal such as possessing objects and sliming that make haunting all the various locations a blast to play.
Game features include:
4v1 Gameplay Setup – Slime or be slimed! Play with up to four friends or solo as a new member of the Ghostbusters or a Ghost.
A New Story with Old Favorites – As you progress through the game, unlock new story elements and scenes featuring iconic characters, Ray Stantz and Winston Zeddemore, from the Ghostbusters universe.
Explore Iconic Ghostbusters Sets – Just like in the movie, the legendary Firehouse is the players' Ghostbusters hub where you personalize your equipment and target practice before the big mission. Explore Ray's Occult Bookstore to enter the Ghost Realm and customize your Ghost.
Ghostbusters Spirits Unleashed: Collector's Edition will be available on PS5, PS4, Xbox Series X|S and Xbox One for $69.99. The game is rated E10+ for everyone above the age of 10 by the ESRB.