NEWS - Thursday, November 25, 2021

Free Expansion For Tails Of Iron Owners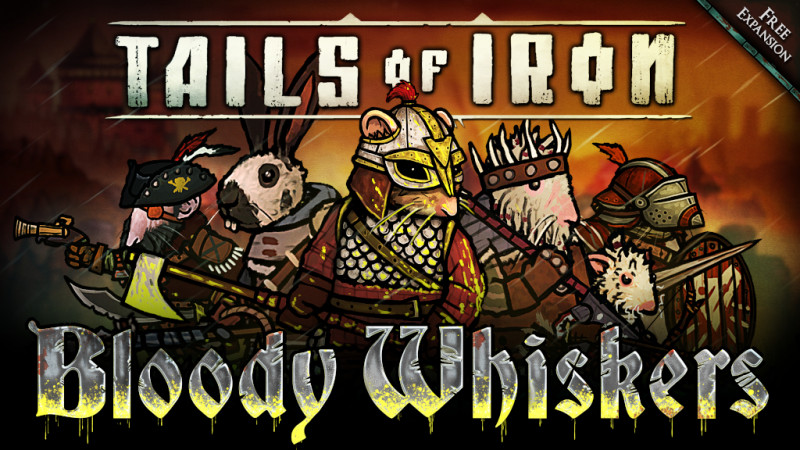 FAN-FAVOURITE ADVENTURE RPG, TAILS OF IRON, RECEIVES SIGNIFICANT, FREE EXPANSION -"BLOODY WHISKERS"
Players can experience an all-new tale of heroic rodent glory on PS5, PS4, Xbox Series X|S, Xbox One, Nintendo Switch and PC

Saviour of Rat Kingdom, King Redgi embarks on an all-new, deadly adventure in Adventure-RPG, Tails of Iron's significant expansion, "Bloody Whiskers," available now as part of a free patch for those who already own the critically-acclaimed game on PS5, PS4, Xbox Series X|S, Xbox One, Nintendo Switch and PC.


The fre
e expansion introduces a new post
-
game questline, two additional difficulty modes,
five new bosses, a selection of special armours and weapons, and a secret that was
perhaps better left forgotten... as showcased in the latest action
-
packed trailer below:


With the tyrannical Greenwart now defeated, King Redgi's vast lands chime with celebration. But the recently crownedsaviour isn't free to rest easy on his throne just yet. As decreed by an ancient Rat tradition, the new King must prove his worth... in a deadly trial of combat.

Join Redgi as he battles to defeat the most lethal warriors from across the land to claim the key to the old King's room anddiscover the heinous secret that lurks within. This means that players will finally gain access to the infamous 'locked door'; something that has generated much speculation and intrigue within the player community.

The new, aptly named "Bloody Whiskers" difficulty mode pumps a double shot of bug juice in Tails of Iron, making it a far more difficult experience, designed for those with only the most ironof wills.As for those looking for a safer passage through the story, the far-less-brutal "Fairy Tail" mode is also now available, allowing players to immerse themselves in the rich narrative and lovingly crafted hand-drawn world.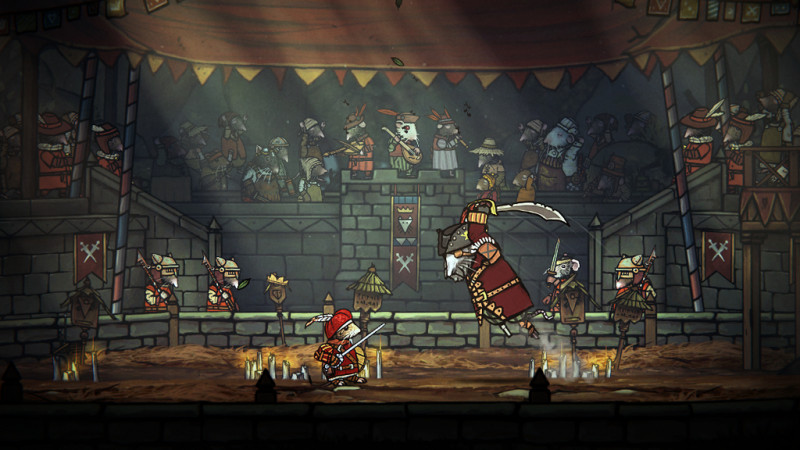 TheTails of Iron"Bloody Whiskers" DLC includes:
Free to download on all platforms for players who already own Tails of Iron
Extended main story questline
Five new gruesome and dramatic boss fights
Five new outfits (includes the previously available Halloween outfit skins)
Five new weapon skins (includes the previously available Halloween weapon skins)
Two new beautiful rooms to explore, including the mysterious and previously locked King's Chambers
Two new difficulty modes:
"Bloody Whiskers" –Hard Mode (not for the faint of whisker)
"Fairy Tail" –Easy mode (for players wanting to experience the storywithout peril)

Created by indie development team Odd Bug Studioand published by United Label, Tails of Iron follows the courageous heir to the Rat Throne, Redgi, as he assembles a band of brave companions to fight back against the vicious Frog Clan invading his kingdom. Narrated by the iconic Doug Cockle (Geralt of Rivia from The Witchergame series), Tails of Iron features souls-like combat, gruesome executions, a number of explorable biomes, and a compelling story of honor and resilience.
The "Bloody Whiskers" DLC is available now as part of a free patch on on PS5, PS4, Xbox Series X|S, Xbox One, Nintendo Switch and PC for players who have already downloaded Tails of Iron.
Our full review can be read
HERE.