The Division - Field Operational Guide Part 1
by Brent Roberts




New York City is a concrete jungle of unforgiving landscapes, towering buildings that block out the sky itself, and menaces so dark, even the shadows themselves bow in subordination. The Division from Ubisoft has taken the world by storm as millions of gamers around the globe flock to a virtual Big Apple to take on The City That Never Sleeps, and in this case a city that has been hit by a flu-like virus and caused panic and mayhem everywhere. Since launch there has been a multitude of updates and there is one right around the corner on April 12, and while trying to conquer the concrete jungle may seem like a daunting and intimidating task, we've put together a little guide to help you establish a structure on which to build and grow your character. Welcome to Part 1 of 3 of our XboxAddict guide for thriving in The Division.

As I write this for the crew here at XBA, it has to be said at first that this is just my personal way that I've developed my character. I understand other people will most likely have other ways jto gear and level up, and that is something that I find amazing about games like The Division, they allow an infinite amount of variations for character development. As reported on in our review of The Division, your character is broken down into three categories: Primary/Secondary/Sidearm DPS, Health, and Skill Power. Now, what I'm going to do is break down to you some nuances of each category to give both pros and cons, a lot of this is going to be self-explanatory, but it does help when combined as a whole. So now onto the things that make you go boom.

The DPS (Damage Per Second) of your weapon is quite important; however, handling of your weapon and the damage of the weapon round itself is also important. The Division prides itself with the whole balancing act of everything, and as you progress you will come across some weaponry that you love and some that you hate, and this begins my first tip. Find weaponry that you love to use. Personally I carry 3 weapons (Marksman, SMG, and Assault Rifle), and while you can only equip two out of the three, there are times when you have to just lay down the trigger fire and blast anything that moves.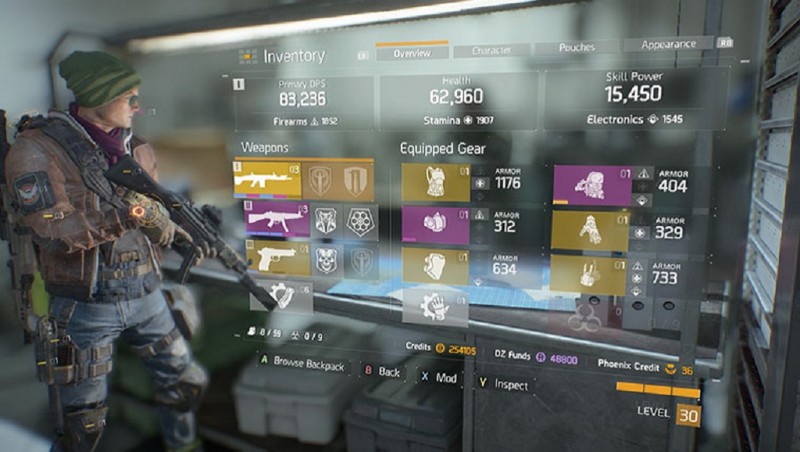 With my marksman rifle I like to forgo some power for rate of fire. So I naturally will pass up bolt action rifles, even though they may produce more power, as they fire slower. When you are faced with over eight enemies in the dark zone who are blasting away at you, it helps to be able to put many rounds into a target as fast as you can, and firing at 55 Rounds Per Minute as opposed to 300 with my marksman rifle is an easy choice to make. I took one particular marksman rifle that isn't as powerful, but built it up through the implementation of mods and now it bangs away at over 20K per shot and has become a wrecking machine of over 70,000 DPS. Granted yes, I could have that number much higher if I switched out rifles, but I found the type that I love to use and I have adapted it to become something that will stay with me for a long time, or until I find something better.

Weapons themselves are quite diverse and not only have a varying difference of feel, but will have a certain amount of modification slots as well. While some may have as many as five others may only have three or less, so take that into consideration when determining what weapons you like to use. Just as the weapons themselves are unique, so are the weapon mods.

While there are some that are so generically universal that they come in categories such as large and small, there are those that will only fit a specific type of weapon. This means that if you decide to be selective (as I was in the example above, then finding mods that will benefit your weapons can become quite an accomplishment. These weapon mods offer your gun such bonuses as more ammo per clip, increase in damage, increase in chance for a critical hit, increase in headshot damage, an increase in stability (e.g. horizontal or overall) and more. Managing them can be quite confusing and daunting, especially if you go through many missions and collect tons of loot. Here's is how I keep it managed.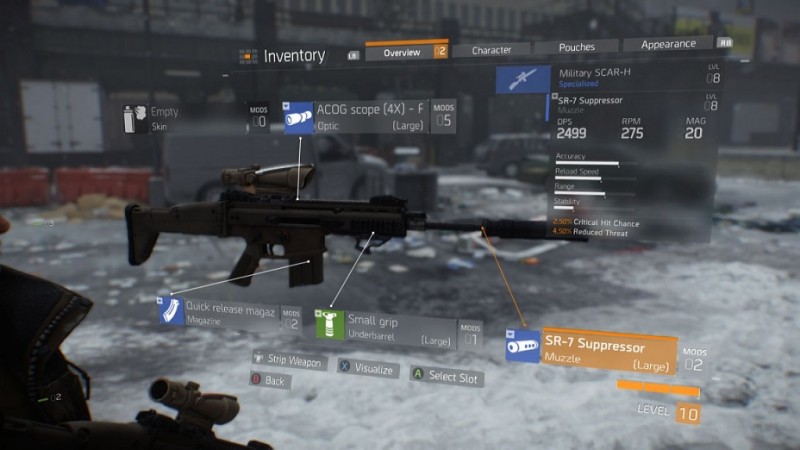 As I mentioned earlier about the three weapons I carry, I begin by going through my primary and secondary weapons in order and I go for mods that increase damage. Once the mod slot is filled I move on and repeat. I do this for my secondary and third weapon, and last but not least my pistol. Once everything is equipped I go into my inventory and mark everything for junk and either destroy it or sell it off (your choice on what you want to do there). Now that I have a clean slate I will venture off and try to acquire more mods and once that happens, I simply go through my weapons again and see if there are any improvements, and if there are then I swap out my mods, and if not, it's marked and either sold or destroyed.

So that my fellow agents is my first of three simple guides that I am writing. Check back in the next day or so to see what comes next in Part 2 of XboxAddict's Field Operational Guide for The Division!