The Division - Field Operational Guide Part 2
by Brent Roberts




Now that we have the boomsticks out of the way, which we talked about in Part 1, we need to focus on gear and that is what this next part of our Operational Guide will hopefully help shed some light upon for you. While the DPS is important with weaponry, finding weapons that have talents you love is another challenge all in itself. Bonuses such as more damage when at 30% health or below, and others 'perks', will help you change the tide of a game, but it's a pure crapshoot finding not only the type of weapon you want, but the talents as well. If you do manage to find something for that kind of balance, then whatever you do keep that weapon and modify it as much as you can in your favor. It may seem a tad methodical, but you will notice how your DPS score in the top left corner will adjust upwards as you improve your weaponry and downwards as it drops. That factor though, is also influenced by your gear.

Your gear is going to be your most fluid and ever changing aspect of your entire character. It will change more than the weather and it will determine your stats and the true balance of your character. It goes without saying that having gear with a high armor value is good as it will help soften the many rounds or enemy fire that will be travelling your way, but what if that armor rating comes at the expense of your DPS, Health, or Skill Power? Is it in your interest to switch? In my experience I have to say no it is not. Personally, I would rather have gear that offers a lower armor rating (within reason) as long as it gives a significant boost to my DPS, Health, or Skill Power. While some gear will accent one area while hurting another, it's through this system that I have to weigh out the "give and take" to create my character.






I tend to focus on creating my character where my weapons hit hard, so naturally I focus most of my gear on items that boost DPS, thus I will find gear that offers up those benefit; however, I realize that some of my gear hurts my DPS but at the expense of increasing my health dramatically. That is when I go through my inventory and find what gear gives me the best increases in my DPS and then balance it out. By equipping gear that shaves away from that higher DPS number to increase my health (I would rather have the decrease come from a DPS rating of 40,000 than 20,000), I get an increase in my DPS for my weapons weapons, but also my health is positively affected allowing me to take a bit more damage when I am in a 'pickle' so to speak.

This is that balaning act that must be taken into account, and while DPS and health are fairly straight forward in terms of the whole balancing aspect, your Skill Power is your character's dark horse. This is where your player's secret strength resides. Skill power affects your abilities mapped out to RB, LB and RB+LB. I'm going to use the turret ability as an example. Naturally, as you progress through The Division, you'll want to upgrade your various wings of your Base of Operations, and in the Tech Wing you can unlock an ability to use an auto lock on portable turret and through further upgrading of the Tech Wing you can unlock other upgrades to this skill; however, that's not your only option.

Equipping gear that will raise your Skill Power stat will dramatically increase the impact that your abilities and skills have in the game. If you decide to focus your time and efforts on this area, then you can have healing powers that rival a miracle, or a turret that causes more death than the plague, and so on. While this is nice, I do find that I would rather focus my attention on the DPS and Health categories because personally I find myself to be selective with my skills. What do I mean by that?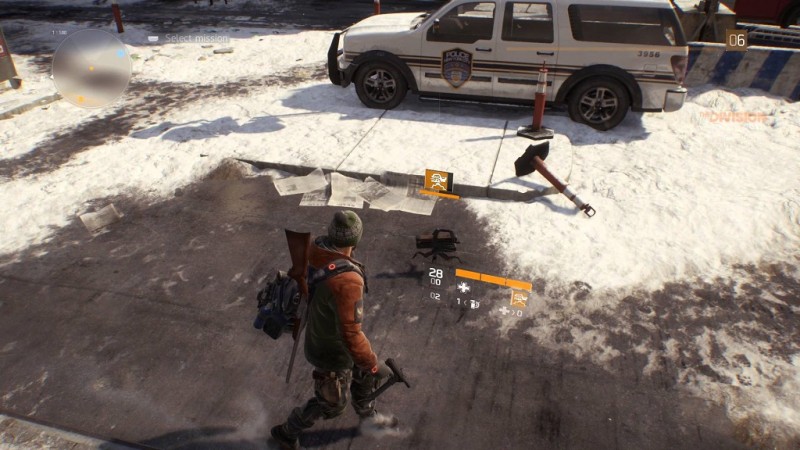 For instance, I will start off with an upgraded healing skill that is modified to give me both a damage increase and an incoming damage reduction bonuses upon healing on top of giving my character health. I will also travel with a sonar scanner that is not only modified to detect lootable items but also grants me a bonus to my critical chance. I'll progress until I see a faint red line on my mini map, and it's then that I will scan the area which gives me a bonus on my critical, and then I switch out my healing for my turret, and deploy not ony far away from me, but up above in an area that will give it good line of sight and allow me to move in for the kill.

I start to engage the enemy, taking cover and shifting my position to counter their flanking attempts, meanwhile my turret is suppressing some enemies and eliminating others and that is when I switch the scanner skill to my health, pop a quick healing skill which increases my damage and I go unleash damnation upon my enemies. Oh sure, I could easily focus on my Skill Power and have a turret that dominates everything, but when that fails, or it runs out. all that's left is whatever gun I'm wielding and I want to make sure I've got the proper firepower to defend myself, and from what I've deduced, going heavily after the Skill Power will not get me there.

So what's next you as? Well, join us in the next few days as we finish this guide off with Part 3 of XboxAddict's Field Operational Guide for The Division!