The Art of Deus Ex Universe - An Essential Artbook
by Adam Dileva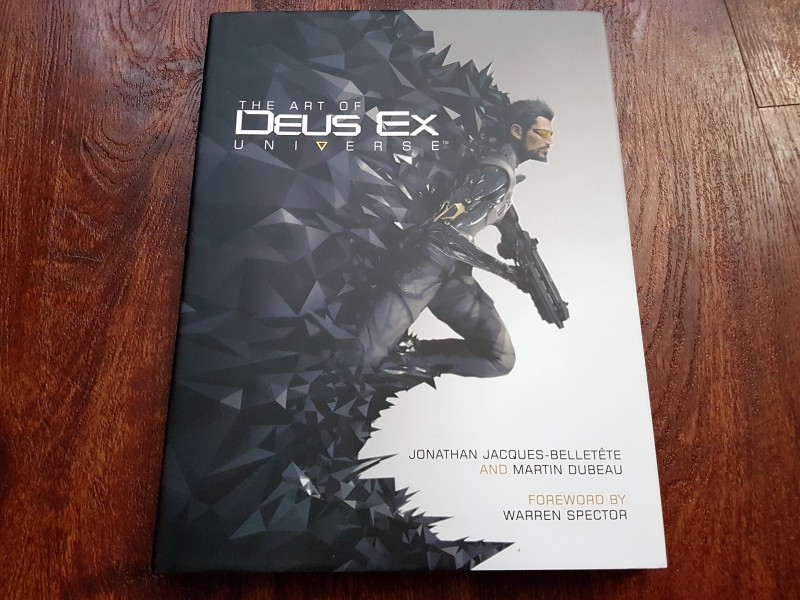 I've never reviewed an art book before. I've done novels, which isn't too difficult, as you're essentially summarizing the narrative and conveying your opinions on the writing and characters, but an art book is different. How do you flip through the book, look at the gorgeous imagery, then convey that in a meaningful way that translates the emotions and thoughts it invokes? Well luckily Titan Books has made my job much simpler with the release of The Art of Deus Ex Universe, as nearly almost all 300+ images, and over 200 pages, have some form of narrative and anecdotal message to go along with corresponding image or page.

Teaming up with Square Enix, Titan Books brings us a fantastic companion art book for anyone that's a Deus Ex fan, or wants a great conversation starter on the coffee table when guests come over. Titan Books could have simply thrown in some previously unseen artwork into The Art of Deus Ex Universe and called it a day, but they've gone much further, crafting a very indepth look at not only the artistry that went into the game, but the reasoning and development of getting to the final decisions that were made, which I found truly compelling.



The Art of Deus Ex Universe is a culmination from the previous hit, Dues Ex: Human Revolution, and the newest release, Deus Ex: Mankind Divided (which you can read our glowing review HERE), containing hundreds of sketches, paintings, and a flood of concept art, not generally shown to public. One of the features Deus Ex is known for aside from its gameplay, characters, and narrative, is without a doubt its unique and compelling art design. Its' world is believable and gorgeous to be a part of when playing. This art book gives us fans a glimpse of what turmoil was endured to reach the final product, as it's something you don't normally concider or think about when playing a game in its final form.

Full disclosure; Titan Books sent XboxAddict a copy of this art book to asses and 'review'. While we may not give a traditional score, everything in this article will give you an in-depth look at what you can expect should you want to purchase it for yourself, or someone else for a fantastic gift. While I'll try and avoid them in my writing, I would suggest playing through the Mankind Divided before delving too deep into the reading of the art book, as there are some minor, and possibly major, spoilers to be had. The art book assumes you've played the games already and want to learn more after the fact.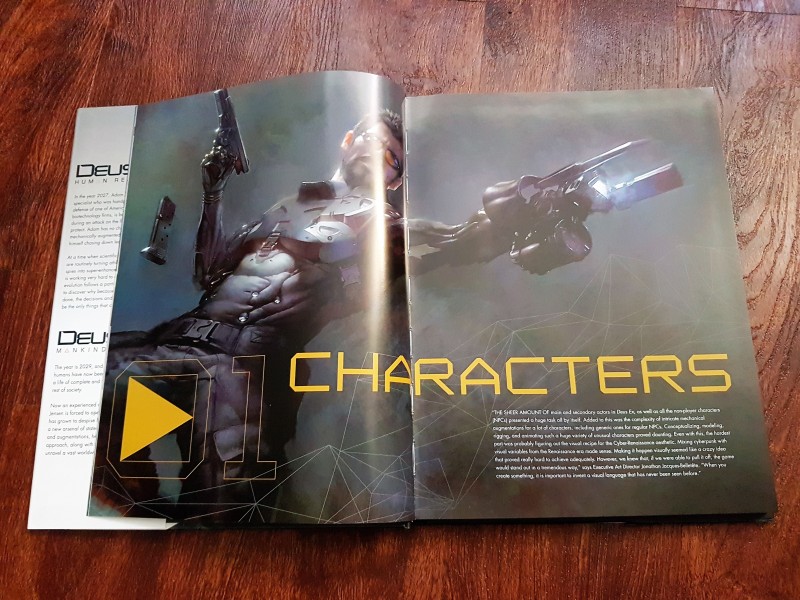 Measuring 9.5 x 12 inches, The Art of Deus Ex Universe is a decent size, big enough to see the detailed images, yet still easily able to place in your lap to enjoy. Being that it's over 200 pages of glossy paper and a hardcover, it does have a good heft to it, adding to the premium look and feel of the overall package. The outer slipcase feels matted, but has accented spots of gold, also playing into the premium look of the book.

While I enjoyed viewing the artwork, the written content is just as good, if not better, as it's truly intriguing and informative, detailing not just what you're viewing but why certain aspects were, or weren't, chosen for the final game design. There are even paragraphs that are candid, talking about why certain content was cut out of the game, or how a specific area like Panchaea blew the budget out of the water. Commentary like this that we don't generally get to know is what I really found fascinating.

Taking the time to read the commentary makes you understand how much work goes into not only making the game's visuals, but how much time and effort from a team of people it takes to even get to the point of starting to figure out the basic direction to head in. Case in point, Mankind Divided's main artistic theme is a blend of cyberpunk and renaissance, and coming up with those elements alone wasn't an easy task; more difficult to implement in a believable way.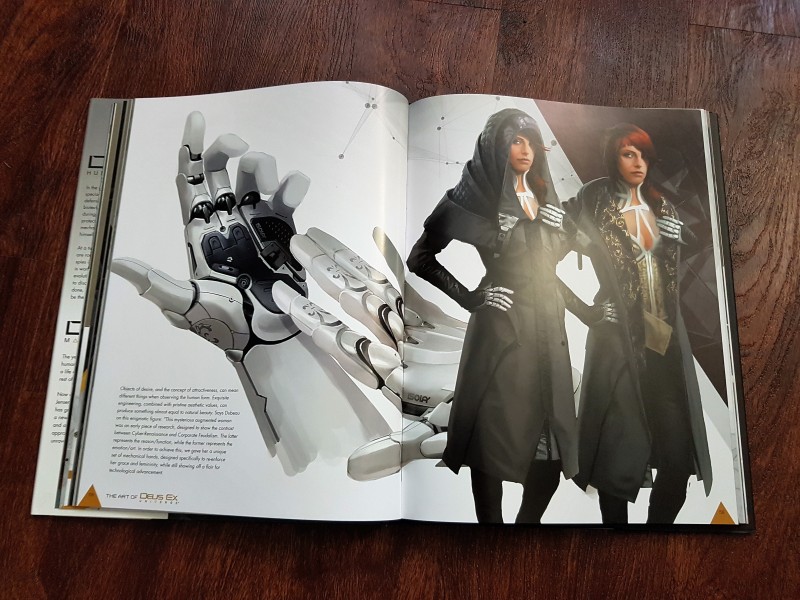 The first chapter is a Forward by Warren Spector, designer of the original Deus Ex back in 2000, detailing how he can't believe how far the franchise has come since its inception, and how its evolved into the masterpiece that it is today. This is a classy move, as it's giving respect to the original creator before moving on to the team that's worked on the last two titles.

Jonathan Jacques-Belletete, art director of Human Revolution and Mankind Divided, then opens up the Introduction chapter, reminiscing about how much time simply went into reading and researching what they could before even starting to put ideas down on paper. Metaphors and analogies are a key point in the meaning behind many of the choices, even the main themes, and it's fascinating to read him talking about the subject, as you would naturally think that artists would simply start sketching and drawing what they could as soon as possible. It's an interesting look at the basic floor level of art design and makes you appreciate all of the work that goes into not just this game, but any game.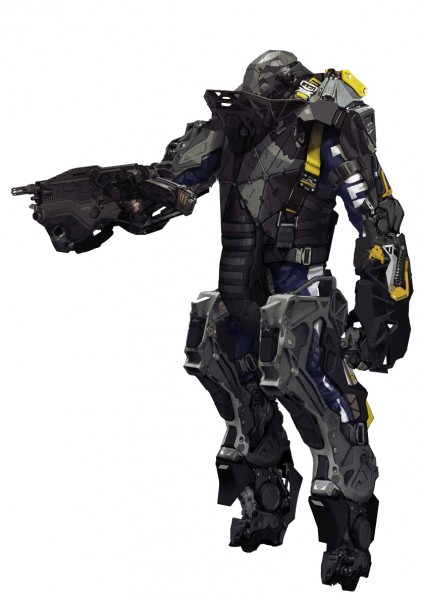 The first main chapter is Characters, detailing most of the prominent figures in the Deus Ex universe, obviously starting with the titular protagonist, Adam Jensen. To convey my point about the commentary being truly interesting to read, wait until you learn why the team had a version of Adam in concept titled Douchebag Adam. It's little stories like these that really give you a great behind the scene look into the creation of even a single character. I don't want to spoil all of the characters that you'll come across in this chapter, but expect some of the more prominent once such as David Sarif, Megan Reed, and more.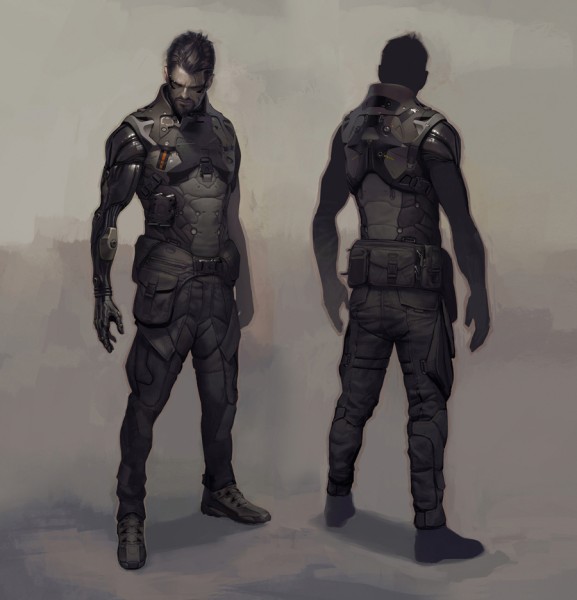 Weapons and Tech is the next chapter, detailing why many of the weapons and augmentations look the way they do. It's interesting to read the reasoning behind many of the choices that made it, or didn't, into the final game. There was even a heavy rifle weapon that got cut, not because they wanted to, but because it was designed so quickly that its large size meant that they would have had to create specific animations just for Adam holding that weapon, so naturally the budget didn't allow it since they didn't think about that beforehand. Jonathan even goes into depth about designing every bullet type and ammo box so that it was believable and unique.

If concept art if your thing, then you're going to love the Locations chapter. This details many of the different locals that Adam visits during his adventure, from Detroit to Sarif Industries to the awe inspiring Panchaea. There's even a funny story about the 'Floof', which if you have keen ears, you might hear NPC's talking about while playing. This chapter does have some heavy spoilers within it, so just glance quickly if you haven't gotten to play the games yet.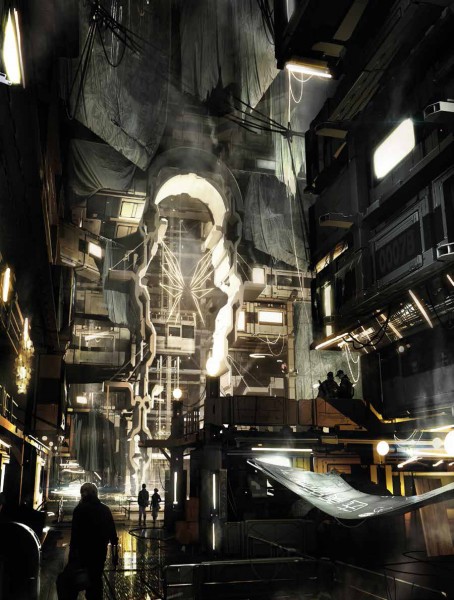 The last two chapters are Breach and In-game Adverts. This feels as though it's a bonus section to the book, delving into some of the adverts and other things you see in the game that you may not even notice much while playing. Posters and movie flyers litter some areas, and I now want a full size poster of the HMFC (Heavy Metal Fighting Championship) that's displayed in one of the pictures. This chapter shows how much time and effort went into the smallest details, most of which you probably won't even take notice of when playing, but it's there because the world needs to be believable.

The Art of Deus Ex Universe is very concept heavy in most of its imagery, and while I appreciate that and find it fascinating, I do wish there was a little more in-game artwork also included. 3D models of characters and locals would have been appreciated too, though it's not held against the product as a whole, as it's absolutely gorgeous and stylish to admire. It does a fantastic job at covering all of the needed bases while the commentary adds more value and behind the scenes knowledge.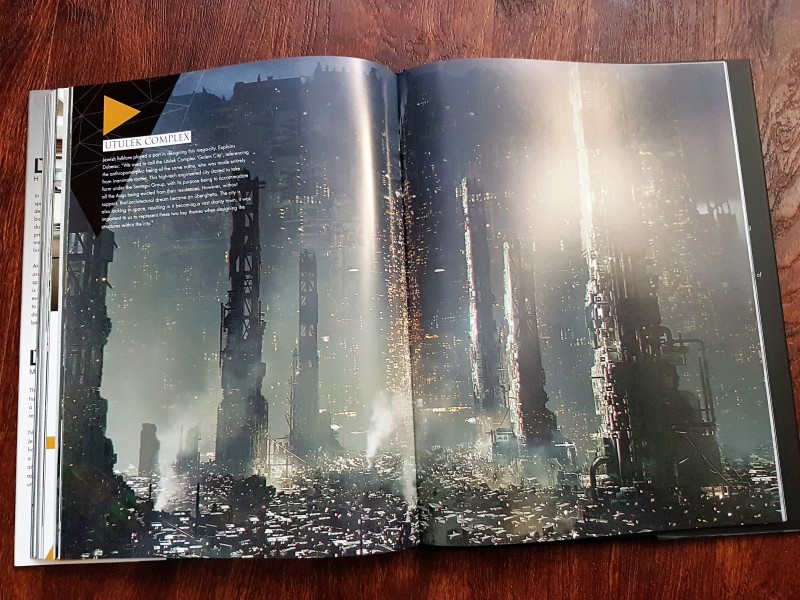 Titan Books has done it again, crafting a video game art book that fans, and non-fans, can easily enjoy, allowing for a conversation piece wherever it may be displayed. If you're like me, and have a bookshelf of game art books, The Art of Deus Ex Universe is another one that should be added your collection. With an MSRP of $39.99 USD ($52.00 CAD), it's a premium quality book for a reasonable price once you see the quality for yourself. If you're a Deus Ex fan it's an essential book if you want to learn more about Adam's environment and want to appreciate all the hard work that goes into making such a beautifully hand crafted, and believable, world.

All images ©Square Enix