Hunt: Showdown (Game Preview)
by Adam Dileva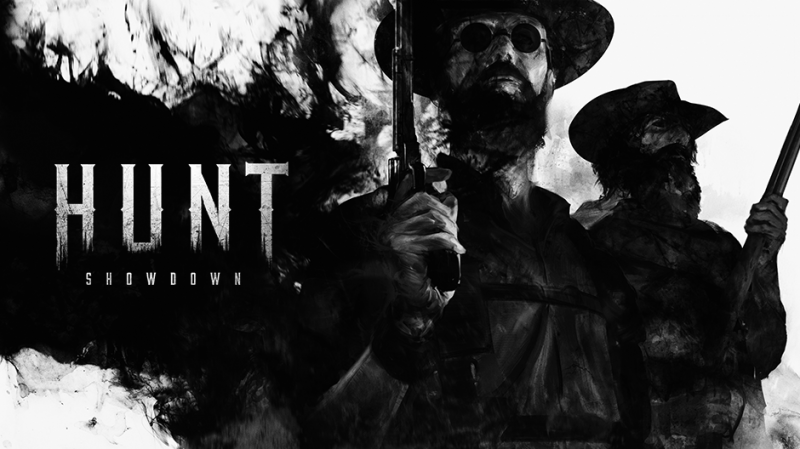 The Game Preview program is an interesting concept. It allows you to help monetarily back a game in its early stages, but also being able to experience and play as it develops from its humble beginnings all the way to its final release. Some gamers love this idea, as they get to play a game quite early, but you must keep in mind, these are works in development, and many things are in rough shape, missing, don't work and usually needs a lot of work and polish before it reaches its vision. As long as you know what you're getting into, this is a great way to check out a game early in its life cycle.

We got to check out one of the newest titles in Early Access, Hunt: Showdown. Because this is in Game Preview and far from a polished final release, instead of a fully-fledged review, this is more of an oversight of game mechanics and how it plays, but without holding its shortcomings against it, as that wouldn't be fair this early in the life of the title. Any game in Game Preview is a work in progress, and Hunt: Showdown is no different, as there's a long way to go before this is a polished game that I would recommend getting.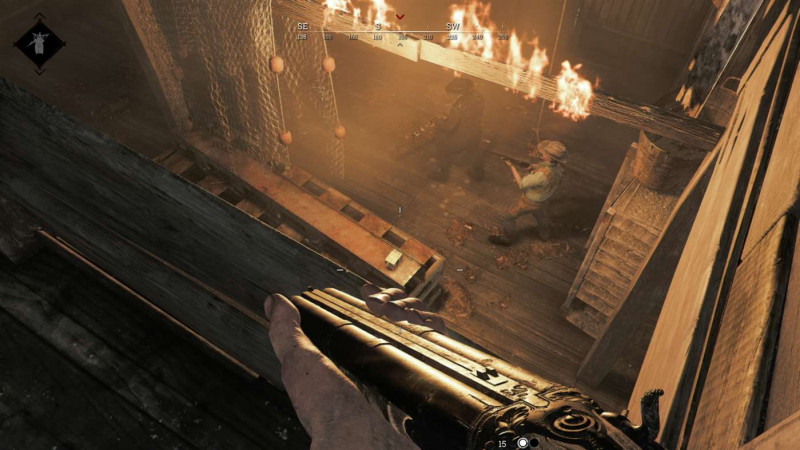 Seemingly set in older Western times, you play as a bounty hunter in the Louisiana Swamps hunting undead and ghastly creatures. You're tasked with finding clues to locate massive beasts, the bosses, and banishing them once defeated before making your way to the exit with the loot. Problem is, other bounty hunters are also tasked with the same assignment, so there will be some fierce competition, and death will be plentiful, not just for the monstrosities.

There are two main modes: Bounty Hunt and Quick Play. Bounty Hunt is the main mode where you'll play a longer PvPvE match where your life is actually on the line (after you reach a certain level). You can play solo, or duo's with a buddy once you reach level 3, of which, having a partner makes the experience a substantially better experience. Because every hunter is searching for clues and the boss, there's a harsh PvP element that becomes forced. Do you let others do all the work, finding the clues and defeating the boss before you ambush, or chance it and try and do it yourself for more rewards, xp and loot?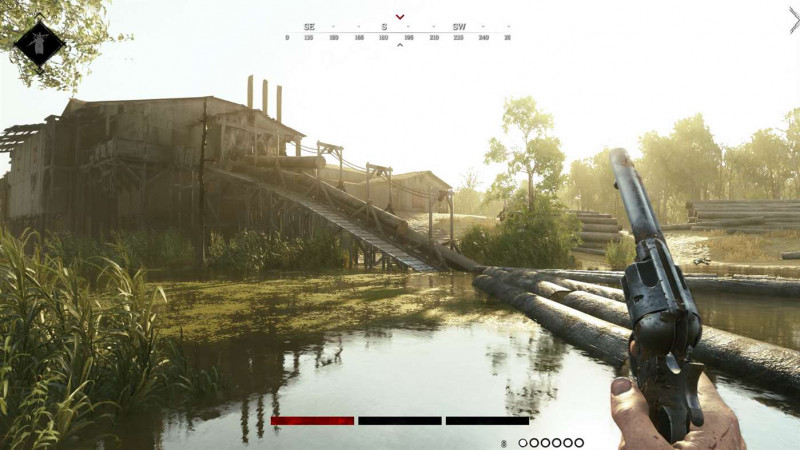 Once the boss is defeated and banished, you'll need to pick up the loot and make your way to one of the exits along the edges of the map. Problem is, during this phase, other hunters can see where you are and will try to kill you and escape with it for themselves. If this sounds like the ending of a round of Payday: The Heist, then you'll know exactly what to expect. Hunt: Showdown is all about Risk vs Reward; the higher the risk, the better the reward.

Quick Play is a much shorter experience where you play solo and have to race other players to close rifts around the map. The quicker this is accomplished, the bigger the reward, so there's a franticness about it. If I could play as a duo, I would probably enjoy this mode more, as this feels more like a Slayer-esque type of mode rather than the more unique Bounty Hunt mode.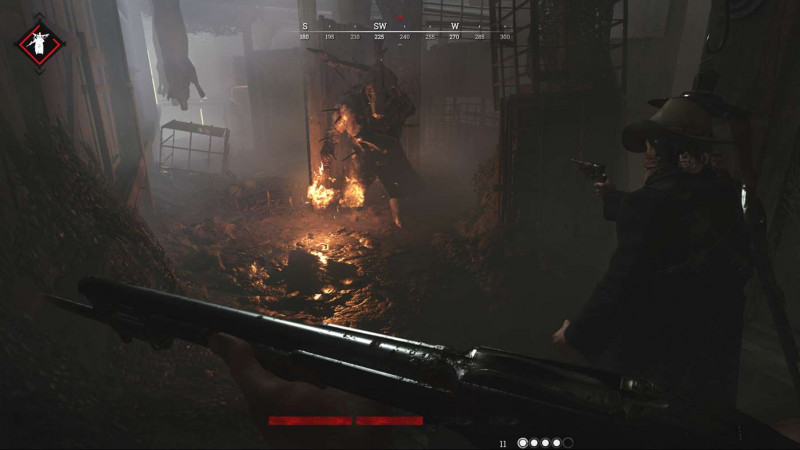 With 10 players per match, at least that's what's advertised, as I've seen no way to actually see a player list in-game, you'll constantly have to deal with PvE elements, such as monsters and zombies, but also keep an eye out for PvP from other players. The forced PvP is something I absolutely detest for reasons I'll get into shortly, but just keep in mind you could be ambushed at any time, and because you never know how many players are remaining, every match is tense. In your first few matches you'll die quickly, often from monsters, but as you learn the game mechanics and last longer, players are what will be your ending the majority of the time.

Once you suffer through the few minutes of waiting for a match to load then populate, you'll be plunked down into a game in a random place, along with your partner if playing Duos. You have the ability to use Dark Sight, a vision that lets you look seemingly into another dimension. By using Dark Sight, the world goes dark and special locations where boss clues are hidden will appear. It's essentially its own compass, and when players are in the final phase trying to make it to the extraction zone, it will also highlight them so you know where you ambush them. It seems like an unnecessary mechanic, but something that needs to be constantly utilized if you want to be successful.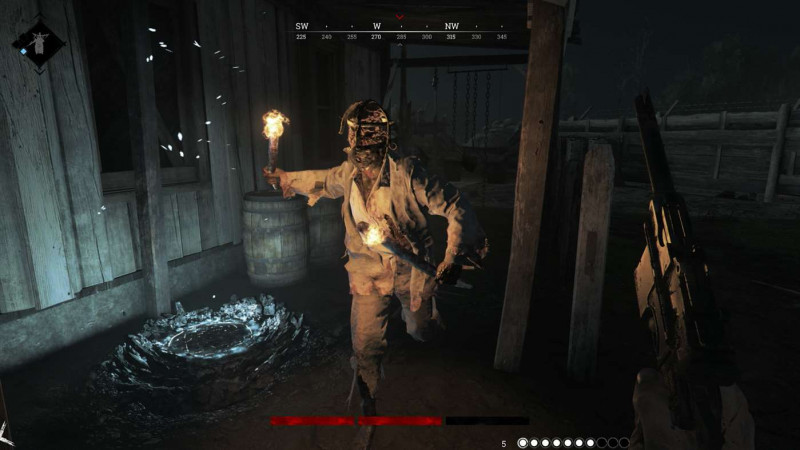 Matches are meant to play out by finding a certain amount of clues placed around the map, which you find with your Dark Sight, then once all the clues are located, the boss' lair will be highlighted on the map. Speaking of the map, you need to press the Menu button to look at it, which doesn't pause the game (obviously, as it's online), and there's no way to place a marker on your compass, so you'll need to constantly be checking it, leaving you in moments of danger from anything, or anyone, nearby.

Currently there's only two bosses included, a massive and hulking Butcher that can easily destroy you in one good swipe, and a nasty huge Spider than can cause ongoing poison damage. While themselves to defeat aren't terribly challenging, it's a whole other story when you have other players trying to do the same, or kill you instead, to take the loot for themselves. There's clearly some balancing and fixing that needs to be worked on, as it seems bosses won't leave their lair, so you can easily pick them off by stepping in and out of doorways, and I even had one Spider boss get glitched an unable to move. Again, it's in Game Preview, so it's hard to hold it against it at this point.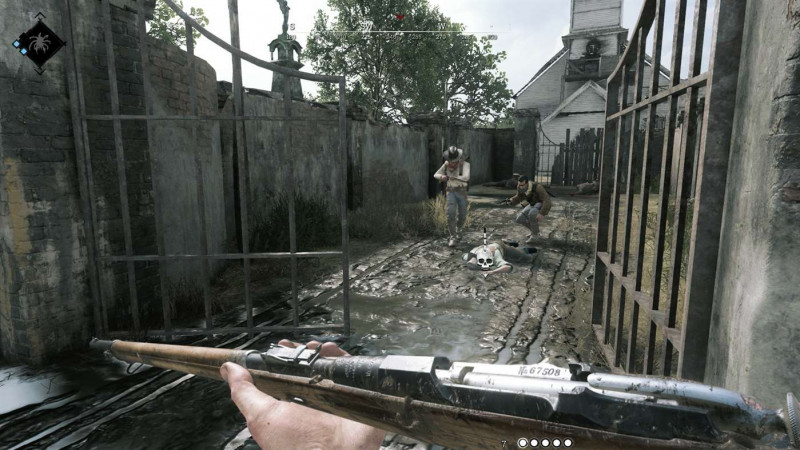 Progression plays a large part of Hunt: Showdown. Your hunters have their own levels that they can progress, unlocking new perk slots and gaining XP, but you also always work towards your overall Bloodline level. Your characters can die permanently once you reach a certain level, so you'll need to always be careful as possible. When they do inevitably die though, their XP will be transferred to your Bloodline, where you can then apply the XP to a new, or other, Hunter. It's an interesting mechanic, but leveling takes quite some time, even when being successful against bosses and extractions.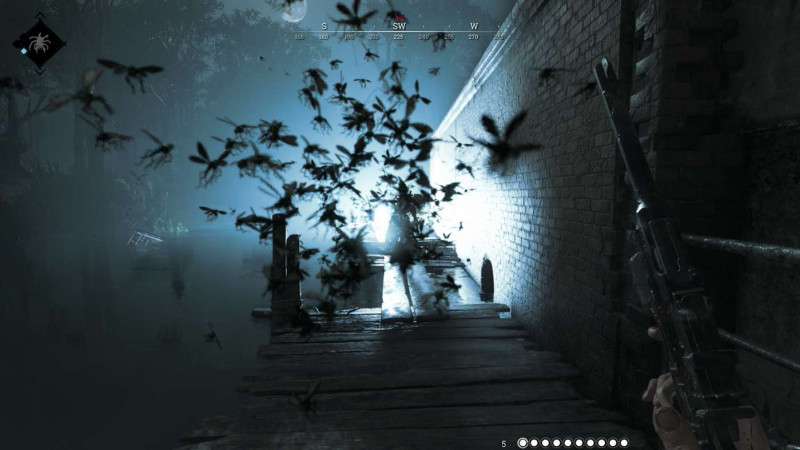 While there weren't many players currently playing, at least what I can assume from how long matches take to load and populate, the ones that are there are dedicated. There's also seemingly no matchmaking rules in place, meaning your level 1 that's just starting out is going to get matched up against max level players, quite unfairly. Your first dozen hours are going to be a large uphill struggle, not only to learn the mechanics, but to fend off the high level players as well. This is why I detest the forced PvP, as the skill and equipment gap is far too large between novices and veterans. You simply won't stand a chance until you gain a bunch of levels and unlock new weapons based on said levels so you have a chance at holding your own.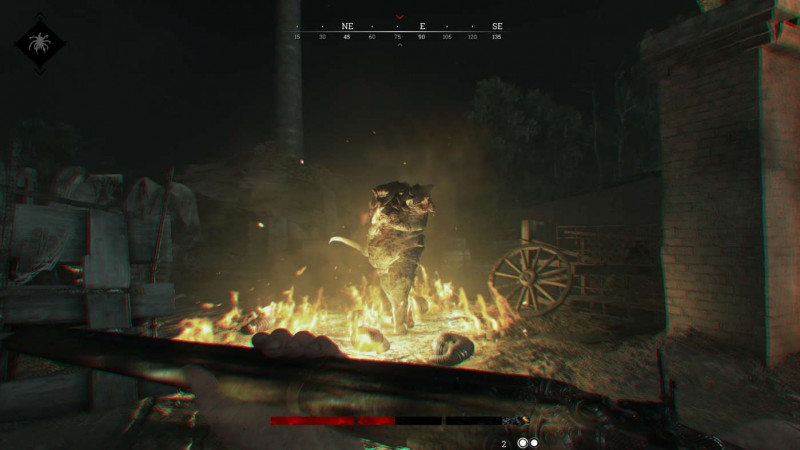 Easily the highlight about Hunt: Showdown is its incredible audio experience. While it's nothing terribly special to look at, the audio is absolutely top notch. Monsters make creepy sounds, minor details like stepping on branches or broken glass adds a layer of tenseness and even walking into hanging chains will sound extremely realistic. This makes for a very eerie atmosphere and sucks you into its world.

With only two bosses and two maps currently, there's obviously a lot of content that needs to be added in the future. Terrible loading times and uneven matchmaking make for a disappointing first impression, as I died within 30 seconds in my first game to some random huge zombie thing. The next dozen deaths were to max level players that I didn't even see, or hear, coming.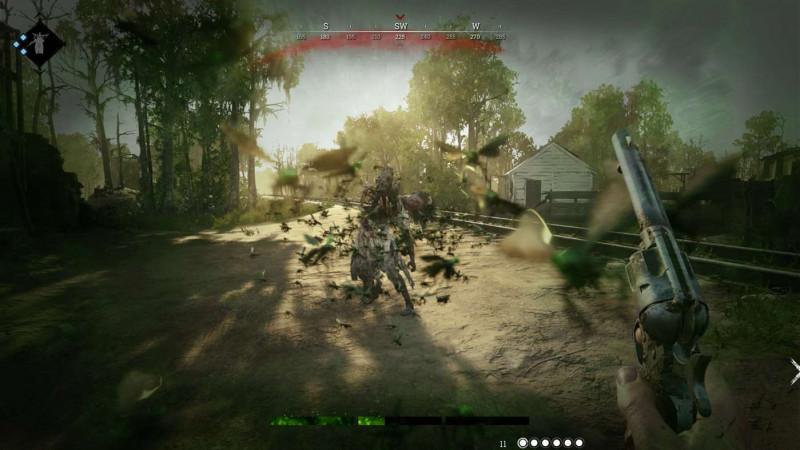 Again, Early Access in Game Preview means you're getting to play early while supporting the developers, but also dealing with the rough state of the game. Hunt: Showdown is no exception, as there's a long way for it to go before I would want to sink many more hours into it. That being said, its basis as piqued my interest and I'm curious to see what improvements will come over the next few months.