Immortal Realms: Vampire Wars (Game Preview)
by Adam Dileva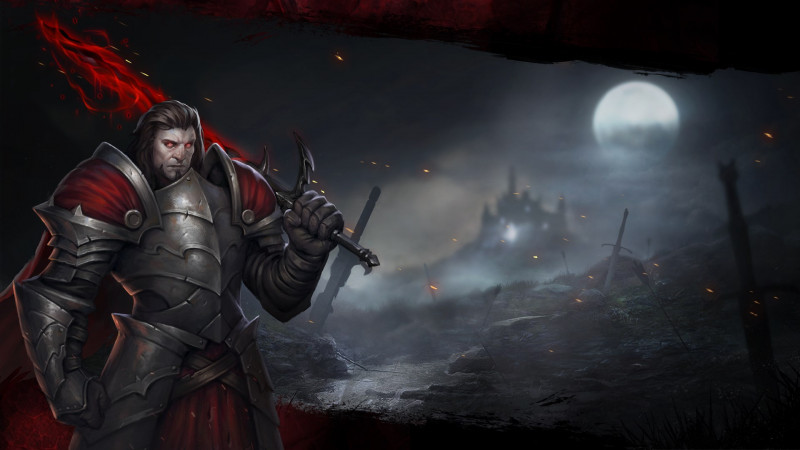 I really enjoy the Game Preview program on Xbox One, as it allows you to purchase a game, sometimes well ahead of its full release. This means you can support a game early and check it out during its development cycle as things are added, changed and hopefully improved before its full release. The latest to join the Game Preview program is Immortal Realms: Vampire Wars, a title I had absolutely no idea as to what to expect before starting it up. Given that a title in Game Preview isn't a finished product, this also isn't a complete review, and more of an overview/preview of what to expect from the game.

Immortal Realms: Vampire Wars feels like it's actually two games in one. One part that's like a board game with unit management, and another with turn based combat that utilizes cards as well, all set in a world filled with a vampiric war breaking out. Not only is there quite a lengthy campaign, but a Sandbox and Skirmish mode are also included as well, adding for some serious replay value.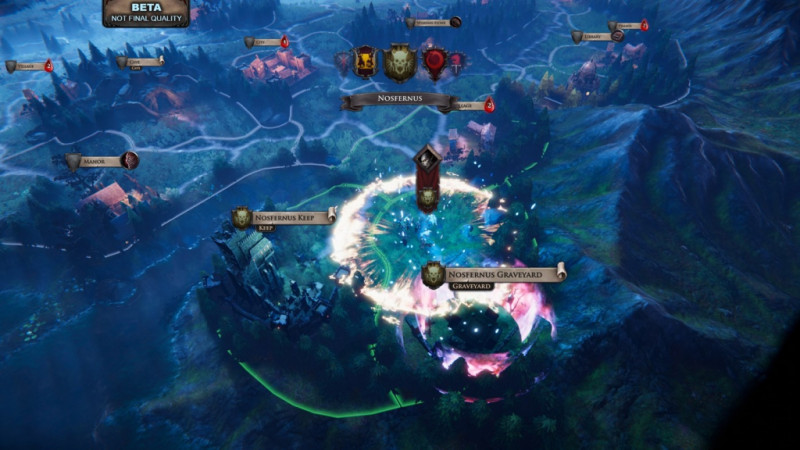 Set in the human world, there are three vampire clans at war with one another, all vying for power. Three separate clans, the Dracul, Moria and Nosfernus, all of which have their own unique playstyle, mechanics, card sets and leader. Each clan's campaign is split into four chapters, for a total of twelve, though each one lasts for much longer than I was expecting, so there's a decent amount of content within already.

Gameplay begins with you controlling your vampiric army on an overview map, titled Kingdom Mode, almost like a top-down management game. Here you'll have a set amount of movies you can take before ending your turn, either by moving spaces to uncover more of the map, or utilizing a turn to use a specific space's ability, like drawing new cards, recruiting troops, upgrade buildings, sacrificing villagers and more. As you venture further out, you'll uncover more of the map towards your destination, but you'll sometimes be met with enemies and will need to battle it out.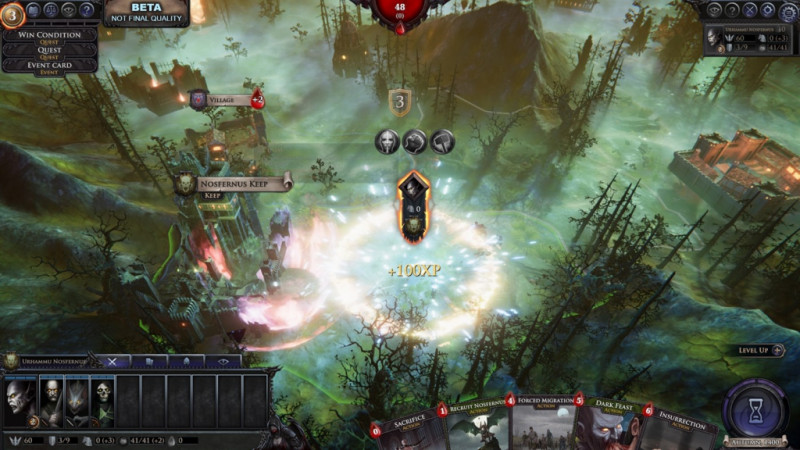 What makes Immortal Realms stand out is its mixture of completely different elements, that on paper, shouldn't work as well as it actually does. There's a whole card deck building element to the gameplay as well that once utilized properly, can completely change the outcome of your games. Some cards buff your lords and armies, some are used to recruit more units and others give buffs. You need a certain amount of blood points to use your cards though, and to get blood you need to be in control of land and villages, as you'll need to sacrifice the occupants in exchange for said blood. This means there's a lot of strategy in not only knowing what cards to play and when, but how to make sure you have enough blood points to do so.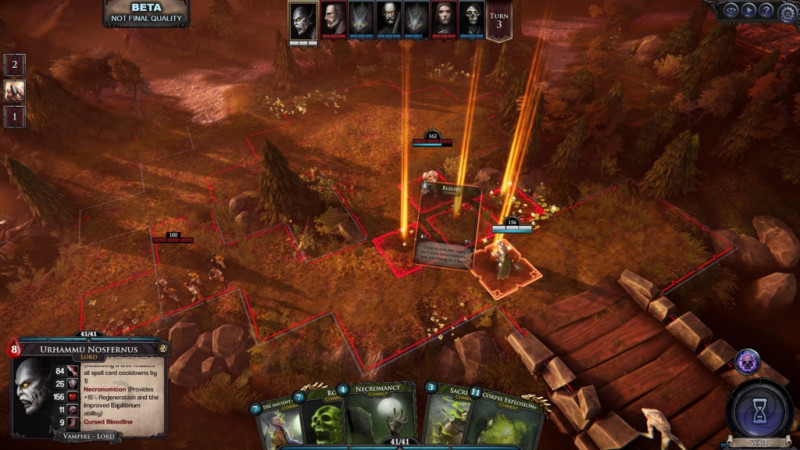 When you do come across an enemy, be it human, beast or other vampires, you'll need to defeat them in combat. This is done on a grid based battlefield with each side taking turns. Some battles allow you to automatically fight for you, saving you time, but the main battles will need to be manually fought. Different units all have their own traits, strengths and weaknesses, so it will take some trial and error to figure out what works best for you against certain enemies.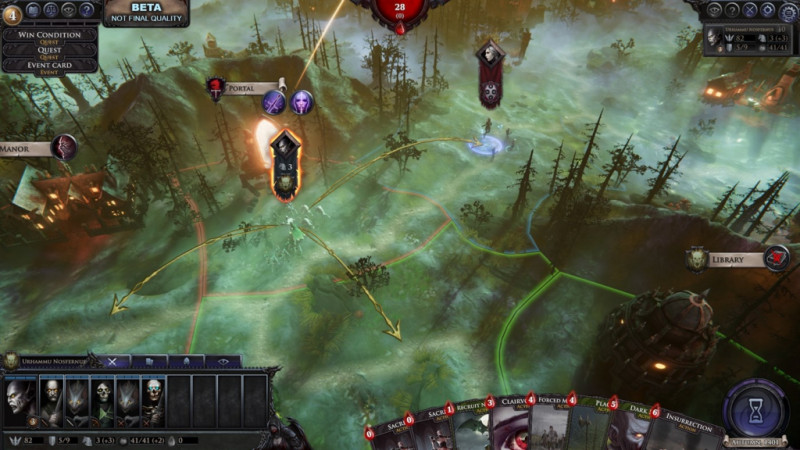 Most units also have special abilities as well, but the real bonuses come into play with your card deck. Here you can buff your units, heal your leader and much more. Of course, these vary based on what clan you're using, so there's lots to try out to find what works best for your playstyle. While the combat is much more melee focused, there are ranged units as well, such as archers, that can pick away at enemy health bars from afar. Oddly enough, even though the battlefield is grid based, there's no line of sight issues for ranged characters, so feel free to keep your archers hidden out of harm's way behind a tree or building where melee characters will be unable to access them.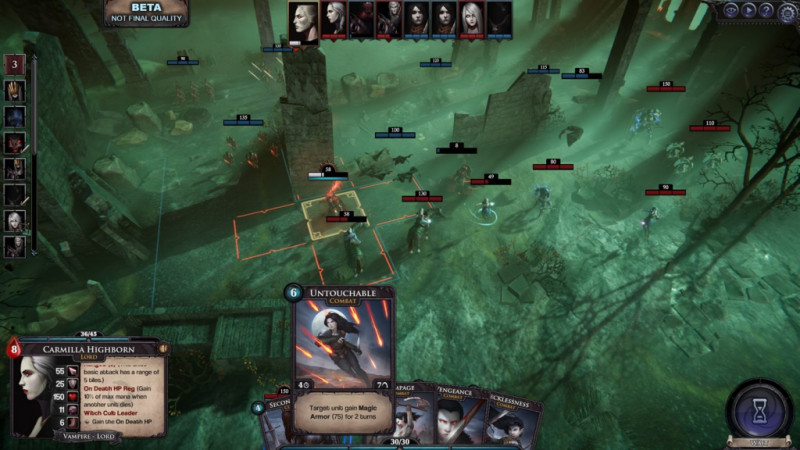 Sandbox mode allows you to setup a full game, allowing you to tweak nearly every setting, even the win objective, in a much larger open world map. This allows you to try your might against more than one clan at a time and offers a great challenge. Skirimish Mode is where I had a lot of fun though, pitting you 1 versus 1 in combat only. Here you can pick your clan(s), their levels, equipment, armies, map and more. I had a lot of fun here trying every clan, unit type and items.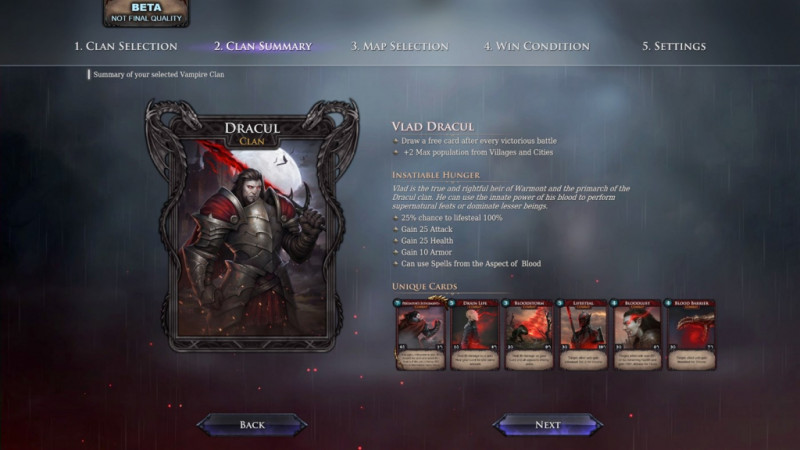 For being in Game Preview, I really only noted down a few complaints so far. First, while there is a tutorial that teaches you the basics and controls, there's a lot of strategy that simply comes form hours of gameplay with trial and error. A better understanding of the cards and best practices would have went a long way to not feel so overwhelmed in the beginning. A small nitpick is that the font size is so incredibly small, especially on cards, that I had to actually sit closer to the TV when playing to read them.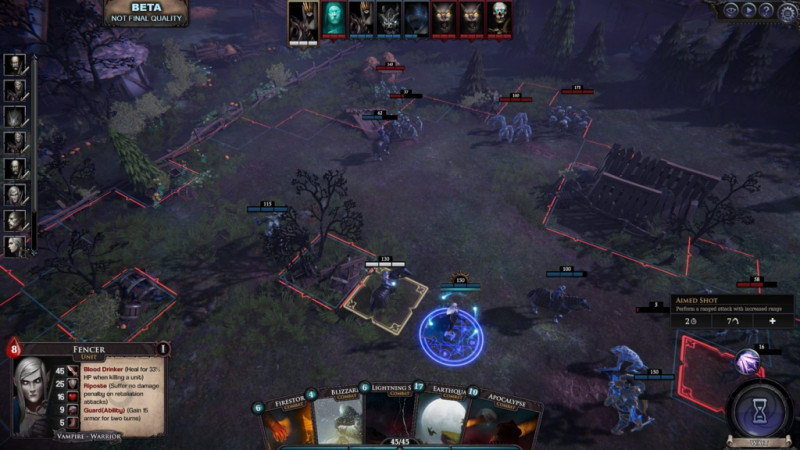 There are 3 separate campaigns, one for each of the factions, but you need to play them in order, so some might not get to try a faction they like until much later unfortunately, though you can technically try them out in the Skirmish or Sandbox Mode. The biggest omission though is the lack of any kind of online multiplayer. I understand that the campaign is the main draw with Immortal Realms, but being able to play an online match of Sandbox or Skirmish with some friends would give a lot more longevity and value.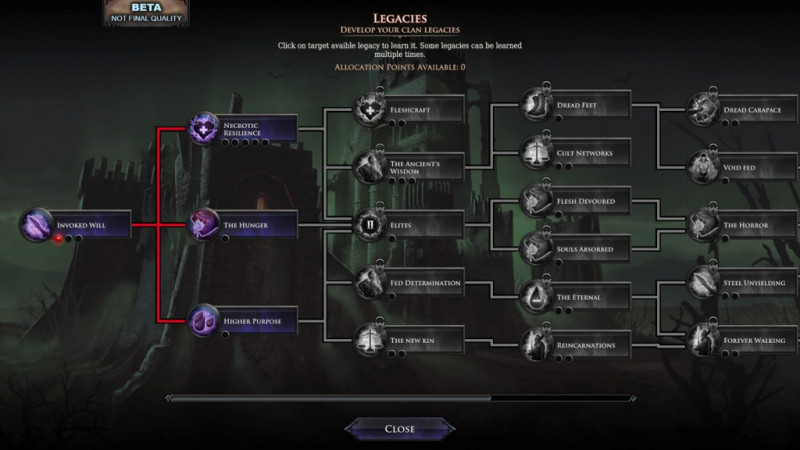 Given that Immortal Realms: Vampire Wars is still in Game Preview, there's a lot of value within, encompassed in a really interesting and unique combination of gameplay mechanics. While I'm not usually big into either the tactical empire sim, nor card based games, somehow these fuse together well and make for a really strategic experience. I'm curious to see what gets added and/or changed before its full release, hopefully sooner than later.