No Straight Roads Collector Edition Unboxing
by Adam Dileva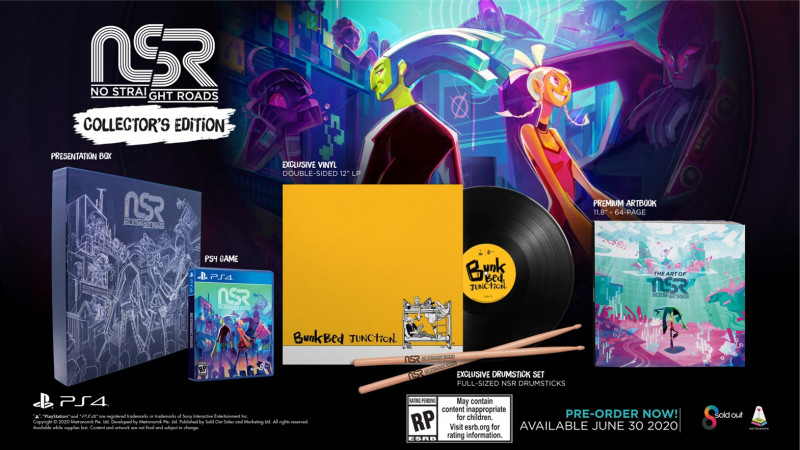 I really enjoyed No Straight Roads, so much so that I reviewed it and gave it an 85%. While it was far from perfect, it was clearly made with a lot of love and passion, had wonderful voice acting and an absolute killer soundtrack that elevated the whole experience. For my full impressions, you can read so HERE.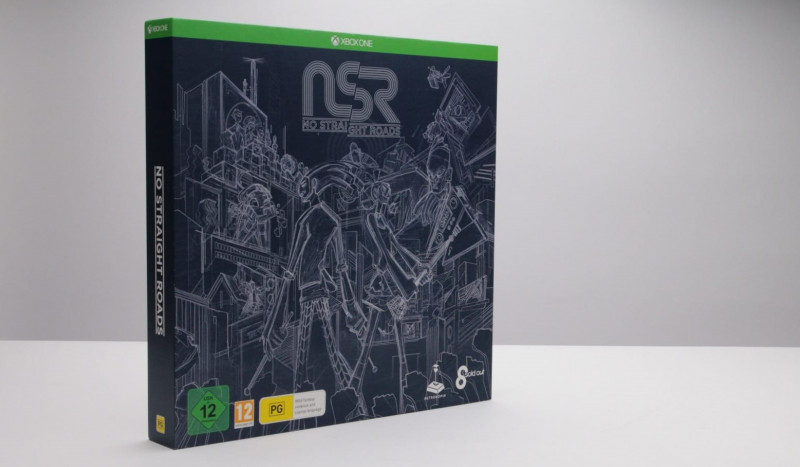 While Collector Editions are commonplace these days, some come bundled with expensive statues and knickknacks while others don't stuff the box full of goodies, but instead packs in some high quality items that fans will be excited for. We were lucky enough to get our hands on the Collector Edition for No Straight Roads, so we decided to show what comes inside if you were on the fence about purchasing it or not, or want to find a great gift for the upcoming holidays.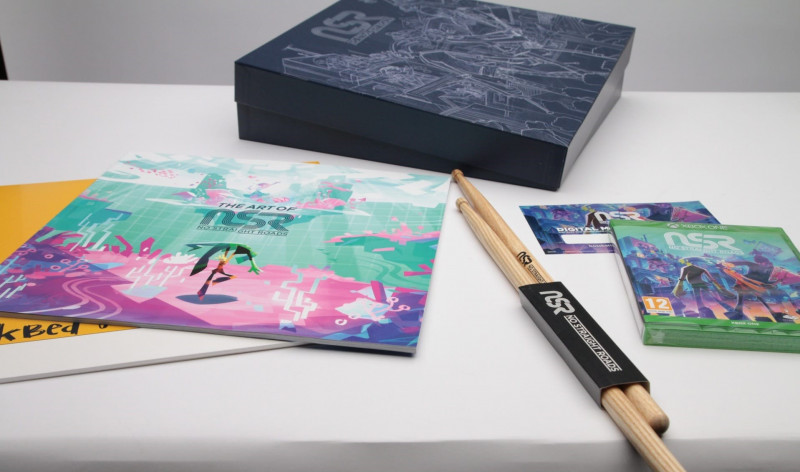 The box is large, but you won't know why or what's included inside the box. I found it odd that even on the back of the box, there's no listing of anything that's included inside, so you might be wondering why it's listed at the price it is ($99.99 CAD if you're able to find one by the way). So take off that sweet shrink wrap and you'll be greeted to a slip case that easily slides off. The artwork on the outer slip, and inner, is some awesome sketch art depicting the actual game cover in its early state.


Lay the box flat and the lid will lift straight up. The box itself isn't just your standard cardboard either, as it's got some sort of matte finish and feels very premium. Lift off the lid and you're presented with a bright yellow rectangle that oddly looks the exact size of a vinyl record. That's because it IS.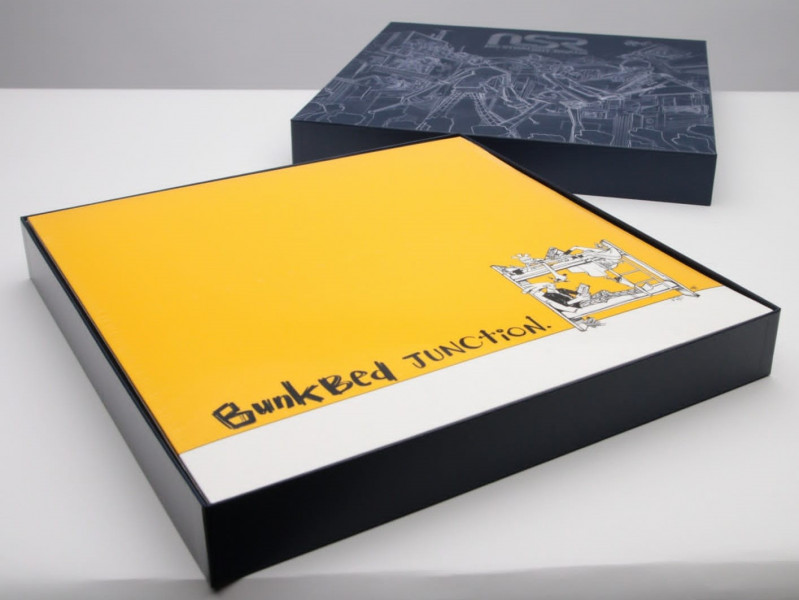 Included is a double-sided 12" LP featuring music from the game's official soundtrack. The cover is labeled 'Bunk Bed Junction', the band that you play as within No Straight Roads, and has a small picture of Mayday and Zuke, the two characters you play as throughout their journey to take back Vinyl City with rock. It's a basic cover but it's slick and looks great.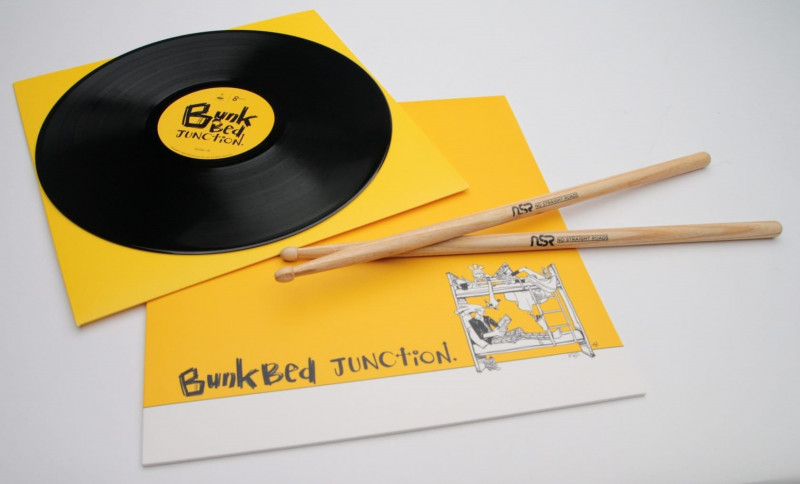 The back of the album lists the tracks on both sides, 6 tracks for Side A and 4 for Side B. While I wish the whole soundtrack was included, most of the notable songs are here. The label on the record itself is a matching yellow with 'Bunk Bed Junction' sprawled on it. For a game based on music, I was kind of surprised the record itself wasn't a special color or multicolored given how bright and beautiful the artwork in the game is, or that the circular label wasn't a mimic of Mayday's unique eye pattern from the game. Either way, a game about music comes with some great music.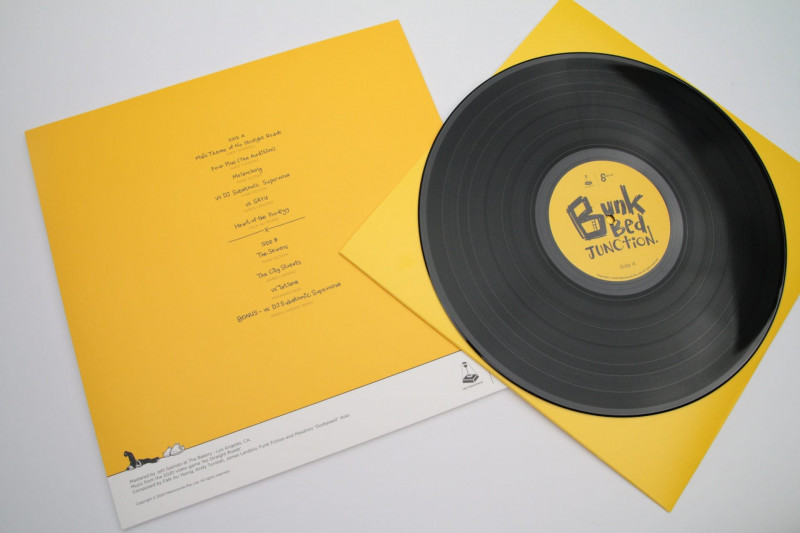 Next up, underneath the vinyl is the 11.8" 64 page art book that is printed on premium paper. Within this book has some wonderful artwork, depicting all facets of No Straight Roads, from the characters, environments and more. I always really enjoy seeing early sketches of characters to see how they evolved before their final form, and here is no different. Most pages are vibrant and filled with tons of color, just like in the game, but also have pencil sketches and different faces and poses for characters as well. You can even see notes that were made for Vinyl City in its design, peeking behind the curtain so to speak. It's a wonderful art book and the last thing of note is that they even went the extra mile and put a thin layer of foam all around the book so that the art book can't move and none of the corners got bent within the box.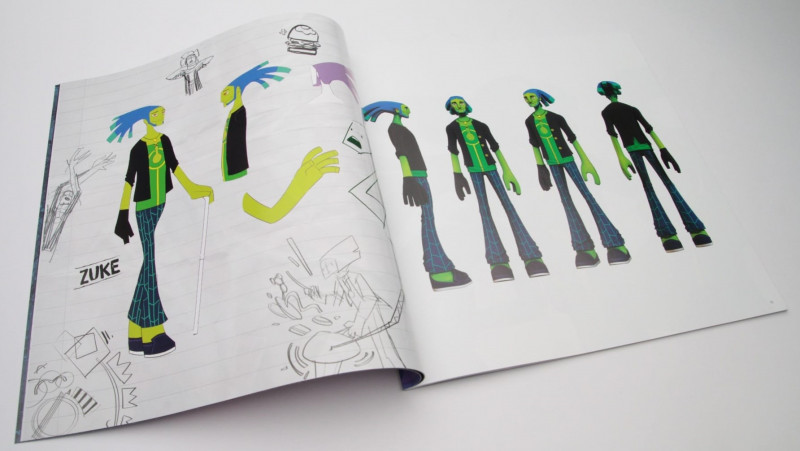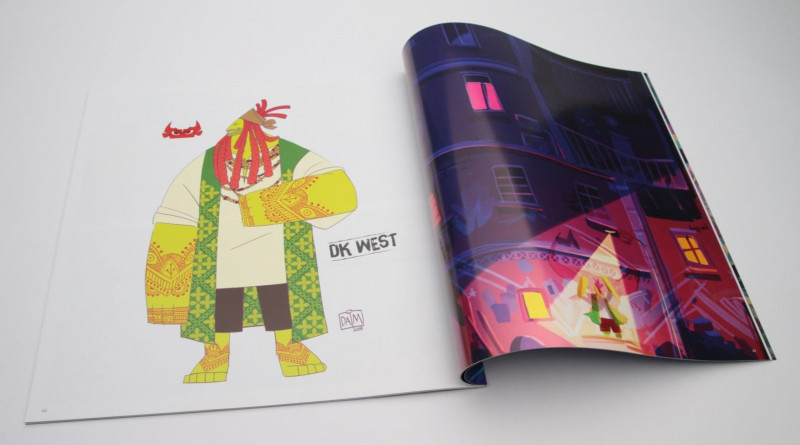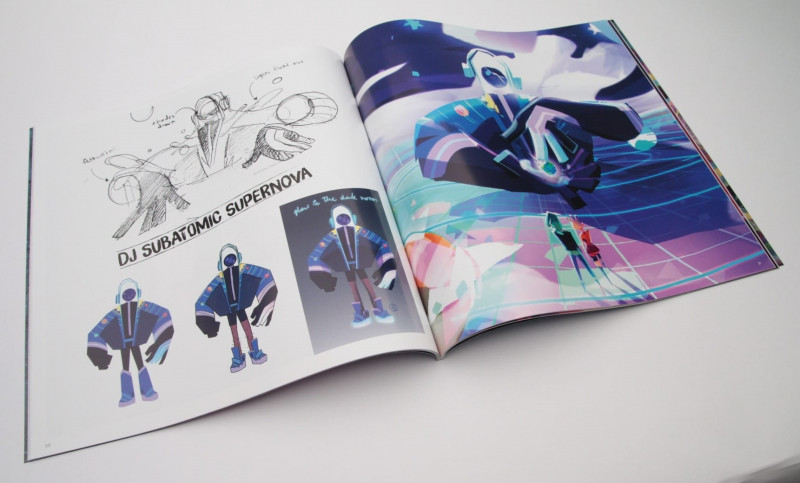 Next up is more of the sketch artwork that depicted on the front again but with a hole cut out of the middle fit to the exact size of the No Straight Roads game in disc format. While nothing special here, under the game itself is two more cool bonuses. First, there's a small slip of paper that gives you a digital mini-soundtrack for No Straight Roads when you redeem the code. Redeeming took seconds and gave me 22 songs in a variety of different formats for me to download and own, so now I can listen to the DK West battle or the Main Theme over and over whenever I wish.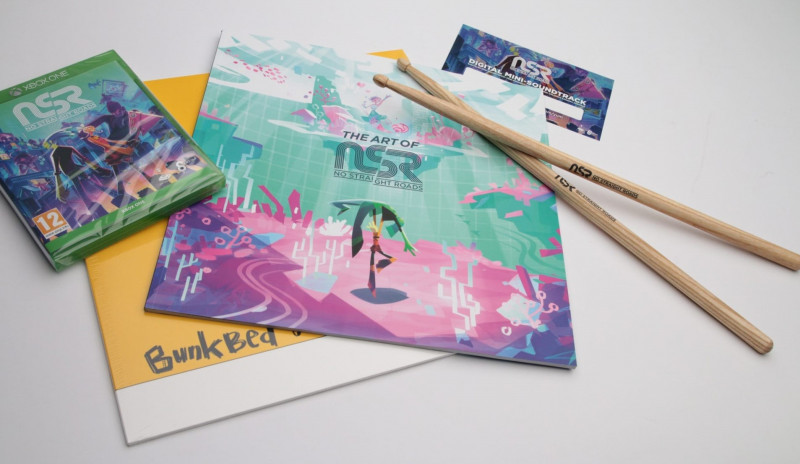 Lastly is the exclusive and full sized No Straight Roads drumsticks. Zuke, half of Bunk Bed Junction that you'll be playing as in the game, uses drum sticks for his attacks. While the sticks have no markings other than the No Straight Roads branding, I'm unable to comment on their official size and weight if you're a drummer buff. That being said, they are legit, made of wood and feel authentic.





While not the flashiest Collector Edition out there, or has the coolest figures and other things from the game, it also isn't nearly as pricey as most others either. The No Straight Roads Collector Edition is a wonderful version to get if you've enjoyed the game previously, want to collect game soundtracks on vinyl, love art books, need a unique gift for a gamer or really want a pair of sweet branded drum sticks. Also, Pluto is still relevant and DK West is still the best. Use the power of rock to take back Vinyl City.


Photos courtesy Percy Bhardwaj