Creative T100 Stereo Speakers Review
by Kirby Yablonski







Specifications

- MSRP: $99.99 (USD) (approximately $139.99 cdn)
- Drivers: 2 x 2.75″ Full-Range Driver
- Power Output: 2 x 20W RMS
- Total System Power: Up to 40W RMS
- Peak Power: 80W
- Frequency Response: 50 Hz ~ 20 kHz
- Signal-to-Noise-Ratio (SNR): ≥ 72 dB
- Bluetooth Version: 5.0, A2DP, up to 10m/33ft range
- Connector Type: Bluetooth, AUX-in, Optical-in
- Dimensions: 130 x 93 x 208 mm (5.1 x 3.7 x 8.2 in) per speaker
- Weight: 1.0kg (2.2lb) per speaker

We here at XboxAddict are always looking for different ways enjoy in-game audio when gaming on the Xbox ecosystem of consoles. From the OG Xbox One, the One S and One X to the recently released Xbox Series S and Series X, good audio is important. Gamers can use a good set of headphones or listen to the sound through their TV speakers. Some will also play in a home theater-like environment with multiple speakers providing sound all around the room. Smaller speakers, specifically PC speakers, can provide a good alternative to large speakers, especially if you are short on space or if you do not have a lot of money kicking around. Recently, we received a set of 2.0 speakers from Creative Labs, the T100's. These speakers have a relatively small footprint, and after putting them through their paces over the past couple of weeks, I have to say they are a 'sleeper' speaker given the sound quality, size and price.

If you look at the connector options mentoined above, you will note that there is an optical-in port. This is great for the Xbox One line of consoles; however, the Series S and Series X do not have an optical-out port. I purchased an adapter from Amazon that enables me to plug in my Xbox Series X HDMI into said adapter, and it has an optical-out port, which then allows me to utilize the optical-in port on the T100's. Now, if you are running your Xbox Series X or Series S to utilize the 120Hz capabilities they can provide, this adapter is not for you. The bandwidth allows the HDMI to pass through only supports a maximum of 4K@60Hz, which is fine for me as my 4K TV does not support anything above (e.g. does not have 2.1 HDMI). Therefore, if gaming at 120Hz is your goal, then you will not be able to use an adapter like this and you will not be able to use these speakers the way I setup.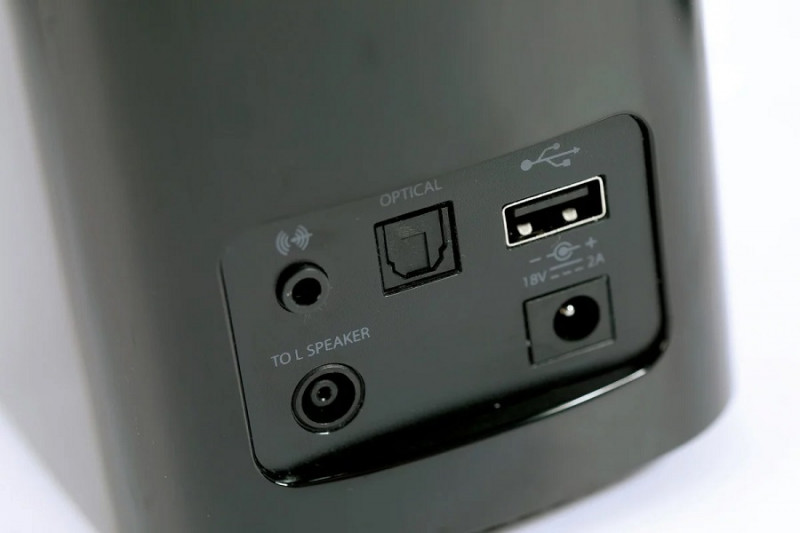 Regardless of the lack of optical-out port on the Series X and Series S, there are many Xbox One consoles that are still in use, and of course you can use the above mentioned adapter should you wish. Once I got the speakers into my home office, I opened the box to find them snugly, and safely, packaged. Inside the box are the two speakers, a power adapter, 3.5 mm stereo-to-stereo cable (1.5m in length), a remote control, a quick start guide and warranty information. For those who want to utilize the remote control right away, you will need to find two AAA batteries as there are no batteries in the box. A strange decision indeed; however, I guess they did everything they could to keep the cost as low as they could.

The speakers are made of plastic, but they look good. They are black in colour. The front, along with part of the speaker's sides, consist of a black grill while the rest of the speaker has a glossy piano black finish. The piano black finish will definitely show off fingerprints and can scratch easy when cleaning, so take care of it when moving or dusting it. The contrast between the grill and the rest of the speaker give it a premium look, which is nice given the price of admission. The right speaker has four buttons on top including a power button, volume up and down, as well a source button. This speaker also has all the connections including the USB port, 3.5mm jack, optical-in port, the connection for the left side speaker and the power connection. Overall, the speakers will look good wherever you put them, and the cable for connecting the left side speaker is quite long allowing for flexible placement.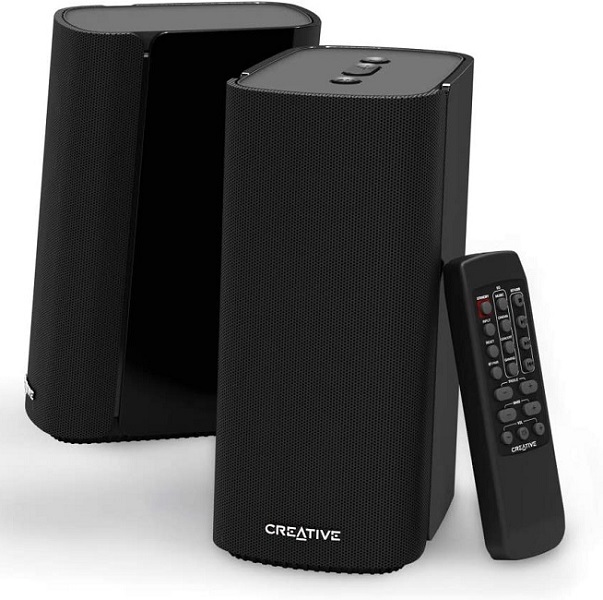 The T100's come with a remote control which is full of various options. You'll find a power/standby button, an input toggle button, treble adjustment buttons, bass adjustment buttons, volume control buttons (including mute), four pre-set EQ buttons (Gaming, Cinema, Music, Concert), and buttons to control Bluetooth or USB devices. If I had one complaint with the remote is that input selection corresponds to an LED light in the right speaker, so you will have to memorize what colour is what input. The other issue is that there is no way to see what level you have each individual setting (e.g. volume, bass level, treble level). You will find yourself finetuning levels based strictly on what you hear, not knowing when you may be at a zero level versus being in the plus or minus areas. I do wish there was a better LED system, or even some small numbers or font. Having used the Sound BlasterX Katana sound bar for the past couple of years, I have become used to seeing the audio and input settings when changing them.

After using the speakers for various gaming, movie and music listening, I have to admit that I am impressed. I have even retired the Katana sound bar I mentioned above and have given it to my 14-year-old son who is in the midst of putting together an Xbox/PC gaming center for himself. Everything sounds very clear and balanced using the T100's. Although each speaker has single 2.75″ Full-Range Driver, you would be hard pressed to realize it.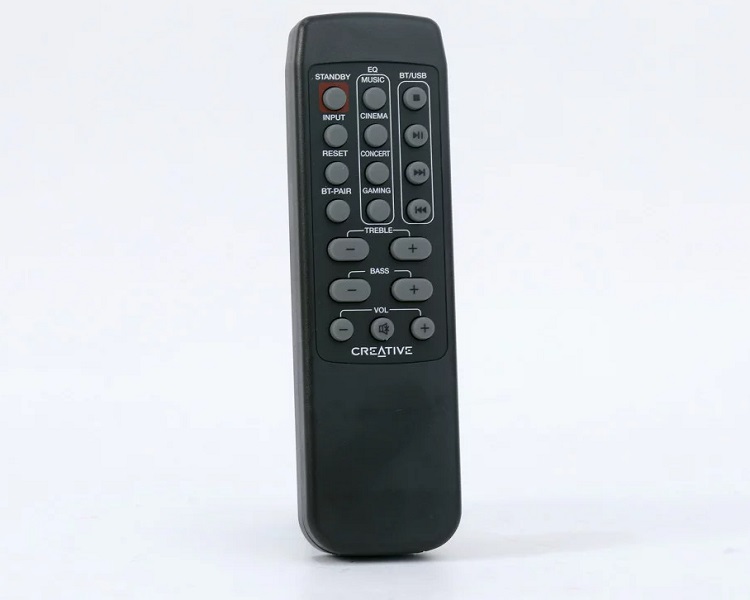 When listening to a wide selection of music on Spotify, from Dire Straits or TOOL to Carly Rae Jespen or various Videos Games Live tracks, every tone was crisp, clean and the speakers even provided a good amount of bass response. In terms of the latter, Creative Labs has incorporated what they call BasXPort Technology to help enhance the bass of whatever you are listening to, without a need for a subwoofer, and this is accomplished with the assistance of the ports in the back of each speaker. Although nothing can replace a dedicated subwoofer, I have to say that the bass response from the T100's easily filled my home office and was striking.

Playing games was also a treat using the T100's. Of course, my go-to game when reviewing is Destiny 2, and I was happy to hear all the detailed sounds that I would hear when using a set of headphones. Although you lose the ability for virtual surround sound, you still get all the detail and nuances of the game's audio. This includes clear dialog, environmental effects and the sound of your ship warping through space as you head from planet to planet. I paid attention to see if I could hear the sound of my guardian's footsteps on different surfaces (e.g. snow on Europa, gravel or stone in various Lost Sectors, and running through water on the EDZ) and this small detail is reproduced without any issue. The in-game music also sounds impactful, especially when needed, while explosions have oomph to them, and weapons effects are noticeable and accounted for (e.g. new Hawkmoon and the sound of the hawk when down to last shot).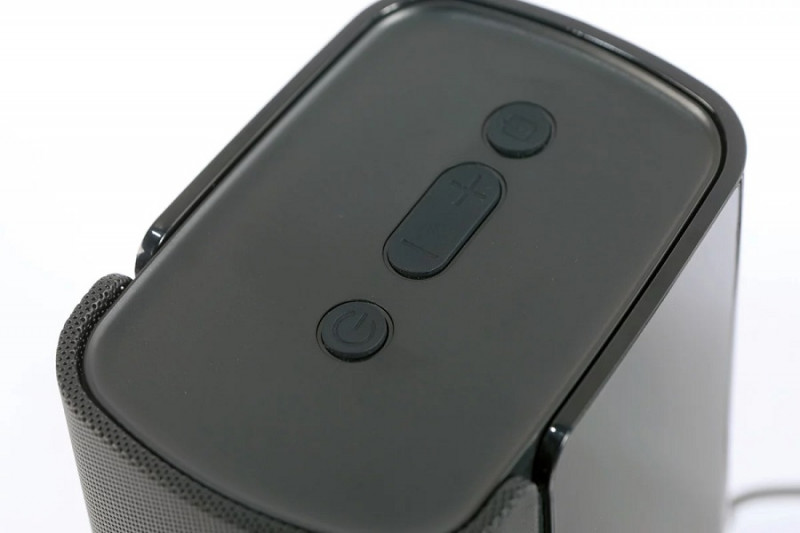 Although I spent a lot of time with Destiny 2, I did check out a couple of other games. Borderlands 3 is a title that I always like to come back to given how much Season's Pass content there is. After putting a few hours into it I have to say that every weapon sounded individualistic, the random dialogue during battles was clear and watching the story take place and the banter between all the characters was without any issues. Like Destiny 2, explosions had that 'boom' and I even noted some directionality during the action. As for the music, when it played, it was notable and not lost within the cacophony of all the in-game sounds.

I also took some time to play some NHL 94 Rewind, which is NHL 94 from the Genesis and SNES days but for the consoles of today. The audio has been reproduced to sound exactly like it did from when this game hit the market so long ago. From the sounds of players body checking each other, the referee's whistle, the sound of the crowd cheering or booing or the puck bouncing off a goalpost, all the original audio sounds exactly like it did when played on the 16-bit consoles. The T100's reproduced everything in NHL 94 Rewind to a tee, including the coliseum music that plays during break in play and between periods. It was a joy playing this game and listening to the audio through these speakers.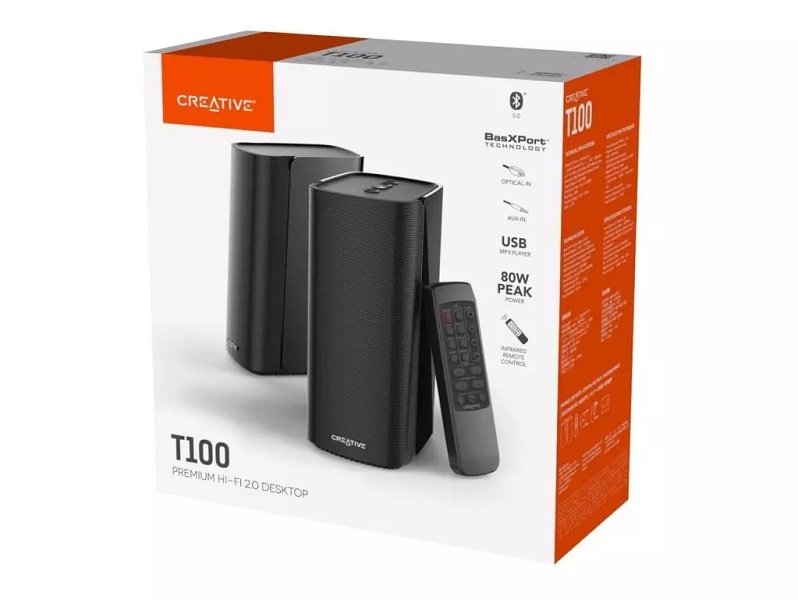 I did take some time to check out a movie and a streaming series. For reference, I watched G.I. Joe Retaliation on Netflix (do not judge me) and watched most of Hanna Season 2 on Amazon Prime. Both sources provided lots of dialog, gunplay, explosions, and of course music to go along with pivotal scenes. One of my biggest surprises was that I did not find myself having to turn the volume up and down all the time. I expected to do this to accommodate dialog heavy scenes versus action scenes; but remarkably, I did not. I did turn the volume up and down just to see how things sounded at various levels, but once I stopped that, I left it at a consistent level when watching all the content. All the detail that was required for quieter scenes, while all the liveliness that was required for the action scenes, was reproduced accurately and evenly, without any sound taking precedence over another.

I have to say that I was very amazed at what the Creative Labs T100 Stereo Speakers can do. These speakers are an affordable and must have option for Xbox gamers who play in a small space, such as a home office or bedroom. You should also consider them if you are only able to use a desk in a den or family room, or if you may be living in a dorm room during any of your educational years. The T100's small footprint and their immersive sound is impressive and the included remote is quite useful not only for volume and tone balance, but also for the four pre-programmed EQ settings and being able to control a Bluetooth or USB device. These speakers are now my go-to speakers for my home office when Xbox gaming or watching any streaming services and that has to say something, right?

Overall Score: 8.9 out of 10