Gears 5 Hivebusters DLC
by Josh Morgan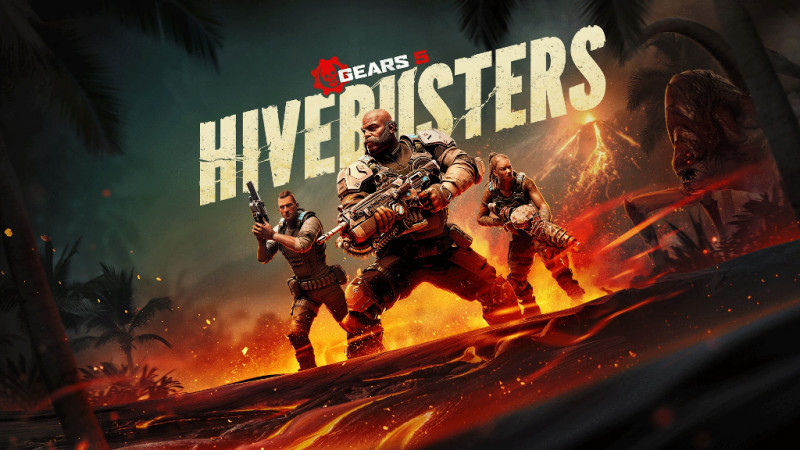 I'm not going to go into the specifics of why Gears 5 is an awesome game. If you want to know more about Gears 5 check out our review by our very handsome and very well endowed head honcho HERE, where he goes into extreme detail about the gameplay, the graphics, and all the modes in which you can curb stomp your enemies until your tiny black heart is content.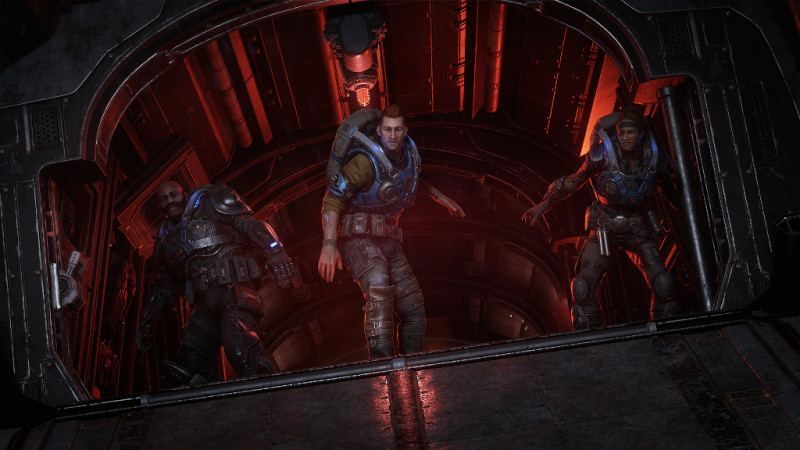 Hivebusters is a 3 hour campaign expansion that puts you in the boots of Scorpio Squad as they are dispatched to the Galangi Islands by none other than that tough ol' bastard, Colonel Victor Hoffman. You have the choice to play as one of three characters who each have their own special ability and a back story that is told throughout the campaign. The leader, Keegan, who is voiced by the amazing Dave Fennoy (Lee from The Walking Dead Telltale Game) is a by-the-book COG that takes issue with Hoffman's suicide missions that are flying under the COG radar.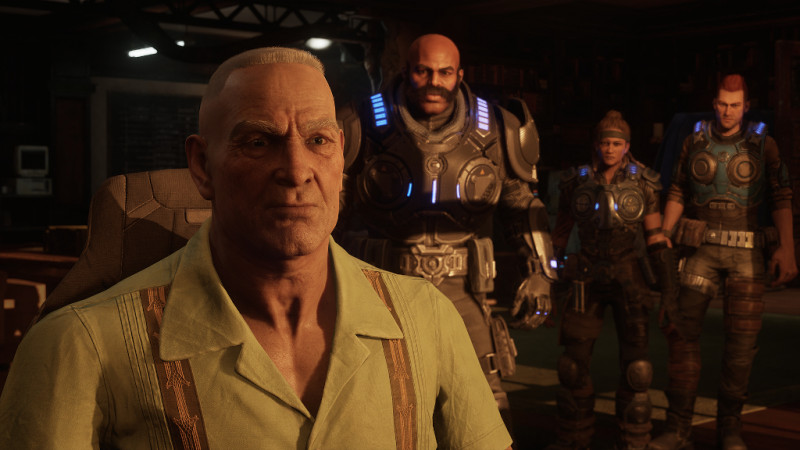 Lahni is the spiritual one, that helps guide you through the lush jungle that she is familiar with, and Mac is the bad boy. At first you just think he's a prick, but then as the story unfolds you find out that he's had a rough time with the swarm evasion and all he wants is a little payback. The team fights like a group thrown together against their will at first, but at the end they've grown to respect each other and work together as a team creating a brother/sister like bond that the Gears games have always been good at working into their stories.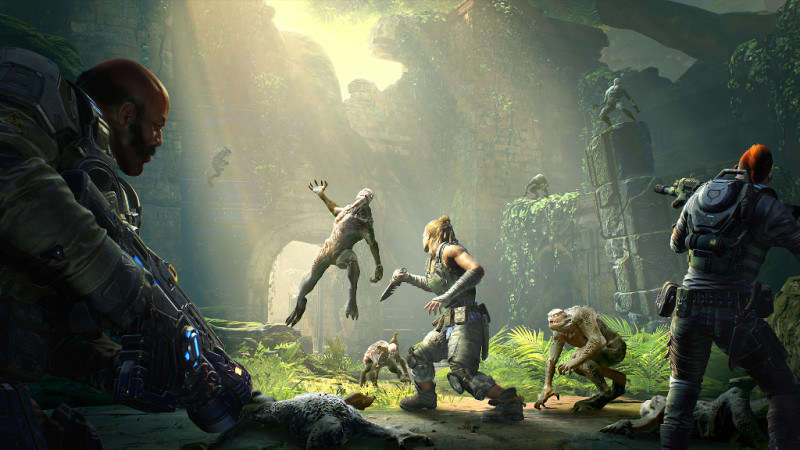 The Hivebusters story is a prequel to the Escape game mode that was featured in Gears 5. In Escape, you take control of Scorpio Squad on a suicide mission to the bottom of a Swarm hive and unleash a toxic gas killing the pods and everything in the hive while you escape. This story is how the COG finds out about that gas, and Hoffman's crazy plan to weaponize it and use it against the filthy grubs. It's a story that takes Scorpio Squad through more scenic changes than I expected out of a 3-hour campaign.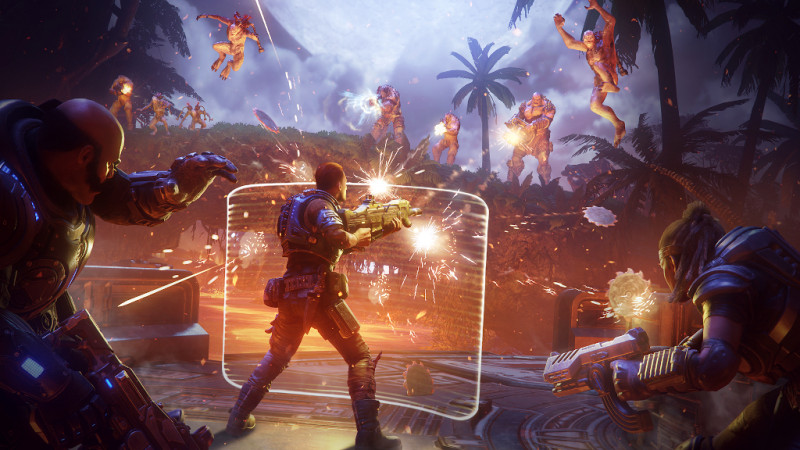 The updated graphics (4K with a very solid 60fps) shine as you are taken to lush jungles with beautiful blue skies, bright green foliage, and huge rushing streams with waterfalls. It's a welcome departure from the normal dark and gruesome caves and COG bases that you normally frequent in Gears games. Of course, those are present as well. You wouldn't be a Hivebuster if you weren't deep into some hives. But even those shine with bright lava, cracks in the cave that let in sunlight and bright glowing plants that inhabit the hives. Even in the darkest depths of the island, the game would constantly make my jaw drop at the beautiful colors and lighting.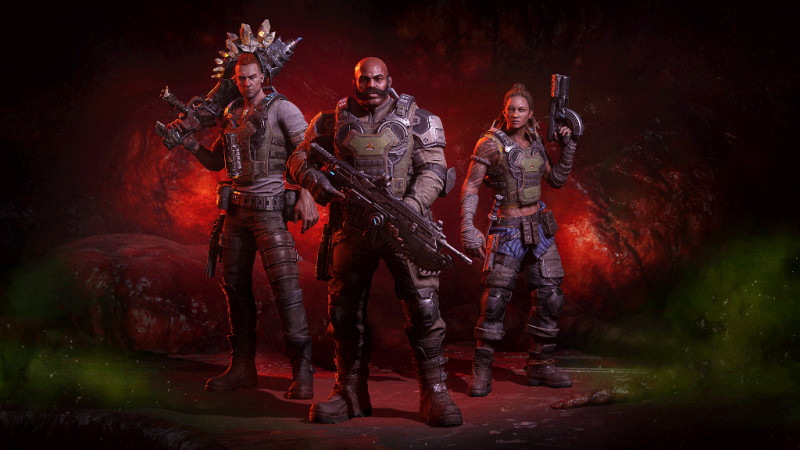 Each member of Scorpio Squad has a unique ability that is on a cooldown timer and can be upgraded by finding collectible upgrade boxes throughout the campaign. Keegan has an ammo drop that deploys a circle that follows you and fills the ammo of the members in proximity. Lahni has an electric blade that unleashes an enhanced melee attack that fries enemies with an electric charge. Mac has a deployable cover shield that moves with him and once upgraded is big enough for Scorpio Squad to hide behind during the tough situations deep within the hive.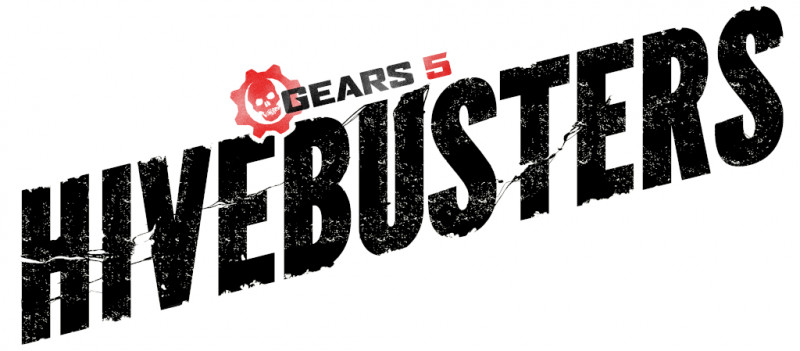 My only knock against the game would be the short length, but since it is included with Gamepass and a free update, it is very easy to overlook. I really enjoyed the story, the characters, the settings, and of course the traditional Gears of War gameplay. I just simply wanted more of it. Gears of War has been my favorite Xbox franchise for years and stories like this are exactly why. Hivebusters is a shining example of why Gamepass works, and if they continue to add content like this it will further cement it as the best service in all of gaming.

** Gears 5: Hivebusters was reviewed on an Xbox Series X **