Second Extinction - Game Preview Impressions
by Adam Dileva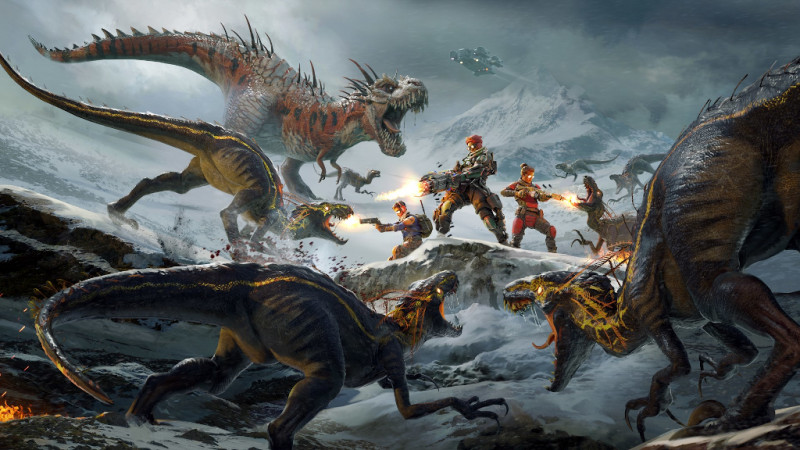 Originally released in Early Access on PC back in October 2020, developers Systemic Reaction has managed to meld some solid gameplay with everyone's favorite, dinosaurs! Now the time has come for Xbox players to get in on the dino slaying action in Second Extinction. Best of all, it's also part of Xbox Game Pass, so there's very little barrier to check it out. That said, it's currently in Game Preview, meaning it's still early in development, but it's completely playable (debatable if you're on an original Xbox One at the moment) and you can freely give your feedback to hopefully improve the game moving forward.





Simply because of the dinosaurs, of course there's a bit of a classic Turok vibe, but for its co-op mechanics it actually feels a lot like a Left 4 Dead or Vermintide. The console launch of Second Extinction has also brought its latest update, Preseason 4, with a bunch of new features, a new character and even a tutorial. Get ready for a large map, tons of vicious dinosaurs and plenty of guns. A co-op experience at its core, gather some buddies and get ready to turn off your brain and blast away a ton of dinos in this entertaining FPS.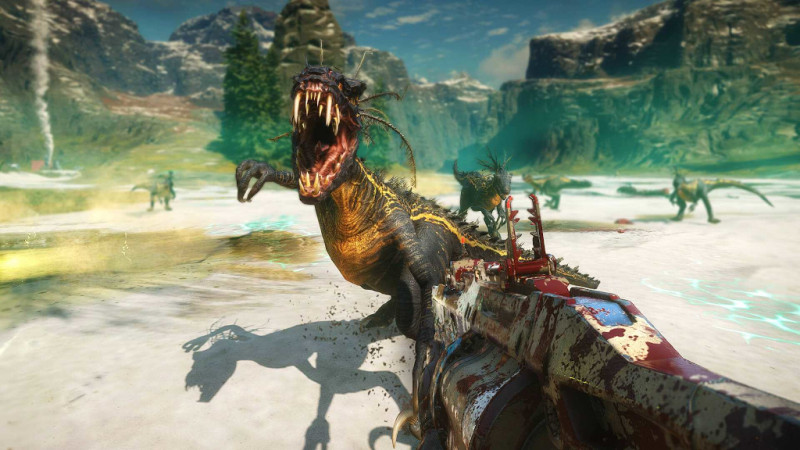 In its current state, there's no traditional campaign or even narrative. There are a handful of 'main' quests that you can partake in that give you a little bit of an objective, but don't expect any semblance of a story at all. Instead, your goal is simple: take back the planet from the dinosaurs by any means necessary. There are randomized side quests strewn about the map you'll come across that can be completed or ignored, but they don't take very long and give you rewards you'll need eventually to start upgrading your weapons.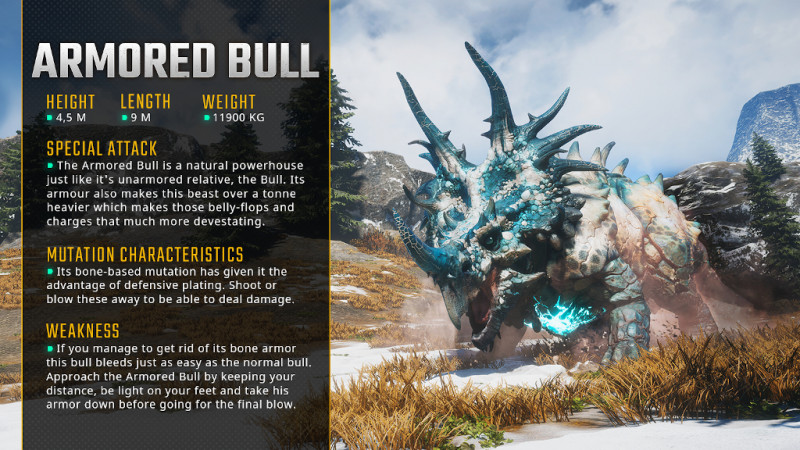 There's currently only one map, but it's large and sectioned into different regions. Each region will have its own threat level based on how much activity players are engaging with in each area. This seems like it's going to be updated weekly and should be an interesting way to entice players to fight in or avoid in certain sections of the map.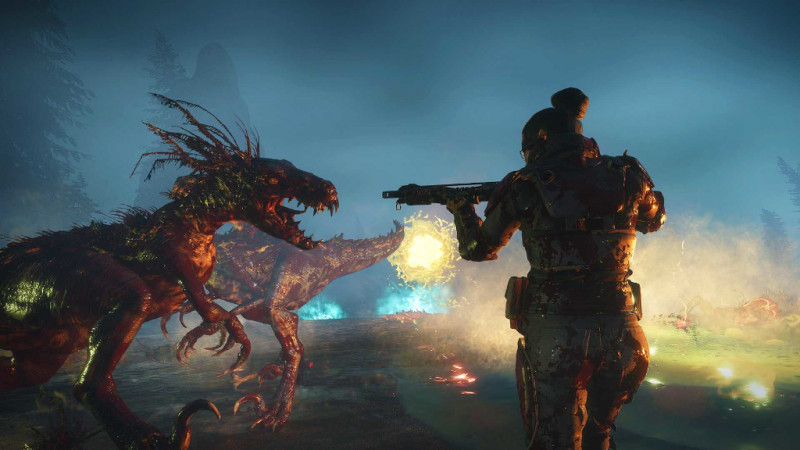 Team up with two other friends in 3 player co-op to blast away mutated dinosaurs. These aren't your normal dinos you'd find in your textbooks or movies though, as some of these can even teleport around or zap you with electricity. There are of course some boss-like dinos, such as the T-Rex obviously, but there's really only a handful currently in the game. I have no doubt more will get added in the future, but get ready to kill thousands of raptors; oh, so many raptors, as that's the main fodder you'll be assaulted by on a constant basis.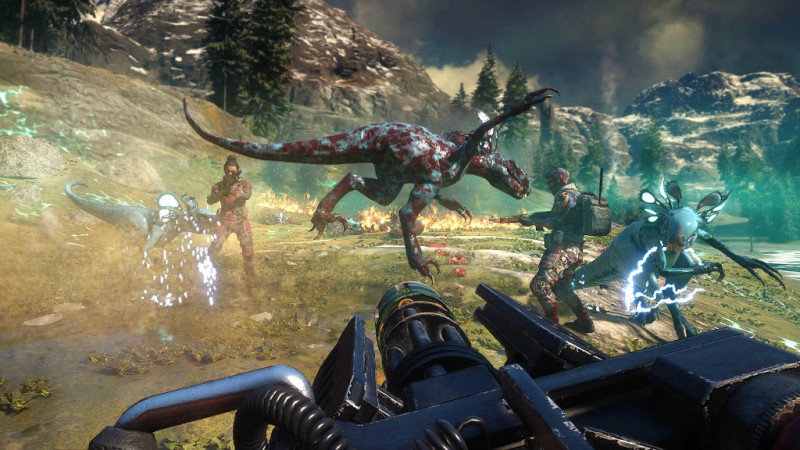 Meant to be played in 3 player co-op, you are technically able to play solo, but I don't really suggest it. Second Extinction is currently tweaked for 2-3 players to be fighting side by side and it doesn't seem as though there is any scaling that occurs, so playing alone is going to put you at a serious disadvantage and you'll become quickly overrun, surrounded and dead.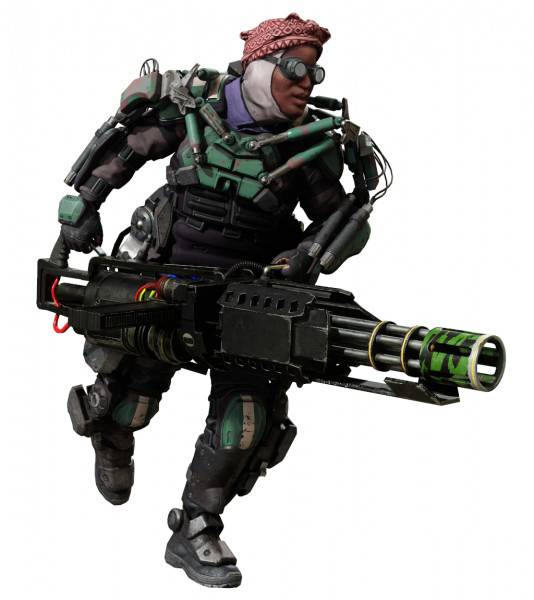 With a handful of different characters to play, each with their own unique abilities and weaponry, you'll have access to about ten or so guns, though each character is only able to use specific weapons. This means that you're either going to choose your character based on their special ability, like mine that does a group heal, or for the weapon they can use. With 5 classes to choose from currently, the fifth of which just got added for this launch, and I have no doubt more are coming in future updates, it feels a little light on choice. Again, this is due to Second Extinction being in Game Preview, so this is early in development.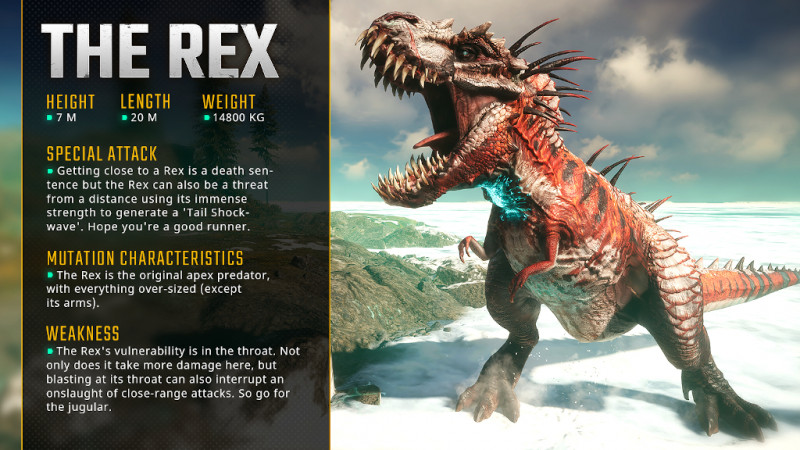 While you're forced to only use a couple of weapons per character, they are able to be upgraded and will vastly improve your gameplay once you do. Completing quests will earn you research points, basically a currency, and killing dinos will sometimes have them drop materials, both of which are needed to upgrade your weapons. Each gun has a 3 tiered tree that you can spend your research and materials in to unlock and improve. Currently you need to spend research to 'buy' the skill points, then some more plus materials to unlock special perks. There's a finite amount of points you can put into a build though, but it's free to move around your skills and respec, so be sure to test out what works best for your group makeup and playstyle. Once I maxed out my minigun weapon, I was a raptor crowd killing machine while my friend was able to easily take on the 'bosses' on his own with his upgraded grenade launcher.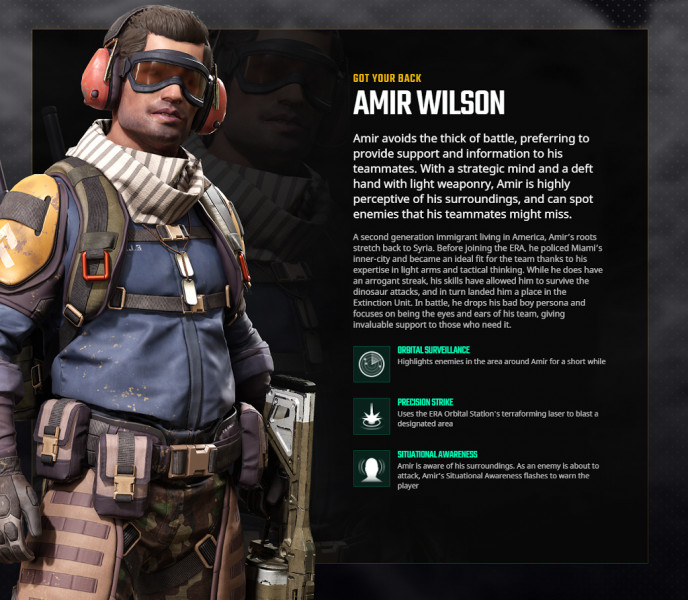 Once you reach level five you'll have access to Contracts. These are additional quests that you can take on to get rewards. Most will simply be more research or materials, but some will give special weapon skins or other bonuses. Most quests are along the lines of killing a certain amount of raptors in a match, getting a certain amount of kills without reloading and the likes, but offers some extra incentive to work towards completion. These seem to change and rotate as well, so there should always be something to work towards.


Given that Second Extinction is in Game Preview, yes, we get to play early in development, but with that comes a content-light experience with a handful of issues as well. I've had the odd crash to dashboard here and there, but the two major issues that occurred was when we tried playing with some friends, one on PC and another on an original launch Xbox One.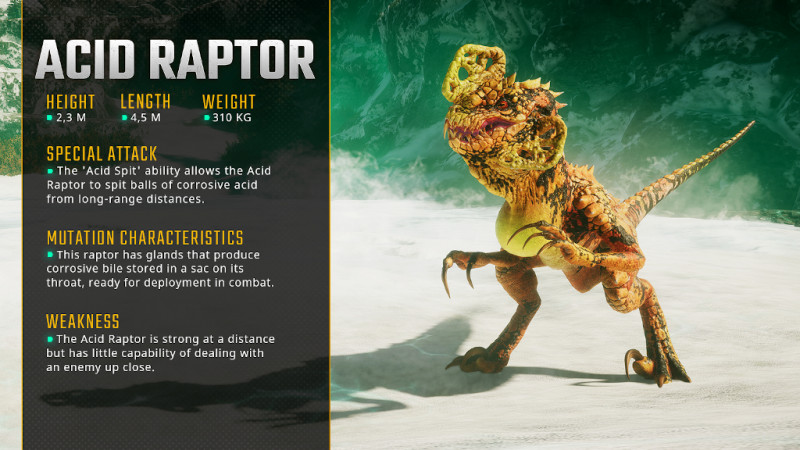 While it seems PC crossplay is kind of working, the game crashed every time we tried completing a mission and extract. As for the friend on the original Xbox One, while he was technically able to play, when action got chaotic and frantic, he basically was into single digit framerate which somehow effected our gameplay as well, even on an Xbox Series X. These crashes caused them to not get any experience or progress since they didn't 'complete' the match. Also, the biggest omission for a co-op game is the lack of ingame VOIP, so if you want to talk with the randoms you're playing with, you'll need to invite them into an Xbox Party. Yes, this is already in the roadmap to be added, but feels off with it currently not included.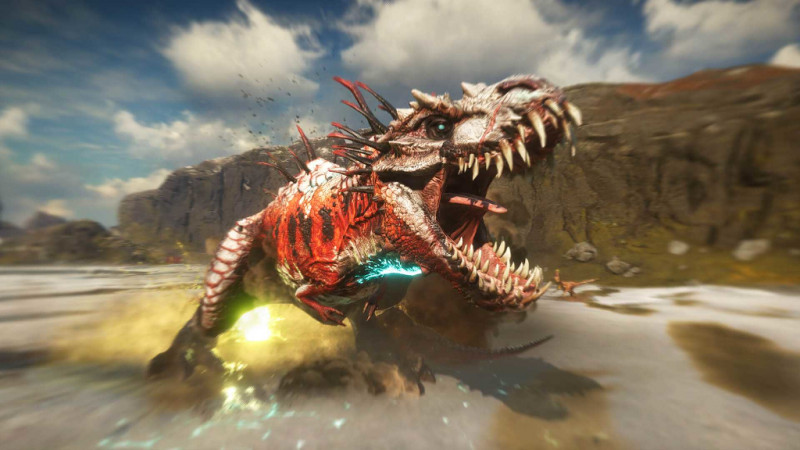 This comes to the roadmap that developers have already laid out for the next six or so months. Preseason 4 just launched, but they've already posted when the next preseasons are due (roughly every two months) and the major features being targeted to be added. For example, preseason 5 is due in June, adding a new enemy mutation and primary weapon. Preseason 6 is due in September adding another character class and a Horde mode. They've also highlighted what changes have been implemented based on community feedback, so if this transparency continues I can see a bright future for Second Extinction.







Second Extinction has a ton of potential in its dino filled future. Yes, it's a bit rough around the edges currently and is very light on content outside of material grinding, but its blueprint and basework is there for a decent game. With a few added features, fixes and polish, Second Extinction may very well be a permanent install on my Xbox Series X harddrive in the future, as there's nothing quite like taking down a massive T-Rex alongside two of your friends. Again, with it being on Xbox Game Pass, there's absolutely no reason to not download it and check it out, maybe keeping along with its development progress and offering feedback of your own to make it a better experience in the future.


**Second Extinction was previewed on an Xbox Series X**