Streets of Rage 4: Mr. X Nightmare DLC
by Adam Dileva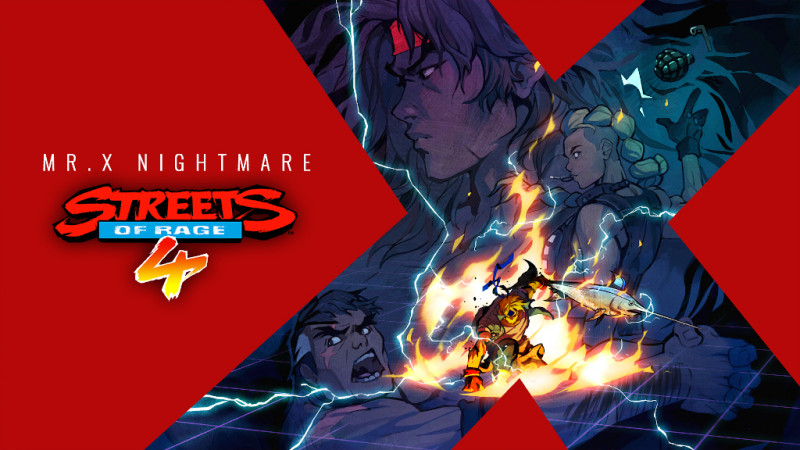 I actually missed out on playing Streets of Rage 4 when it initially released last year, not on purpose, but it just wasn't on my radar really. Turns out I was missing out, as it's quite a robust brawler that brought me back to playing the originals as a kid and probably one of the better brawlers I've played in recent memory. Well, here we are a little over a year after its release and a new DLC offering is available for those looking for a reason to head back to Wood Oak City.

Before we go any further, let's quickly go over what's actually new in this Mr. X Nightmare DLC. As a quick list, you're going to get three new playable characters that play completely unique from any of the core characters, a new Survival Mode with weekly challenges which is much better than it has any right to be, a new amazing soundtrack composed by Tee Lopes, new weapons, enemies, moves, character customization and more.



There was also a new free update to coincide with this DLC available to everyone, offering quite a new and quite robust training mode and even a higher Mania+ difficulty mode for those that have mastered Streets of Rage 4's gameplay. The training mode was perfect for a new player like me just starting out, as I initially thought this would be like most brawlers where it's simply a button masher, but there's actually quite a lot of intricacies when it comes to its combat if you want to play at the highest level. It's quite a lot of new content for a decently priced DLC and offers many more hours of gameplay.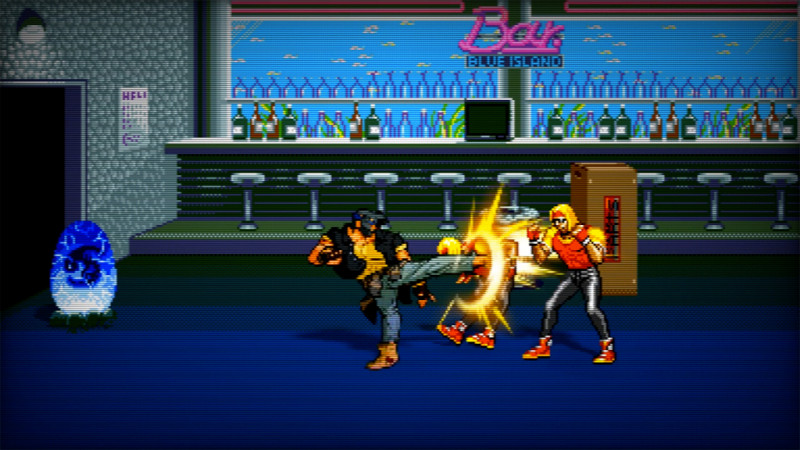 One of the biggest draws for this DLC will be the inclusion of three new playable characters, of which you'll recognize if you played through the campaign. First is Estele, you'll remember her as one of the more challenging bosses; the badass cop with a bulletproof vest on. She's quite mobile and certainly comes across as a badass cop when she leaps to an enemy then mounts them and starts to pound their face into the ground. She ended up being my second choice for the new character additions.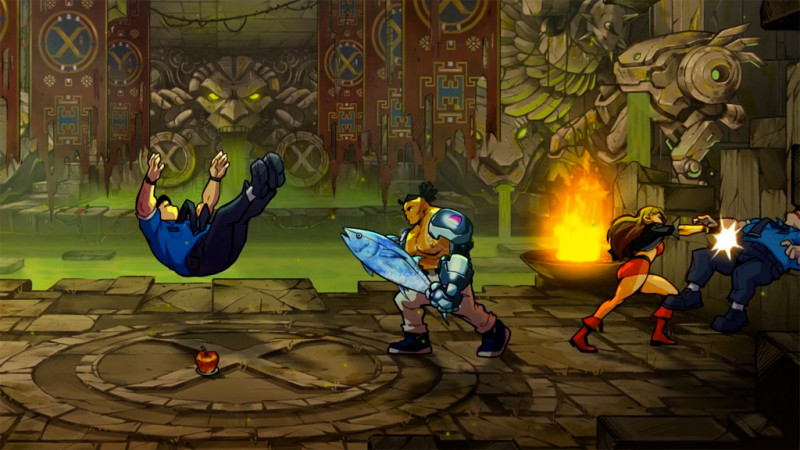 Max is the hulking wrestler you face off against in the campaign. I didn't enjoy him as much simply because he's much slower, but is insanely powerful and has some badass move sets that'd you'd expect a musclebound character to possess. He has a bunch of awesome throws and utilizes lighting strikes which is always cool.

The standout character for me and my personal favorite was Shiva, a master martial artist. He's actually unable to wield any weapons, only able to throw them, but makes up for this unique handicap with being much more agile and ninja-like. He's got some wicked combos where he can even somewhat teleport behind enemies, hitting them after the fact. He might not be anywhere near as powerful as Max but is definitely much more agile and quick for larger combos. All three characters have their strengths and cater to a specific playstyle, well worth playing through the campaign a few more times with each to really get a feel for how they each excel.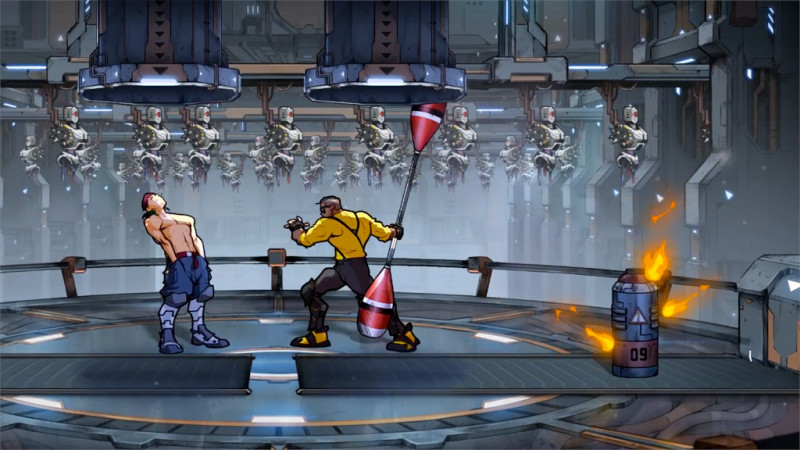 The three new unique character additions would have been good enough for me to recommend the DLC, but the main addition is the new Survival Mode. There is somewhat of a narrative around this new mode, revolving around how the heroes wanted to make sure they were prepared for any other threats in the future, so they seek out Dr. Zan who helped them build an AI simulation where they can virtually face off against nearly any threat imaginable.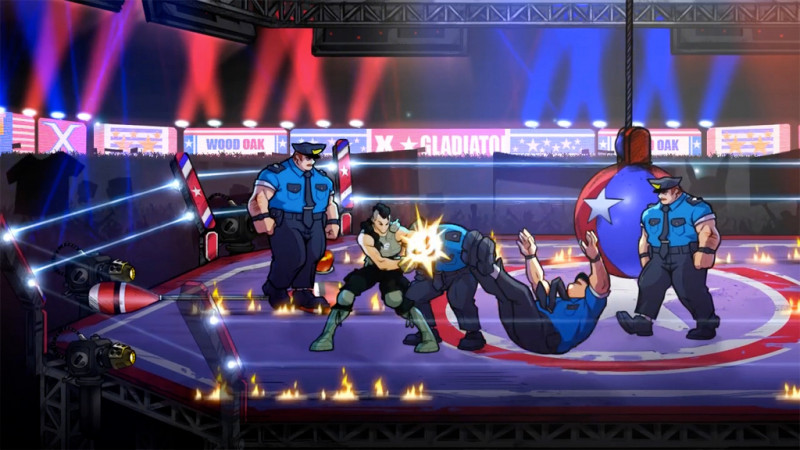 This actually plays in perfectly with how Survival mode works, as it has roguelike elements to its gameplay with just enough reason to continue playing long term. More than simply striving for a high score and leaderboard bragging rights, you'll actually get to upgrade your characters in unique ways which can then be used in other modes as well. Being able to upgrade your favorite characters and actually completely change their move sets is actually a brilliant design move for a brawler like this, as I'm sure there's a move or two you hate that your character has, wishing you could swap it out for something else; now you can.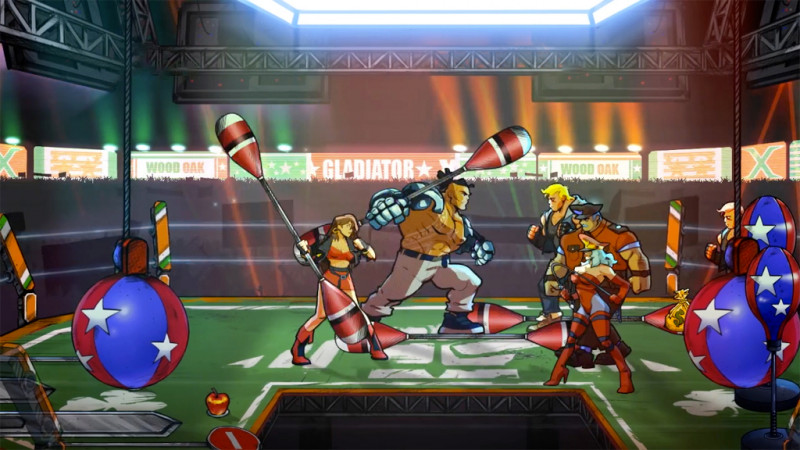 Survival mode will throw you into randomly generated arenas and you're tasked with seeing how long you can survive. Sounds simple but it becomes much harder with each wave, so you're going to have to have some serious combat skills to progress far in each run. There's plenty of weapons and healing drops throughout, and after each wave is cleared you get to choose an upgrade before jumping into the portal to head to the next arena. You only have one life so you're going to have to be strategic when to use the healing food items if you want to survive.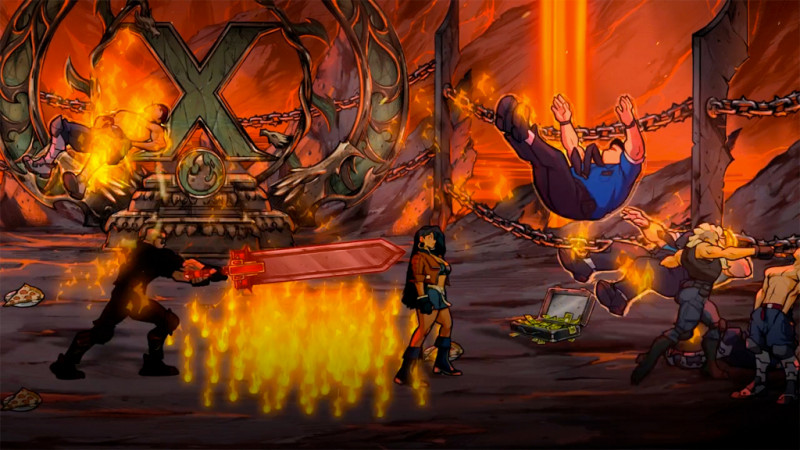 The upgrades are quite interesting as well, as some will make you do 100% more damage, but also receive 100% more damage as well, so you'll have to be quite aware of how your combat skills are to choose 'properly'. Other buffs will maybe make you much faster or take less damage but you lose the ability to jump. If you do a lot of jump kicks and aerial combos then this isn't probably the one you'll want to choose. Others will give boosts to elemental damage or weapons, so there's plenty of choices, all of which stack, so each run can be completely different based on your buff choices.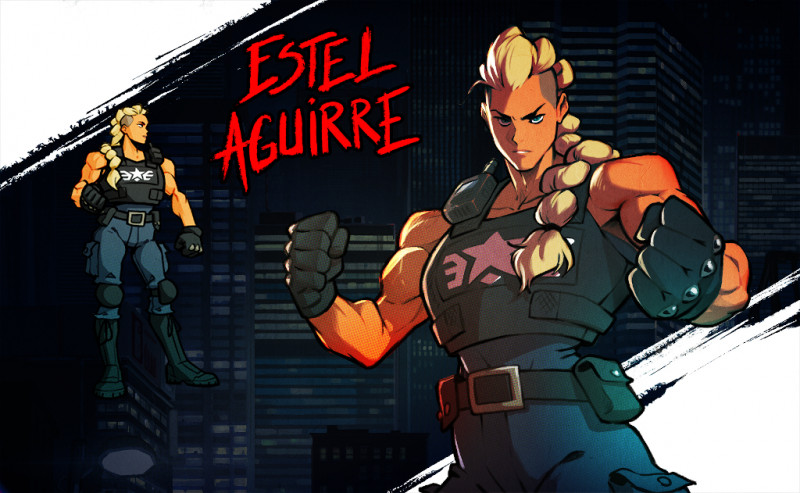 There are even Weekly Challenges where you're put into a specific order of arenas, enemies and power-ups, challenging you to see who can survive the longest on the leaderboards. This is more of a thoughtfully designed segment rather than the normal randomness you get in Survival mode. The best part about progressing in Survival mode though is the experience you earn with the character you chose, allowing you to unlock new moves. It's worth noting though that this is going to take quite a lot of grinding if you want to unlock all of the moves for a character, not to mention if you want to do so for each one, but this should be great news for big Streets of Rage 4 fans that want more reason to continue playing longterm.

Now, while the whole DLC package was done quite well, the only issue I had was when it came to playing with others online. The netcode works just fine when there's no lag, but the issue arose when I started playing co-op with random people on Survival mode. Basically, if one player decides to quit, regardless of how far you've made it, you're kicked out of the game and get zero rewards. This happened more than a handful of times, so I highly suggest playing with friends or people you know that won't randomly quit on you.




The core game of Streets of Rage 4 was fantastic on its own if you're a fan of brawlers, from its great artwork to fluid combat and even better soundtrack. For a DLC that costs just under $10 CAD, Mr. X Nightmare DLC is a great addition if you've been looking for a reason to get back into Streets of Rage 4 or want some more variety and longevity to its gameplay.

Given that the base game is available on Game Pass, you could check it out to see if it's your jam then pick up the DLC if you enjoy it. If you're a Streets of Rage 4 fan, Mr. X Nightmare DLC is almost a must buy with how much long term gameplay it adds, plus the new soundtrack is so kick ass that I'd purchase it alone on that merit.



Overall: 9/10


**Streets of Rage 4: Mr. X Nightmare DLC was provided by the publisher and reviewed on an Xbox Series X**