BuddyPhones Cosmos+ Review
by Adam Dileva








Features:

Type: Over-ear Headphone, Driver Unit: Φ40mm Neodymium
Active Noise Cancelling up to: 23dB
Protocol standard: Bluetooth V5.0; class 2, Bluetooth distance: ≥10M
BT+ANC Music Playing: 18hours
1.Sensitivity: 94+/-3dB(SPL/mW.1 kHz)
2.Sensitivity: 85+/-3dB(SPL/mW.1 kHz)
3.Sensitivity: 75+/-3dB(SPL/mW.1 kHz)
Impedance: 32Ω ± 15%, Frequency Range: 20Hz-20KHz
Rated Power: 10mW, Max. Power: 30mW
Cable: 1m long, Plug: Φ3.5mm
Weight: 227g
Dimensions: 140x200x75mm (Unfolded)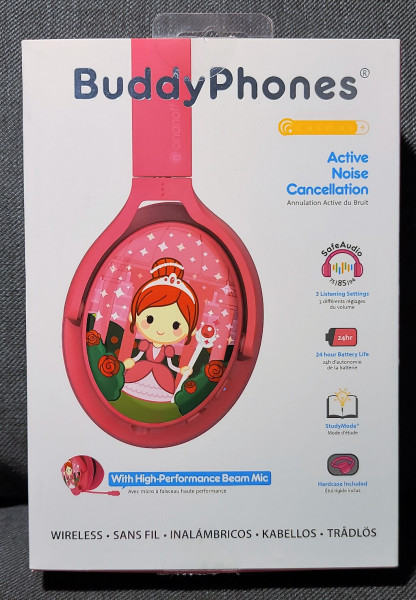 Expectations:

I feel I need to start this review off with some truths. I was a little hesitant at first to cover the BuddyPhones Cosmos+ headset meant for kids, not because I knew anything about the brand beforehand (I didn't) or anything like that, but I was honestly a bit skeptical about their claims about them being a great headset with a ton of features meant towards kids. I mean, simply looking at them, you know they're designed for kids. But with products like that they are usually quite cheap in quality, build wise and in audio.

Needless to say my expectations weren't that high, unfairly, so much so that we agreed to reviewing these headphones with the stipulation that we would be honest and critical (as we always are), comparing them to other gaming headsets primarily, as that's our focus and target audience. That said, these aren't primarily marketed as a "gaming headset" per-se, but that's almost solely what my nine year old daughter does on her laptop and tablet, and I even tried them for a while on my Xbox Series X across a handful of games to see my thoughts, as well as hers.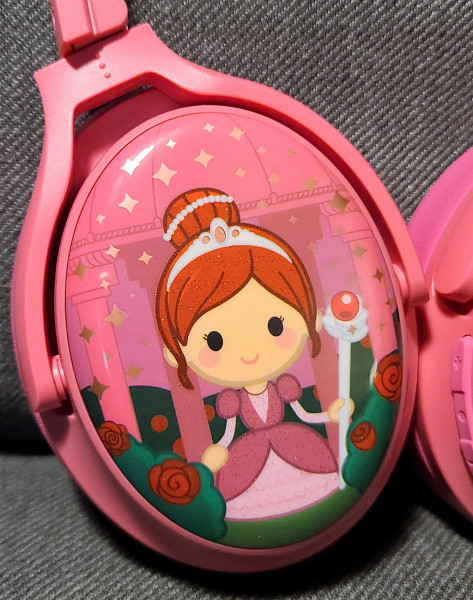 There are quite a few features that the Cosmos+ headphones can boast that I can't recall many other, if any, kid headphones have all in one. The main selling features about choosing the Cosmos+ is that it has Active Noise Cancellation (ANC), wireless Bluetooth connection, SafeAudio volume-limiting with three different listening modes and a few other features that I'll delve into below. Many kid focused headphones simply go for cute colors and cheap plastic, because who's going to know better at that age, along with a cheap price because you know they're going to eventually get destroyed and need replaced.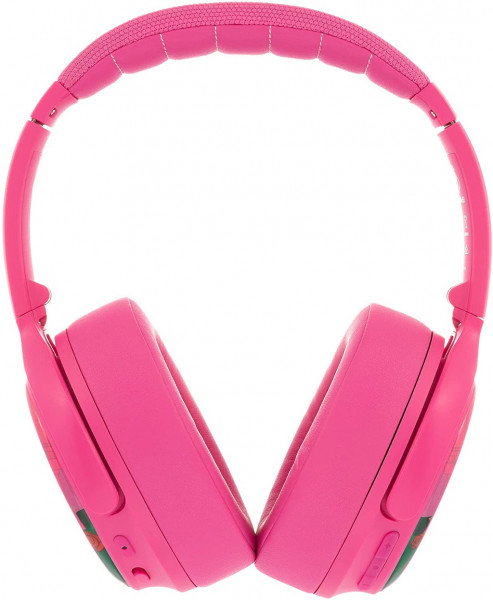 Now, the MSRP on BuddyPhones' direct site has the Cosmos+ listed at $119.99 USD. That's quite a big ask for a headset for a toddler or tween. Realizing this price, I have to compare it with other headsets in roughly the same range. Again, I initially expected this headset to falter and perform nowhere near what it actually did, but I'm also trying to keep in mind the target user like my nine year old daughter who doesn't care about all the fancy bells and whistles, as long as she can hear her Roblox game and YouTube videos without any issues. In that respect, the Cosmos+ passed with flying colors. So let's delve into what this headset has to offer for your offspring.

Included:

The box itself doesn't look or feel cheap. We opted for the pink colored headset, not knowing that there was also a princess on the cups, but along the side of the box as well, so knowing that it's not just one generic box for each color option is a nice little touch. Will your son or daughter care? Not likely, but it's small details like these that get noticed when you start to get into this price point. Opening the box you're greeted with a matching color hard travel case with the brand logo embossed on the top.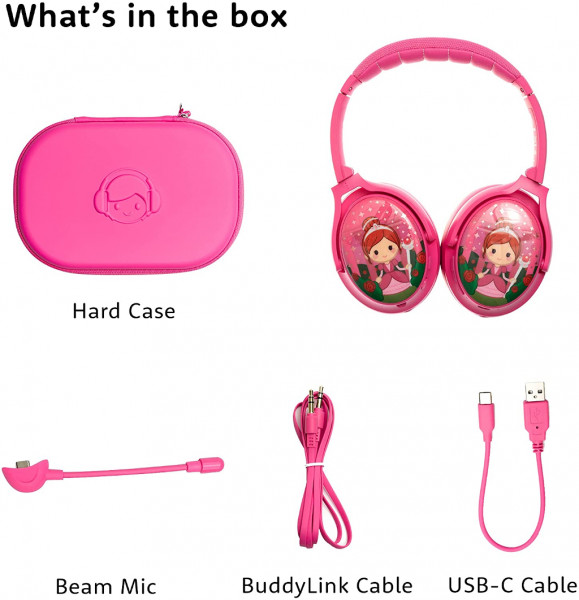 Opening the zipper has the hard travel pouch unfold, one side that shows how the headphones fold with the earcups twisting as well. The top of the case has a small mesh pouch that has the USB-C charging cable, a BuddyLink Cable (a standard 3.5mm cable) and the detachable microphone that plugs into the USB-C slot. The best part is that the mic and all cables match the color of the headset exactly and don't feel like cheap cables you come to find in kid targeted products. Some decent gaming headsets don't even come with all of these accessories, so it's a nice touch that doesn't go unnoticed.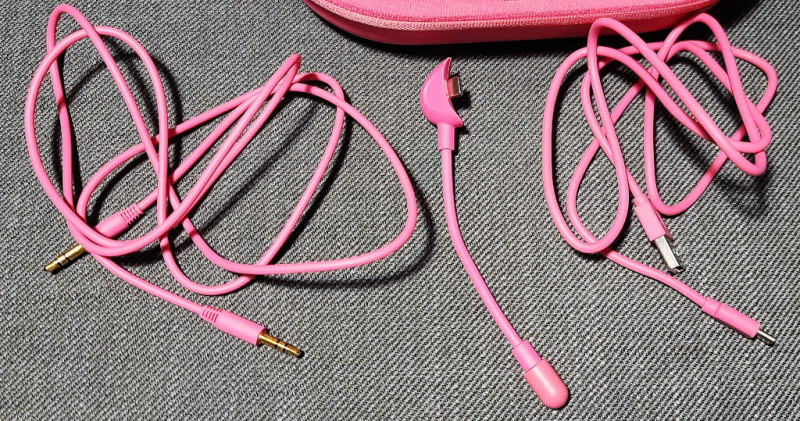 Presentation:

Now, for a headset that is made from primarily plastic, I expected a very cheap look and feel. Somehow it avoids this pitfall, and while it does bend and warp, it's meant to up to a certain degree, as we all know kids aren't always gentle with their products. The "cheapest" part of the headset is the cups where the graphic design is located, but the rest of the headset, like the arms and band actually feel quite nice, as if it's a matte finish on the plastic instead of the typical shine. There's no mistaking that these are a kid product, but given that's the exact target audience, it gets a pass.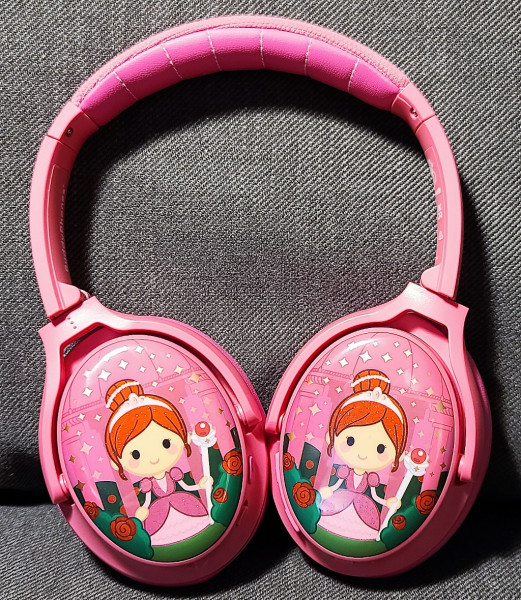 The ear pads are large, which will fit OVER your kids' ears without any issues, as they just barely fit over mine as well. The cups themselves are a pleather-like material that are quite soft,and there's also a large "L" and "R" to denote which way the headset should sit on your head. The cups are slightly titled at an angle, so it would feel awkward if you placed them on backwards. Even after an hour of straight use my ears didn't become uncomfortable. Not once has my daughter complained about any comfort issues either, even after a full day use practically non-stop.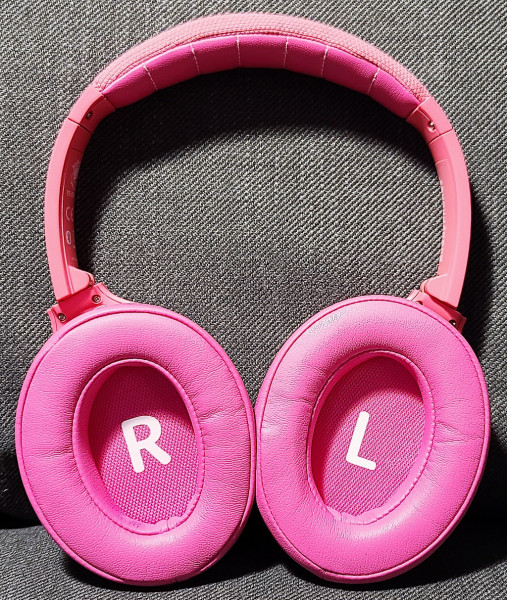 The strap on the top that rests on your head has some great looking stitching and is also plush, so it shouldn't cause any soreness even after hours of the kids watching YouTube or Netflix. No complaints about the comfort factor and my daughter approves of how cute the headphones look as well, so that's a big bonus. The band is adjustable, fitting my daughter's head and even mine when I fully extend the arms which is impressive. The foldable design means the cups can swivel so they can be stored at about half the size and flat in the included travel case.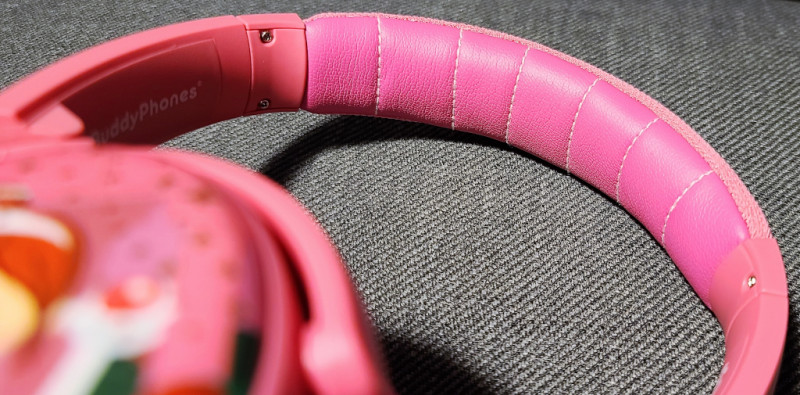 Speaking of how they look, there's a handful of different color options when ordering. We got the Pink set which came with a princess design on the cups. White comes with a unicorn, Blue with a kid DJ, Yellow with a lion, Grey with a mad scientist and Dark Blue with a pirate. My only wish is that you could choose which design went with each color, as my daughter wanted pink, but has a thing for unicorns as well.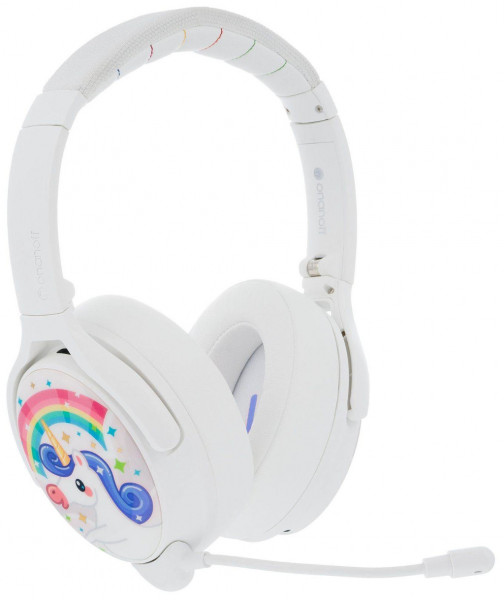 The last test was to see how durable they were. Now, my daughter is generally quite good at being gentle with her things, as I've purposely taught her to do so when she was borrowing my headsets and controllers. Let's be honest though, kids are generally pretty rough with toys and other things, so I wasn't sure how a headset of this price range would hold up to some rough use. I'm happy to report that even after weeks of use, there's no change in the audio or build quality. I've purposely tossed them onto the couch and such and taken them off rougher than I normally would to try and simulate some less gentle use, but the Cosmos+ has held up great so far. Obviously over time I do expect the padding near the ear cups or headband to come loose, as even the best headsets I've used eventually do with over time, but so far so good. A few weeks in with not-so-gentle use and nothing major to report is a good sign.

Connections:

One of the main selling points is that the Cosmic+ is a wireless Bluetooth headset, and this blew my daughter's mind. She's used headsets of mine before, but I never noticed it was always a handed down wired headset, so once she realized she was able to be in a different room and still hear her content, she was amazed. They seem to have your typical 20 meter or so range, and she was able to be on one side of our apartment away from her tablet and still hear everything just fine.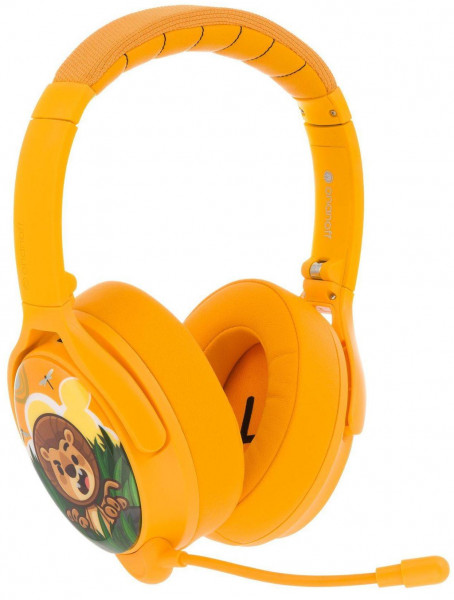 Forgot to charge the batteries and about to go on a road trip or flight? No problem, the Cosmos+ also work wired with the included 3.5mm cable as well, though there are a few caveats to what features will work in wired versus wireless mode, such as the controls, changing listening modes and others that I'll delve into deeper shortly.

Active Noise Cancellation:

Active Noise Cancellation (ANC) isn't generally a common feature included in children headphones, as it may seem unnecessary and raises the cost. ANC is generally used in headphones that focus on people wanting to use them often for travelling or in busy areas, as it's a technology that cuts out much of the background noise that tends to bleed into the cups. The general premise of ANC is that the headset listens for certain audio and then tries to cancel it out with a different frequency or subtle white noise.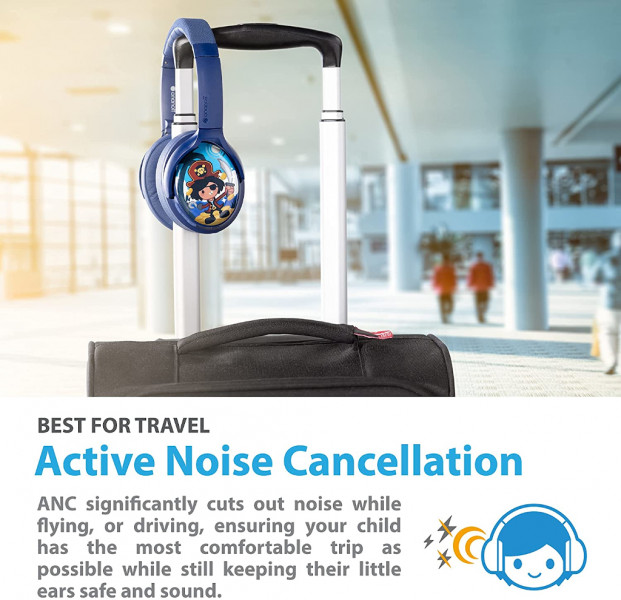 I used to have an old pair of headphones that had amazing ANC where I could barely hear anything outside my content, so I was curious how the ANC would perform on the Cosmos+. Now, ANC is meant to be used in loud areas or when you're travelling, like on a road trip or airplane where there's a constant humming or background noise, not that you can't use it any other time, but that's generally its main purpose.

The ANC performance on the Cosmos+ is "okay" at best, but for a couple reasons. Does it do the job? Kind of. It does 'cancel' out some of the background noises, but it's not like your kids won't be able to hear you shouting for them come for dinner time. It sounded more like ANC muffled outside noise rather than outright cancelled it. ANC on though does change the audio quite drastically though, basically turning down and limiting the bass. So if your kid doesn't want the headset thumping but still wants some volume, ANC on might be an option, but the audio as a whole doesn't sound as 'full' or 'vibrant' with it engaged.

Modes:

Another main feature with the Cosmos+ is that it has three distinct listening modes, depending generally on the age of its user. You can change between Toddler Mode, Kids Mode and Travel Mode. What's the difference you ask? In its most basic terms, they are generally volume limiters. One of the key features BuddyPhones boasts is that they are safe for kids, as most headphones don't generally have any limits on how loud they can reach aside from the drivers themselves. This is marketed as "SafeAudio" and is basically a way that the headphones ensure they won't go too loud and damage young developing ears and hearing abilities.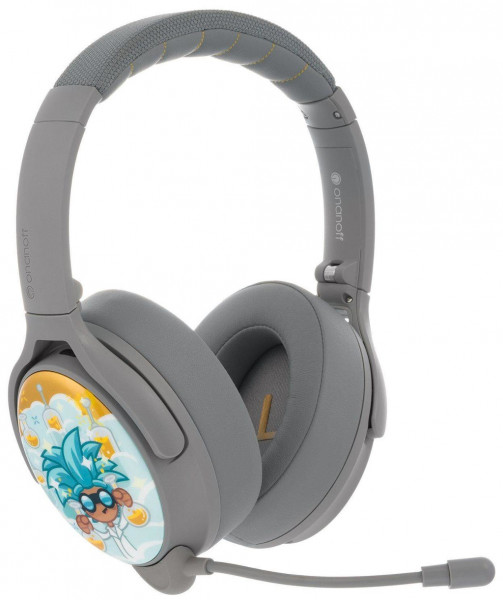 Changing modes is done by holding Volume Up and Volume Down at the same time for a few seconds, which is easy to do, but the problem is that there's no indicator to which mode you're in just by looking, and when you do change modes it's only indicated by one, two or three beeps. I had to reference the manual to figure out that one beep was Toddler Mode, two was Kids and three for Travel. Sure, I could tell the difference when the volume was maxed and I changed modes, but having some sort of LED or auditory notification would have been welcomed, as I'm eventually going to lose the manual and likely not remember. The only other caveat worth noting is that you're only actually able to change the modes when in wireless Bluetooth mode, so if they're in Travel mode and lose battery power, you can't change them again until they have a charge.

There's also one other mode that is enabled with a switch just below the ANC button. There's a StudyMode with its purpose to be a way for kids to focus on vocals only. With StudyMode activated all of the bass and other audio basically gets cut off completely and it is meant to enhance any vocals if they're watching lessons or something similar. Music audio sounds absolutely terrible in this mode, but that's not what it's meant for. The problem, just like the regular mode selection, is that there's a physical switch on the left ear cup but no indicator to tell you what's "on" or "off". A quick listen will make it obvious, but again, why couldn't this have a printed icon or audible notification in case my daughter switches it on accidentally.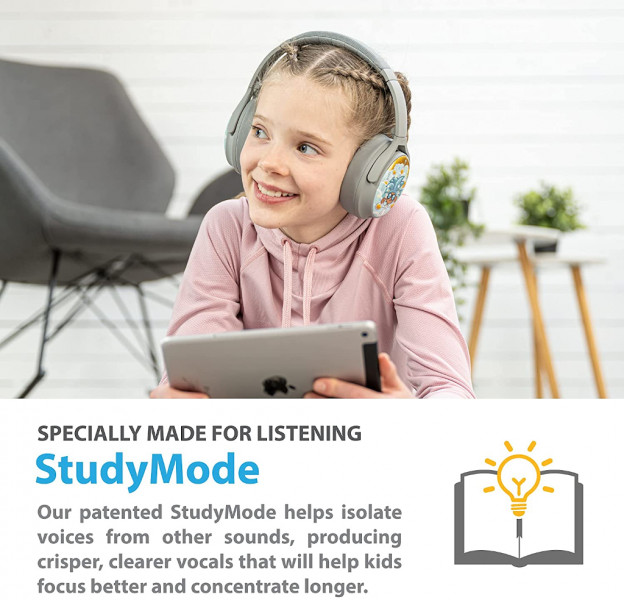 Ports and Buttons:

We've gone over most of the features and modes, and now we move onto all of the buttons and ports on the headset itself. The left ear cup has a simple button at the back for ANC toggle on or off. When it's on there's a small green LED light to indicate so, though oddly this can stay on when the headset itself is turned off, resulting in a dead battery quicker. Below that is the StudyMode switch, again, without any label to show what is "on" or "off" (up is on, down is off by the way). At the bottom of the left cup is the standard 3.5mm jack that's used to plug in to any device's headphone port, but it's also a clever way to audio share via BuddyLink. This means you can have your second child plug in their wired headset into the Cosmos+ and share audio, though don't expect much quality, if any, in the daisy chained headset. I plugged in two of my highest end headsets I own, and while I got audio and could hear content, it wasn't "good" in any sense of the word. Will a young child that just wanted to share YouTube with their sibling during a car trip care much? Probably not. Great feature to have, just don't' expect much from the audio sharing in terms of quality is all.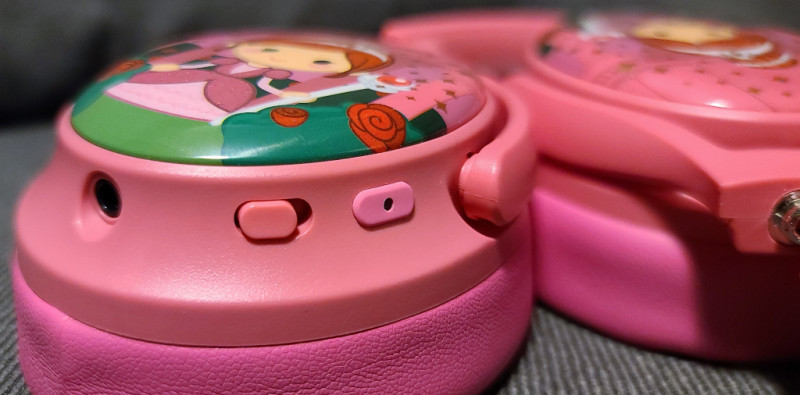 The right cup is where the rest of the controls are located. Volume Up (doubles as Next Track), Volume Down (also Previous Track) and a multi-function button is what you'll mainly be using these controls for. The multi-function button has many uses, from Pause/Play on audio, answering and hanging up calls, enabling Bluetooth for syncing and also acting as a Power On and Off button. Turning on the Cosmos+ is simple enough, pressing the middle button for a few seconds until the LED blinks and you hear the audible notification. Turning them off is a different story though. You need to hold the button for about five seconds or so, sometimes putting into pairing mode instead, so more often than not I'm the one that has to turn off the headset as my daughter either forgets or doesn't remember if she did it properly or not.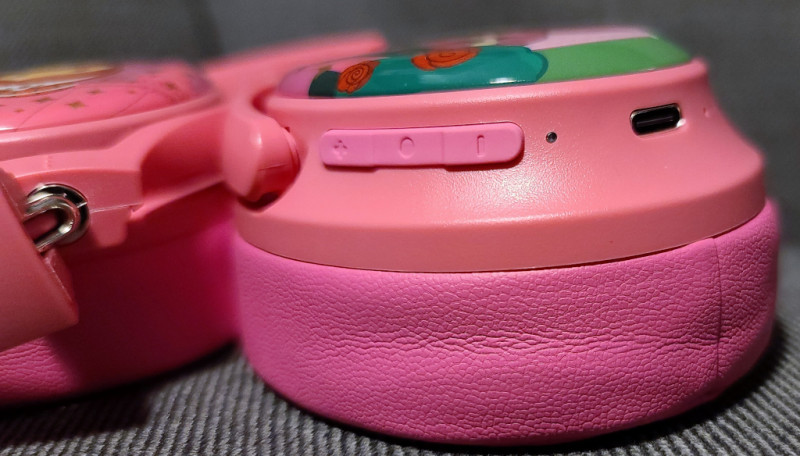 Lastly is the USB-C slot at the bottom. This of course is used to charge your headset when low on power, which by the way boasts a 24 hour battery life which I'd concur with (without ANC on). I was impressed that I only needed to charge it every few days, so know that these will last wirelessly for any length of flight or road trip. The USB-C port is also where the included microphone plugs into should they need it for chatting or calls, fitting flush and snugly along the outside of the cup.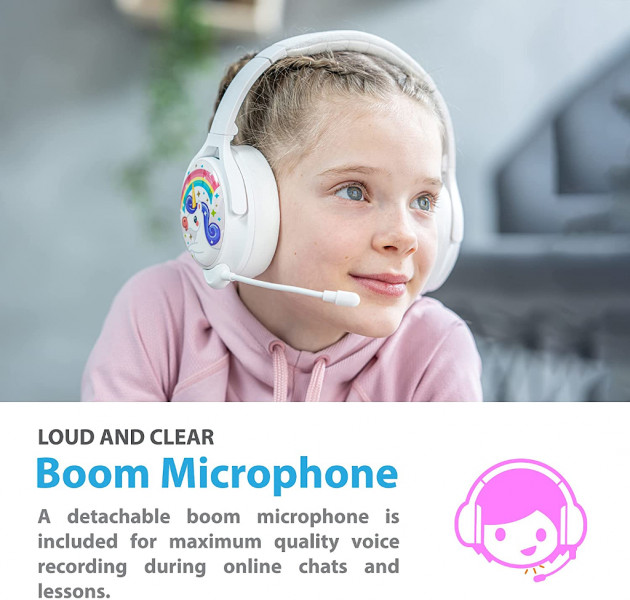 As for the microphone itself, I was impressed that it was detachable and not hard wired like on most. Thankfully the hard travel case can keep it safe and not from not getting lost. On the note about it being detachable though, it sits almost too flush with the headset, and while there's a small lip to get your fingernail under to pry it out of the port, I feel like I'm going to damage the port by pulling it out wrong or at an angle since I can't do it easily. This will be a problem if I do, as the port is also used for charging. As for the microphone quality, it's much better than I expected when I recorded myself on my PC. It's absolutely not meant for anything broadcast quality, though for chatting to friends and calling some people it'll suffice for a younger child. The gooseneck makes it so you can place it closer or away from your mouth if needed as well.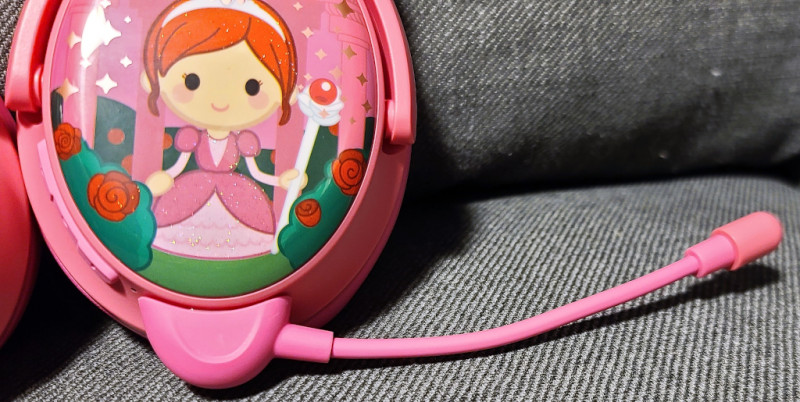 Audioscape:

As for the Cosmos+ audio quality, it too was better than I was expecting overall. The three audio modes limit the volume to 75 / 85 / 94dB, which will keep your young one's ears safe. For the majority of the testing I of course had it set to Travel Mode (94dB max) and had the volume as high as it could go as I tested a bunch of movies, games and music.

As an overall, the audio was honestly better than I initially expected. Granted, I use some high end headphones for my regular go-to's for gaming, music or recording, but for a headset geared towards kids in this price range, it really wasn't terrible at all. I know that might not sound like a glowing recommendation, but my bar was set quite low and it surpassed my anticipation. Audio of course isn't amazing by any means, but it's clear and has a decent amount of bass, though nothing crazy.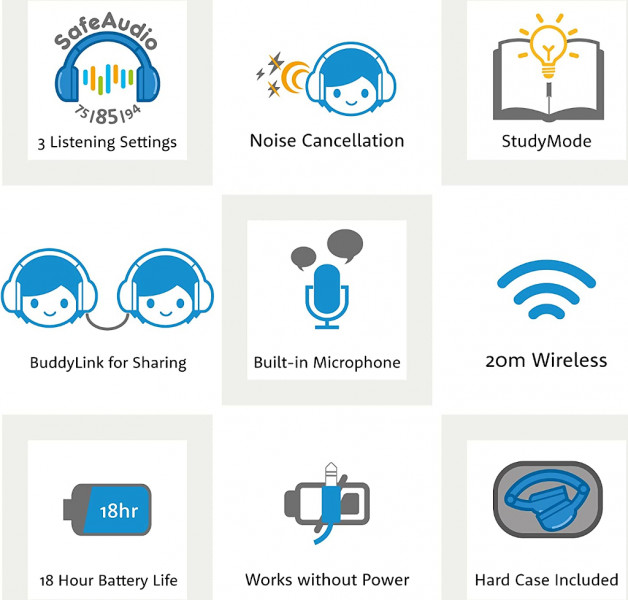 Testing some of my favorite music, it all sounded familiar. I never had the drivers crackle or pop at max level even with some headphone testing audio. The Halo soundtrack sounded great as those vocals dropped, EDM sounded decent and I really didn't have much to complain about, again, factoring in that this is absolutely meant for kids who simply want to be able to hear their games and videos more than caring about the quality. I played the latest games, and while I personally wasn't impressed with the overall audio, I'm also comparing it to much higher priced headsets meant directly for gaming, which these aren't trying to compete with.

Final Thoughts:

While they definitelyare meant for a much younger audience, my daughter has made them her default headset as soon as she turns her tablet on to watch some YouTube. I'd suspect that tweens might be a little turned off by how 'kiddy' they look, but at that age they'll most likely want something more audio focused if they plan on gaming much, which is not what the Cosmos+ was marketed towards.

With 24 hour battery life, ANC for those that want it, a range of differentaesthetic options, a sturdy build quality and safe listening modes, the Cosmos+ is basically an all-in-one solution for those that want some quality headphones for their toddler or youngster. While the audio won't compare anywhere near to a dedicated gaming headset, not many other headsets geared towards kids will also have half the features the Cosmos+ does.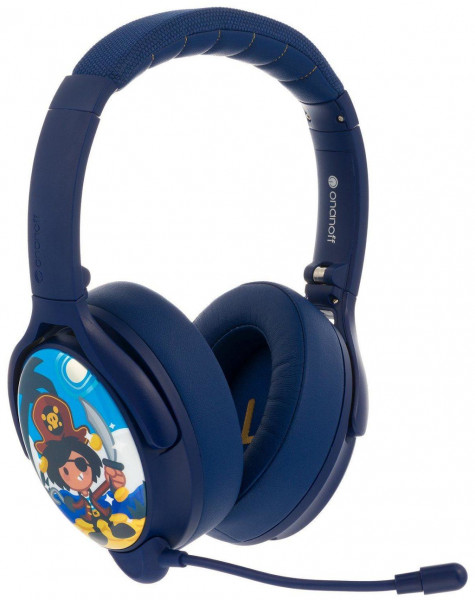 Even with volume limiting built in, the soundscape isn't all that bad for what kids will care about, even at max levels. With a handful of different color schemes and themes, there's sure to be one that your child gravitates towards. The only 'iffy' thing about the Cosmos+ is that they are quite pricey for a kid's headset, but you are getting a lot of features that you don't generally see in many others for this age group. While I would have personally scored them slightly lower by a point or two, I took the bulk of my feedback from my daughter who is wearing them and using them every single day since they've arrived, more than happy with how they perform, so that alone speaks volumes in itself and is what the final score is primarily based on.


**The BuddyPhones Cosmos+ was provided to XboxAddict and reviewed in conjunction with an Xbox Series X, PC, Mobile and other consoles**



Overall: 8/10