Astro.ID Collection 2 (A40 TR Headset) - The Experience and Headset Impressions
by Kirby Yablonski








Specifications

- Speakers: Open 40mm Sound Driver tuned for Gaming
- Frequency Response: 20 - 20,000 Hz
- Nominal Impedance: 48 ohms
- Weight w/o Cable: 369g
- Length: 8 cm
- Width: 7.75 cm
- Height: 3.75 cm
- Connector: 3.5mm Mini-stereo and PC Splitter
- Boom Mic: 6.0mm Uni-directional

A couple of years ago headset maker Astro released their "design-your-own" headset collection called Astro.ID where you custom design the look of the wired A40 TR. It was a great concept and proved to be somewhat popular with those who prefer the Astro line of headsets. Well, fast forward to this year, Astro.ID Collection 2 has been released with new colours and combinations to make your headset, again the A40 TR, a little more visually to your liking. We were lucky enough to be provided a code to design our headset from scratch, including choice of colours of the headband, earcup, tags and even the 3.5mm cable.




Collection 2 has eight new colours (Collection 1 had six) along with newly designed tags. The selection of colours is nice, but with nearly anything, more is better. Don't get me wrong, the colours that are available are nice, but you should note that you cannot mix Collection 1 with Collection 2, so you are limited to what is available to each. If anything, it would have at least been nice to have the tags from Collection 1 in Collection 2 for more choice.

One of the things that I noted when logging into the Astro.ID website was how user friendly it was and how it didn't take much effort at all to go through the process of choosing what colour(s) I wanted and how I wanted other features (headband, earcups, tags, etc.) to look. I was able to go back and forth between all the choices with ease. The headband and tags come in two different designs, so how you choose can indeed affect the look. One is more colourful (the one I chose) while the other one toned down and is clean and distinct in its design. If anything took up time during the process, it really came down to fine tuning what colour combination one may want for everything.




Once I was able to finally come up with a design that I liked, I viewed it one more time, and then went to the purchase screen. It was there that I simply entered my shipping information, and one would then pay for the headset and shipping via one of the on-screen options (Visa, PayPal, etc.). After I did this, I just had to wait for its arrival. As I live in Canada, where we do pay for shipping verus the US site, I was informed that it would be a couple of weeks wait time, and of course there was the warning about delays in shipping due to the continuing pandemic. To my surprise the headset arrived sooner than the quoted time, which was nice.

I have to say, that once I opened the shipping box I was impressed. The carrying case for the headphones, cable, and microphone is big and it looks nice. I opened up the case and inside was my personally designed A40 TR headset in coral and yellow. I was impressed with how bright and vibrant the colours were. Yes, it is not neon, but I must admit, the colours do pop somewhat and I was happy to see that the real product was very much the same with what I saw on screen when designing it.The microphone is detachable and finds its' place in between the middle of the case, in between the earcups. You also get a PC splitter plug should you wish to use these headphones for some PC gaming.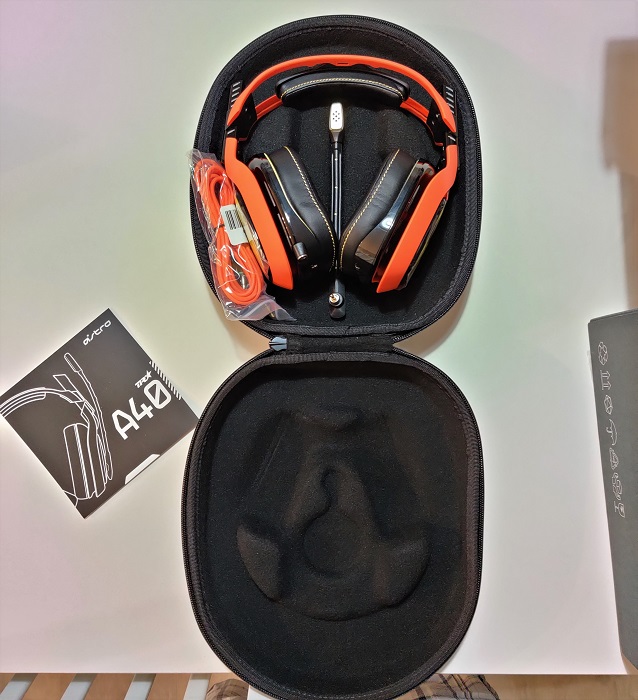 I have found in the past that Astro makes some comfortable earcup cushions, and the Astro.ID A40 TRs continues the tradition. I waited a little longer to write up this article as I had my annual Extra Live fundraising day on November 6th, and I wanted to really put them through the test during my 24 hours of gaming. I have to say that I wore them for about 16 hours or so, taking them off for dinner and the odd quick break. At no time during this marathon session did I find them uncomfortable nor too hot. My ears did get warm occasionally, but it was not something that I noticed was ongoing given how long I was using them. I really enjoyed the feel, the weight and how they stayed on my head. Speaking of weight, they are not particularly heavy, but they are not the lightest headphones I have ever used. Regardless, the weight never became an issue at all.

Astro headsets have generally been great for sound, hence why they are one of the more popular gaming headsets along with SteelSeries, Turtle Beach, etc. The A40 TR is a solid sounding headset. During my time with them, prior to writing this, I had a lot of time with some go to games, and these included my usual grinding with Destiny 2, but this time I also played Forza Horizon 5, Guardians of the Galaxy and some Castle Crashers remastered.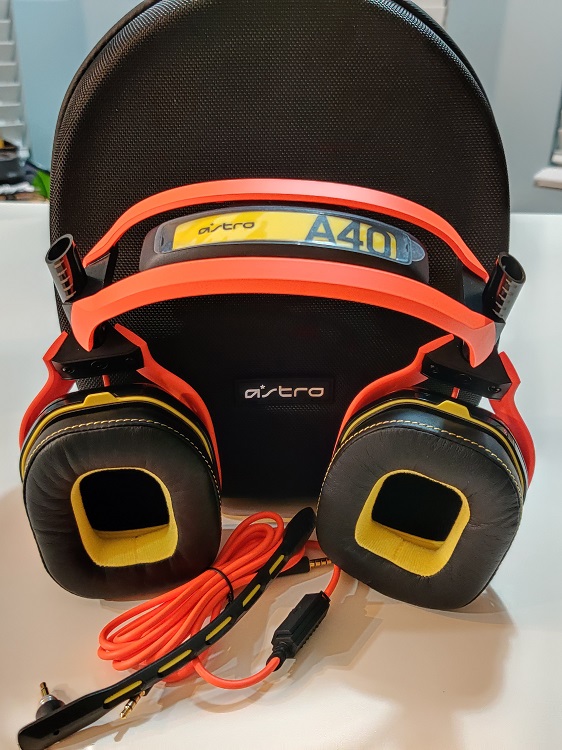 Destiny 2's music and sound effects were alive and very prevalent as I played with the headset on. Given that these are a wired headset, I would not have expected anything different. Explosions had boom, the sounds of the different weapons were noticeable, while environmental sounds down to the tiniest of footsteps could be heard. Switching to the recently released Forza Horizon 5, I was very pleased with how the game sounded in this headset. As one would expect, the high horsepowered V10's and V12's of supercars clearly sounded different from any of the lowered powered sport or daily driver cars that you will find. Environmental effects are worth noting here, from the sound of thunder and lightning far into the distance, waterfalls, streaming creeks, rain and even animals all make their audio presence clear and distinct.

Guardians of the Galaxy was an impulse buy for me during Extra Life, but I have to say it sounds good, especially when wearing this headset. The game is narrative driven, and I had no issues following along with the story as each character talked. I never found myself missing something during the banter between the main characters or those who were seen as protagonists in the game while sound effects were doing their own thing. Of course, the weapons heard during battles and the combat banter between not only your team, but the enemies as well, was clear and aurally balanced. Finally, my time with Castle Crashers was during the early AM of my Extra Life, around 1:00 AM, but man, the whimsical music, the simple sound effects and all that was found in between sounded great and even, with no one thing overtaking the other. I forgot how quirky the game could sound, but I appreciated what I heard through the A40 TRs.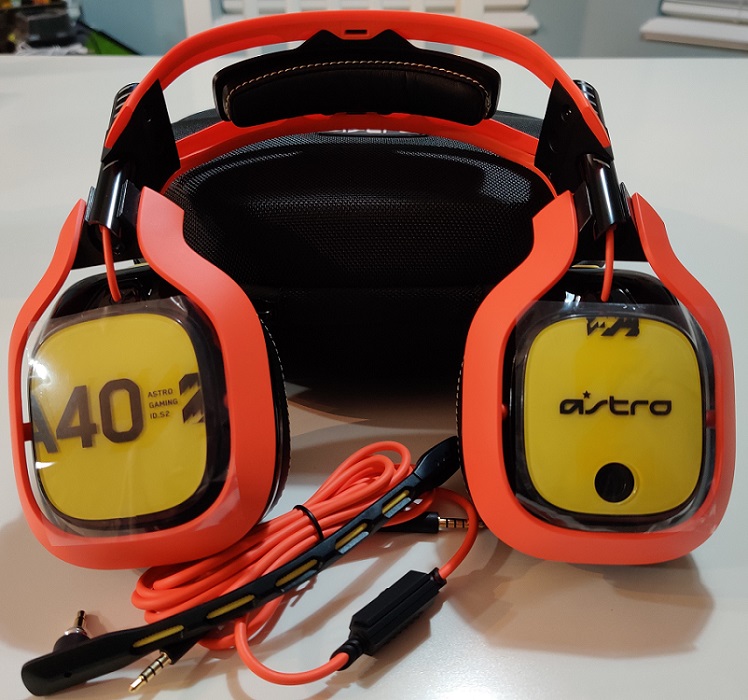 We can't forget the microphone that is used when playing online with friends. I like the fact that the microphone is detachable, so if you don't want to play online, you don't need to have it connected. The quality in the voice chat is pretty much second to none. This was most noticeable during my Extra Life time, as I was chatting online with many different friends depending on what we were playing or if someone just wanted to come into the party and hang out. At no time did anyone have a problem hearing me, and background noise wasn't too noticeable. Given that there were zero concerns hearing me, I count that a huge victory, as it means the microphone had no problems conveying my voice to others.

If I had one complaint with the headset that is used in the Astro.ID program, it would be that at times it seemed too heavy in the bass depending on what game I may have been playing. It wasn't overkill, and it didn't drown the mid-tones or highs out, but it was noticeable. Of course as the headset is a wired headset, you do have to adjust your volume as well as your chat/game volume in the settings of the Xbox platform you are using.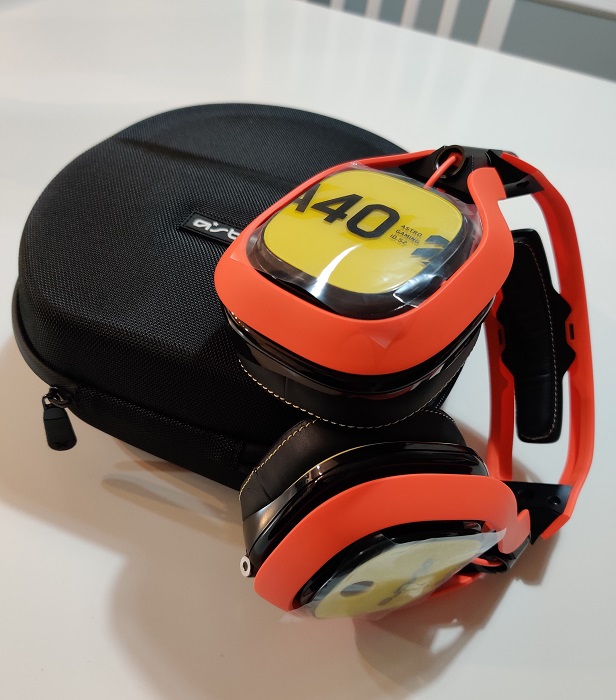 To negate having to go into the Xbox settings, I would recommend paying extra, if you can afford it, for one of the MixAmps that Astro has on their website. These are the M60, M80 or the Pro TR. The latter is the more expensive one ($169 CDN) as it does a lot and is eSports quality. The M80 is the midrange level ($99 CDN) and plugs directly into your controller; however, it allows for 3 preset EQ settings, along with voice/game balancing and instant mute. Finally, the M60 is the entry level MixAmp ($60 CDN). It also attaches to your controller, but it doesn't have any EQ settings. You control chat/game sound balance, volume, and mute. Regardless of the differences, these are items that you should consider, but do not necessarily need, to improve the overall headset experience.

I do think that Astro.ID Collection 2 headest (and the online creation experience) is great, as it is something you can personalize with your own colour scheme while getting a solid headset. I do know that the price in Canadian dollars is kind of shocking, as it is $279, which isn't cheap, but you do get a good sounding and comfortable set of cans, your own colour design and a carrying case as well, which might make the price a little easier to swallow. At the end of the day, if you are looking for a special headset for yourself, or even a friend or loved one, and paying some extra mullah isn't something that will break your bank, I highly recommend you consider anything from the Astro.ID website, be it the new Collection 2 or the original Collection 1.



OVERALL SCORE (Online Creation Experience & Headset Itself): 8.9 out of 10

*XBA was provided a code by Astro PR allowing for creation and purchase of the Astro.ID headset in this review*