Play It Before It Leaves - Carrion
by Josh Morgan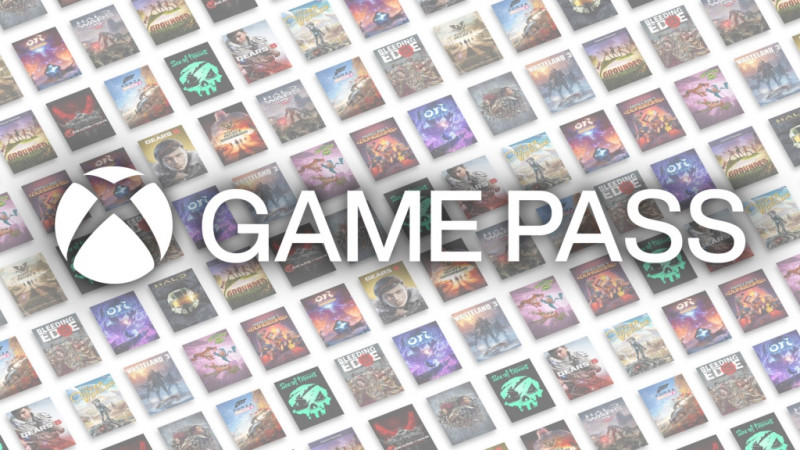 Every month there are new Gamepass games added to the service, and every month we are sad to see some leaving. Phil giveth, and Phil taketh away. With new games being added monthly it's easy to lose track of the older games in the service when we are constantly being distracted by the new hotness. Well fret not, I am here to remind you of those bangers that you thought about months ago, but never got around to.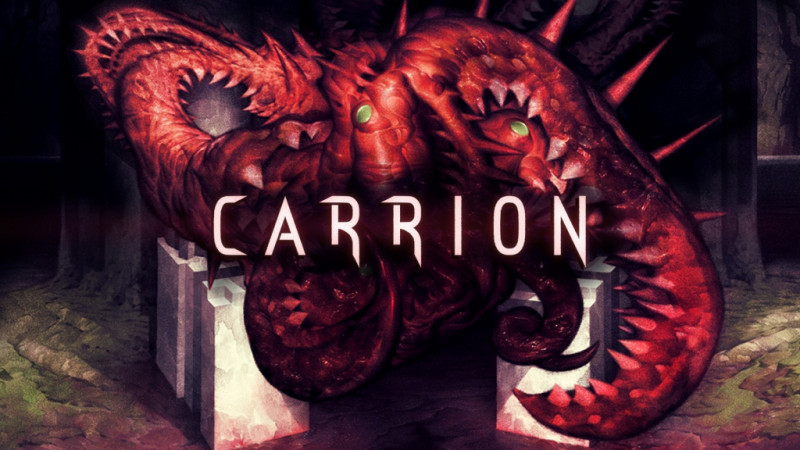 Carrion, made by Phobia Game Studio and published by Devolver Digital, is a side-scrolling horror game where you are the evil monster that wreaks havoc on the military base you were created in. It's a fast completion at around 7 hours to get 1000/1000 gamerscore and is stackable with the Windows 10 version on the PC Gamepass store, meaning after 2 playthroughs you can increase your gamerscore by 2000 while playing an awesome game.



You start off as a small red blob escaping your containment unit. You have a few small tendrils that look a lot like Carnage from the Spider-Man comics, and as you roll over the scientists and guards in the room, your tendrils will rip them apart and you'll eat them replenishing your health that you may have lost in the battle. You'll move through the corridors of the lab ripping doors off hinges, throwing them at fleeing enemies, and then eating their remains. This NEVER gets old. Your goal is simple, escape the lab you were created in, and eat everything on the way out. There are many puzzles in the labs that you will need to solve to move to the next area and closer to your freedom. Some of them are simple and just require using one of your tendrils to flip a lever in a distant room that unlocks a door, and some require many steps using the abilities you acquire as you level up.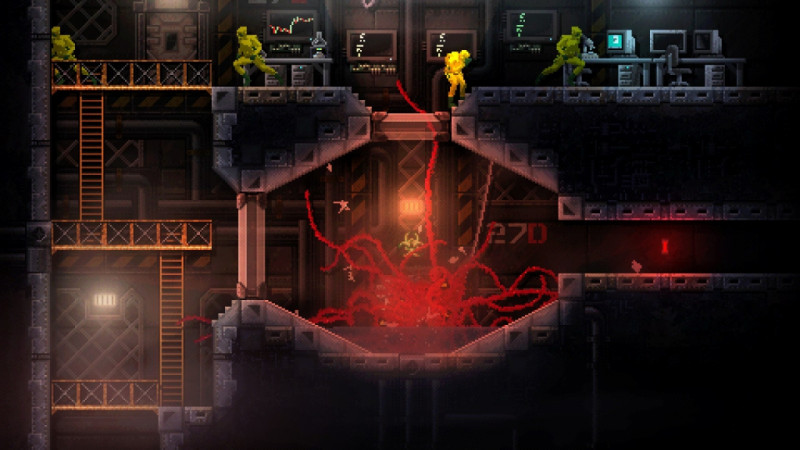 As you progress further through the levels of the game you will encounter nuclear containers that you can consume and level up. As you level up you'll not only get bigger, grow more tendrils and gain more health, but you'll get new skills (both offensive and defensive) for use to aid in your escape. This is where the 'give and take' game mechanic comes into play. The second skill you unlock is invisibility, and that is tied to your smallest mass, meaning you cannot become invisible as you get larger, and you'll have to find a nest and deposit some of your mass to be able to get smaller and use that ability. It's a very clever way to add multiple steps to puzzles, having you mass up and down many times to complete and clear each room depending on what obstacle you need to get passed. As you level up you'll unlock more skills such as dash, where you can quickly bust down doors killing anyone within range automatically, and an ability where you send out a vortex of harpoons breaking objects in the room and impaling humans at the same time. There are both offensive and defensive skills that you learn, and it's up to you how you use them in your escape.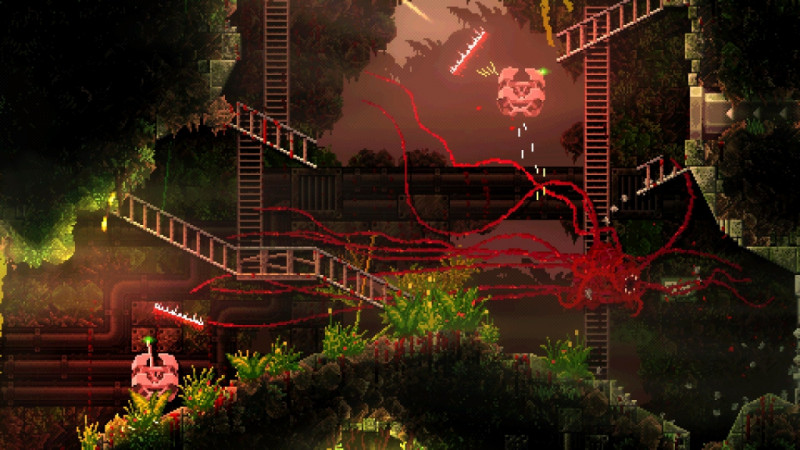 Carrion's graphics have a pixel art style, but that doesn't mean they skip on the details. As you tear through the rooms ripping apart humans, you'll see limbs flying and blood splattering on the floor and walls, and as your tendrils whip around holding the body parts, blood sprays around like a morbid sprinkler. The framerate is very smooth, and I don't remember seeing any hitches while playing with even 10+ enemies on screen. The sound... oh boy, the sound as your monster crunches the bones of the scientists and soldiers as they scream for help. I can still hear that wicked sound right now almost a year after playing. It's incredible and never got old while playing and the crunches were satisfying even until the end.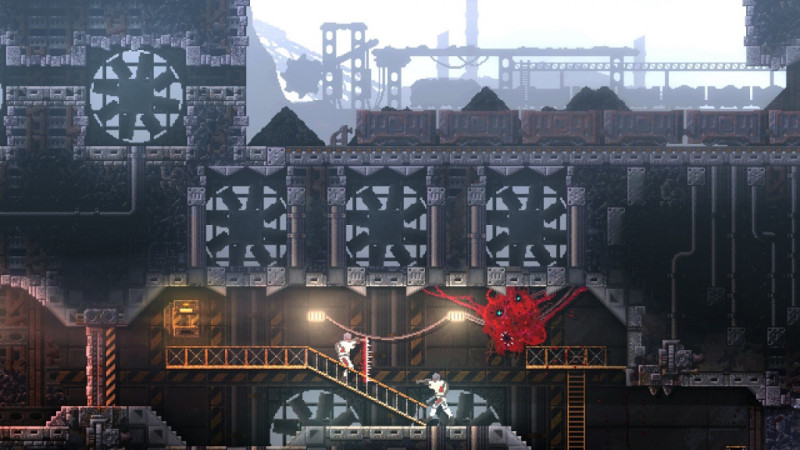 I think Carrion is an absolute must play while it is in Game Pass, and this July it will have been in the service for 2 years, so it's already one of the longer running Devolver Digital games in Game Pass, as most have left the service between 6 months and 1 year after entering. If I were you, I would be playing through this as soon as possible before it leaves. Twice, to get that juicy gamerscore.