Turbo Golf Racing - Beta Impressions
by Adam Dileva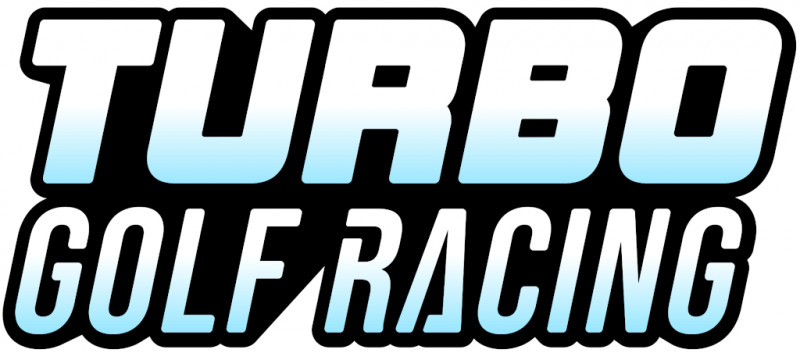 Developed by Hugecalf Studios and published by Secret Mode, I wouldn't fault you for thinking that Turbo Golf Racing was from the same developers of Rocket League. Before delving into researching it, I legitimately thought that Turbo Golf Racing was a spinoff or some sort of special mode for Rocket League. This is because the artistic style is very similar to the uber popular game, but the premise is very different.

As you could probably discern from the game title alone, yes, this is golf with cars at its core. Drive, boost, glide, flip and jump to get your ball into the hole before the competition to win. There was recently a beta that occurred, so myself alongside a friend decided to hit the links with our boost enabled cars to play against the competition. With eight players supported online, it's a crazy dash to get your ball into the hole first.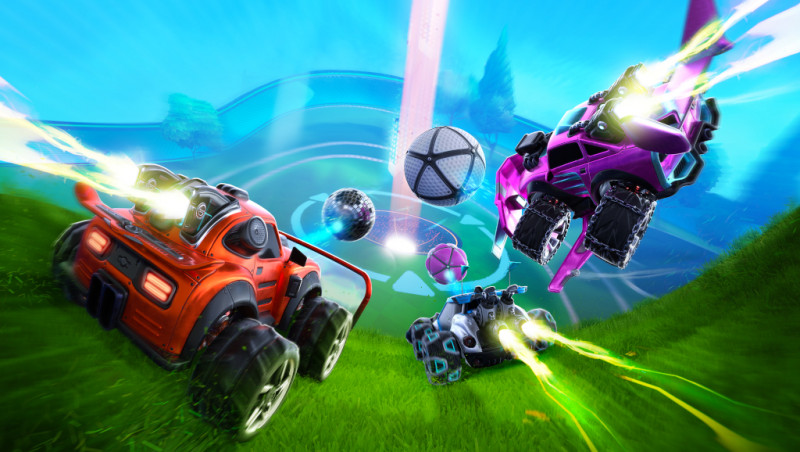 You can expect bright neon colors, over exaggerated body kits and your ball is much larger than your actual vehicle. While there's no official release date yet, having a weekend with the beta for Turbo Golf Racing excited me enough that now I'm really looking forward to its release. Even better, it will be coming to Xbox Game Pass as well.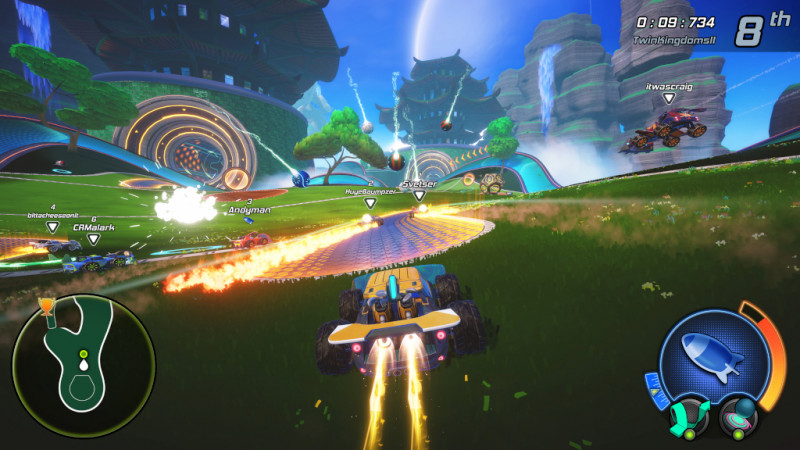 While its core may simply be using your car to get the ball into the hole, there's more here to take into account, as you will be rushing to the hole with your ball against seven other players simultaneously as well. I'll admit, I was coming in last place for my first few holes, but once I figured out how best to boost, glide, jump and flip, then I started climbing the ranks and winning some more holes.



With turbo enabled on your vehicle, it'll take some practice to figure out the best way to knock your ball down the fairway to where you intend to. There's a lot of factors that determine where your ball is going to land, from your speed, angle, if you've jumped and flipped and more. For example, knock the ball at a weird angle from your front bumper, and it won't necessarily launch forward in a straight path. There's a line that will show you the angle the ball is about to go before you hit it, but you've only got a quick moment to adjust since you're barreling down the fairway to the ball with your turbos enabled.

To make things even more exciting, you can refill your boost meter if you drive on the 'fairway', or having your ball go through one of the floating rings will make it boost much further, so there's some strategy when it comes to the path you want to take to the hole. Do you play it a little safer and try to hit the ball straight down the course, or take some risks and try and launch the ball through some rings so you can play catch up? Watch for those sandpits though, as they will basically stop you and your ball in its tracks instantly. For me, finding a balance between the two tended to work best, but with only a day or two of practice, I know I have a lot more to figure out.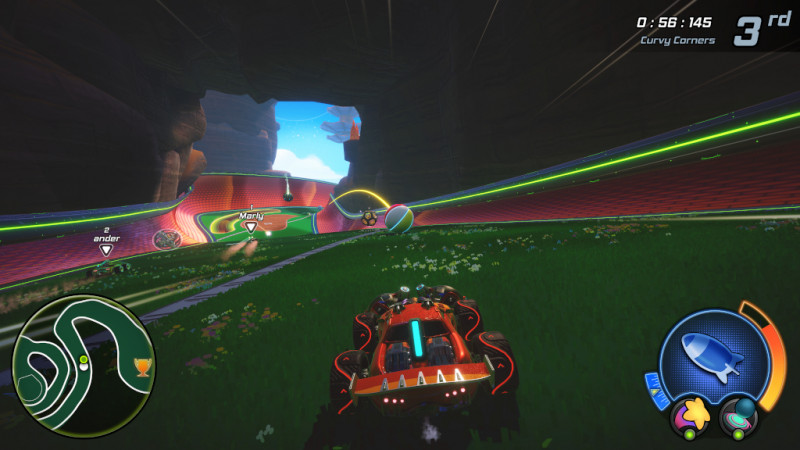 If you don't feel comfortable trying to play online against other racers there is a single player component as well, but not against bots. Here you can play courses by yourself but acts more like a time trial mode. Sink the ball into the hole within specific time limits and you'll earn stars. The more stars you earn the more courses and bonuses you unlock, so it's a good place to start to learn the courses and how best to utilize your vehicle.

The real fun though came from playing eight players online, racing against others in a variety of different ways. You can group up with friends then search for matches, of which we had no issues finding lobbies within seconds of searching, even in the beta. Beta had a handful of maps, some quite basic and others a bit more intricate and utilizing antigravity lifts. It seemed as though stages were ranked by difficulty based on their rarity color or something, but this aspect wasn't explained from what I could tell.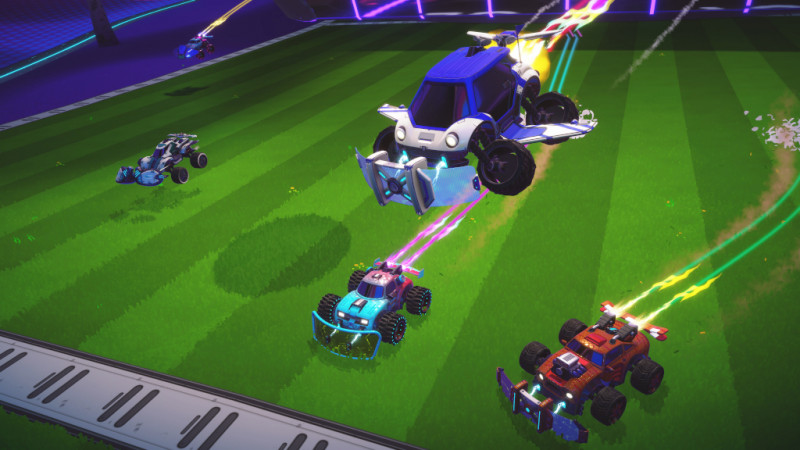 While it may change come release, there didn't seem to be any sort of voice or text chat (on Xbox at least), but instead using an emoji style of communication tied to your D-Pad. While this made for quiet matches, it was also a relief to have no toxicity as well. You're also unable to grief other players by messing with their ball, as you can only hit your own and everyone else's is semitransparent and unable to be touched by anyone other than its owner. There's even a Shot of the Match that happens at the end of each hole, but I question how these are determined, as I've seen some crazy impressive long shots that went into the hole, but also saw practically nothing other than a small bump yet that was Shot of the Match?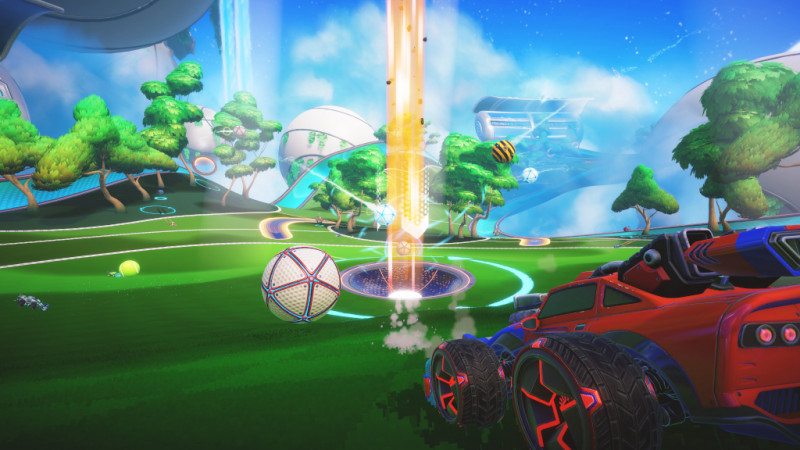 While there's no combat in Turbo Golf Racing per-se, there are a few power-ups you can gather along the course if you drive over them, or even if your ball rolls over them. The only real offense you can do to other players is getting the Rocket power-up that locks onto your target and hits them. This knocks them off their wheels and stuns them for a few moments, much like a shell from Mario Kart. The problem I have with these rockets is that there's no real way to defend from being locked onto, as there's no shield power-up or anything like that. Apparently you can dodge and turn quickly at the last second, but I've been unable to master this maneuver yet.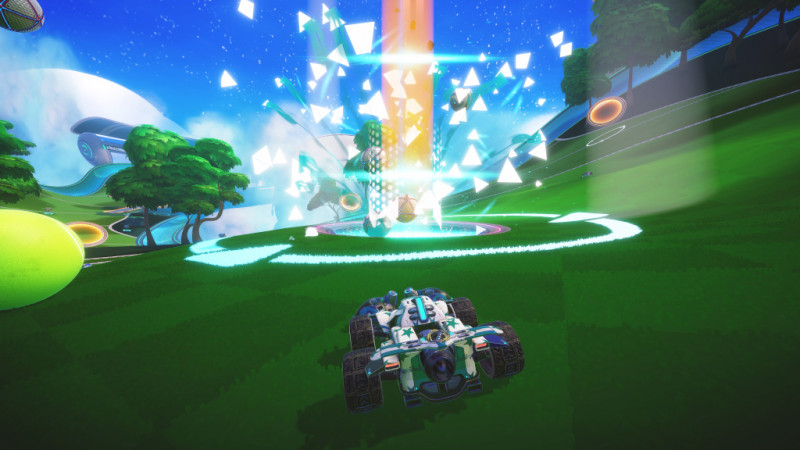 There's a leveling system in place, so you gain XP from matches, even if you don't win, and certain milestones you'll earn some rewards. Some are these are power cores, basically equippable powers that can give you specific advantages. For example, maybe one of these gives you extra turbo, another can be used to smack the ball away from you but from a distance, and another can be used like a magnet to attract your ball towards you. Finding the right skills for your playstyle can make a huge difference, as I've not mastered hitting the ball at the perfect angle I want to, but with a magnet ability I can miss my shot at the hole, but then pull it in and possible sink the ball that way.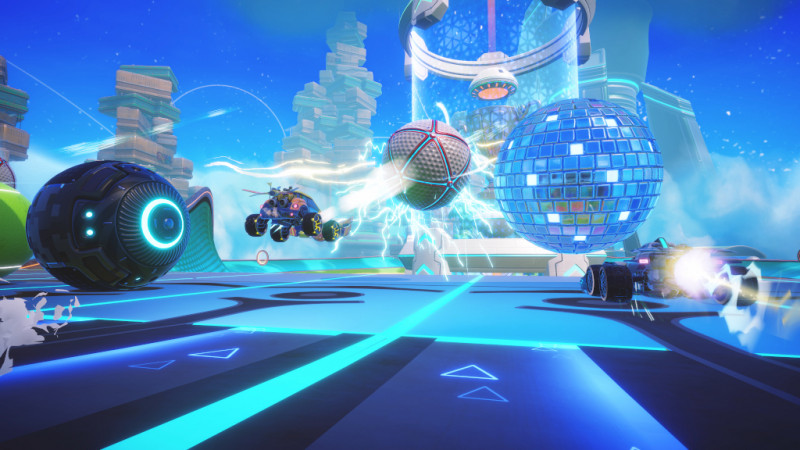 Given that Turbo Golf Racing is in beta I won't hold anything against it yet, but while many of the powers were earned simply from playing, some were purchasable in the store as well, and there's some multiple types of currency to figure out. There is also a 'Battlepass' system in place, allowing you to work towards special unlocks and rewards. The cosmetics can be quite fun, as there's a plethora of special ball skins, body kits, spoilers, wheels, icons and more.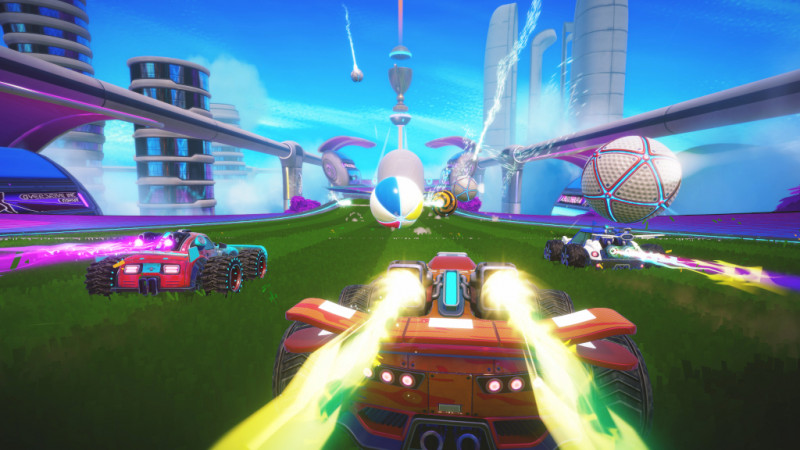 Devs have said there will be another beta before the release, and while there's no dates yet, you can expect that I'll be back on the links in my turbo enabled vehicle. With each hole only taking a few minutes, it was fun to quickly jump in, play a few holes, then move onto another game when I was short on time. While some will no doubt equate Turbo Golf Racing to something like Rocket League, it plays anything but. It's time to boost down the fairway and sink your oversized ball into the hole before the other racers when it releases on Game Pass later this year.

**Turbo Golf Racing Beta was provided by the publisher and previewed on an Xbox Series X**