Brook Wingman XB 2 Converter Review
by Peggy Doyle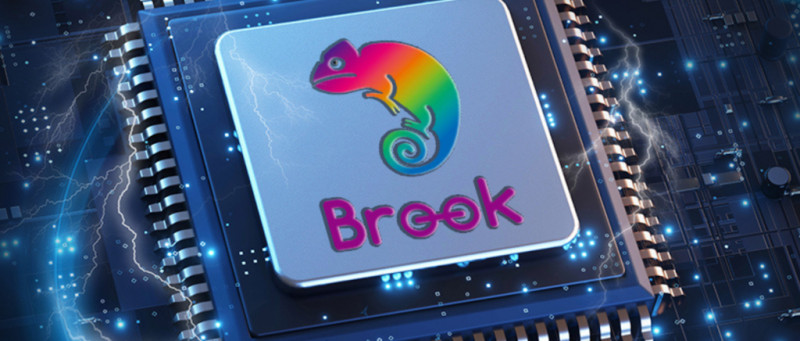 Specification:
Supported game consoles: Xbox series X|S, Xbox one, Xbox 360, Xbox Original (Extra female USB to Xbox Converter Cable is required on Original Xbox), PC, Steam Deck
Turbo: 5-Level Turbo Settings: Include 5, 10, 15, 20 and 25 click/second
Size: 8.7 x 6.7 x 2.5 cm
Weight: 78 g

I am not one for console wars, I think they are a waste of time and energy, and each console brings something special to the table. The biggest difference when comparing Xbox and PlayStation on first inspection would be the differences in controllers, and gamers have their preference, whether overall, or even for specific genres of games. With this in mind, I was asked to review an adapter from Brook Accessory called Wingman XB 2, a Controller Cross-Platform Converter that boasts the ability to use a wide variety of controllers on your Xbox, so and thought I'd check it out.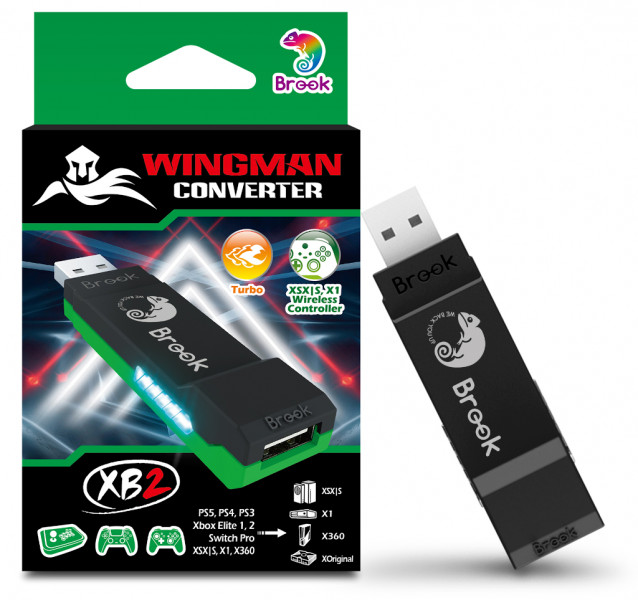 DISCLAIMER: The Wingman XB2 converter is NOT licenced through Xbox, and as such, is technically not approved for use on the console. Specifically, some of the features that the adapter allows you to do potentially put you at risk of being reported for cheating, and as such, I am not recommending this for multiplayer games. I want that to be clear from the start. Using this is at your own risk as it may go against one of the Terms of Service: "Use unauthorized hardware or accessories"




One of Microsoft's biggest innovations in gaming, in my opinion, has been backwards compatibility. Being able to play original Xbox, Xbox 360 and Xbox One games on my Series X means my library continues to be playable. Sometimes, though, nostalgia gets the better of me and I miss the 360 controllers. The good news here is that you can use the original Xbox, Xbox 360 and Xbox One controllers on your Series console, as well as PlayStation (PS3, PS4 and PS5) and Nintendo Switch Pro controllers. In fact, you can use any of these controllers on older models of Xbox Consoles as well with the adapter.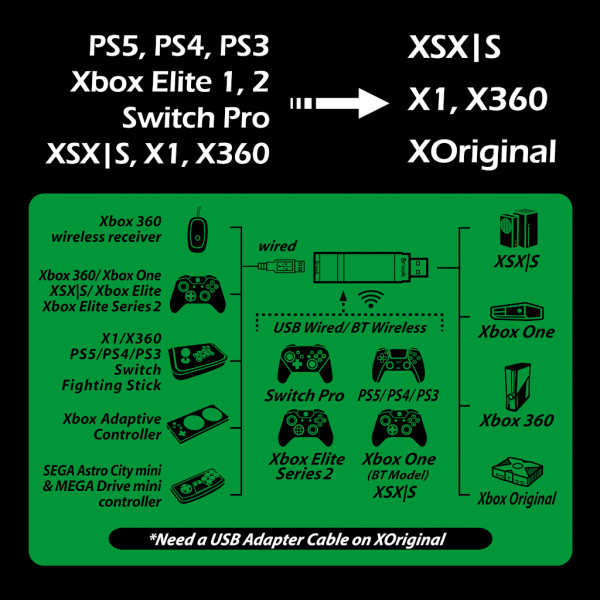 What's in the box?

Brook used small eco-friendly packaging with the box barely bigger than the USB stick sized device. Inside the box is the Wingman XB 2 Converter, a bilingual info sheet and that's it. They have opted to use a QR code to send you to their website for additional information and help with setting up the device. Their intention to decrease their environmental footprint is admirable, but I would have liked some sort of setup info included as it wasn't obvious how to begin using it.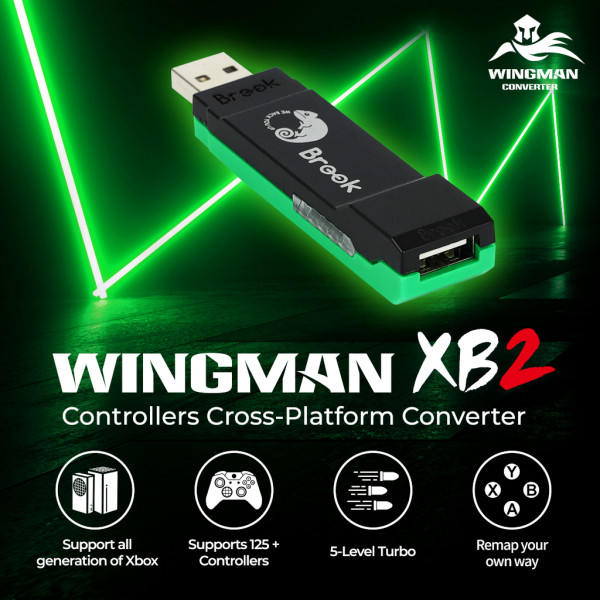 What is the Wingman XB 2?

The Wingman XB 2 is basically a passthrough device allowing you to use controllers on consoles that they weren't designed for. It's compatible with all generations of Xbox (from the original thru to the Series X|S consoles). It's clearly designed to match the Xbox aesthetic in black and green colour scheme. Brook's chameleon mascot is proudly displayed, and it feels well made and has a tight USB connection when inserted into my Series X USB port.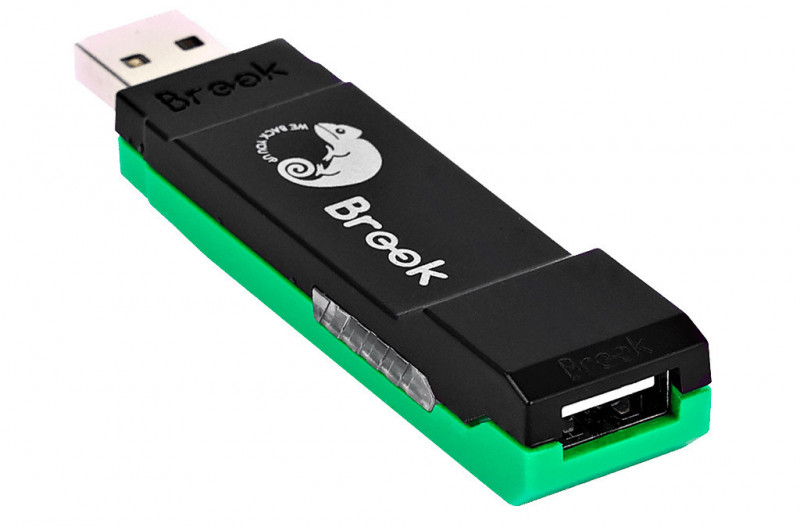 Controllers can be used with the Wingman XB 2 via Bluetooth is available or wired into the device. This will depend on what controller you are using and your preference as well. I tried an Xbox 360 controller, a Switch Pro controller as well as a PS4 and PS5 controller on my Series X, and all worked to play games relatively easily. The PS4, PS5 and Switch Pro controller needed to be paired via wire, but ultimately ran wireless once paired with no discernible issues. There are a wide variety of other controllers that are also compatible, including a lot of 3rd party controllers, 125+ to be exact, but I wasn't able to evaluate those. Some controllers may also require additional cables and those are made clear on the packaging.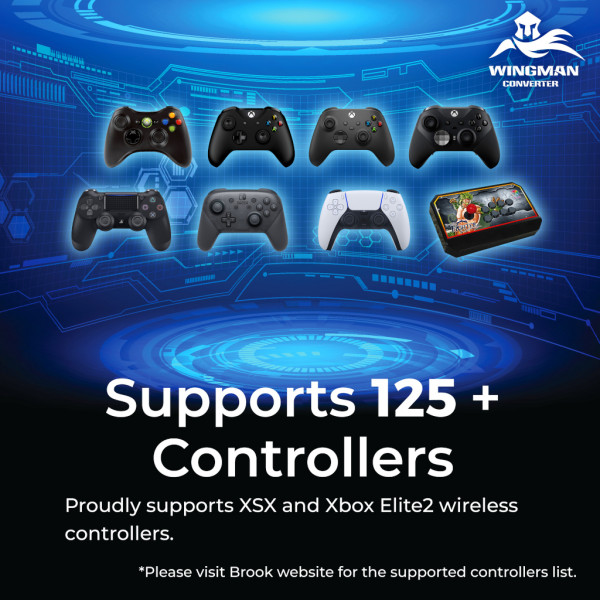 Special Features

While setting up and using the controllers with basic functions was relatively easy, trying to use the added functionality of Wingman XB 2 wasn't as simple. The XB 2 is capable of enabling rapid fire/turbo on any of the controller buttons or triggers. This was quite the process though. Start by pressing 'VIEW' and 'GUIDE' buttons (or your controller's equivalent) to start this process. This process was the most frustrating to accomplish and took multiple attempts to be successful, regardless of what controller I was using.



I was able to try out some of the rapid-fire features in some single player games, but I didn't test in in Multiplayer matches because, as mentioned, this device is not something technically allowed by Xbox, and I wasn't going to consider even tempting fate there. Button mapping and turbo fire, although frustrating to set up, worked well once I was able to get them finally working.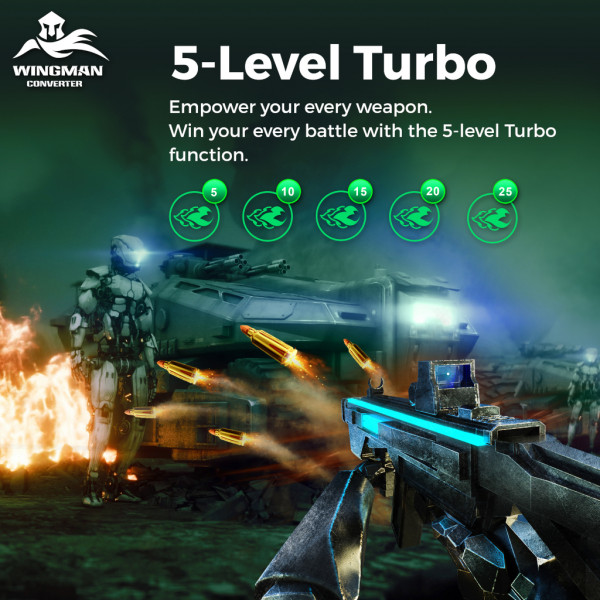 Being a bit of an 'older' gamer, I do have older consoles in my possession, and it was surprising to be able to use a Series X controller on an Xbox 360, or a PS5 DualSense controller on my 360. While I don't use this console regularly, I had to test out whether it would work. Primarily I tested multiple controllers on my main console, the Series X. Four console generations, one controller device. That was impressive.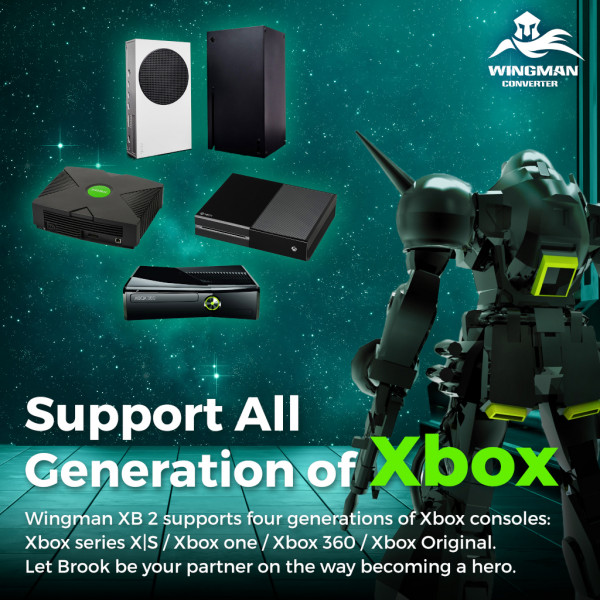 On the Brook website it also mentions that you can use the Wingman XB 2 on PC and this might be something of a benefit if wanting to use a variety of controllers on your PC for gaming. I didn't personally test any of the controllers using the adapter on my PC but I have no reason to think it would function any differently than it does on console.


Overall, I think the Wingman XB 2 adds a whole layer of new accessibility to Xbox consoles, giving gamers a vast choice of controller and console combinations to play their favourite games. Setup was mostly easy, with exception to the turbo and button mapping, but once I was able to get it going, it worked well. Retailing at approximately $65 CAD (and their product page is HERE), it isn't particularly a cheap accessory, but it worked as designed and I have no complaints there.



Ultimately though, I can't in good conscious recommend the adapter solely because I wouldn't want to see anyone get reported or banned for using the tech on Xbox, not that it would, but better safe than sorry. Using my numerous controllers on PC however does seem to appeal to me more.