EA SPORTS PGA TOUR - Preview Event
by Brent Roberts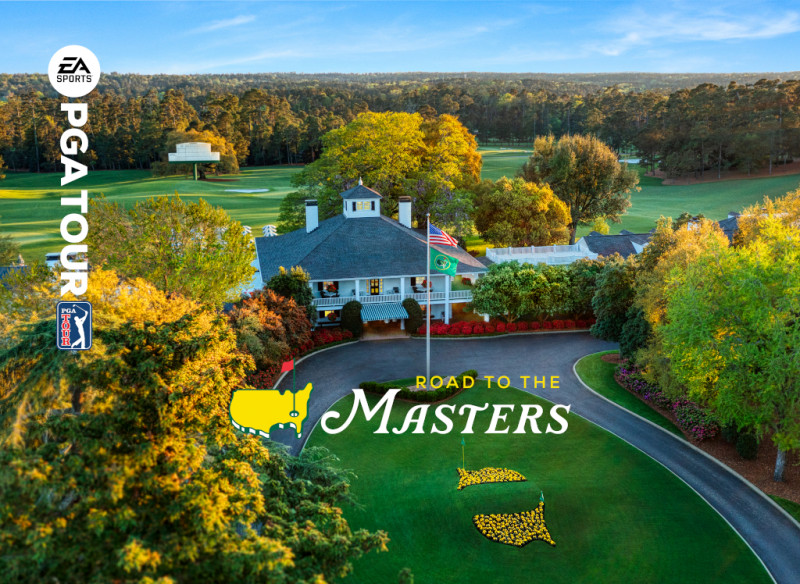 Golf has been known as the pursuit of perfection. Attempt after attempt to send a spherical object, hundreds of yards away from you into a hole in the ground that is only a few inches wide. Constant outside influences such as wind, type of grass, ball lie, slope, etc., all are designed to impact your ball trajectory, flight and landing. These are just some of the influences that combine with your natural skill to make every shot in Golf dynamically challenging. This is the primary goal of EA SPORTS PGA TOUR, to deliver the most accurate Golf game ever released.

Based off their initial showings I have to say, mission accomplished. EA Sports PGA Tour is shaping to drive Golf into the future and set standards for Golfing games to come. Recently XboxAddict had a chance to attend a preview of the upcoming EA SPORTS PGA TOUR, and what was shown was truly remarkable, so let's tee this one up and get the ball rolling on what you can expect (as of the time of this writing) from EA SPORTS PGA TOUR.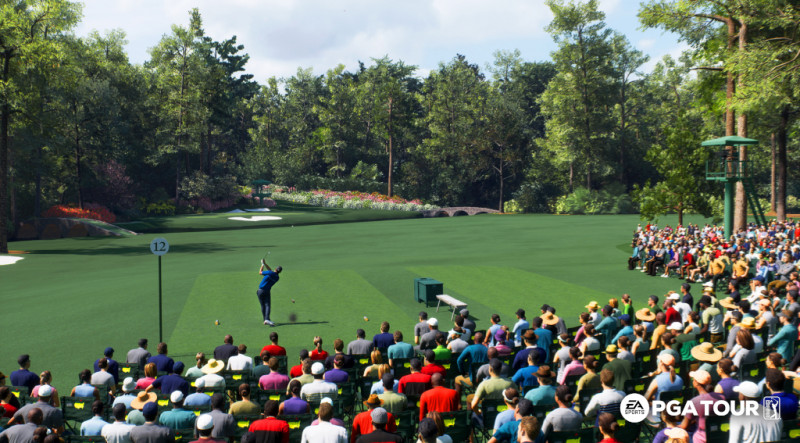 As we start this journey it should be known that Golf courses are iconic. Augusta, Pebble Beach, St. Andrews and TPC at Sawgrass, are all courses known for their foliage. For EA SPORTS PGA TOUR, every one of their 30 courses at launch (yes 30 courses at launch) were replicated from helicopter laser scans and GPS coordinates, but also with the individual course greenskeepers providing actual foliage data, and finally walking every course. This was something that surprised me because Golf courses are actually providing data on the trees used, how they are shaped, the types of grass used on the greens and on the course, the types of flowers planted and where and what color they are. By doing this they are literally recreating the courses down to the individual flower and using these methods, EA SPORTS PGA TOUR is set to deliver the most accurate course representations found in any Golf game ever made.



Now who will play on these courses you may be asking? Well EA SPORTS PGA TOUR is bringing to the table a laundry list of Pros from both the PGA and LPGA tours, and the amazing thing is that there are specific tournaments and majors that you can play in that are specific to the PGA and LPGA tours. These Pros are nice to look at using the game's Frostbite engine and the detail goes down to the hair level.

While the visualizations are impressive, nothing though will come close to the AI Pro player data. What this is, is the study of every golfer that's included and how they play their tournaments. What shot types do they pick, what club is their selection, how was the swing, what was the result of their swing, etc. This is data is what makes the AI at its core so unique. Imagine being paired with PGA Pro Rory McIlroy at Augusta for the Masters. Data has been studied and examined to provide you with Rory's shot types, club selections, etc., and when you play, you can expect your Pro to play exactly like they do in real life. This level of detail is incredible and goes a very long way to provide an authentic golf experience like never before.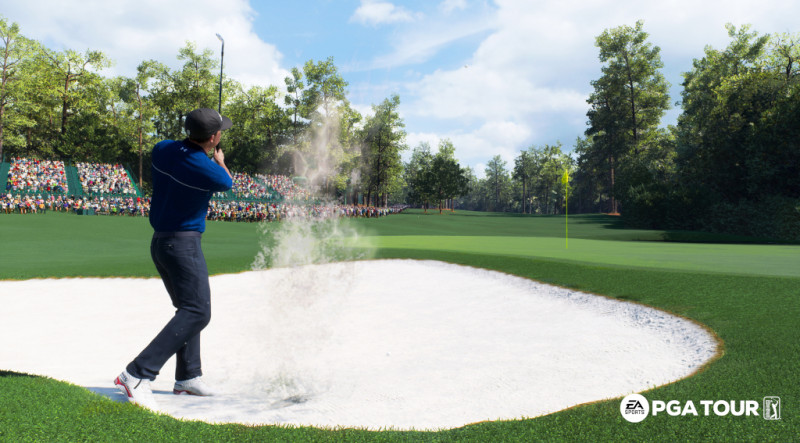 While professionals are nice to play against, the essential core of this golfing experience is your created golfer. This is where EA SPORTS PGA TOUR attempts to deliver some deep character development. You can start your created character in the amateur league, Korn Ferry, or the PGA. There are unique advantages to starting in the amateur league as you get to play unique events as you advance through the ranks and your character has the maximum ability to grow and develop. There are multiple stats contained within your created golfer such as power, spin, etc., and the XP you gain throughout your player progress will go towards leveling your character up and earning skill points.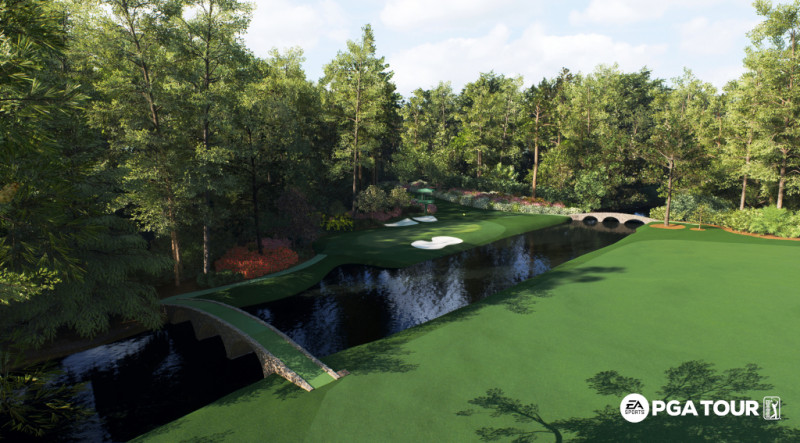 I'm willing to bet you already know how this is going to work out. You spend your skill points on the various traits of your golfer, but here's the kicker, as you level up, new shot types and strikes will be available for purchase using the XP that you already have. I tried to get some more clarification on that but sadly that question wasn't taken. This is because one of the new innovations of EA SPORTS PGA TOUR is the "shot types".

There are a total of 20 shot types that you can acquire, and each is unique for the individual club itself, and that provides over 1,300 physic profiles. This is in part to the reality that each shot produces individual shot angles and speeds just like you would find in real life. The ball control exists where your bounces and rolls are far more accurate and still implement the various elements, so greens will feel different based on the courses. This is thanks to the technology of Shotlink and Trackman to provide the most realistic swing and shot experience. Now it also should be noted that you can adjust the physics of every course and game so you will always have the ability to make the game what you want. A question that I'm hoping gets answered soon is if the weather is real time dynamic based on the location. So if you go to play Pebble Beach and the real weather is rain, will the game deliver rain as well?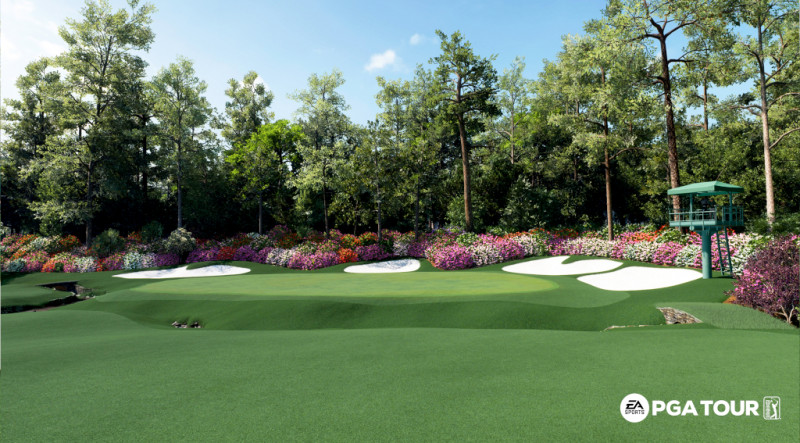 The big thing however is Putting. It's always been said "Hit for show, putt for dough.". The mechanics we saw showcased sloping greens using the traditional white tick marks that move, but now we see a putting 'power' which is located towards the putter head and based off your stroke will dynamically impact your putt. There is a putt assist line, but that can also be turned off for a more realistic experience. Greens now deliver realistic slopes and ball control and during the testing. The team took the game to Augusta to see how their real life caddies (who know the course probably better than some of their own family members) turned off all shot assists and tried to play and putt, and they said it was the most realistic experience they've ever played. This is a result of the painstaking details that went into making EA SPORTS PGA TOUR an absolute titan in the Golf world.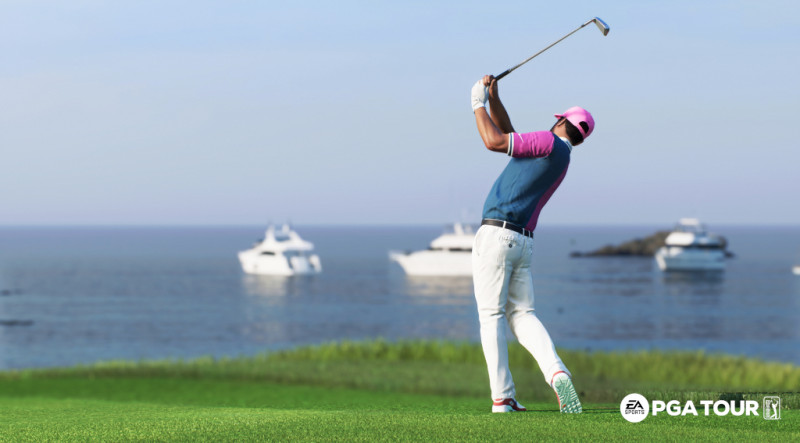 To go along with the aesthetics, EA SPORTS PGA TOUR looks absolutely beautiful in 4K/30FPS, but what about the gear? In the past, golf games have been setup where a user HAS to choose a certain club for maximum results and performance, but in EA SPORTS PGA TOUR, the gear is far more in depth and advanced. I have to say up front that no matter the brand (of which there are 40) of club, the appearance difference is ONLY aesthetic and that there is no 'one club better than another' syndrome here. This is because now you can tune your clubs. Briefly shown was the ability to actually tune your individual clubs themselves through the "Club Blueprint", so you can pick any club you want and tune it to how you want to play. This is a brilliant way to allow Golfers to pick their equipment that they like to play with, tune it to how they want to play and know that the playing field is leveled.

To control all this gear, the team has implemented an analog control scheme that will ship at launch, however it is confirmed that swing mechanics such as 3-click method will be implemented post-launch. Other impressive notes are when you're playing online with friends you can play with up to 16 others online, and when you're taking your shot you can actually see the other characters' created golfers or chosen Pros and watch them take their shots.

Other things to note would be the game modes such as Career and Challenge modes, along with Online play and Tournament play where you can go post your score in the global leaderboard and are paid out in rank points! Future support was also talked about and we can look forward to seeing over 5 new courses coming out along with more gear and challenges, so the future looks bright. And one last thing to mention is the return of the Mulligan! Now if you happen to sneeze while you're swinging, and your ball goes off into another postal code, you can have that shot back!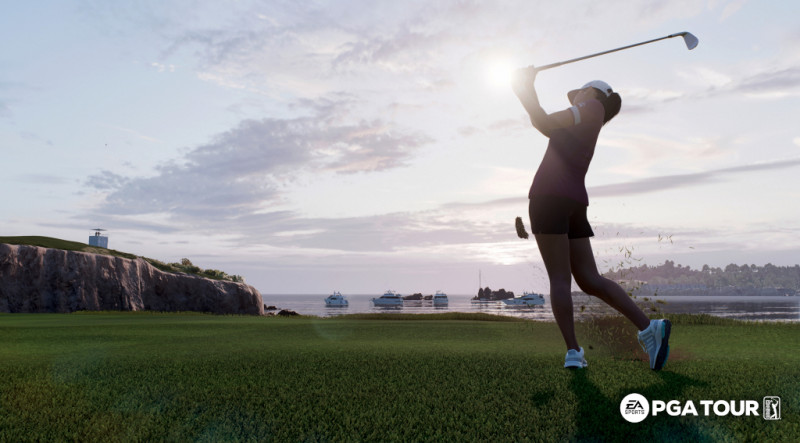 More will be announced leading up to the official launch on March, 24 2023 and EA SPORTS PGA TOUR will be releasing in Standard and digital Deluxe editions. The Deluxe includes some perks and bonuses to jump start your golfer, gives you 3 day access to Augusta and some exclusive tournaments and challenges. Personally I can't wait till our Golfer data allows us to have a 'Golfatar' (you read it here first) where our friend's created golfers can compete with us while they're not online. If they can shape AI play using data collected over years and decades, then why not collect our data as well on our Golfatar?

Anywho, without question PGA Tour 2023 is set to deliver the most in-depth and realistic Golf experience you will ever play. This is what happens when a new industry standard is set. Bring on March 24, 2023, I'm ready to Tee Up!