Tribes of Midgard: Witch Saga (Season 4) Review
by Adam Dileva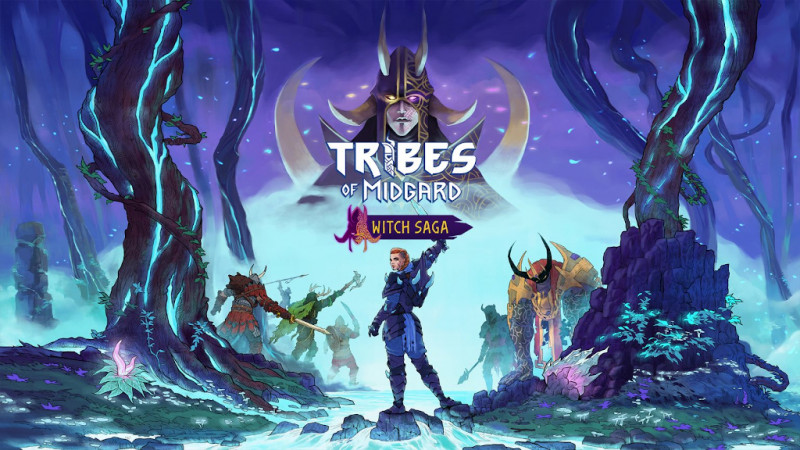 Welcome Back

When I reviewed Tribes of Midgard back in August, the latest Inferno Saga update (Season 3) had just released and happened to coincide with its console release at the same time. If you'd like to read my thoughts on the core game itself up until that point you can read my full review HERE, and while portions of this article will have sections of my original review, this is more going to focus on the latest update that just released, Witch Saga (Season 4).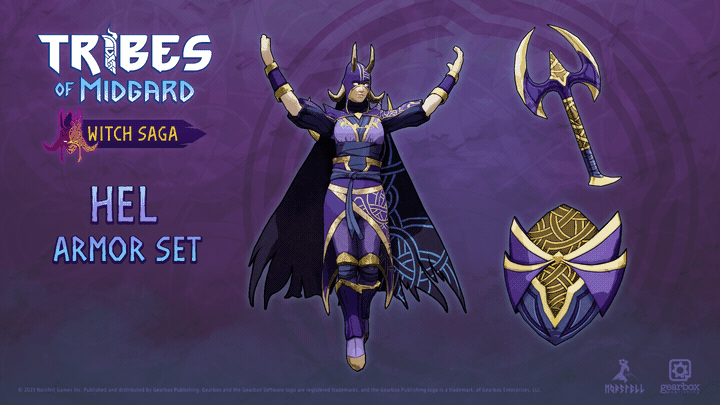 Just like the season, Witch Saga is a completely free update, adding a bunch of new content, some new mechanics, a number of quality of life improvements and more. If you thought there was a lot to do in Tribes of Midgard before, now there's even more to keep you busy. The best part? You can now have a farm growing as you hunt down a new Ancient to defeat and explore a whole new biome. Oh, and having played on Xbox previously I was unable to play with any of my PC friends. Worry not, as that's been addressed too, adding cross-platform play!



While there's no guided or linear campaign or narrative per-se, you play out different quests and objectives as you see fit. There is some background lore but the gameplay is what takes front and center stage. Even with the latest update, this doesn't change too much, but now you're going to have to deal with undead armies that are being sent to the Seed of Yggdrasil. Sometimes the best defense is a good offense though, so you're actually going to take the fight to the goddess of death herself, Hel, in her own domain, Niflheim. There's more to the story that you'll unravel as you progress, as why does she have a prisoner captive and how do you even access her domain?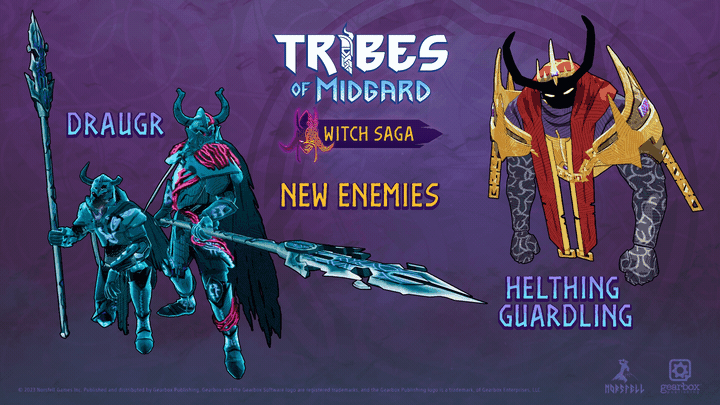 Witch Saga Update

So with the latest free season, Witch Saga, there's actually a ton of content that was not only added, but lots of changes and improvements overall. I'm not going to list every single item, change and improvement, but I will focus on what I found to be the most noteworthy. With Hel being the latest target you're going to attempt to defeat, this is a bit more involved than previous Ancient battles, as you're going to have to explore a whole new domain to even get to her. Not only will you need to complete a specific quest to gain access, but you're not going to survive if you're not fully prepared. This all culminates in a battle that is quite drastically different from other Ancient fights, very challenging as well especially for melee users like myself, but I won't spoil anything else about her showdown.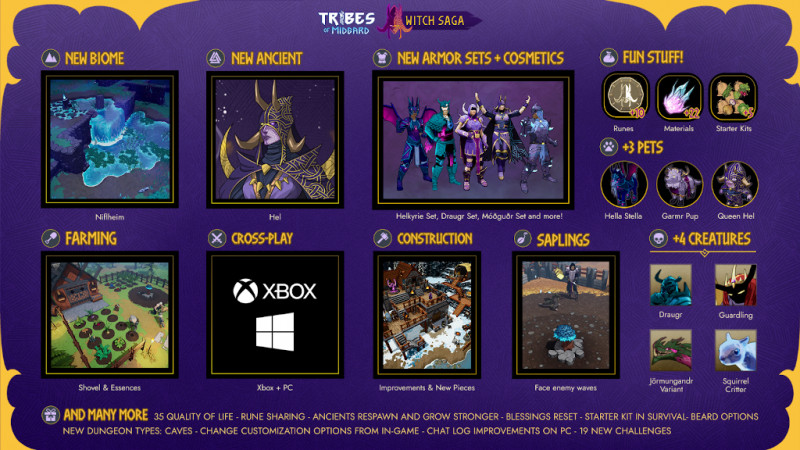 Hel isn't going to come to you, you're going to have to go to her home, deep in the depths of Niflheim. This is a dangerous area though, as Hel is well guarded, so maybe sure you're completely ready before trying to intrude on her lands. Being that she rules over the land of the dead, you can expect this whole new biome to be cold and dark, full of traps, loot, materials and new enemies to face. Taking the time to explore here is suggested, as there's some unique materials you can gather that will go towards crafting some new gear, certainly something that will help when you decide to face Hel on.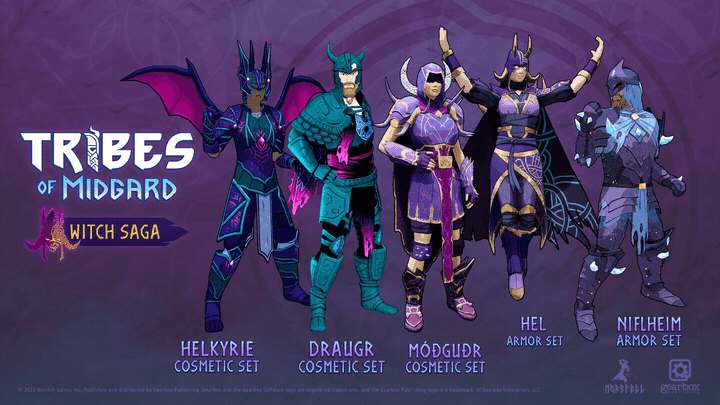 Farm Sim

Something new I never would have guessed would be added to Tribes of Midgard is the ability to be a farmer. That's right, you can now use a new tool, your trusty Shovel, to dig holes, plant seeds and then cultivate important ingredients and materials that can be used for a variety of different things. Special nodes and trees will give you 'essences' when you collect them, and these are what you'll plant in your garden to cultivate later once some time has passed. These essences allows you to grow items that you normally wouldn't consider plants, like iron and rocks, but take the time to plant and come back later and you can easily gather them for collection later. Is it a fully robust system that you could focus on solely if you wanted? No, but at least they are adding new mechanics and it does make sense if you're the type to build a base for yourself near the Seed.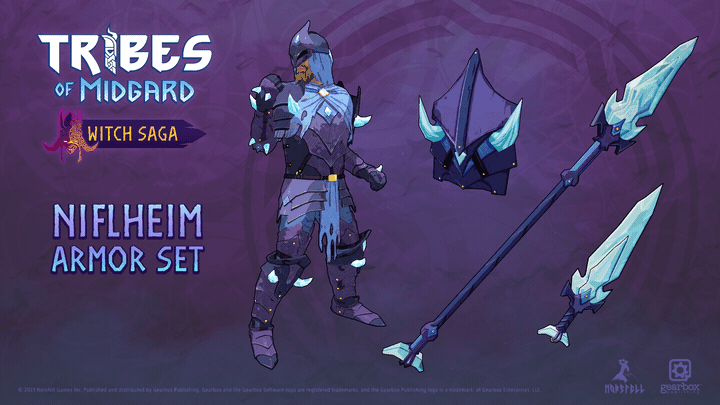 The other major addition would have to be crossplay. Now anyone playing on Steam, Epic or Xbox can all play together seamlessly. Having played on both console and PC, I had no issues in games where players from both systems were working together. Thankfully there's also no hoops to jump through to make this happen either, simply group up with your friends regardless of platform and take on Hel together. Of course if you don't want to have crossplay enabled you can turn it off if you only want to play with players of the same platform.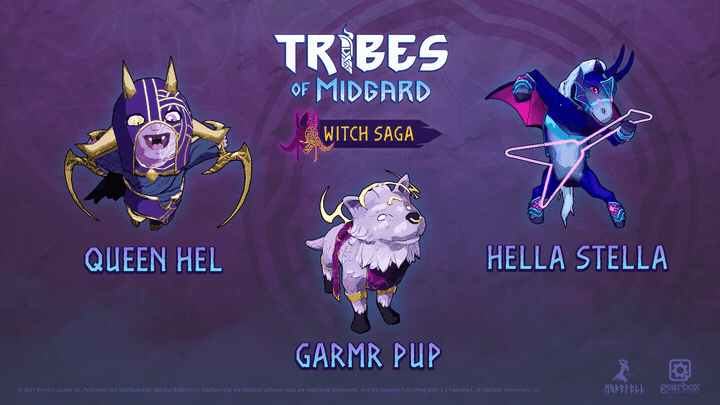 But Wait, There's More!

While there's a whole update page with everything that's been added, improved, changed and more, I'm just going to briefly mention a few of the notables that I found really stood out as great additions or quality of life improvements. First and foremost, remember how when you found a Rune and it didn't really do you much good based on your build or setup? There really wasn't much you could do with it since they couldn't be dropped or traded. Not anymore! Runes can be now dropped and placed into storage, so you can trade away or give to other players without any issues. A welcome addition indeed.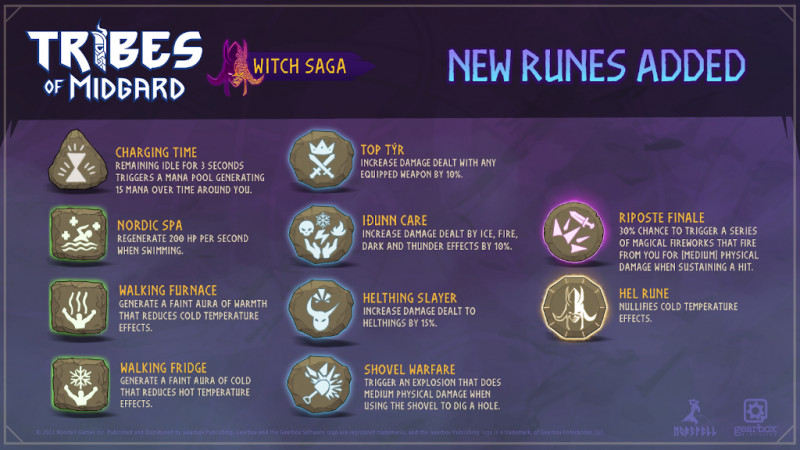 You can expect a handful of new armor sets, pets and more in the store, because you know how you always have to look the coolest right? Previously Starter Kits used to only work in Saga Mode, but not any longer! Feel free to use them in your Survival mode as well. Speaking of Survival Worlds, there's a whole new 'mini-game' you can play that involved Saplings. These little trees will have your farms grow at a must faster rate, but this will also cause enemies to appear and attack, so you have to hold them off if you want to be successful.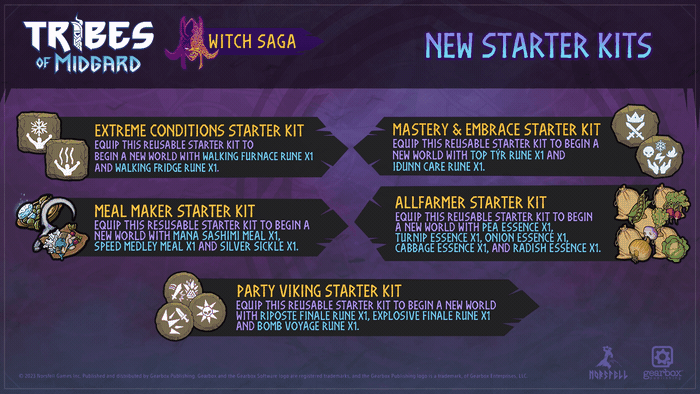 Villagers in your base can be upgraded, though until now you were never able to upgrade Dagny, the lovely NPC that can heal you every so often. Well, now you can upgrade her as well to help in your journey, especially when defending during the night portions. Speaking of your base, if you're the type that enjoys actually using the materials to build a base and home, the construction height limit almost doubled and goes up to 9 now, so there's going to be some creative bases built from this alone.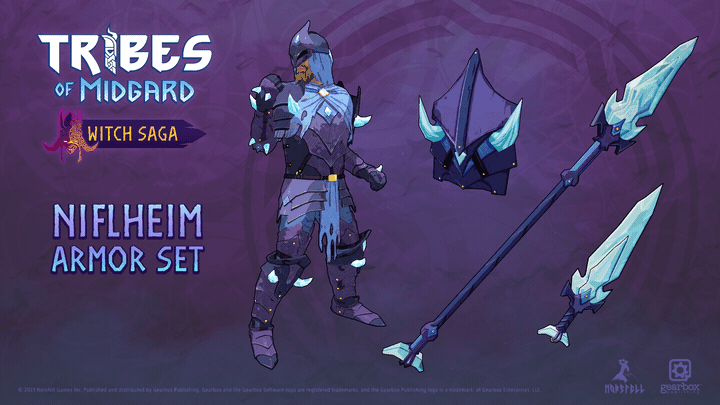 A Large Season

With Season 4's Witch Saga, Tribes of Midgard has even more content than before. With plenty quality of life improvements in addition to all the new content, and it being a free update, it's a no brainer to jump back into it to see all that's there for you to enjoy. If you've already mastered downing three Ancients in your runs previously, you now have a fourth to add into your rotation to keep things fresh, even if it's the same treadmill you're running on. Welcome to Hel.

** Tribes of Midgard: Witch Saga was provided by the publisher and reviewed on an Xbox Series X and PC**