Infernax: Deux or Die Review
by Adam Dileva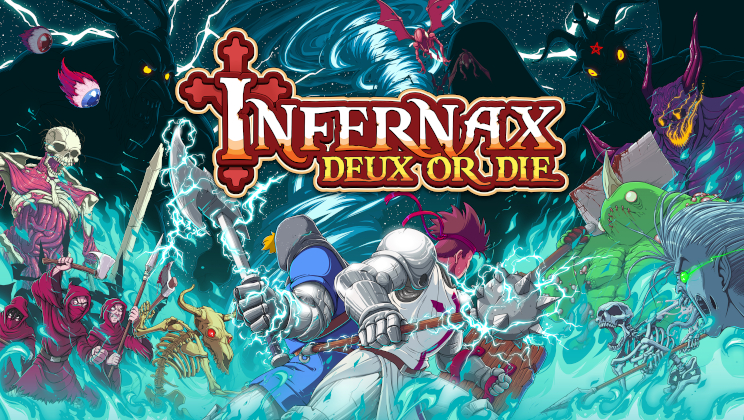 I quite enjoyed my time with Infernax when I initially reviewed it, an 8-bit adventure that fans of Castlevania and Zelda II should enjoy. The latest update, Deux or Die, has now been released, adding some unique new gameplay options, but before we get into that let's briefly talk about the core game (of which much will come from my initial review).

Set in the Crusades era, a knight returns to his homeland only to find it overrun with monsters, ghouls, beasts and dark magic. Armed with just his mice and shield, Alcedor does what he must to cleanse the lands of these atrocities.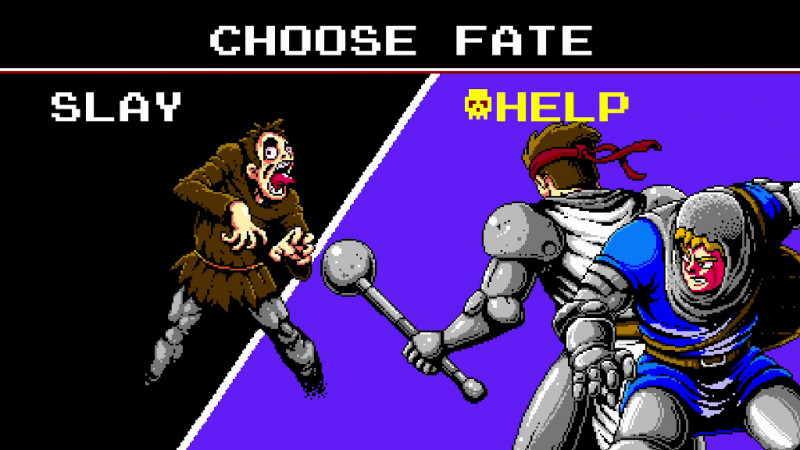 You have a map in the top corner, highlighting where you've been and where else is yet to be explored, which is white handy later in the game when you're trying to solve a puzzle and unsure if you've been somewhere or not. You'll eventually meet branching paths, sometimes unsure where to go, so exploration will help you as you kill monsters and earn experience points. Sometimes these pathways will bring you to secret or currently inaccessible areas, meaning you'll need to come back later at some point, most likely with some upgrade or ability that you'll find within the handful of dungeons.



Killing enemies with your mace will earn you XP and they usually drop gold as well. You'll come across a couple towns along your journey, able to spend your gold on equipment upgrades, potions and more. XP is spent at shrines that act as save points and refill your health and mana. You're able to upgrade your Might, Health or Mana, depending on your playstyle, with each tier costing more XP than the last. Health and Mana upgrades add more to your vitals, and while it seemed Might upgrades made me dish slightly more damage, I couldn't really tell even when it was maxed.

Shrines are also where you can input optional codes to help you progress in the game if you become stuck or frustrated, adding invincibility or infinite jumps. There's even a cool code that was given after seeing my first ending that was awesome, but I won't spoil what it unlocked. They're also used as teleportation points, so you can quickly fast travel from one Shrine to the next, which is quite handy when you finally earned an ability upgrade and now can access a new area way back on the other side of the map.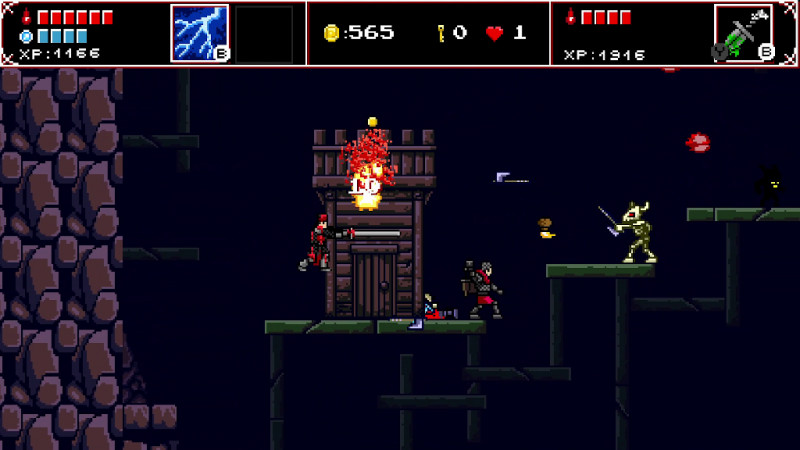 So what's the big deal with the latest update, Deux or Die? Well, the main addition, implied with its title, it the addition of local co-op. Now Alcedor can fight alongside Cervul the Squire. This makes the game playable entirely in co-op from start to finish should you wish. I'll admit, I initially expected Cervul to simply be a reskin without any special unique abilities, but I was wrong, he played vastly different from Alcedor in many ways, especially once you start unlocking and leveling his abilities.

Maybe you don't have someone to play alongside with, well fret not, as you can play both characters by switching between them whenever you like. The character not being controlled simply automatically follows, so even though you may be playing solo, it feels as though you have a companion. While the solo play as both doesn't have the same enjoyment, at least it's there for players to enjoy should they not have a couch player to play alongside, though online play would have been an amazing addition.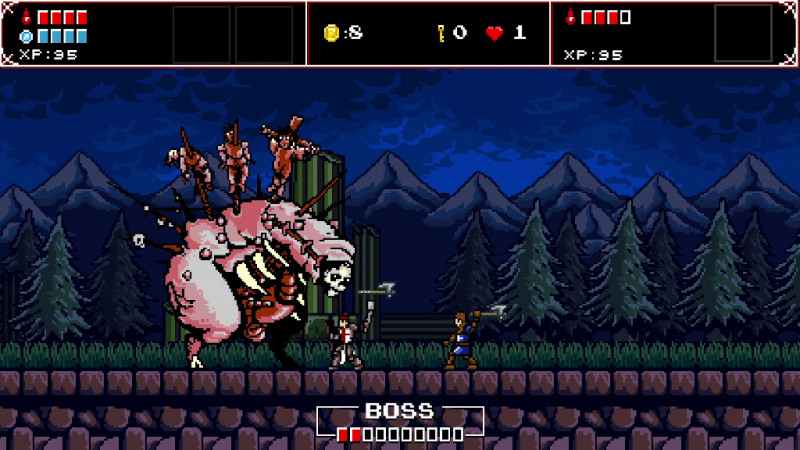 Cervul plays drastically different though, evident by tossing axes at an arc from the very beginning. Once you reach your first save shrine you'll notice that he also has some ability that can be unlocked with enough saved XP. Depending on the direction you hold, you can toss the axes in different directions and arcs. Where he needs help from Alcedor though is enemies that are directly in front of him, as his axes arc upwards and outwards, so you can instantly start to see where both characters are best suited.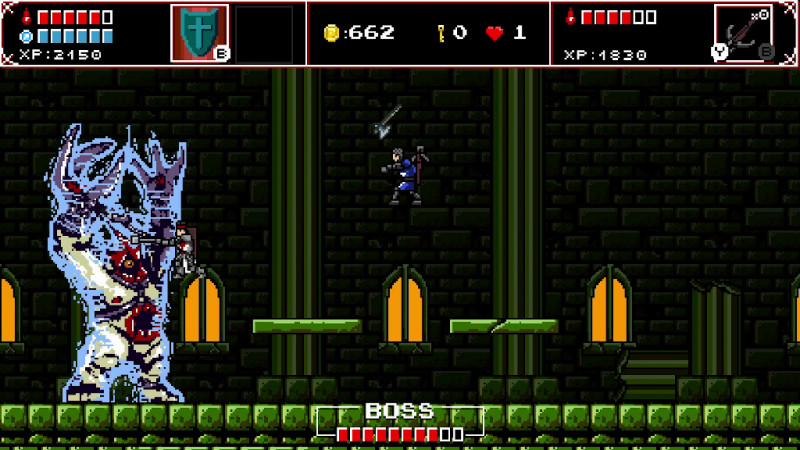 More than simply adding a new co-op character, the game has been reworked to accommodate this as well. One of the first cliffs you reach in the oringinal game had maybe two or three floating eye enemies, now, there's at least about a dozen or so. Actually, almost everywhere you explore there seems to be a vast increase in enemies if you played the core game, adding some new challenges. Since there's now two of you and you both attack differently, you'll need to work together to do so efficiently.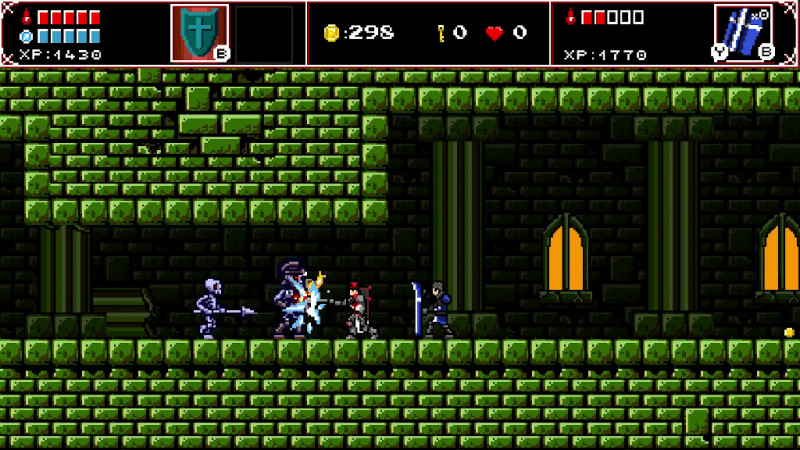 Alcedor is still best out in front with his shield and mace, where Cervul can toss axes from behind or towards the airborne enemies. But what really sets Cervul apart is his four unique abilities that you can eventually unlock and upgrade. Pavise, Crossbow, Banner and Bandages can be chosen and cycled through once unlocked, each even having multiple ranks of upgrades.

Pavise is essentially a massive tower shield, one that makes Alcedor's look miniscule. It's so large that Cervul actually can't use a weapon while carrying it, though can bash enemies if they get up and close. You're able to drop the shield on the ground and use it like a barrier to hide behind, then tossing your axes over. Upgrade and you can not only hold the shield upwards to block airborne projectiles, but can use as a platform for Alcedor or even hold two of the shields, in the front and back.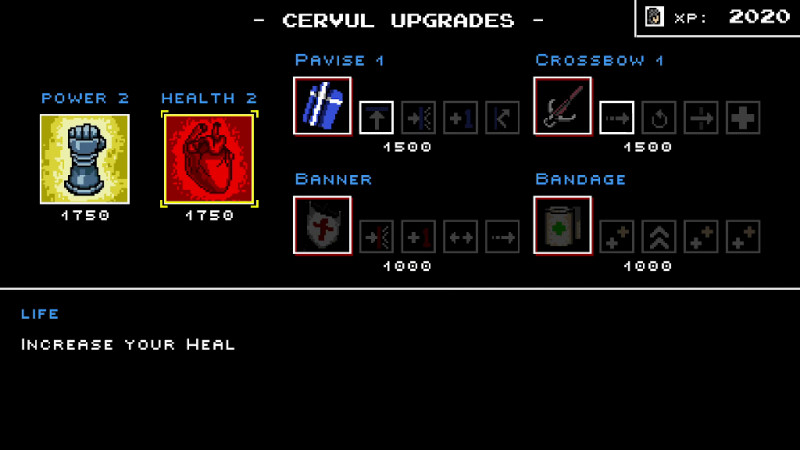 Crossbow is pretty self-explanatory, allowing Cervul to shoot a bolt from afar, though this needs to be reloaded after every shot. Upgrading this will allow for a more powerful shot and longer range, a great way to add in some quick damage while Alcedor is in the thick of battle.

Banner is the upgrade I enjoyed the most, as it gives an attack and speed buff to both players. Much like the Pavise upgrade, you can eventually place the banner on the ground to get an area buff but also allowing Cervul to attack with his axes as well, though you can bash while holding the Banner also.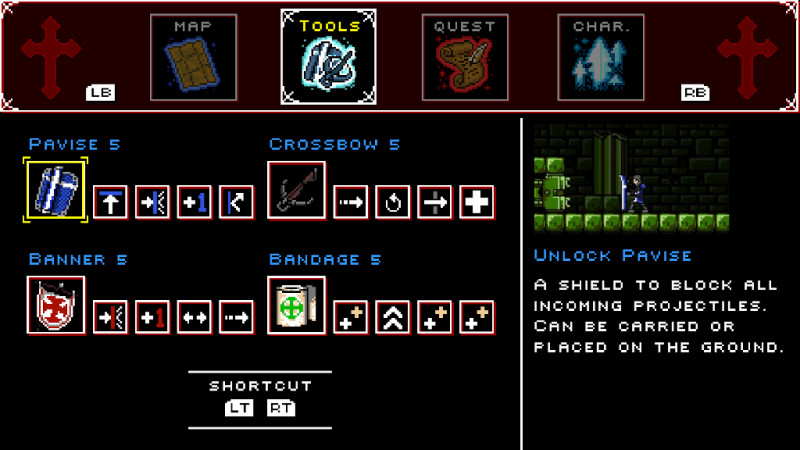 Lastly is the Bandages upgrade, allowing you to, well, heal. Not only do these heal Cervul, but you can heal your co-op partner as well. Since Infernax is quite a challenging game, having more healing options is a great addition when you're not near a shrine.

Just like the core game, the Deux or Die update makes a great game just that much better. The 8-bit pixel aesthetic is great as ever, as is the over the top blood and gore, bosses and animations. The retro chiptune music is as catchy as ever and it was great revisiting the world Alcedor and Cervul's world.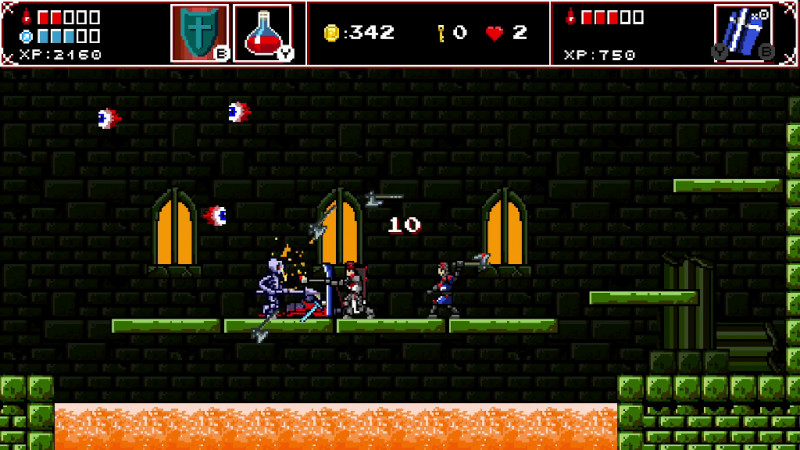 Developers Berzerk Studio clearly spent a lot of time and effort into making the Deux or Die update a substantial offering, especially for a free update. It would have been easy to simply make Cervul a different skin, but with his unique abilities, playing Infernax alongside a friend in co-op is the true definitive version, adding a lot of new mechanics and challenges, even for the most grizzled Infernax veterans. It's dangerous to go alone, that's why there's two of you now!


**Infernax: Deux or Die was provided by the publisher and reviewed on an Xbox Series X**