XGIMI Horizon Pro Projector Review
by Adam Dileva







Features and Specifications


Video
Type: Home Theatre Projector
Display Technology: DLP
Supported Formats: HDR10, HLG
Brightness: 2200 ANSI Lumens
Resolution: 4K Ultra HD
Standard Resolution: 3840 x 2160 pixels
Aspect Ratio: 16:9
Lamp Life: 30000 Hours
Lens: High Light Transmission Coated Lens
3D: Yes, Frame Packing & Side by Side
MEMC: Yes
Throw Ratio: 1.2:1
Auto Focus: Yes
Auto Keystone Correction: Yes
Keystone Correction (H): +/- 40°
Keystone Correction (V): +/- 40°
Keystone Correction Method: Automatic & Manual
Intelligent Screen Alignment: Yes
Intelligent Obstacle Avoidance: Yes
Projection Method: Front, Rear, Front Ceiling, Rear Ceiling
Image Size: 30" - 300"

Audio
Speaker: Integrated 2 x 8W Harman/Kardon
DTS-HD: Yes
DTS-Studio Sound: Yes
Dolby Audio: Yes
Dolby Digital (DD): Yes
Dolby Digital Plus (DD+): Yes

System
RAM: 2GB
Storage: 32GB
System: Android TV
Mirroring Display: Chromecast built-in/Airscreen
Fast Boot: Yes
Mounting Bracket Style: Ceiling Mount, Wall Mount, Projector Stand, Tabletop Stand

Connectivity
Input Ports: DC x 1, HDMI x 1, HDMI (EARC Supported) x 1, USB x 2, LAN x 1
Output Ports: Headphone x 1 (3.5mm), OPTICAL x 1
WiFi: Dual-band 2.4/5GHz, 802.11a/b/g/n/ac
Bluetooth: Bluetooth 5.0/BLE

Measurements
Product Size (H x W x D): 13.62 x 20.84 x 21.84 cm
Product Weight: 2.9kg
Warranty: 1 year

Inlcluded
Power Plug, Warranty Card, Bluetooth Remote Control, Manual

Unboxing



While I don't factor in the unboxing experience or the overall packaging into my final thoughts or scores, there's something to say about a product that is not only packaged well to safeguard shipping trauma, but opening a new piece of hardware you just spent your hard earned money on is always that little bit more exciting when the box is designed well and really does feel like an experience. The XGIMI Horizon Pro comes in a very slick appearing white box and was packaged extremely well with plenty of padding to protect the internals.

Tasteful Design

First impressions, the XGIMI Horizon Pro looked and felt quite impressive from first glance once unboxing. It may have a plastic casing, but it feels premium and feels quite solid even when taking it out to place on your shelf or mount. Just shy under 3kg, it has some heft to it for its size, but not overly where you'll need to worry about it on possibly a glass shelf or stand.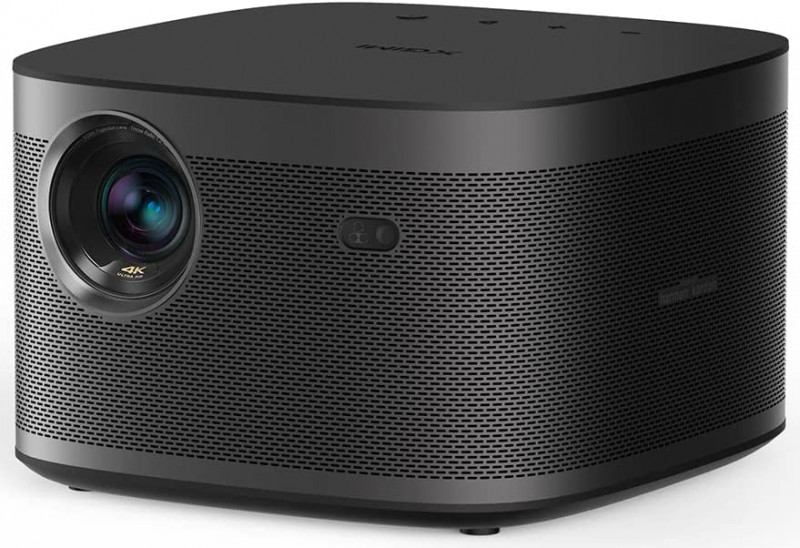 It has a cube-like shape, though the edges around its perimeter are rounded and smooth, black and grey in color with a visually pleasing grill across all the sides for ventilation. If you've ever had a GameCube before, it's slightly larger than that in size, which is impressive for the power within its small chassis. It's a very luxurious design that's sure to fit right in with any home design. The accompanying remote matches the modern design with only a few buttons, some raised and some flush with the face with a dial-like appearance right in the middle, but more on that shortly, as I had some minor complaints with it.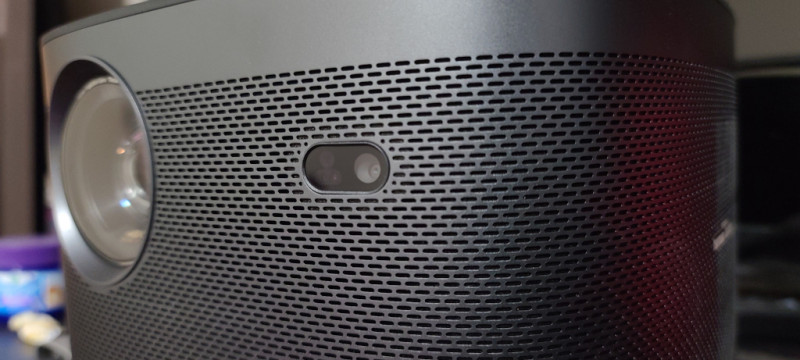 All of the inputs are hidden in the rear, easily allowing for a clean aesthetic on your shelf or hiding the cables. Given how 'portable' the XGIMU Horizon Pro is, I do wish there was some sort of handle, or at bare minimum, a carrying case or sleeve. That said, the lack of any sort of lens cover was a little bit of a disappointment as well, though not a deal breaker. The small form factor is helped by having the power cable connect to an external power brick, also helping keeping the ambient noise of the device low, as well as heat generation. My only complaint with the power cable is that it's quite short, something to keep in mind in case you are ceiling mounting or having it placed somewhere afar from a regular wall outlet.

XGIMI Horizon Pro



Let's start off with the price, because that will be what some decide right away if the XGIMI Horizon Pro is suited for their budget or not. With an MSRP of $1899 USD (though some heavy discounts can bring it down significantly), it may seem like an expensive projector, but when you compare to other higher end 4K projectors, it's actually in line price wise.

Considering the last high end TV I bought was roughly the same price, if I knew projectors have come along this far since the last time I looked into one, I may have actually done some more research. In all honesty, I've never actually considered a projector for a number of reasons, though now done my homework, I seem to have been misguided by years of technology advancements.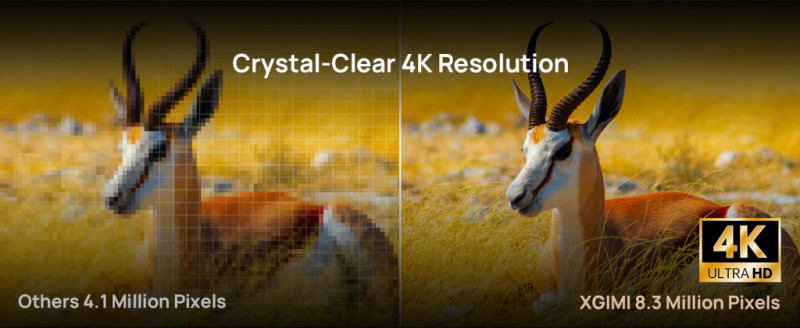 I used to think bulb replacements were immensely expensive, and given that the XGIMI Horizon Pro boasts a 30,000-hour (1250 days) lamp life before needing replacement, it's not really much of a concern. My other issue also came from having to use a projector from work often, and if you've had to do so as well, you know how much of a hassle it is to get the angle just right, the distance, adjusting the feet, all so it doesn't look misaligned. Again, not going to be an issue with the XGMIMI Horizon Pro.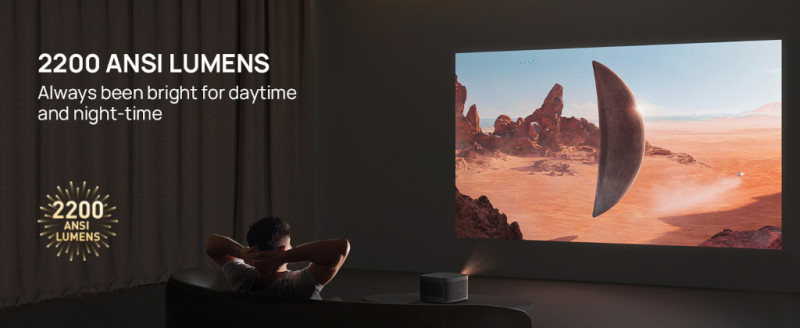 Truth be told, I've actually never heard of the XGIMI brand, so I went in a little skeptical, wondering how they could compete with the likes of Epson, BenQ, ViewSonic, Optoma and others. They've been around since 2013 and I hope to see more of them, as their lineup of projector products are quite exciting, more so now that I've gotten my hands on the Horizon Pro. Being able to partner with companies like Google and Harman/Kardon speaks to their quality as well, and it doesn't go unnoticed.

Having had the last few weeks to use the XGMIMI Horizon Pro, it quickly became a 'thing' with my daughter of who gets to use it and when. She instantly fell in love with watching her YouTube and Disney+ on the bedroom wall, though my critical mistake was hooking up her Switch to it so she could play large scale Splatoon 3, as it was a challenge to use it for myself after that. Using it for my devices, my Xbox and streaming, I too quickly realized how much I enjoyed the home theater experience, usually forgetting it was coming from the small little box on the dresser. Even my wife who doesn't know or care about technology mentioned that "Yeah, we need this in the bedroom now", which speaks volumes.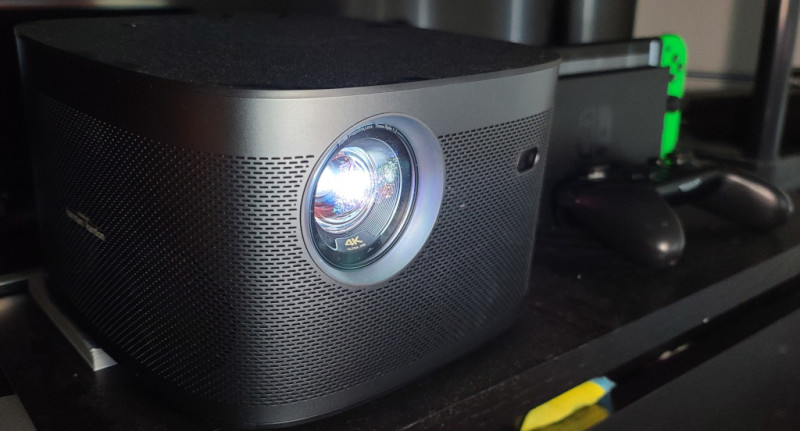 While the 4K may be the Horizon Pro's main selling feature on paper, there's so much more included that was quite impressive once I got it unboxed and started to play around with it. It's essentially ready to go out of the box after a quick setup, and you won't have to worry about spending countless hours getting the keystone and angles of the screen just right with its Intelligent Screen Adaptation (ISA) technology. Even in some brighter rooms, the brightness was more than enough and the built in speakers impressed much more than I initially expected.

Regardless of any room or placement, to a degree, the 1.2:1 throw ratio means you'll be able to place the projector virtually anywhere and it will project to your wall without issue, regardless of distance. Maybe you're only able to put it about 20 feet away, or you have a massive room and want to have it appear as if its 300", it's all adaptable to conform to your space. I have a small apartment, so I was unsure how I was going to make it work, but even with my smaller confines it was able to take up one of my walls without issue.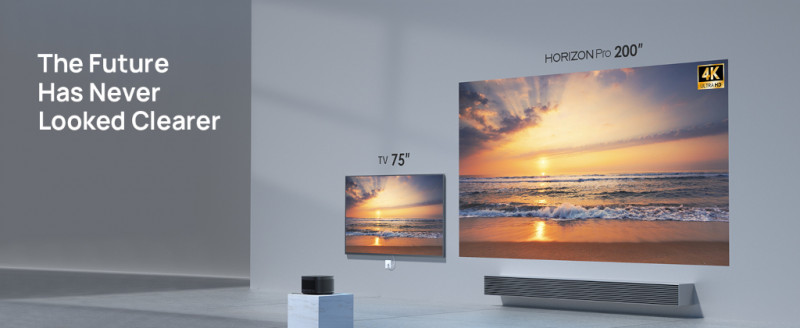 As I was mentioning above, I used to steer away from projectors as I thought the bulb life wasn't all that great. Fret not, as the lifespan of the LED light source is incredibly efficient, boasting a 20 year lifespan even if you used it for 4 hours every single day. Even IF you left the projector on 24 hours a day, 7 days a week, it would last 4 years. Obviously this wasn't tested at my level, but even after heavy use the last few weeks, I see no picture degradation or brightness issues at all.

Painless Setup



As mentioned above, setting up the Horizon Pro is as painless as it comes. Place the device where you want, do a brief setup and you'll be ready to go in minutes. Given that the device is Android based, this will be incredibly simple if you happen to have an android phone or tablet already setup at home. I was asked if I wanted to setup via my phone, clicked yes, followed a few prompts and all my information and accounts was transferred over. within moments. I didn't have to mess with getting onto my Wi-Fi or any of that, it was probably one of the smoothest setups I've ever had with a new device. That's not to say that Apple users can't do the setup, but you'll have more manual steps to get it running is all. Funny enough, the only issue I struggled with was pairing the remote, as the instructions are all picture based instead of text.

There's plenty of connections on the back, so plug in the devices you want to use. Two HDMI (one of which are ARC supported), 2 USB ports, LAN port, 3.5mm headphone port, optical port and of course Bluetooth (5.0) and Wi-Fi (802.11a/b/g/n/ac). These connections give a lot of options based on your setup, so if you want to connect to devices via Bluetooth you certainly can, or use the optical port to connect to your stereo system or soundbar, there's plenty of versatility.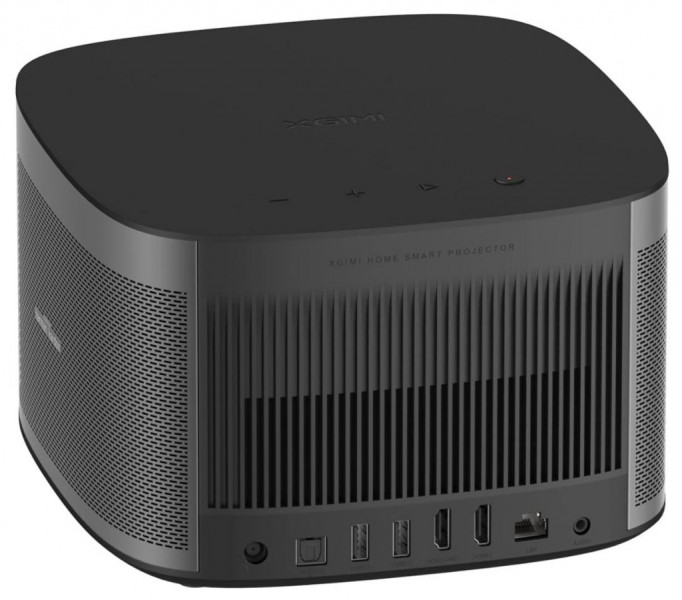 I was kind of surprised that the Horizon Pro didn't have adjustable feet on the bottom. I know that many devices now allow adjusting keystone corrections via the device and software, but they've gone another step further. I'm so used to having to manually adjust the feet to be even and at just the right angle or placing some books underneath to have it project where I want. Forget all that, XGIMI's Intelligent Screen Adaption Technology sold me in seconds. Automatic Keystone correction, auto focus, auto alignment and even obstacle avoidance was incredibly impressive and made the hassle of setup a thing of the past.

Keystone Correction has been around for a long time, changing the angles of the corners to adjust the picture so it projects properly, but the automatic correction is quite impressive. Allowing for a +/-40 degree vertical and horizontal angles, it will not have any issues getting that perfect rectangle image, regardless of setup or size. Sure I made some minor manual adjustments for my own preferences but most should be completely fine with the automatic setup. The only thing that is a minor irritant is that the whole picture keystone corrections are being made within the full image. What I mean is that if you 'shrink' the size down to adjust for certain angles, you'll have a faint grey border around the picture for the areas that aren't being used. Sure I stopped noticing this after about a day, but I also have mine setup in an awkward place, so it was a fair trade off to get the even picture I wanted.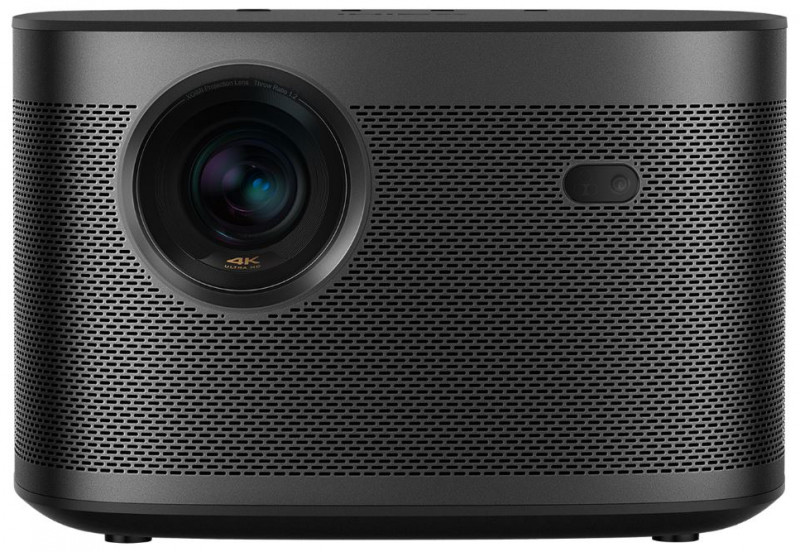 The auto focus is also a nice touch, making sure your picture will be as clear as possible in your specific setup and scenario. Again, you can manually fine tune if you wish, and if the device senses it's been moved it will automatically refocus itself. It's quite impressive and I never had to worry about having a blurry screen on the wall.

There's also an automatic brightness adjustment as well. Just as you'd expect, there's a sensor that is detecting any ambient light in the room, adjusting the screen brightness up or down as needed so that you can have the most optimal picture at all times. Sure there's a bit of washout if I have the curtains open on a sunny day, but being able to manually adjust and put on maximum brightness never really made this a concern. Like any projector setup, the darker the room the better the picture, but there wasn't a worry about not being able to see anything even during the day.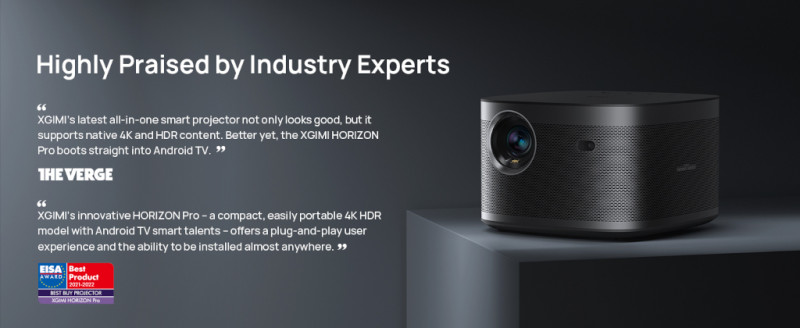 There is of course a few different preset modes to be best suited for what content you're watching: Movie, Office, Game, Sports and Custom. While I was fine with the default settings of each mode, again, you're able to choose Custom and freely change the RGB settings, brightness, contrast, saturation, HDR and more depending on your preferences.

Saving the best for last, during the setup though was the impressive Intelligent Obstacle Avoidance system. With a projector you want to have your picture on a flat and blank wall for the best experience. That's not to say you can't have the screen overlapping on some outlets or paintings on the wall, but you won't have the best experience if so. This is where XGIMI's magic comes in. I don't know what technological wizardry they had to do to make it happen, but the Horizon Pro will scan your wall as it's doing its setup, detect any obstacles like shelves, paintings, outlets, etc, and scale the image around or in-between those objects. This means the device is smart enough to know that there's a painting on the wall off to the side, so it will scale down the picture to not be overlapping on any objects. How it does this magic I don't know, but like all other settings, you can of course manually override this if you want otherwise.

Crystal Clear 4K Picture



3840 x 2160 resolution means you're going to get a crystal clear 4K image from over 8 million pixels. With a 2200 ANSI Lumens rating, the picture will be incredibly bright as well, even if you have the screen over 200". No more having to trade off size for clarity and brightness or worrying about having a bad picture mid-day when the sun is out. Even streaming full 4K videos, there were no issues and it looks absolutely fantastic from brightness to vibrant colors. I can't stress enough how crystal clear and bright any media I played was; impressed was putting it lightly. Having HDR10 support as well means the contrast ratio is going to look fantastic as well, regardless of your environment's light levels.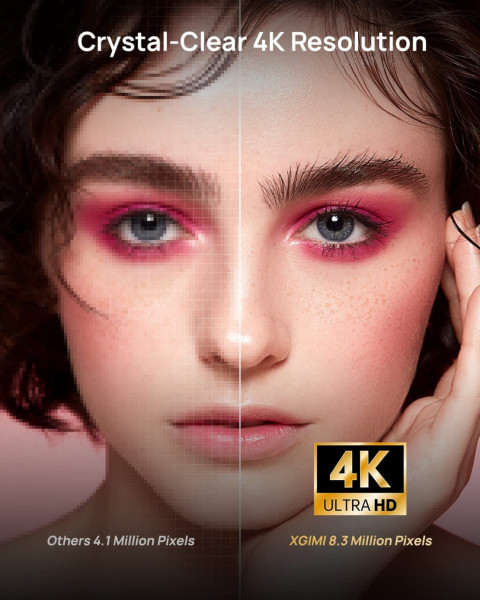 While I think the 3D movie fad may be over, as even very few current TV's offer the option, there's surprisingly support for 3D projection here as well (Frame Packing and Side by Side). The setup is quite simple to do with the remote, essentially enabling and choosing the corresponding 3D mode and voila, those 3D Blu-rays will not go to waste if you already have a pair of glasses.

A Bland Remote

I have a love/hate relationship with the included remote. It's a basic looking remote, but it seems to be made of some sort of aluminum or brushed metal on the bottom and rear portion which feels absolutely fantastic while being held. A small XGIMI logo at the bottom of the remote, a handful of buttons at the top and a circular wheel in the middle is all that's on the face. The only buttons with a raised texture is the volume up and down, so since the device is still new, I'm fumbling to try and find certain buttons when the room is dark. This has gotten better over time, but having a backlit remote would have been a great addition. And my last complaint is that XGIMI doesn't provide the two required AAA batteries needed for the remote. Really? At this price point, even a pair of cheap batteries would have prevented me from scrambling to find some during setup.


Surprising Audio

I've never actually used a projector that has built in audio before, so I wasn't quite sure what to expect. If I'm being honest, my expectations were quite low. I mean, how can a device that's sitting far behind me give decent audio and fill the room, right? This is where the impressive Harman/Kardon built in speakers come into play. Harman/Kardon is a well-known audio brand that creates very well made products, known for their quality and sound profiles, so how does their unique sound translate to being built into the Horizon Pro? Somehow they've made their audio wizardry work.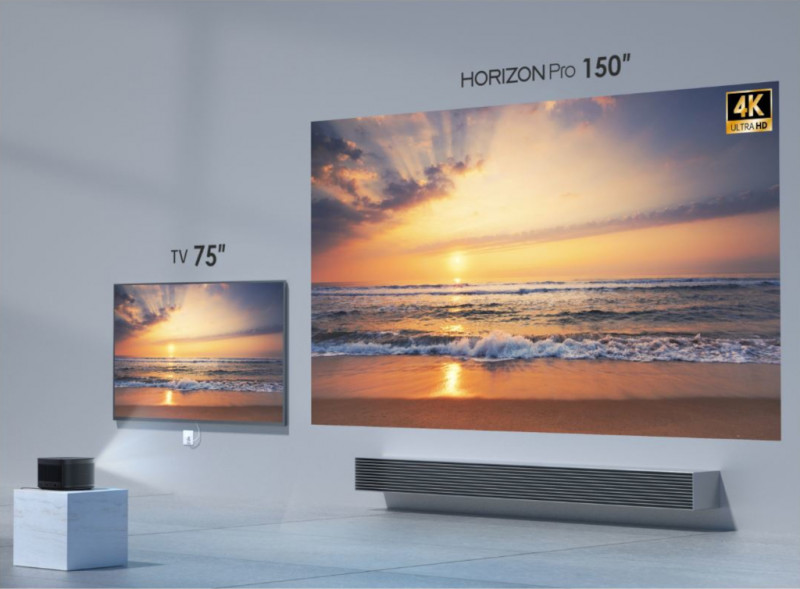 With two 8W 45mm speakers built in on each side of the device, I'm not sure how they did it, but they were able to fill my room with clear audio, and at times I swore the audio was coming in front of me with how it bounced off the walls. The audio can actually go quite loud, much more than I was expecting. To fill the bedroom, anything over 25% volume was actually quite loud.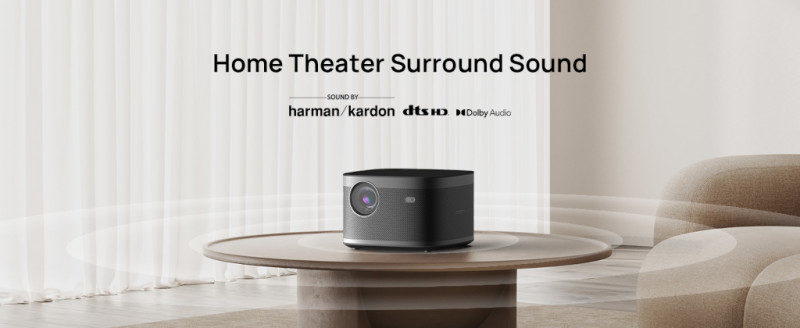 Now is the built in audio going to be as good as your stereo or home theater setup? Of course not. A Soundbar may even be a better choice, but for what's built in and for someone that doesn't even normally have a 7.1 setup anyways, I was more than impressed with the built in speakers of the Horizon Pro. Audio always sounded balanced, never had any distortion even at high volumes, action movies and explosions had 'oomph' considering no subwoofer, and dialogue was always very clear. Even adding a Hi-Fi Bluetooth speaker is an option if you wanted, so you have plenty of choices with extra audio connections, ARC or Optical. With Dolby and DTS decoding support, there's also a few different sound profiles to choose from: Movie, Music and Sports. While I didn't notice a drastic difference between the modes, I'm sure audiophiles will adjust based on what they are watching or use their external options.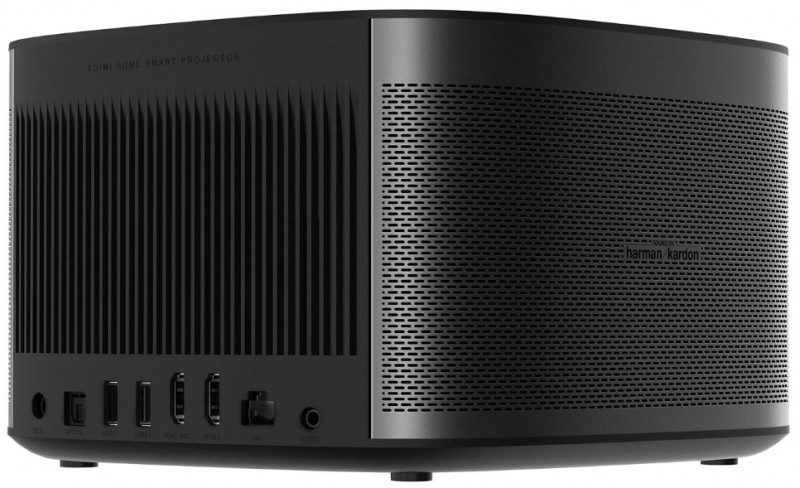 I was kind of surprised that the Horizon Pro was quite quiet overall in terms of its ambient fan noise. Even with a few hours of continuous use, I was never once distracted by its fan. Maybe I had the volume up too high to notice, but I expected to at least hear a slight distraction of the whirling fans to cool the device. Thankfully this wasn't an issue once, though possibly the speaker placement was purposely designed to drown the ambient noise. Even when I have the audio muted, it was difficult to hear the fan from my sitting position in the bedroom just a few feet away, it was quite impressive. Actually, I could hear my console fans being louder than the projector itself.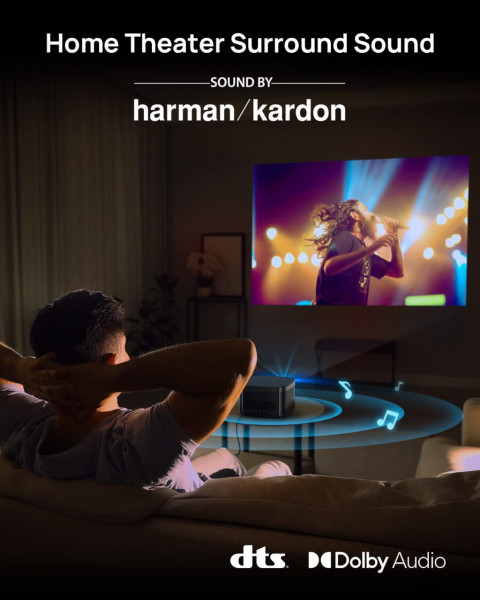 Impressive Gaming

I tried hooking up a range of my consoles and devices for some gaming on the wall. First off, I enabled the Gaming Mode that's supported with the HDMI 2.0 port (though it was a bit of a bummer to not have HDMI 2.1 support for VRR with the Series X). Just like setting up your consoles on any TV, it's much the same by simply hooking up the HDMI and changing the input. I did have to manually change to the Game Mode though, something I wish would auto detect when using a specific port.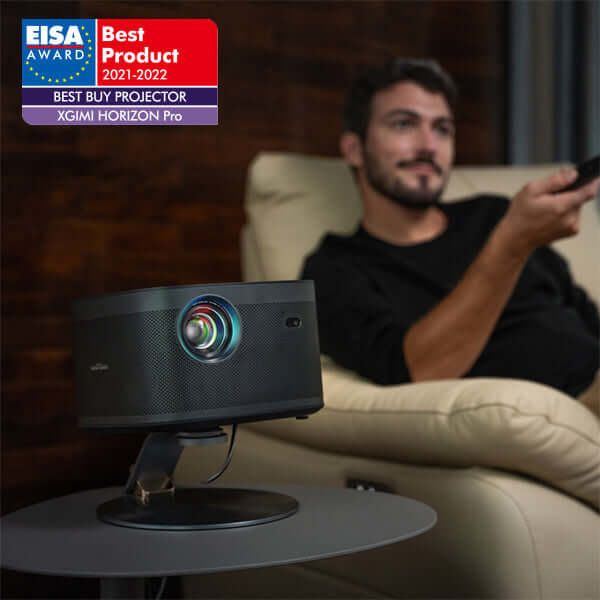 Depending on what you play and your devices, some gamers have a heavy focus on input lag and opt to use monitors for their low latency. This is of course critically important for anyone playing something competitive online, like a Call of Duty for example. Others like myself aren't so concerned with having near 0ms input lag and opt to play on a large TV and sit on the couch anyways. With a 35ms input lag in Game Mode, this will be perfectly serviceable for anyone that already plays their console on a TV, though you may need to do some tweaking if you decide to play a rhythm game where audio and video needs to match. It's certainly manageable and eventually not much of an issue. Without turning on Game Mode, it's not that games are unplayable, but there's certainly a massive difference in the input lag without it enabled, so double check as it only takes a few seconds to change in the settings at any time.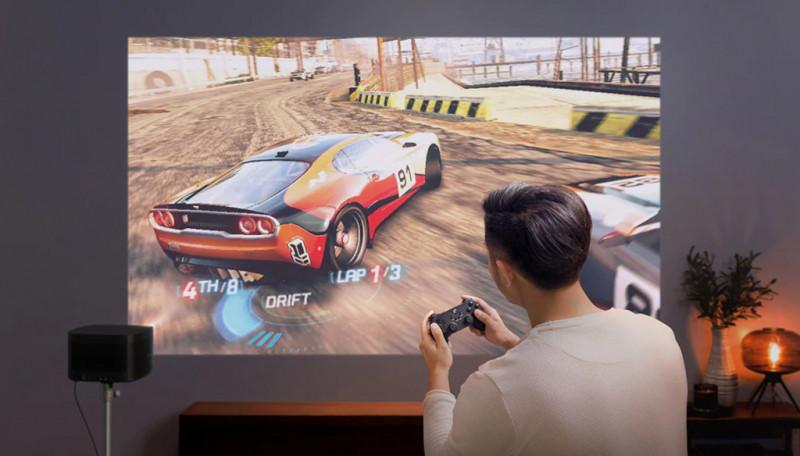 I tested my Nintendo Switch, PS4, and of course my Xbox Series X, all of which had no issues. My daughter was ecstatic that she got to play her Splatoon 3 on a massive wall and I of course getting to play my Xbox games on something much larger than my TV. Bright screens are going to light up the whole room and it was great to play some races in Forza, some online Call of Duty and a handful of gorgeous indie games. I'm not sure if I would recommend the Horizon Pro if the sole usage was going to be for console gaming, but if it's going to be just another factor and option, absolutely it's a bonus to have.

Apps, Apps and more Apps

Given that the Horizon Pro is based on the Android TV OS, there's some pros and cons to go over. First off, having an Android OS means it's simple to use, gets regular software updates and allows access to the Google Play store for countless apps and services. Of course being a projector you'll want the standard fare for streaming like Amazon Prime Video, Hulu, HBO, Showtime, Disney+, YouTube, Plex, Netflix* and countless more.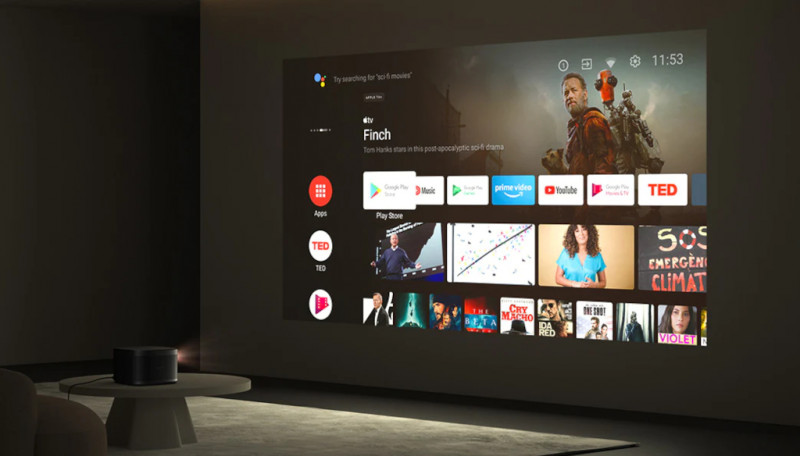 Remember that simple and easy setup you did initially to get the projector up and running? That copied over your Google account too, so you can simply start getting other apps you want right away without any hassle. Chromecast is of course built right in, enabling you to seamlessly cast to your Horizon Pro from other devices. After I setup all the steaming apps and logged into my accounts, I was good to go to watch basically anything I wanted. Watching my Plex library on a massive wall was surely a new way to enjoy my movies and shows. That is, until it came to Netflix.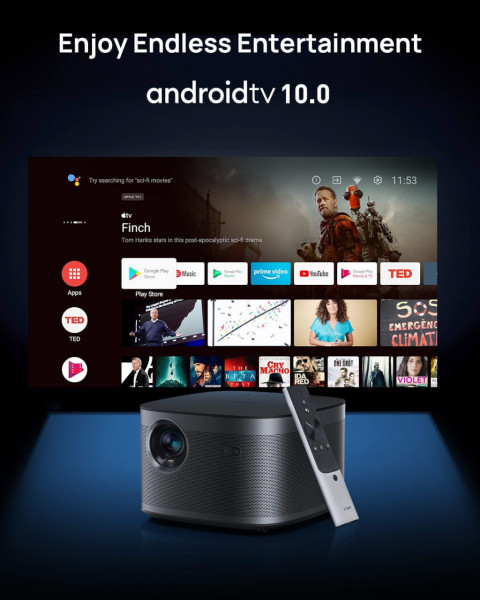 While you can download and run the Netflix app, there's currently an issue where it won't natively run in the app. This actually is no fault of XGIMI or the device itself, but more on Netflix' allowance of letting certain devices run the app, even if it's on an official Android TV device like the Horizon Pro. This of course was disappointing, but thankfully there are work arounds. I won't go into much detail, but there are other apps you can download as work around (thank you DesktopManager), though this wasn't too much of an issue with the consoles connected, as I'd suggest simply using any other steaming player like an console, Firestick or Roku for example.

Final Thoughts



I was a little skeptical before unboxing the XGIMI Horizon Pro. I wasn't sure how it would compete with my high end TV that I do the vast majority of my gaming and media watching on. It's clear that projector technology has come a long way since the last time I researched it, and what was once thought of as a luxury, is now certainly a viable option if it your environment is suited for it. Out of the box, the Horizon Pro simply works, and works well allowing those that want to make fine-tuned adjustments to customize the picture to their liking. The auto keystone and focus options are fantastic and the object detection when setting up your picture still astounds me. Setting up the projector is no longer the hassle it once was and you'll be up and running in no time.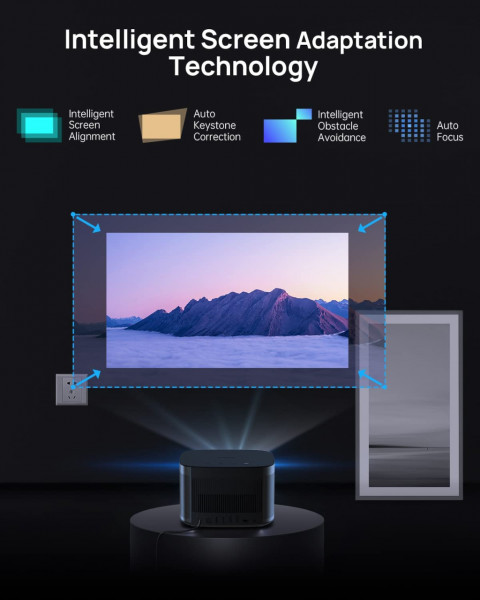 Regardless of game, movie or TV show, the XGIMI Horizon Pro was up for the task, even with 4K content. The fact that I didn't have the hassle of having to setup any external sound devices was a welcome bonus, as the built in Harman/Kardon were more than up for the task. Even in a brightly lit room you can have the Horizon Pro project a great looking image, but fine tune the settings and make a dark ambient living room and you'll be even more impressed with its clear picture and resolution. While there's just a few minor things I'd like to see improved and adjusted in future models, the XGIMI Horizon Pro is well worth the investment, especially if you find it on a good sale. If you have the setup to accommodate, even for those that aren't as tech savvy, it's worth doing some research and consideration as it's hard to beat 2200 lumens, built in Harman/Kardon speakers, 4K and portability at this price range.

**XGIMI Horizon Pro was provided for and reviewed with numerous consoles and media**



Overall: 9.5/ 10