Viewsonic VX2728J-2K Review
by Adam Dileva






Specifications:

Screen Size: 27"
Panel Type: IPS
Display Resolution: QHD (2560x1440)
Static Contrast Ratio: 1,000:1
Dynamic Contrast Ratio: 80,000,000:1
Light Source: LED
Brightness: 250 cd/m2
Aspect Ratio: 16:9
Response Time (Typical GTG): 2.5ms
Response Time (MPRT): 0.5ms
Viewing Angles: 178º horizontal, 178º vertical
Backlight Life (Hours): 30,000
Refresh Rate: 165Hz
Adaptive Sync: AMD FreeSync Premium
3.5mm Audio Out: 1
HDMI In: 2
DisplayPort: 1
Internal Speakers: 2W (x2)
Cable Organization: No
Physical Controls: Key 1 (favorite), Key 2, Key 3, Key 4, Key 5 (power)
Height Adjust: 130 mm / 5.1 in
Swivel: 30º
Pivot (Right/Left): 90º / 90º
Tilt (Forward/Back): 5º / 20º
Net (lbs): 10.4
Warranty: Three-year limited warranty on parts, labor and backlight
Package Contents:

VX2728J-2K Display
Power Cable
DisplayPort Cable
Quick Start Guide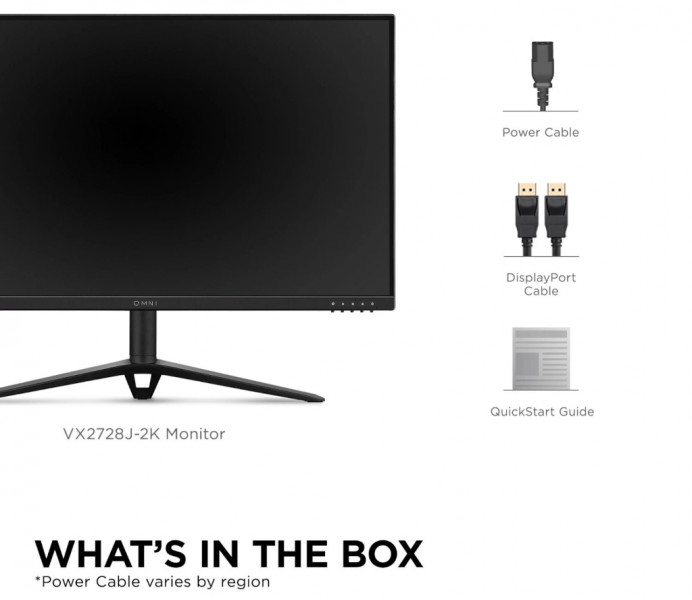 Viewsonic VX2728J-2K




Depending on your needs, budget and setup, there's plenty of monitors for you to choose from. Those with an unlimited budget will probably opt for a large and top of the line monitor that would cost a small fortune, whereas others don't need something huge nor fancy. If you're in the latter crowd, Viewsonic has a number of choices depending on your desired specs and budget.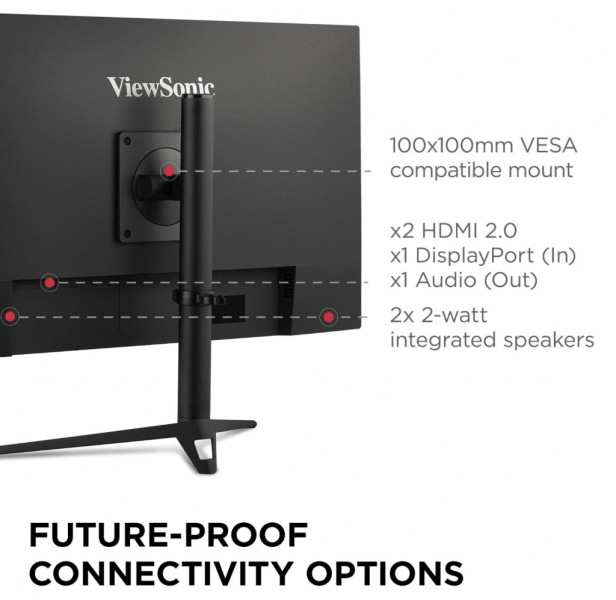 For the last few weeks I've been using the new Viewsonic VX2728J-2K exclusively, replacing my previous Elite model to see how it fairs. Being branded as a 'budget' 1440p monitor, there's normally some tradeoffs you sacrifice, as that's usually how the price point is lower comparatively, but aside from missing some flashy RGB, the VX2728J-2K impresses and I would have never classified it as 'budget' if I didn't know any better.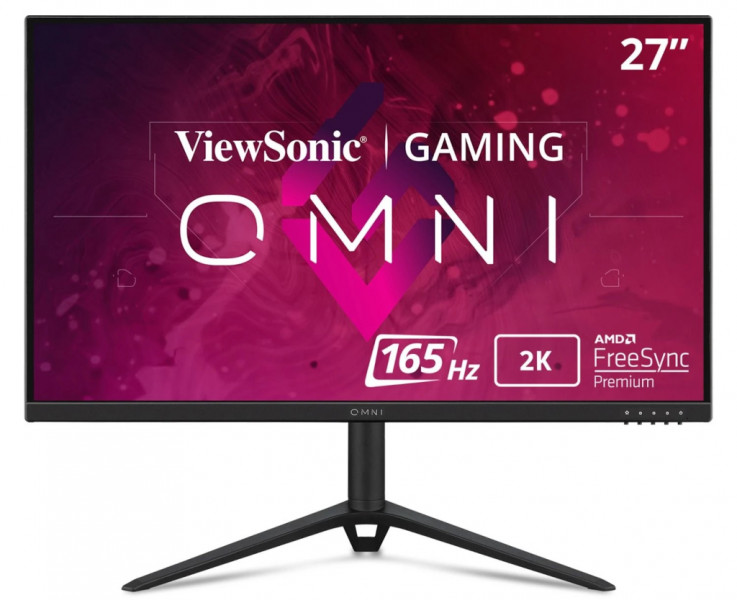 1440p resolution (QHD), 165Hz refresh rate, 27" in size, IPS screen, AMD FreeSync Premium and a low 0.5ms input lag basically checks off every box you could want in a gaming monitor. Even if your primary use isn't going to be for competitive gaming and simply every day use, it's still a great choice with all the features it has, especially at its price point.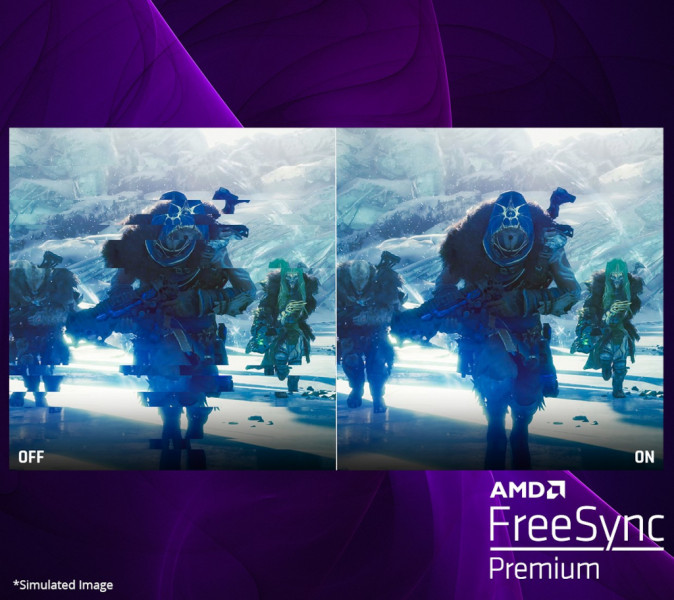 Even better, regardless of your space or setup, you're given enough freedom of movement to setup the monitor at just the right height or angle, even completely vertical if you wanted. I was able to easily adjust and tilt exactly how I wanted, and with DisplayPort and HDMI connections, you'll be able to hook up to your PC or console of choice easily. Given that I'm usually primarily a console gamer, the 27" size and HDR was perfect for a desktop setup, as sometimes my TV is preoccupied with the family watching something.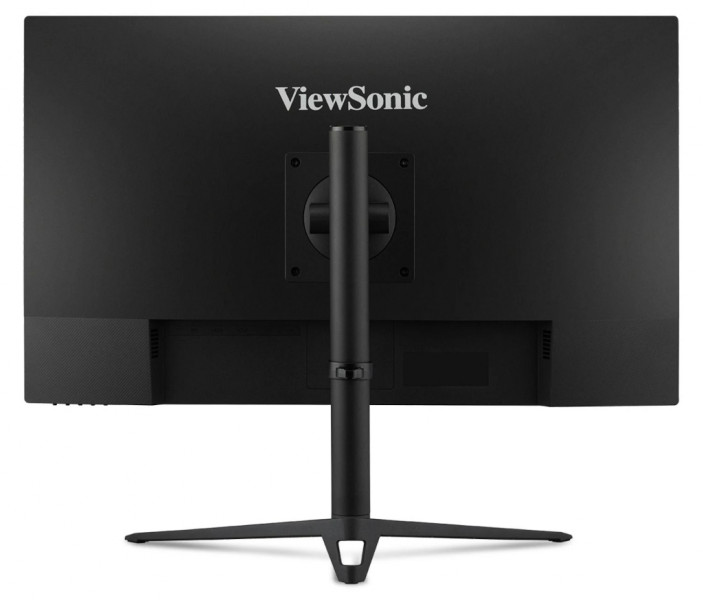 Subtle Looks

First off, don't expect any fancy RGB lighting or cool aesthetics. The VX2728J-2K has a bunch of great features, but looks as plain as day like almost other monitors. The base is a two footed pronged style with a small little foot or kickstand at the rear. I initially didn't think that the smaller third leg would give much stability, but I've had no issues when adjusting or tilting the monitor in any way given they are made out of metal and have a sturdy weight to them. The IPS screen has a very thin border on the top and sides, with the bottom bezel being a little thicker subtly showcasing the Viewsonic OMNI logo. It's a very similar style as their more recent line of monitors, though the bottom bezel doesn't protrude as thick as previous models.

While most monitors can adjust their height and maybe some tilt, the VX2728J-2K also can rotate and swivel. This makes it quite easy to find that perfect angle based on your desk height, chair sitting posture and eye level in relation to the monitor. Being able to rotate the screen a full 90 degrees is great for those that may want this as a secondary monitor off to the side, and since it's an IPS screen, the viewing angle shouldn't ever be an issue. Simply grab the edges of the screen and move it however you wish.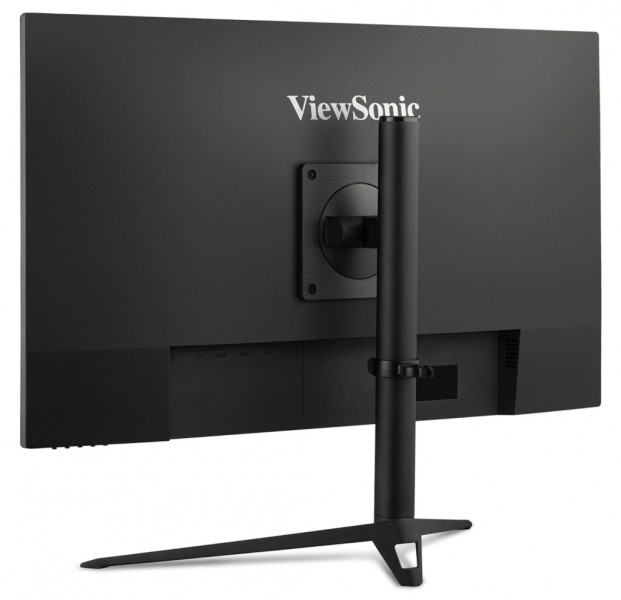 My only disappointment was the lack of much cable management. Sure there's a clip you can add to the back brace of the screenthat helps, it's seems like a second thought for a solution rather than a clever built in one like the previous Viewosnic monitor I reviewed. Granted, at a budget price it's hard to complain, but due to the short power cable, I had to reroute my cord every time I wanted to rotate the screen vertically and plug it in once again.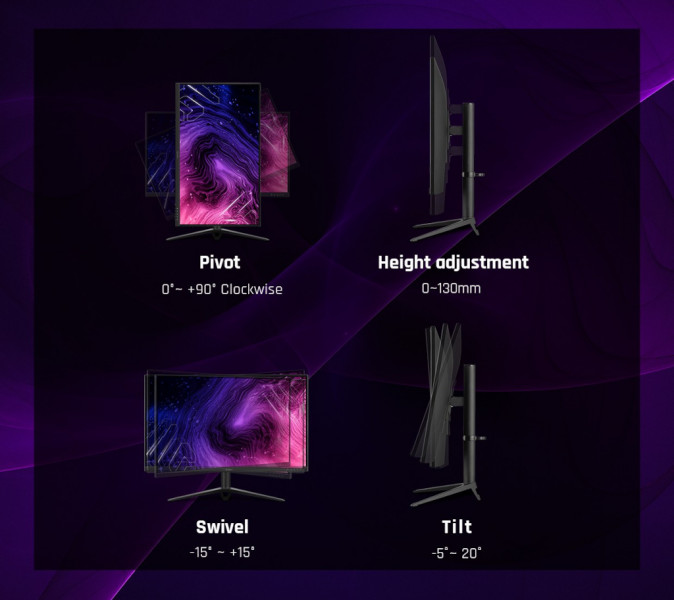 OSD Controls

My main complaint I had with the last two Viewsonic monitors I reviewed was with their awful OSD (on screen display) controls. These are the buttons or little control nub you see on the side or bottom of the monitor to change any settings. I'll admit, I fully expected the OSD to be the same terrible design and semi-transparent menu that I've seen previously, but it seems as though they may have taken the feedback to heart. The 5 buttons on the bottom right of the screen face downward and are how you change your settings. I'm happy to report the OSD is no longer terrible! You can now read each setting, the button placement is clearly indicated as to what they do, and while it's not the best or most intuitive OSD I've used, it's a vast improvement in their gaming screens thankfully. No more frusration fumbling through the menus or accidentally turning the screen off when trying to change some settings.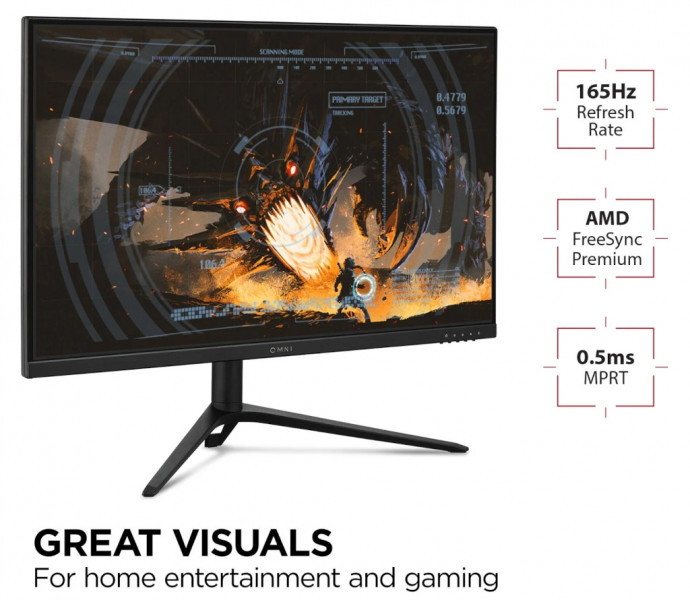 Audio Too

Like most monitors these days, there are speakers included. Dual integrated stereo speakers will do the job if you have no other options, though there is a headphone jack on the rear of the screen where you can plug in your headset. Does it play sound? Sure. Does it sound great? Not particularly, but they aren't meant to be your main source of audio in most situations and setups. You'll be better off with any other set of external speakers, soundbar or headset, but those using simply as a work or every day use monitor should be more than sufficient.

Usage




Having been using a 4K 144Hz monitor the last few months, I was wondering how the transition to this 1440p (2K) 165Hz would feel. I honestly expected a larger difference by simply halving my resolution, and while I could tell simply from the size of my apps and pages, I got used to it quite quickly. I didn't think I'd notice a big difference bumping up from 144Hz to 165Hz, and maybe it's a placebo effect or my own mind playing tricks, but I swear it appears to be incredibly smoother than I initially expected. When I'm on console I always prefer Performance Modes over Quality, and it's no different when I PC game as well, especially since I'm still running on an older GeForce 1070 card. If you're running a compatible AMD graphics card, you can make use of its AMD FreeSync Premium to rid yourself of any nasty screen tearing as well. Those that want rich colors and brightness will also be happy to know that HDR10 is supported, not only great for PC players, but console as well.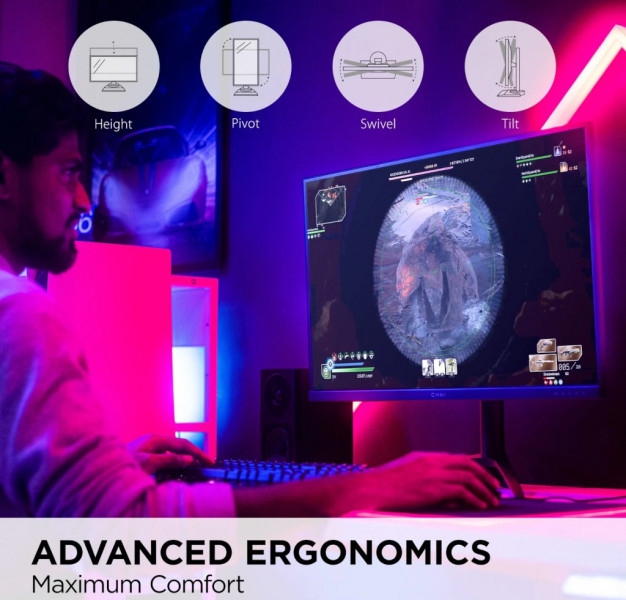 Connections

Two separate HDMI 2.0 ports means you can plug in your PC and console, or multiple consoles if that will be its main use. While I do wish at least one port was HDMI 2.1 to be compatible with VRR (Variable Refresh Rate) with the Xbox Series, I have to keep in mind this is a lower priced monitor, so it won't have every desired feature. Those that want to use its full capability will plug in via the DisplayPort naturally. The monitor is also VESA 100x100mm compatible, so if you want the monitor to be mounted to a monitor arm or special bracket, it will be easy to do so. I do wish there was a USB port for pass-through, even a USB-A would have been welcomed, but again, I need to remind myself this is meant as a budget monitor which is how the price is kept low.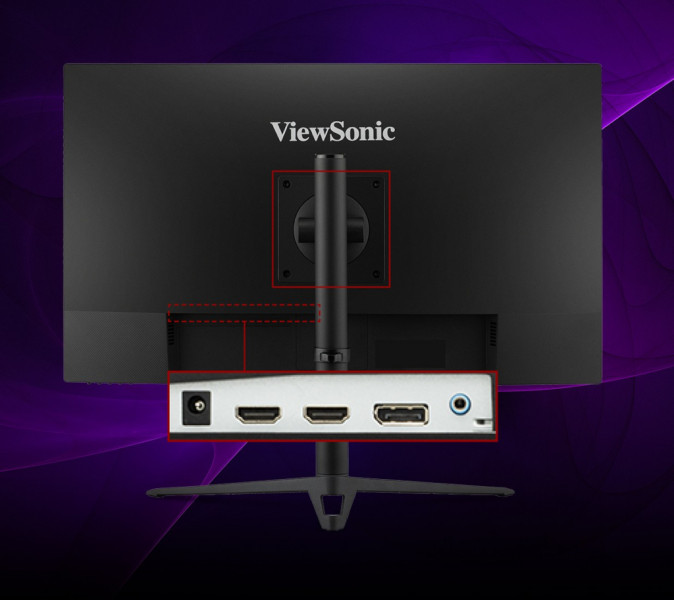 Screen Time

Even after a very long gaming and Netflix session one weekend, my eyes never grew tired from the screen. The 165Hz ensures my refresh rates were constantly smooth, and playing my consoles on the monitor was just as pleasant, not having to worry about any stuttering or visual lag. While HDR10 is pretty much the bare minimum to have these days, at least it's still got the support at this price range, and again, need to remember this isn't meant to be a high end premium device where I would expect HDR600 or HDR10+. For your average user, the screen is going to look great, bright, colorful and smooth. Playing a wide gamut of console games, I could easy see myself using the VX2728J-2K as a main screen if I didn't have a high end TV and 4K isn't a concern.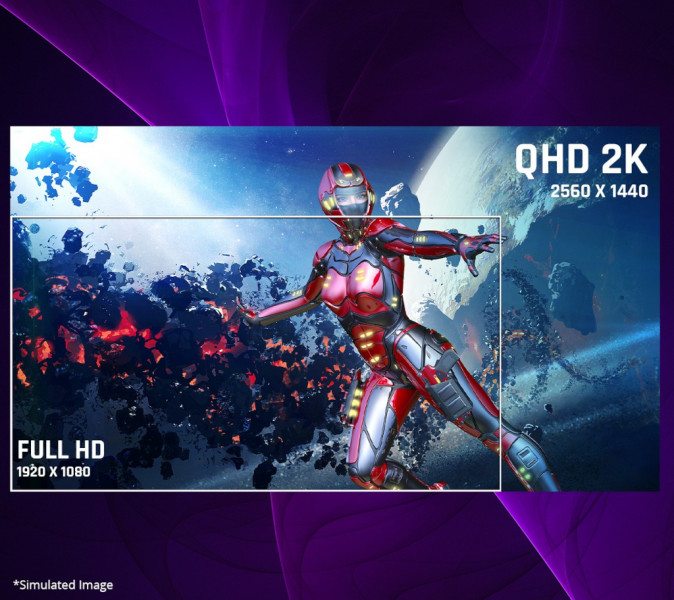 Final Thoughts

Having an older video card on my PC, I have no real desire yet for 4K gaming or maxing out my FPS in ultra-high resolutions. The Viewsonic OMNI line is meant for every day use and gaming, whereas if you're looking for high-end features, that's where their ELITE series comes in. Having searched for other monitors with the same size, specs and features, Viewsonic might be the easy choice here. Yes other monitors have similar features in this range, but at $249.99 USD it's a fantastic display for the price. You don't break the bank but you still get a great crisp and responsive screen that can keep up with your gaming in 2K regardless if you plan on playing on PC or console.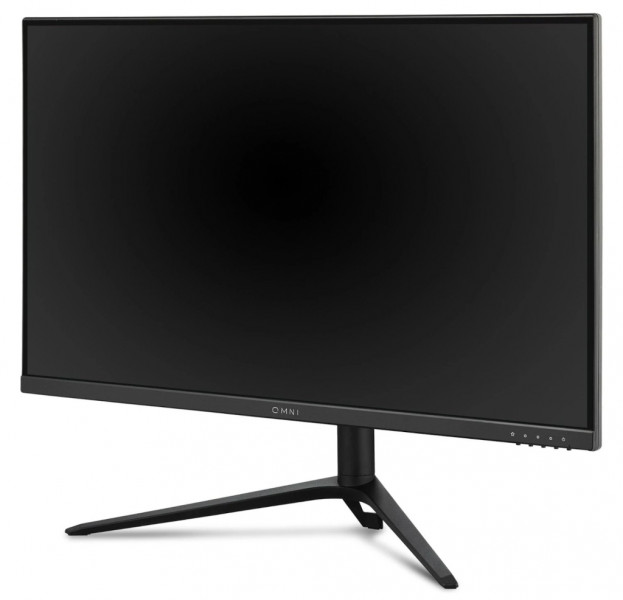 **The Viewsonic VX2728J-2K was provided to XboxAddict and reviewed in conjunction with an Xbox Series X, PC and other consoles**
Overall: 9/10