Jusant Preview
by Adam Dileva






Jusant: French maritime term qualifying a period of low ocean tide.


Revealed at the Xbox Showcase 2023, Jusant was a small title that instantly caught my eye with its colorful visuals, but completely intrigued me once I saw developers DON'T NOD were the ones behind it, best known for the Life Is Strange series amongst some other fantastic titles including their latest, Harmony: The Fall of Reverie.

We were fortunate enough to be able to check out a special demo of Jusant for this preview, giving us access to the first two biomes, roughly the opening two hours of the game. Described as a new climbing action-puzzle adventure, Jusant is a relaxing and meditative journey as you scale a seemingly never ending tower. Explore multiple paths, find secrets and simply enjoy the experience at your own pace with the help of an adorable and mysterious companion.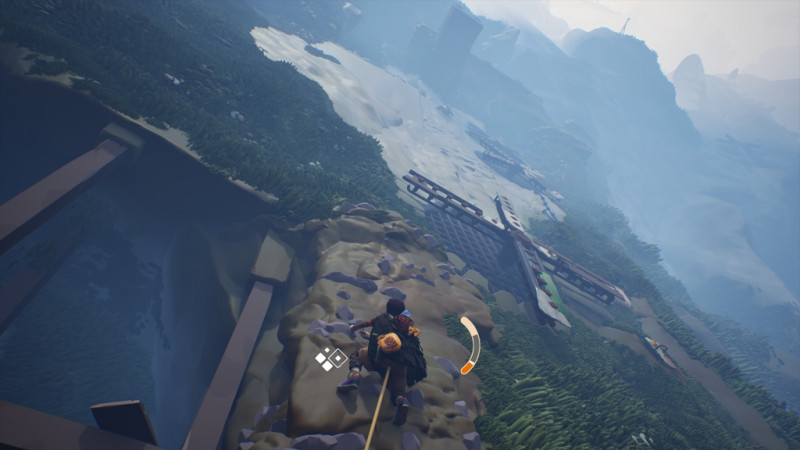 Without any spoken dialogue, Jusant's narrative is told through finding letters and notes left behind from previous inhabitants of this mountainous structure. This is intentionally done so you're able to interpret the story in your own way and in relations to your own personal experiences.



Jusant opens with you wandering the desert and coming across a tower so large that it goes well beyond the clouds. It's more than just a mountain, but you're intrigued, and while the game doesn't give you an objective marker or tell you to go explore, you're curious, so you want to natrually. The ocean used to rise so high that much of this tower was submerged, apparent by the broken and 'beached' boats you'll find along the way towards the peak. The ocean has seemingly disappeared though, as has the society of people that used to live here, likely all abandoned in search for water elsewhere.

Climbing the tower is symbolism for many things, whatever that means to you. Maybe it's overcoming a challenge in life, achieving something monumental or putting forth some great effort. Jusant uses great use of allegory in a powerful way without outright telling you its meanings or lessons, up to you to decipher and uncover. You feel compelled to climb upwards and onwards, and so begins your journey up this seemingly never ending tower.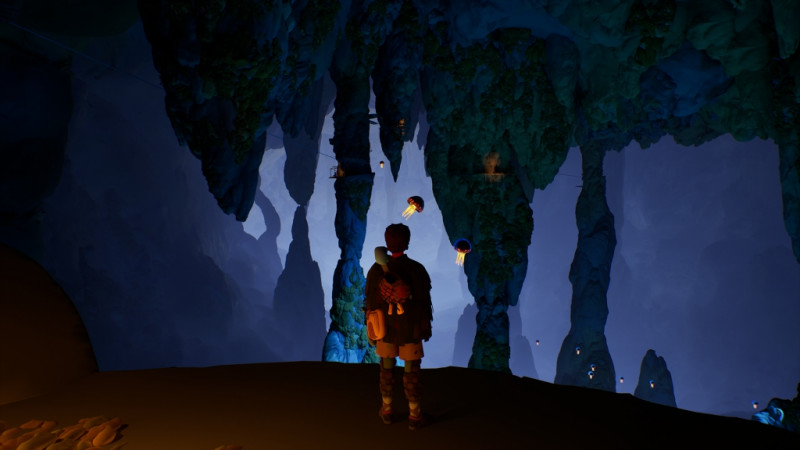 Jusant's concept is brilliantly simple: climb a large tower. With this you're given the tools needed from the offset, teaching you how to properly climb. Many games play horizontally, so having a game built about verticality is a refreshing change, as looking up and how much further you need to go seems to never end, yet looking down and seeing how far you've come gives you a sense of accomplishment without directly rewarding you as a player.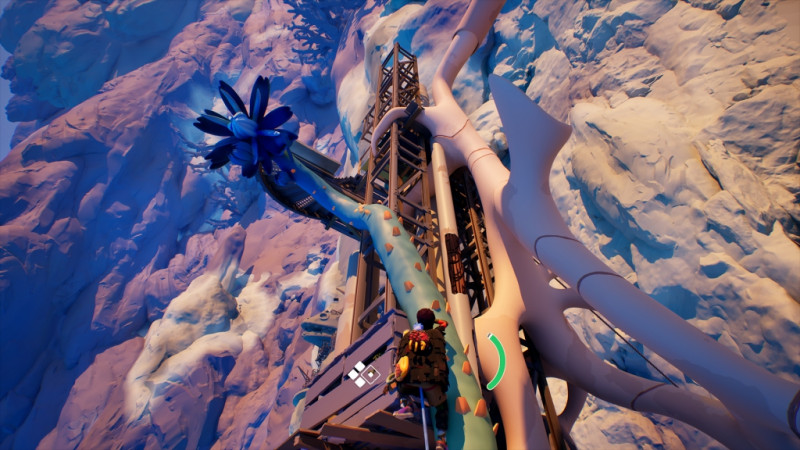 Jusant is designed to be a relaxing experience, climbing at your own pace. Sure there will be speedruns once released, but not aiming to be a completely realistic simulator, Jusant becomes almost meditative in nature as you simply sit back and relax, enjoying the views and solving how to get up to your next ledge. I didn't initially plan to sit through the whole demo in one sitting, but I just couldn't put it down, as getting to the next safe ledge made me want to go further on, exploring what's next up this deserted tower.

Controls are as simple as they come, with the Triggers being your hands, so you have to hold Left or Right depending on which hand you want to grip with while using the Left Stick to direct your climb direction. It's intuitive and works quite well once you get a hang of your reach and abilities. Of course climbing is tiring, so you do have a stamina meter to watch, but you're able to rest virtually anywhere and refill your stamina gauge before attempting another climb.

You have a rope that will automatically attach once you start climbing, acting like a safeguard in case you fall. You're able to add more points as you ascend, refilling as you place your feet back on flat ground. This means you can't die nor really lose all too much progress. You're able to lengthen or shorten your rope as well if anchored to a swing point, useful when trying to reach further off ledges. I never really felt stressed with worrying about falling all the way back down to the beginning, which is where the relaxing aspect comes in.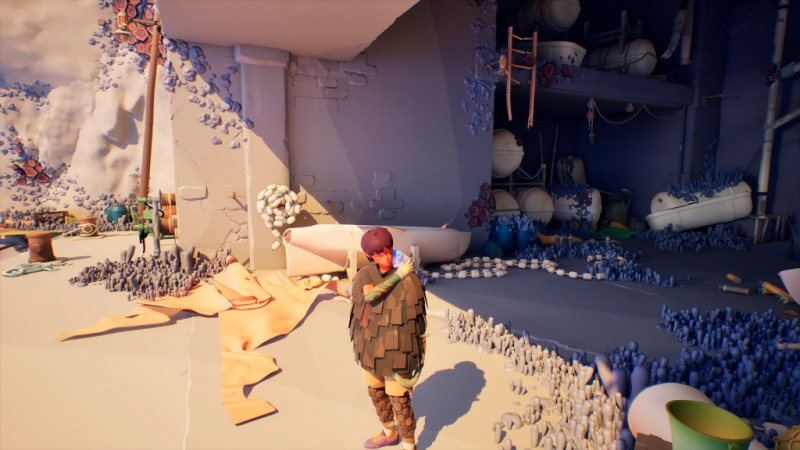 You're able to use your rope to wall run or swing, so momentum will also play a part of your climb. Sometimes you might need to get some speed and let out your rope a bit to reach somewhere new, though it seems there's not only one solution to climbing the 'proper' path, so I'm sure people will find their own preferred lines upwards. Each wall you climb is like a mini puzzle in itself, as some broken planks and spots you can't grip or hold onto, so you need to figure a way around elsewhere. Once you know what ledges and objects to look for, you can usually plan out your climb before doing so.

You're not alone though, as you have a small water creature with you known as a Ballast. Frog-like in appearance, it's not only absolutely adorable, but has a connection with this place somehow. This Ballast will not only keep you company, but will be instrumental in your climb, as they're able to unearth secrets and reveal paths you'd be unable to do so without their help. You need the Ballast and they need you, and I'm excited to see what other role they might play in your journey further on.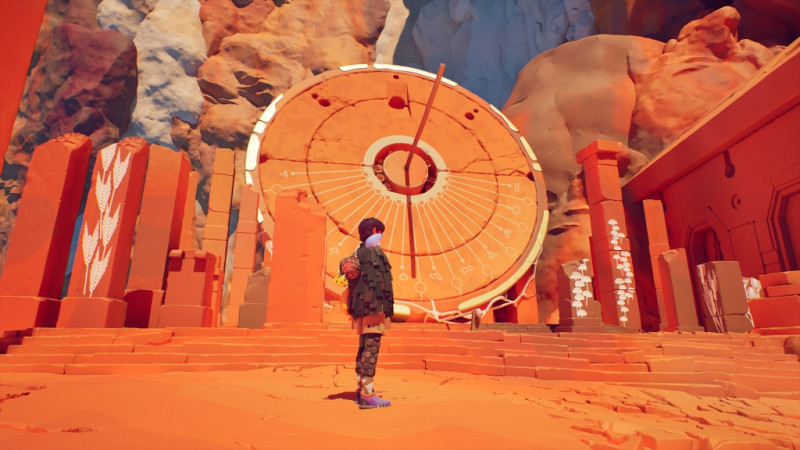 While in range of some of the rare flora, using your Ballast will cause the plants to grow, allowing more areas to climb with extending flower stalks, or placing a bunch of seeds on the wall that can be used as grip spots. The desert is a harsh environment though and these seeds only last a few moments in the hot direct sunlight, so you need to be quick at some sections if you want to progress. You might even find some wandering rock-like creatures that can be used as mobile grips which was always fun to try and time my jumps to reach as they passed by.

While your general direction to go is up, how you do so is up to you. There seems to be generally one 'main' path, but many times I found side paths that were alternate ways or housed some secrets. Jusant's lore is explained through finding collectables, so it will certainly be beneficial to go off the beaten path and explore everywhere you can.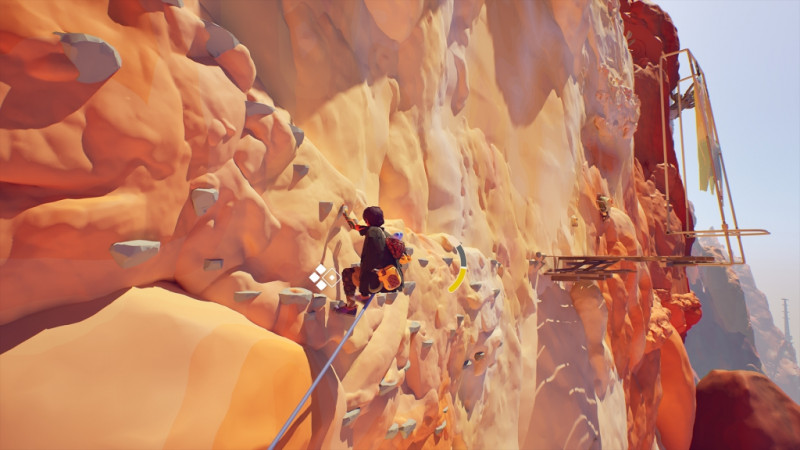 Part of Jusant's charm is how it lets you explore the world at your own pace. You're not rushed in any way, you're free to explore different pathways which usually lead to tidbits of interesting lore, slowly piecing together what's happened and where everyone has gone. Climbing a massive structure like this, you get a feeling of how small and insignificant you truly are. Level design is done masterfully for being virtually completely vertical and there was always something in the distance that caught my eye that I wanted to go see what it was eventually.

More than once I had to stop and just take in the beautiful vistas, looking down at far I've come, but glancing upward to see how much further to go, not even able to see the peak beyond the clouds. The colorful cartoonish aesthetics are pleasing and you can easily tell certain paths you're meant to take once you notice the grip points to hang onto. Equally as stunning is the beautiful soundtrack from Guillaume Ferran, creating an atmosphere where the piano ballads hit at just the right time and creates a relaxing tone as you hear the wind whistling near a cliff edge.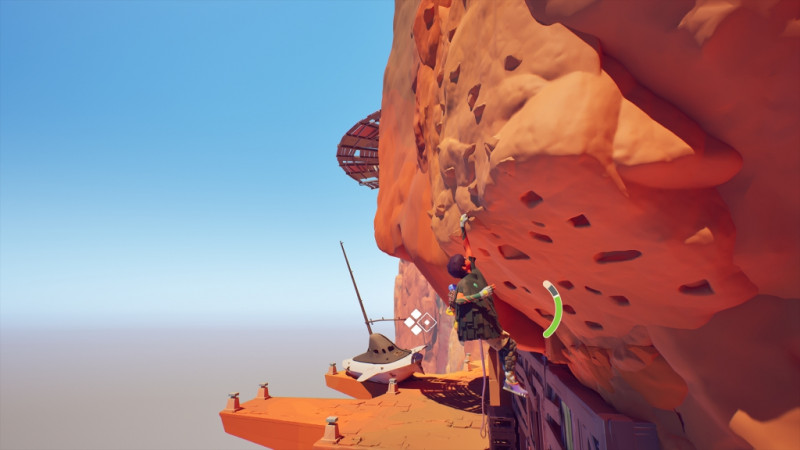 Having only been able to experience the first two hours and biomes, I was incredibly impressed with the overall feel and tone. Scaling the tower never became dull, adding new challenges and ways to solve each puzzle with a stunning vista as my reward. Sometimes you can just tell when a game is 'special' in a certain way, and Jusant gives this feeling almost from its onset. I'm incredibly excited for Fall 2023 when it releases so I can reach its peak and see what's at the top.

**Jusant was provided by the publisher and previewed on an Xbox Series X**