Viewsonic X2-4K Projector Review
by Adam Dileva






Features and Specifications


Projection System: 0.65" 4K-UHD
Native Resolution: 3840x2160
Brightness: 2900 (Lumens)
Contrast Ratio: 3000000:1
Display Color: 1.07 Billion Colors
Light Source Type: LED
Light Source Life (hours) with Normal Mode: 60000
Lens: F=2.53-2.73, f=10.20-12.25mm
Projection Offset: 105%+/-5%
Throw Ratio: 0.69-0.83
Optical Zoom: 1.2X
Digital Zoom: 0.8x-2.0x
Image Size: 60"-120"
Throw Distance: 0.92m-2.2m (100"@1.53m)
Keystone: H:+/-40° , V:+/-40°
Audible Noise (Normal): 33dB
Audible Noise (Eco): 29dB
Local Storage: Total 16GB (12GB available storage)
Input Lag: 4.2ms
Resolution Support: VGA (640 x 480) to 4K(3840 x 2160)
HDTV Compatibility: 480i, 480p, 576i, 576p, 720p, 1080i, 1080p, 2160p
Horizontal Frequency: 15K-135KHz
Vertical Scan Rate: 23-240Hz
Net Weight: 3.6kg
Gross Weight: 5.5kg
Dimensions (WxDxH) with Adjustment Foot: 355x251x121mm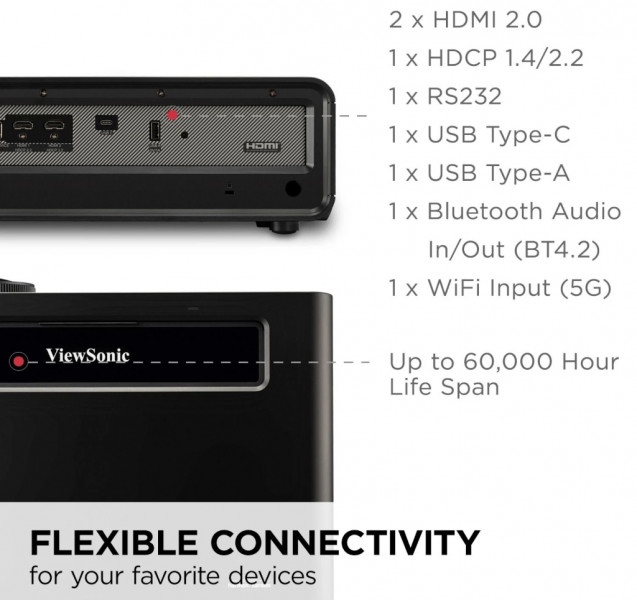 INPUT


HDMI: 2 (HDMI 2.0, HDCP 1.4/2.2)
USB Type C: 1 (5V/1A)
Audio-in (Bluetooth): 1 (BT4.2)
USB Type A: 1 (USB2.0 Reader)
Wifi Input: 1 (5Gn)


OUTPUT


Audio-out (3.5mm): 1
Audio-out (Bluetooth): 1 (BT4.2)
Speaker: 6W Cube x2 (Full range x2)
USB Type A (Power): 1 (USB2.0 - 5V/1A x1, share with USB A Input)


INCLUDED


Power Cord, USB-C Cable (1m), Remote Control (BT w/ backlit), Quick Start Guide, Warranty Card.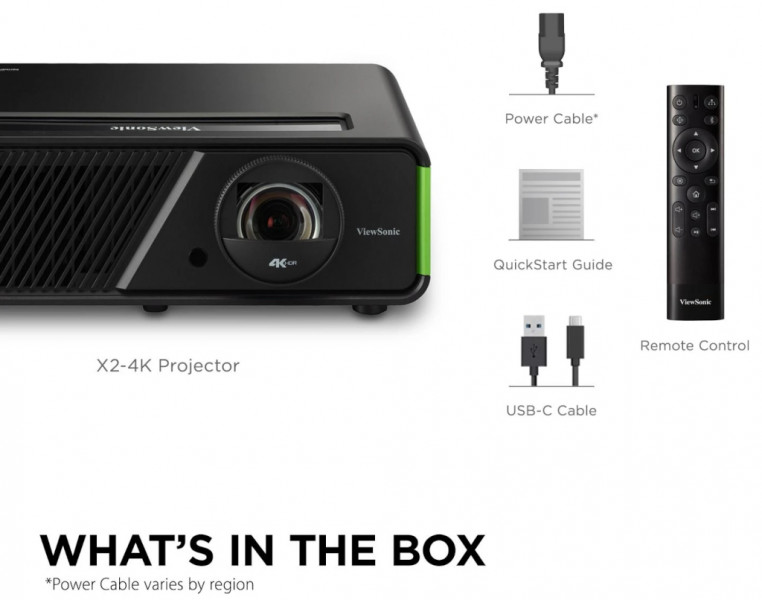 UNBOXING

While I won't weigh in part of the unboxing experience into my final thoughts or scores, I will say that there's something exciting and memorable when a product does have some fancy packaging and makes opening it an experience. That said, the Viewsonic X2-4K comes in a fairly standard brown box that you wouldn't even take a second look at if it was on the shelf. The only part of the outer box that stands out is the green circular "Designed For Xbox" logo on the bottom right and the thin green trim along the bottom edge. The inside packaging encases the projector in very thick foam padding, so even the worst delivery company shouldn't be a problem for keeping your product safe.

DESIGN




Having recently reviewed a competitor's projector that was quite small in its form factor, I was kind of surprised with just how large the Viewsonic X2-4K was initially. With its large black rectangular body, I instantly thought of the original Xbox, though this is slightly larger in every dimension. If you're looking for a compact projector, this isn't going to be the one for you, as I had to purposely make some space for its 355x251x121mm body (with footing).

Aside from the plain black casing, there are two vertical green strips on the left and ridge edges, giving just that subtle hint that this projector has something to do with Xbox, their brand color. Even with the subtle green strips, it should have no problem fitting in with the rest of your décor or electronics. At 3.6kg, or just shy of 8 pounds, it's certainly got a bit of heft to it, something to consider if you plan on moving this around often. While the projector appearance doesn't do much to excite, it's the sharp image that will impress.

Naturally, all of the inputs are at the rear of the device, but I was a bit surprised there was no cover or shutter for the lens at the front. The lens will simply always be exposed, so if you have a dusty place, this might interfere with the picture quality if you don't cover or dust often. There is however a sliding panel at the top of the projector that when opened has all the controls also usable on the device if you happen to misplace your remote. You're also able to adjust the focus and room rings within this panel as well.

Given the size of the projector, it seems the power brick is internal, as it's a simple cord from the device to the wall. One minor complaint is that the power cable is your average length, but given that this is a short throw projector and that you don't have to have the device perfectly centered, I was able to find a way to set it up where the power cord reached, though you may need to get creative in your solution based on your unique environment. If you're going to ceiling mount, this will most certainly be something you'll have to factor in or plan on getting an extension cable.

SHORT THROW

I've really only had experience with Long Throw projectors. You know the ones that sit at the far back end of the room and project across the whole room to the other wall. Well, Short throw projectors (and even Ultra Short Throw) are becoming more and more popular. While traditional Long Throw projectors need 6 or more feet of space top project a quality image, the Viewsonic X2-4K and other Short Throw projectors do the same thing but only need about 4 feet of space between the wall.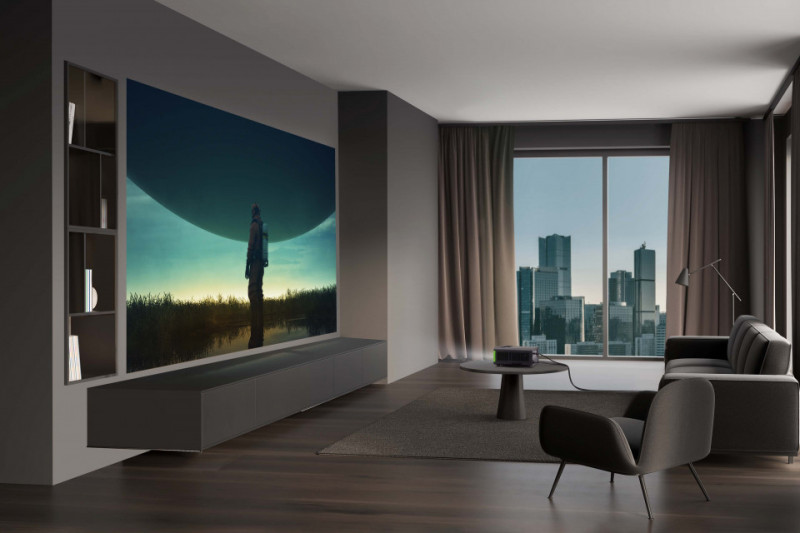 I didn't really factor this in during my initial setup when I placed the X2-4K at the opposite side of the room. The screen was massive and halfway on the ceiling, then I clued in. Once I was able to reorganize a few things and place the projector just a few feet away from the wall instead, it was a much better experience. Because of the Short Throw design, it's as though the lens is slightly aiming upwards, which is why I was having issues aiming it 'down' when it was too far back. You're able to get a 100" image from only 1.5m (under 5ft) away with a 0.69-0.83 short throw ratio and a 1.2x optical zoom. As mentioned above, you also don't have to worry about having the device directly in the middle of the room, as you can adjust H/V (horizontal/vertical) keystone to correct the shape of an image that is unevenly rectangular on the sides, 4 corner adjustment, or trust the automatic keystone capabilities.

Viewsonic X2-4K

There's one real reason I was quite excited to test out the Viewsonic X2-4K: Being the world's first "Designed for Xbox" projector. Given that I do the vast majority of my gaming with my Xbox, this seemed like a natural fit. Being able to boast a 1440p @ 120Hz gaming experience is quite a claim for a projector, as is having a 4K image, HDR capabilities and impressive built in theater-Level Harman/Kardon Speakers. Depending on your game and preferences, you might instead want to enable the 240Hz refresh rate with a 4.2ms input, though the tradeoff is that the highest resolution in this mode is 1080p and needs to be enabled in the advanced settings.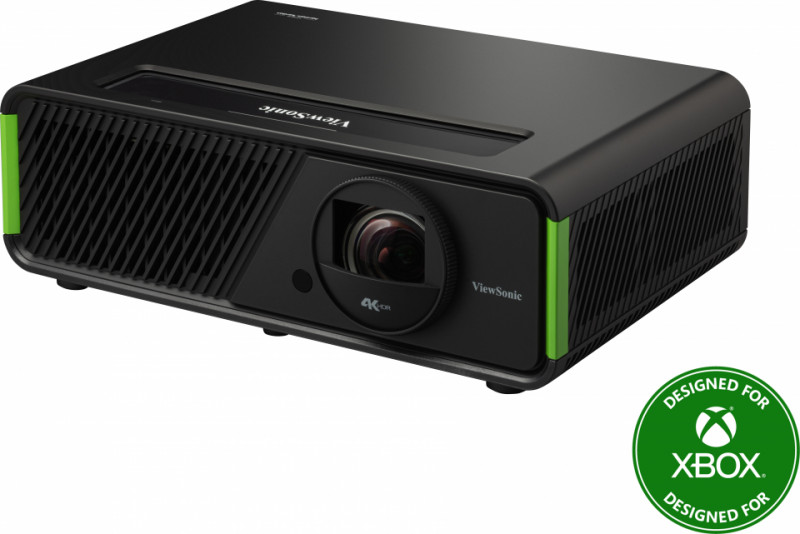 With a 2900 Lumens rating, you'll be able to easily see a bright and clear picture in any environment, even in the middle of the day with the windows and blinds open. Of course with the blinds closed, lights off and at night gave the best results, but it wasn't as if I couldn't watch or play something mid-day. Colors will also look great and pop with ViewSonic's proprietary Cinema SuperColor+ Technology with 125% Rec.709 support. Basically, the colors will look fantastic and is among a set standard.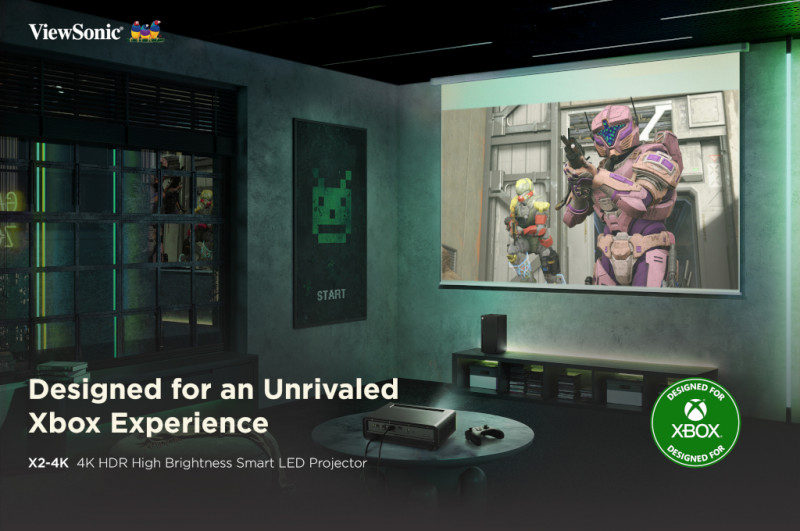 Coupled with an impressive LED bulb and technology, it's said to have a 60,000 hour lifespan, which even if you had it running nonstop 24 hours a day, it should last 7 years. Of course no one will run it like this, so you should get as many hours with it as you want before having to worry about any replacements.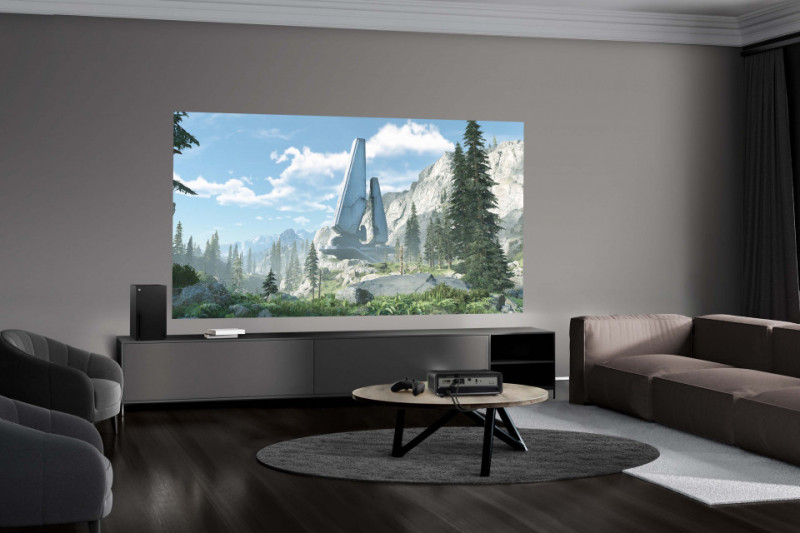 While I obviously focused primarily on the gaming and movie streaming aspect capabilities, you're also able to screen mirror via Wi-Fi, and with the built in Bluetooth connectivity, you can send content to the projector to play audio, or have it send to your wireless Bluetooth headphones, so you have numerous options. A small but not unnoticed feature is also the quick start up time. Generally TV's are more or less instant when you turn them on, though projectors always seemed to have a bit of a wait before it's ready, warming up the bulb or booting up. Viewsonic has remedied this and you can expect very quick start times for the projector when turned on, though not quite as instant as I would have liked.

GAME ON




"Designed for Xbox" might seem like a simple catch phrase or some marketing term, but it means it has Xbox's seal of approval as a quality and supported device. Of course being the world's first with this distinction, I was curious what bonuses and benefits this would give me as a primarily Xbox gamer. Supporting Xbox-exclusive resolution and refresh rate combinations, it can automatically adjust based on what your content for ideal output. Playing fast paced racers like the new Forza, or basking in some gorgeous space vistas in Starfield, the X2-4K was up for the task and had a clear picture no matter what game, movie or show you're watching. Combined with the built in yet impressive Harman/Kardon speakers, it was a full home theater experience.

CONTROLS AND APPS

There's apparently even a way to control the projector with my Xbox controller because of the CEC (Consumer Electronics Control), though plugging my controller in wired didn't work, nor did I find a way to sync to the projector wirelessly. There's nothing in the main instructions either to indicate how to do this specifically. The other option to control your projector (other than the included remote) is to download ViewSonic vCastSender from your phone's app store, turning it into a touch control for the projector. You'll simply make sure your projector and phone are on the same Wi-Fi and the once paired you can control it via your phone.


I'll admit, this is clunky and unintuitive, but sadly a necessary step, as some apps from the Home Screen, like Netflix, won't respond with the included remote. That's right, to use Netflix you're going to have to set up this app to actually just control the cursor and how to click. Apparently a Mouse and Keyboard can work, but I didn't have a good setup to try that, nor would I want to be tethered to the projector. Trying to use the included web browser was an awful experience, even with the phone app for control.

Actually, the whole Home Screen and Apps in general is pretty awful. Other than the last Viewsonic monitor I reviewed, Viewsonic has always had a terrible OSD (on screen display), and it seems it's no different here with their Home Screen you'll see when you boot up. It's bland tiles, basic looking, and not exciting at all. The apps you can download are very limited and I kept hitting the settings button instead of back on the remote even after weeks of use, which brings you to another set of menus. Don't rely on the projector itself if you're going to want to have all your streaming apps available, this is where you'll use your console or PC connected to it instead. It was kind of surprising there was no native way to download Disney+, Prime Video or other apps aside from Netflix.

SETUP

Setup is generally painless, just keep in mind you won't want this at the rear of the room unless you have a massive wall to project to. Because of it being a Short Throw projector, it can be close to the wall. Plug in the power and any devices you want to use in the two HDMI slots, though only one is meant for all the gaming features (and sadly not 2.1), so make note as you're plugging in your console. There's an older RS232 port if you have a device that uses it, Audio Out, and USB-A and USB-C ports at the rear as well. The coolest thing about the USB-C port is that it supports direct content streaming (and simultaneous charging), which I'm sure Nintendo Switch fans will find handy without needing to use the dock. If you plan on using external speakers you can certainly set those up via Bluetooth, though I opted to use the included speakers, as there were more than enough to fill my small room with clear audio.


Now that you've got it all plugged in and powered up, you'll be greeted to a quick intro video and then sent to the boring home screen, which is a bit of a shame, as it doesn't 'wow' you from its initial impressions until you start gaming or watching some content. Go into the settings and setup the Wi-Fi, as I needed to do a Firmware update which didn't take too long. After another reboot you'll be good to go. Now you can start adjusting the settings and keystone to get that perfectly placed picture on your wall.

There is an auto feature which does a decent job at making the picture almost ideal, though I still had to do some manual adjustments for some of the corners. There's a little foot under the front part of the projector that can be flipped down to aim it more upwards as well if needed. Every setup will be different, and due to where I had to place it (because of the average cord length), I did have to place a book under it to get the right angle eventually. With a +/- 40 degree vertical and horizontal adjustment you shouldn't have much of an issue getting that perfect placement.



Play around in the menus and set the desired brightness based on your environment. Even with sunlight coming in, turning up the brightness should be just fine to see the picture clearly. Of course this will make it appear washed out a little, but again, everyone's environment and setting will be different. There's also a few different preset modes (Movie, TV, Gaming, etc.) as well based on your content, though you can manually adjust individual settings as well if you really want to get that perfect picture.

CLEAR AS DAY

3840 x 2160 resolution, 1.07 Billion Colors, 8.3 million pixels, HDR support, and 2900 Lumens means you're going to get a very sharp and clear 4K image, and because it supports higher refresh rates (at lower resolutions), you'll have a very smooth picture as well, so it's a matter of finding out that sweet spot for what you want. Of course the first thing I tried was some 4K YouTube videos, and it was quite impressive. Visuals were sharp and smooth, colors were beautiful. While I believe the fad may be over, there's also support for 3D projection as well if you happen to have any 3D movies on Blu-Ray and the proper glasses.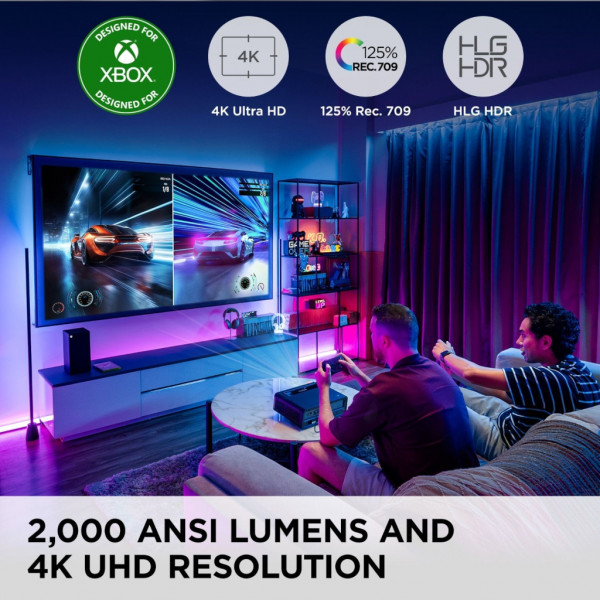 REMOTE

The packed in remote appears like any other remote, very similar in fact, but the one major bonus is has going for it is the built in G-sensor that will have the buttons light up when it detects movement, able to be used in the dark, especially before you memorize the button layout. With the Viewsonic branding at the bottom of the remote it's also obvious what device it's for when you have it laying around with all your other remotes on the table. The remote has a decent weight to it, it's just a shame it looks so basic, though I do give it bonus points for being backlit and also supporting Bluetooth or IR.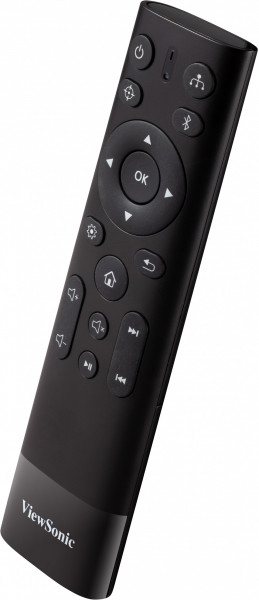 Funny enough, the main issue I have with controlling the X2-4K isn't the remote itself, it's the forced use of an app to effectively use it at all via ViewSonic vCastSender. Yeah it works, but it's an extra unnecessary step. Why doesn't the remote work with Netflix, the one main app customers will probably use? Why doesn't plugging in my controller via USB-C simply work out of the box? Maybe I missed something, but the average customer will probably think their device is defective when you can't use the included remote in certain situations.

AUDIO

While I know Harman/Kardon is a big audio brand, I've never gotten to use any of their equipment aside from the last projector I reviewed that also had them built in, so I had an idea what to expect. You wouldn't think that some built in speakers would be able to produce a great sound and fill the room, but Harman/Kardon have somehow managed to do this. They were actually quite loud as well, as I needed to keep the volume on quite low. It's not meant to compete with your home theater sound system or even a decent soundbar, but for being included, it certainly does the job. Even when I did turn the volume quite loud, it never sounded like it had any distortion, dialogue was clear, and even without a subwoofer, explosions sounded as though they had some 'oomph' to them. With Bluetooth out support, you can easy connect to another speaker or device.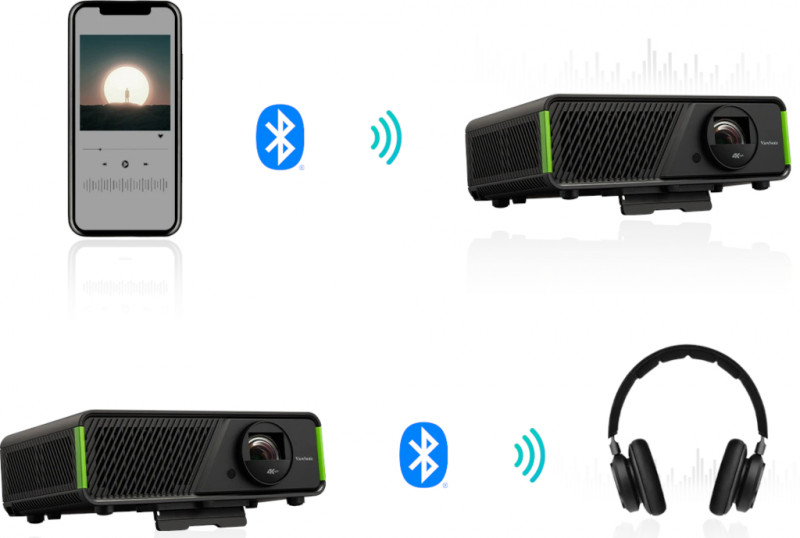 As for the audible fans, they have a constant low volume whirling as you'd expect, expelling all that heat. Even at a volume of 1, you won't hear the fan really, but if you have it running without any content playing, it's certainly noticeable. It does expel a bunch of hot air though, so make sure to not have anything blocking the vents or nearby the sides of the projector just in case.

Ultra-Fast Input

Naturally the first thing I hooked up was my Xbox Series X to test out the gaming capabilities, which is where I ran into the most annoying aspect of the X2-4K. The projector is smart enough to know that it's playing content from an external source, so it will ask if you want to "Enable Ultra-Fast Input". Well of course do, I want it to be as smooth as possible right? Here's the catch: "If active, the Warping, Keystone, Corner Adjustment, Aspect Ratio, OverScan, and Zoom functions will be reset to default". Remember all that hard work you did setting up the projector and then getting the picture to be a perfect rectangle? That was all for nothing, as using the Ultra-Fast mode means you have to have none of the picture corrections enabled.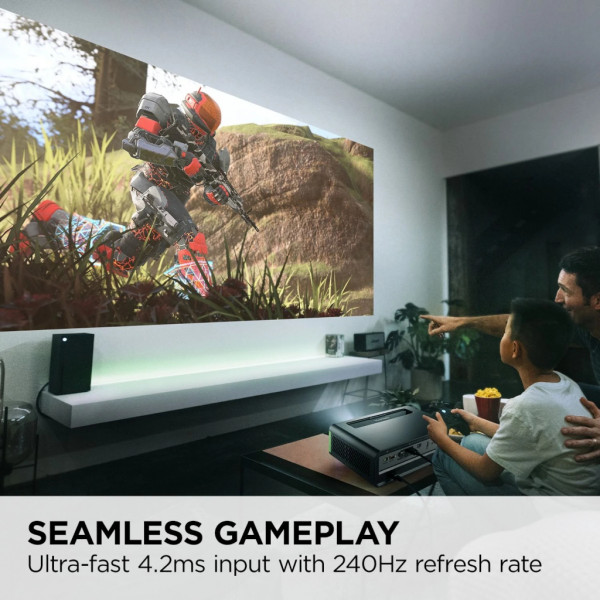 This of course made my screen massive without any of my corrections, and because I didn't have the projector exactly centered and couldn't enable any of the corrections I set, I had an oddly shaped and off centered picture. Sure I dealt with this for a bit to test out the mode, and it was indeed quite smooth, but without the perfect setup, this could be an issue.

The other annoyance is that you get this prompt every single time it detects a change with your input to the console. You know that moment when you turn on Netflix or Prime Video on console and the TV does those quick adjustments? Well, the X2-4K will ask you again if you want to Enable Ultra-Fast Input. Oh you backed out the home screen or loaded a different streaming app? Get ready to be asked again. I'm not sure why there isn't a setting to remember your last choice, so you'll have to have the included remote nearby almost at all times which can be an annoyance, or worse, you accidentally hit enable and then have to spend the next ten minutes fixing your keystone adjustments back to the way they were.

GAMING

Everyone has different preferences when it comes to gaming. Some prefer the 4K image and having it look amazing as possible, whereas I always opt for a smoother experience, dropping the resolution down for more frames per second. Normally I play on a massive TV, so I'm used to a small lag when compared to playing on a gaming monitor that usually boasts around a 1ms refresh rate. The X2-4K boasts a 4.2ms response time, which for a projector, is quite good. While you may need to make some adjustments if you're playing a rhythm based game, this will be basically unnoticeable if you're not playing anything ultra-competitive. There is of course a big difference if you have the Ultra-Fast Input enabled, making it very smooth.

Loading up a bunch of different genres of games, everything looked fantastic. Starfield was a whole other experience when exploring a planet and gazing up to the stars on my whole bedroom wall as its backdrop. The latest Call of Duty Modern Warfare III beta was also an interesting experience, as with a massive screen, as I had to actually turn my head a bit to try and find visual cues for enemies. The latest Forza looked absolutely stunning with all the cars on the track and the dynamic weather. I also tried plugging in my PS4 and Switch, and the experience was similar. My daughter once again really enjoyed playing her Splatoon 3 on a massive wall while lying in bed.

APPS

As mentioned above, the Viewsonic Home Screen is quite bland and disappointing. The UI looks like it was made in a few minutes with its simple square tiles and I couldn't find anywhere to download more apps natively other than the included Netflix. Sure you could find workarounds by using the included web browser, but unless you know what you're doing, many won't know how to do this. This meant I had to rely on my console to do the majority of my streaming (as I also didn't want to use the annoying phone app to control it).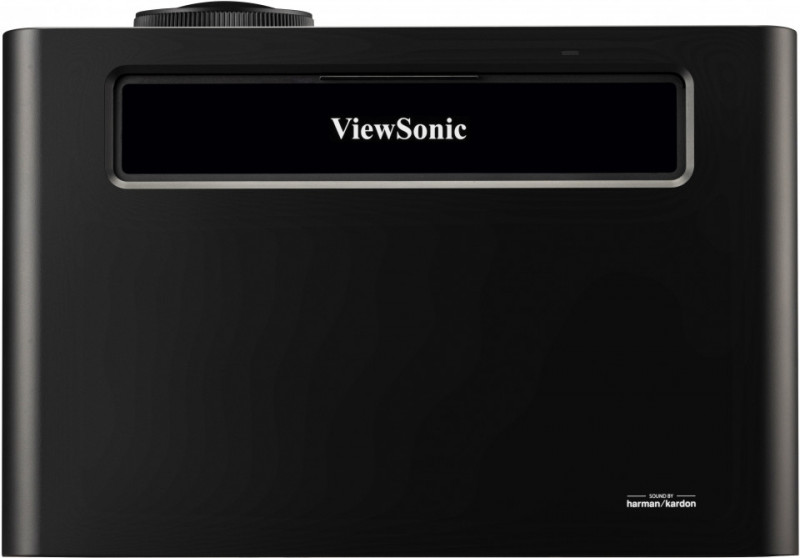 Final Thoughts

Having used the Viewsonic X2-4K for a number of weeks now, I'm somewhat torn with my final impressions. On one hand, the picture it can project is stunning with its room filling brightness, vibrant colors and smooth framerates, but there's a number of small annoyances that still bug me after weeks of constant use, namely being prompted to "Enable Ultra-Fast Input" every... single... time. Can I deal with a boring Home Screen and a constant nagging of enabling a feature, sure, but at $1599.99 USD MSRP, I just expected a little more even though it's in roughly the same price range of other similar projectors. Make no mistake, the X2-4K can project a wonderful image suited for gaming, TV, or Movies, and the included speakers won't fill a room like how your external speaker setup would, but it does a good enough job to not require it either.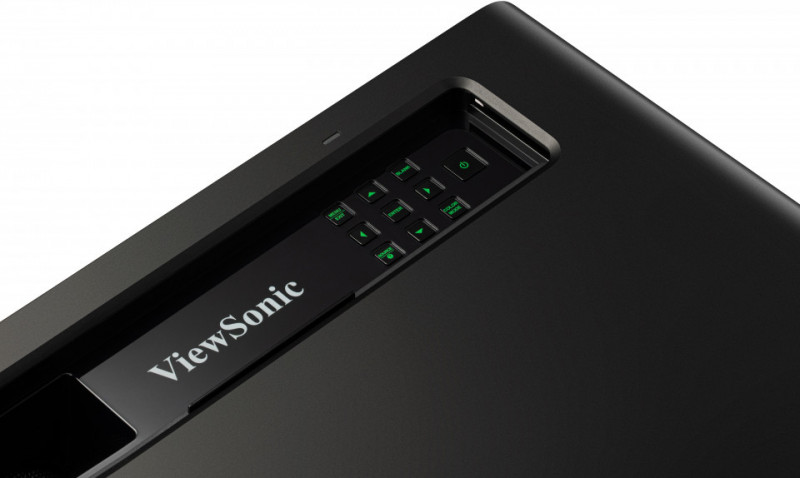 With having used the Viewsonic X2-4K nearly every day for the past few weeks, it's become integrated into our daily routine, usually watching something before bed or walking in and watching my daughter play her games on the wall for a little while. Being the world's first "Designed for Xbox" projector gives it a special distinction that no other can have, and while I would have liked a little more 'Xbox-ness' to it other than two small green trims, like maybe a native GamePass App built in to stream games, it's a start. It's clear Xbox trusts the Viewsonic brand and device, and after weeks of use, I have no problem recommending it either, just know there's a few minor annoyances as a tradeoff for a wonderful room filling picture once you calibrate it properly.

**Viewsonic X2-4K was provided for and reviewed with numerous consoles and media**



Overall: 8/10