Preview of Project Sylpheed: Arc of Deception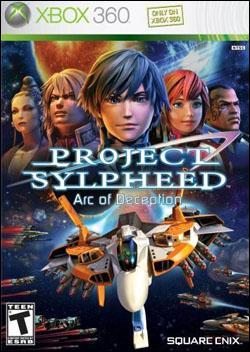 Project Sylpheed: Arc of Deception
by Jake Reardon

July 5, 2007
Back in 1986, Japanese game developer Game Arts released a space shooter for the PC-8810 named Silpheed. That codename referred to your ship, and you alone were tasked with saving the earth from an impending alien invasion. It was more than just a space shooter though; the game also incorporated a story to compliment the action. Silpheed was subsequently ported to the Sega CD followed by a sequel for the PS2. These later versions of Silpheed were often compared to the Nintendo's ever popular Star Fox series. Fast forward to 2007, swap out a vowel in the name, and top that with a healthy dose of high resolution 3d graphics, and you get the soon-to-be-released Project SYLPHEED. While still maintaining true to the franchise this sequel really amps things up with a variety of innovations that should please long-time fans of the series and newcomers alike. It also doesn't hurt that the original developers have teamed up with legendary publisher SquareEnix to bring the space shooter genre to life like never before.

You play the role of Katana, a young rookie pilot who ends up getting caught in the middle of an intergalactic war. Not only that, but one of your old buddies from your home planet, who was taken away for political reasons when you were younger, is now an ace pilot in the enemy fleet. Throughout the game you struggle to determine right from wrong and must come to grips with the realities of war. The story is told primarily through cutscenes, which are very well done and have a distinct, stylized look to them. As you adventure through the game you also get to interact with wing mates, ship commanders, and enemy forces. The story essentially gives a purpose to the missions and links them together nicely.

If you were to just glance quickly at the Project Sylpheed game screen, or jump right into the game without any flight training, you might think things on screen look very busy. You would be right. At the peak of action, there are missile trails, multiple ships, explosions, and HUD markers galore, not to mention pilot chatter and a radar screen. The subtle beauty of this all though is that every bit of information on screen actually serves a purpose. For this reason alone, the excellent tutorial mode comes highly recommended. You learn simple things like how targeting works or how to fire your weapons, all the way up to more advanced moves like locking onto and moving towards your current target and matching speeds with the enemy. What this all brings to the table is hidden layers of depth to the gameplay that you normally wouldn't expect to find in a typical intergalactic 3D dog fighter. There are a few moves that proved to be very useful at keeping a handle on the intense action on screen. Pressing and holding the A button locks onto the nearest target. Hold down the B button and then A and you are actually directed towards your currently selected enemy target. Using this method you can quickly find and attack enemies as well as keep a handle on your current mission objectives. You will also be in constant contact with your wingmen and allies, as the radio chatter never seems to stop. Luckily if you miss an important message, or can't figure out what to do next, you can always pause the game and review a log of the all radio transmissions.

There are a lot of customization options available to unlock and use as you progress through the story mode. Depending on how well you perform in each mission you are awarded Upgrade Points. These points can be used to research new weapons and technologies that can be loaded out onto your ship before each mission begins. In total, there are about 50 different customizable weapon combinations to equip onto your Fighter. Depending on the mission ahead you may want to build and load up your ship in different ways. For instance, if a mission involves lots of dog fighting and 1 on 1 battles vs. fast and quick ships, you definitely want to equip missiles with some sort of lock on capabilities. If you are going to be fighting giant capital ships or attacking humongous interstellar cruise missiles, something like a powerful but slow firing rail gun might be a better choice. Because of all of these possibilities, you will definitely want to go back and experiment with how well different weapon combinations work on various levels and replay them to try and get a higher score.

A variety of mission types are here ranging from all out space battles to the classic video game "escort" missions. The missions tend to be fairly long, and don't have any checkpoint or in-mission save features, so if you fail an objective near the end of a battle prepare to replay the entire thing right from the start. When you do fail though, you are able to take strategies you've learned and apply them towards your next attempt. It's a good thing the missions are fun and the action remains fast and furious. Between each mission you can go to the hangar and change the load out on your ship, view the upcoming mission details, as well as head to the arsenal and develop some new weapons. Those who really want to geek out on tweaking their ships with various weapons load outs should have a blast.

There really is nothing else on the 360 quite like Project Sylpheed, so if you are looking a little bit different, or just to beat the summer blues then give it a look. It's fun, fast paced, and has a story that at the very least should keep you playing to the end. It also doesn't hurt that the game is shipping at 39.99 US, but by no means does this game feel like a "budget" title.