NEWS - Saturday, February 26, 2022

Free Content and Merchandise Shop Launches For Farm Sim 22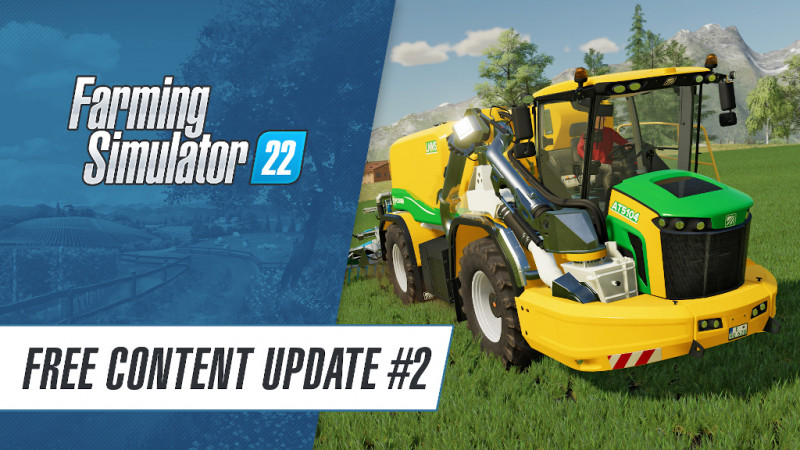 FREE CONTENT UPDATE #2 & MERCHANDISE SHOP LAUNCHED FOR FARMING SIMULATOR 22
Compact New Brand, New Machines, New Clothing Options & Real Merchandise! Publisher and developer GIANTS Software delivers content en masse with the second Free Content Update for Farming Simulator 22. It's included in Patch 1.3, packed with eight new machines, features and optimizations. One of the new machines isn't even available on the market, yet.

Machine Debut & New Harvesting Functionality
Dutch manufacturer Ploeger is introduced with the second content update, adding its latest four-wheeled self-propelled slurry tanker – that has yet to be introduced to the market. Find all new additions below, while the accompanying trailer shows the vehicles and tools in action.


Ploeger AT 5104 LNMS
Hardi NAVIGATOR 4000
Kotte PQ 32.000
Krampe Big Body 750 S
Fendt PowerFlow 30FT
Massey Ferguson PowerFlow 30FT
Fendt IDEAL ParaLevel
Massey Ferguson IDEAL ParaLevel
With the Fendt IDEAL ParaLevel and Massey Ferguson IDEAL ParaLevel also comes an exciting feature: Electric slope compensation allows the header of those harvesters to dynamically adjust itself to sloped terrain. More improvements and bug fixes included in the patch enhance the virtual farming experience.

Official Merchandise: High-quality fashion and gaming assets
On farming-simulator.com/merchandise, a growing set of items are now available (shipping not yet available in the United States). Small items like a keychain and pop sockets featuring the likes of Farming Simulator Rosy the cow are perfect little gifts; the pencil case, lunch box, and drinking bottle are useful companions for school, and most items are just as practical as they are fashionable.

Especially the sturdy thermos cup, the stylish beanie and the top-quality hoodie with leather appliqués will keep Farming Simulator fans warm. For the more gaming-oriented fans of Farming Simulator, a mouse pad as well as an extra wide gaming pad are available, too.