NEWS - Friday, June 16, 2023

Sound Blaster Katana SE: Room-Filling Audio, No Sub Needed

Sound Blaster Katana SE: Room-Filling Audio, No Sub Needed
This latest soundbar not only features the impressive audio capabilities of the Katana series but also delivers booming bass without the added bulk.
Creative Technology today announced the release of the Sound Blaster Katana SE, the latest gaming soundbar to join the ranks of the well-established Katana series, which now allows users to effortlessly enjoy powerful audio without the heft. With its award-winning bi-amplified four-driver system and Creative's proprietary multi-core DSP, this latest soundbar can offer rich and powerful audio with excellent clarity and volume, even without the need for a subwoofer. Coupled with Super X-Fi technology, 5.1 virtual surround capabilities, and versatile connectivity options, the Sound Blaster Katana SE is the ideal soundbar for gamers, movie lovers, and music enthusiasts who want an elevated audio experience without compromising on space or audio quality.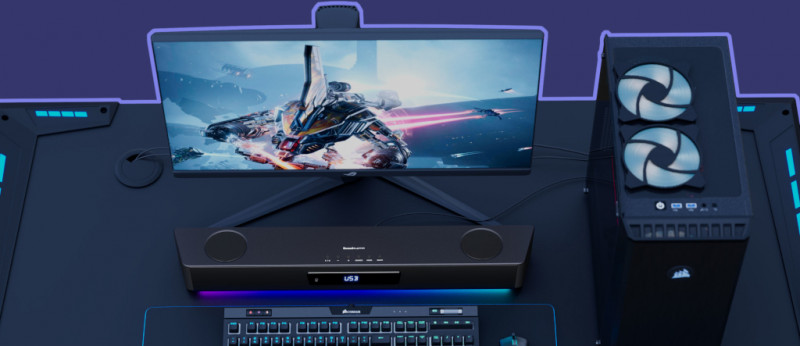 The Sound Blaster Katana SE offers a seamless yet powerful audio solution for users looking to take their audio game up a notch. Fitted with 0.75" fabric dome tweeters that help to produce cleaner and more refined highs and upgraded dual up-firing 3" mid-bass drivers that deliver full-sounding bass, this latest soundbar surpasses expectations to deliver an impressive audio experience that belies its size. Like its predecessor, the Sound Blaster Katana SE is also a certified Dolby Audio decoder, which allows users to easily recreate the cinematic audio experience within the comfort of their own home.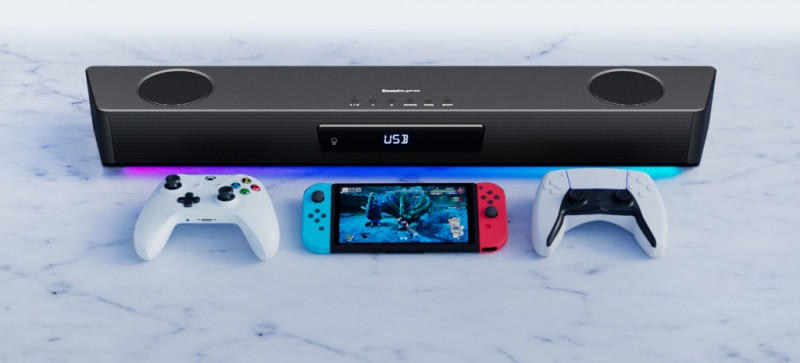 What sets the Sound Blaster Katana SE apart is its Super X-Fi technology, which allows users to enjoy an immersive audio experience through their headphones, perfect for late-night game binges without disturbing the neighbors. Moreover, gamers can also activate the SXFI Battle Mode and Scout Mode to gain a competitive advantage in FPS games by accurately pinpointing their enemy's location with enhanced in-battle audio cues and sound detection.

By connecting the soundbar to the Creative app, users can personalize their audio experience with the Acoustic Engine suite and choose their preferred RGB illumination modes, making it uniquely their own. These customized settings can be saved as profiles on either the app or the programmable buttons on the remote control, giving users easy access to their favourite sound and lighting configurations. Furthermore, the soundbar can be easily mounted on the wall, making it a convenient and space-saving addition to any home entertainment setup.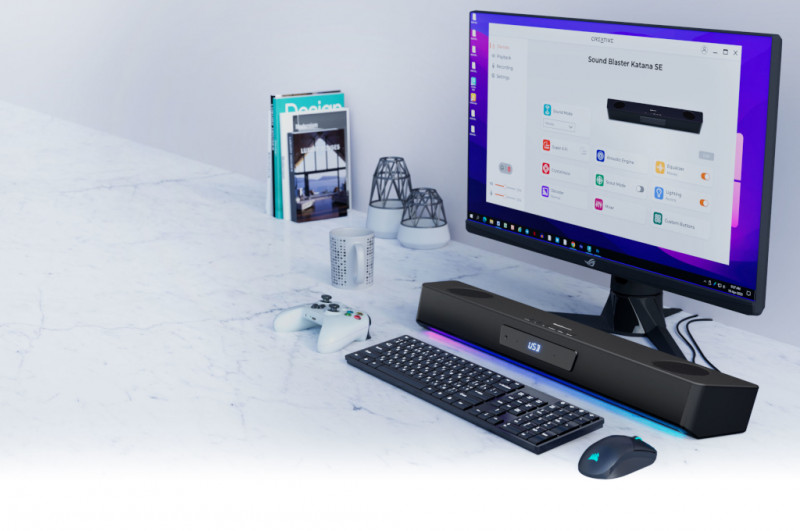 The latest soundbar also works as a one-stop audio hub with a wide variety of connectivity options, including USB, HDMI ARC, optical port, headphone jack, and wireless Bluetooth 5.0. It also works with various platforms, from gaming consoles such as the PS5, PS4, Xbox series consoles, and Nintendo Switch to PCs, Macs, and mobile devices. The all-in-one soundbar also features a built-in beamforming microphone, which allows users to jump on calls directly from the soundbar, making it an ideal feature for video conferencing.

Lastly, this all-in-one soundbar enriches the Katana Series by presenting a more comprehensive line-up of audio solutions to cater to diverse use cases, making it easier for users to find the perfect fit for their audio needs.

Pricing and Availability
Sound Blaster Katana SE is priced at US$299.99 and is available at Creative.com