Roccat Vulcan II MAX Keyboard Review
by Adam Dileva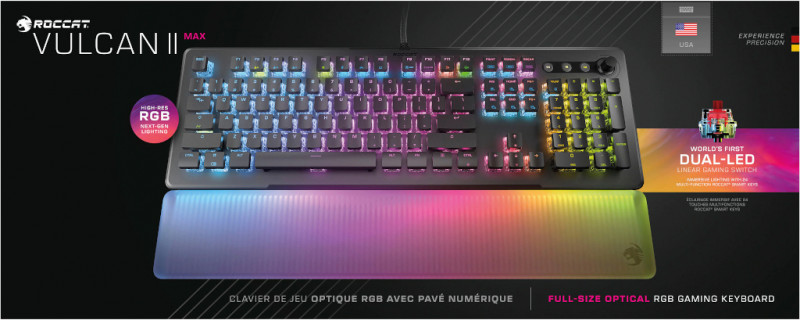 Features and Specifications

Form Factor: Full Size
Cable: 1.8m 2 x USB-A
Switch lifecycle: Tested to 100 million
Polling Rate: 1000 Hz
On-board memory: 4MB
Profile On-board: 5
RGB: RGB per-key illumination with 16.8m colors + 24 smart keys
Keyboard Rollover: Full Key (NKRO) with 100% Anti-Ghosting
Processor: 32-bit ARM Cortex M3
Software: ROCCAT SWARM
Adjustable height: Yes, double kick stand
Product Dimensions: 18.23 x 9.29 x 1.32 inch
Weight: 1040g (without palm rest) 1300g (with palm rest)
Switches: TITAN II OPTICAL RED
1.4 mm Actuation Point
3.6 mm Travel Distance

Included Inside

Vulcan II Max Gaming Keyboard
Detachable Palm Rest
Quick-Start Guide

Compatability

Windows 7 and above (software support)
2 x USB 2.0 (or higher)
Internet connection (for driver software)

It's quite a plain unboxing, no wow factor, simply undo the latch, lift open, and take out the keyboard and cable. I get that this isn't a high end premium keyboard, but I know unboxings that are exciting always are memorable.

To the MAX

Originally founded 2007 in Germany, ROCCAT has seemed to been slowly creeping into the spotlight in the past few years with their latest gaming line of quality products, and since 2019 has been a part of the Turtle Beach brand. I was introduced to them with their ROCCAT Torch, a great microphone I still use to this day and recently just reviewed their Vulcan II Mini keyboard (which you can read HERE) that I really enjoyed, even if I struggled with its 65% form factor (to no fault of ROCCAT). While I did eventually get used to the smaller form factor, I was never able to reach my full WPM typed potential when compared to a 100% sized keyboard. Well, my prayers have been answered. The Vulcan II MAX is essentially the same keyboard as the mini, though obviously larger, being 100% in size and a few extras. Welcome home to the MAX.



Having spent the last few weeks going from the Mini to the MAX has been interesting. I was just starting to get used to typing faster with the 65% Mini, but I still longed for a full keyboard, as decades of typing with a full 100% size is a very hard habit to break. I was more excited to check out the Vulcan II MAX, and coming 'home' to a full keyboard was very welcome. I quite enjoyed the Vulcan II Mini, so I was glad to see that the MAX is essentially the same keyboard at its core, having the full number pad and arrow key row I missed so much, as well as a few media controls as a bonus.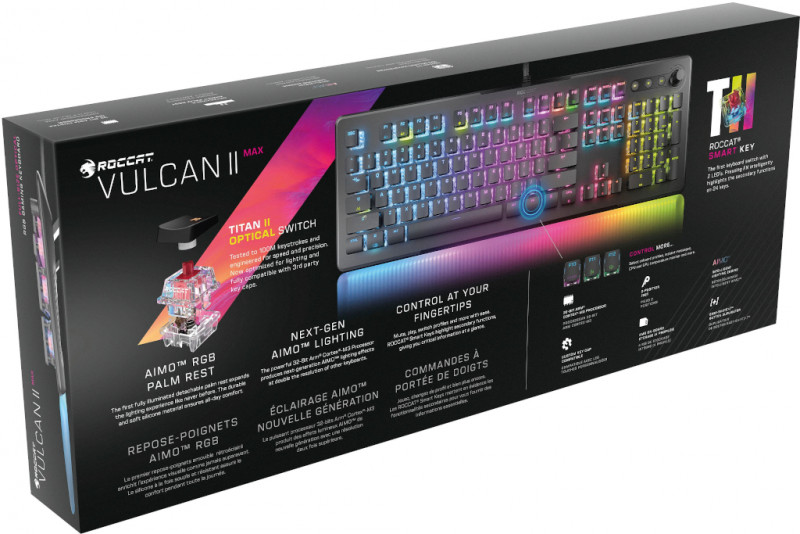 Given that the MAX keyboard is virtually identical to the Mini in terms of functionality, portions of this review will mirror my Mini review, and that's not a bad thing since I quite enjoyed the Mini. Transitioning back to a full 100% keyboard did take a little getting used to again, but after an hour or two it was like being back home; my fingers simply knew where to be and I didn't have to memorize any awkward key combinations since I had every key I needed (the tradeoff you make for the smaller keyboards).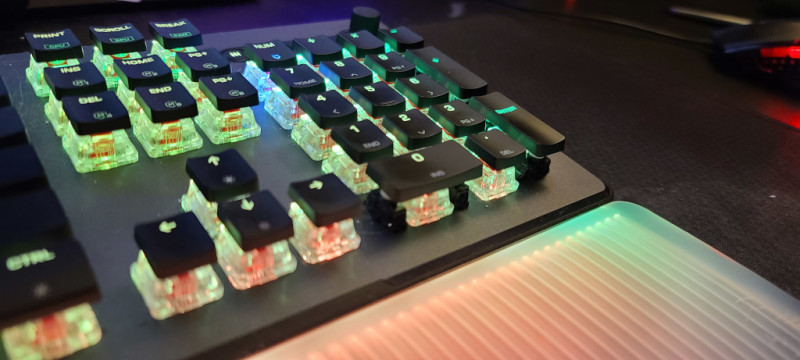 At $299.99 CAD MSRP, it's a bit more on the expensive side with other keyboards in this range, but they do differentiate themselves with the MAX in a few different ways. The 1.8m braided cable does look and feel premium and is long enough for most setups, but I'm kind of surprised that it's hardwired to the base itself and not detachable. Also, plugging in requires two USB-A ports, so I hope that won't be an issue for you depending on the accessories you have plugged into your motherboard or USB hubs. I can only assume it's required to power the numerous RGB keys and switches, but I did have to move some of my plugged in devices to other ports to accommodate.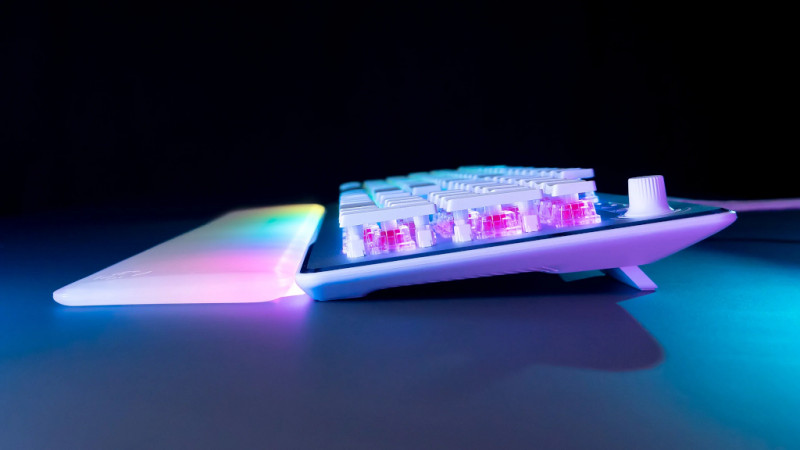 So what makes the Vulcan II MAX from Roccat so special, or why would you choose it over the competition if it costs more? Well, it's all going to depend on what you value when choosing a keyboard. Do you primarily decide based on brand alone? What about the types of switches it uses? Optical versus mechanical? Is your PC gaming setup meant to showcase how much RGB you can fill the room with?


Well, if you're an RGB enthusiast, you're going to want to take note of what the Vulcan II MAX can offer then, and while yes it's a perfectly suitable keyboard overall, this is one of the main selling features of the keyboard, as it's doing things a bit differently than everyone else. A wired optical keyboard with TITAN II switches that has a unique RGB design due to the low profile keycaps that allow more of the lighting to shine through.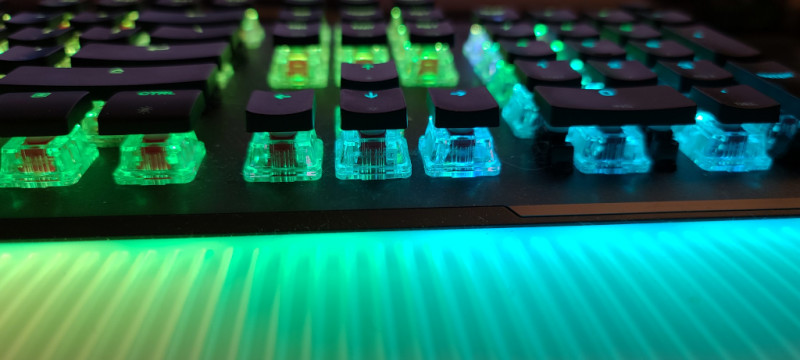 A Premium Look


The Vulcan II MAX has a good heft to its weight, coming in at 1040g (without palm rest), 1300g (with the palm rest). That's right, the MAX comes with an included palm rest, and while completely optional to use, it's also used to help highlight its RGB capabilities. There's an Arctic White or Ash Black option when purchasing, but we were given the black edition. There's nothing outside of the RGB that really stands out aesthetically aside from the outer plastic casing's minor contrast to the aluminum part the keys rest in that give its stability.

The aluminum base does feel quite sturdy and give its weight to the keyboard, though some accents or something would have made it stand out a little more, but once you see the bright RGB glowing in all of its glory I guess it wouldn't matter anyways. The height can be adjusted from flat, half or fully raised with the two setting feet, so you're sure to find your most comfortable angle. Sure I would have liked a slightly higher setting, but I've since made the adjustments.

RGB Palm Rest

The Vulcan II MAX comes with a palm rest as well, something you don't always see with keyboards. While some don't prefer to use one, I always have, usually quite a plush or tall one to keep my wrists at a horizontal angle. The included palm rest is actually quite thin and translucent. The idea is that it attaches to the front of the keyboard in specific notches that the RGB lighting comes through and then carries that lighting through the palm rest as well.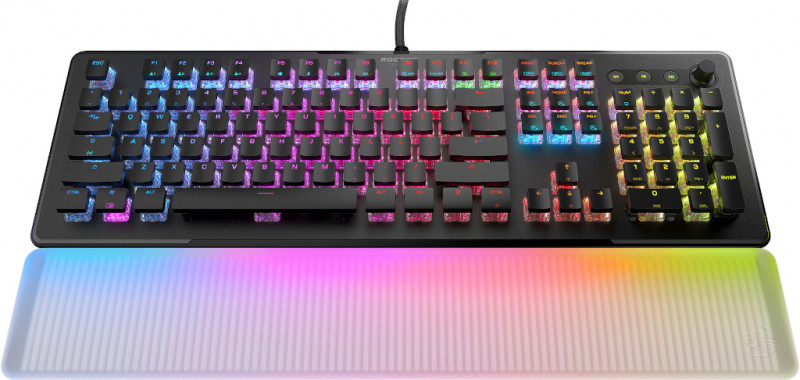 That's right, your palm rest will now have RGB lighting as well, even if it's done passively. Of course you don't need to use the palm rest should you wish, but the RGB lighting has nowhere near the same effect without it. The silicone has these ribbed channels underneath that carry the RGB lighting from the keyboard to the bottom of the palm rest, slowly dissipating the glowing effect. The numerous tabs of the palm rest simply go into the notches in the front of the keyboard and then just stays in place. My only wish is that the palm rest was actually thicker, plush, or had some sort of gel. It's really quite firm and simply keeps your palm from resting on your desk or desk mat instead than actually giving support.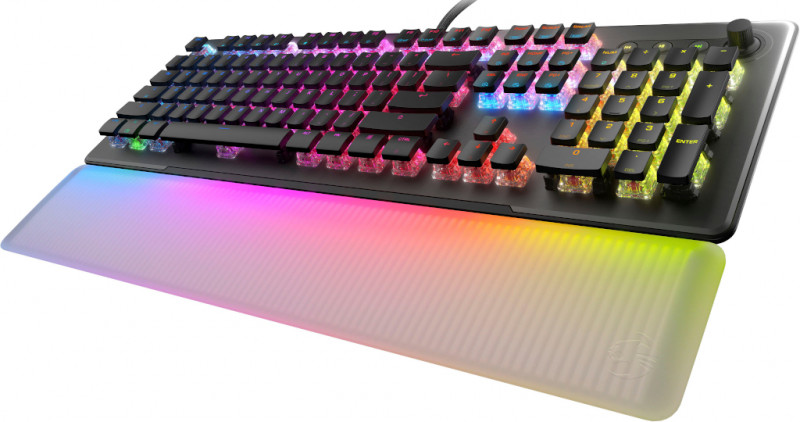 Keycaps

The keys themselves are fully sized, but low profile. This means it's really just the tops of the keys themselves and not the full casing that goes down to the switch itself. This is the major reason why the keyboard is so bright with its RGB, as it has plenty of room to shine through between the each key.




Speaking of shine, you can expect the keys to do so over time given they are made from ABS plastic. These are the more common type of plastic for keys, but if you've ever used a keyboard and had the most used keys become shiny and smooth over time, that's due to the ABS type of plastic. While using the keyboard for the last few weeks (and even the Mini weeks before), there's been no scuffing or shiny differences, it's hard to say how long it will start to do so over the next few years. The keys themselves are also quite smooth and slick without any texture to them at all, so this might also be a reason the adjustment period takes a little while.

TITAN II Switches

The Roccat Vulcan II MAX uses their exclusive TITAN II Optical switches (Red), and while they're built into the board itself and not swappable, they use the standard 'cross' for the keycaps. What makes these great is its incredibly short actuation point. At a miniscule 1.4mm actuation for each keypress, you barely need to press the keys for it to register. While most won't notice much of a difference, those that are professional gamers are always looking for any advantage they can get, and these switches might make the smallest difference.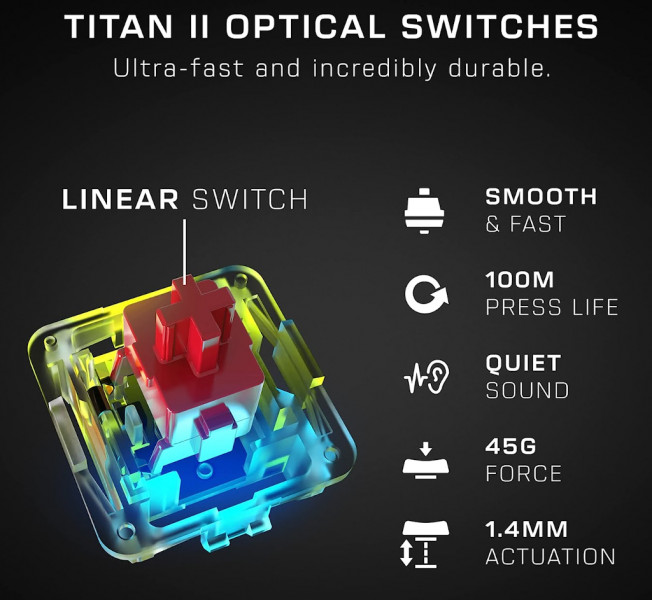 If there's one thing I love, it's a good feeling switch and the sound that accompanies it. I tend to be a really hard typist. You could easily hear me typing from across the room or maybe even in the kitchen when I'm on a roll, that's just how I've always been. I'm quite pleased with the tactile feedback of the keys and the sound they give is audio bliss to my ears once you're typing incredibly fast WPM. While nowhere near as loud a mechanical keyboard with specific switches and keys, it has a satisfying sound for a heavy typist like myself. If you try though, it can also be quite quiet if you get used to that quick actuation point and don't need to press the key all the way to the top of the switch casing.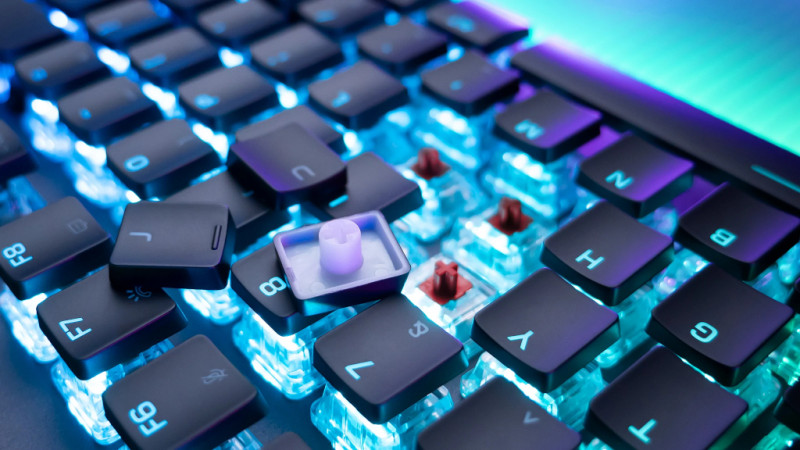 With a durability rating of 100 million keystrokes, you shouldn't have to worry about any replacements anytime soon either. Because of the standard 'cross' connection for the keycaps themselves, there's no reason you couldn't upgrade or customize your Vulcan II MAX to appear exactly how you want, or mix and match from your older sets.

Keys and More

When I was reviewing the Vulcan II Mini, I had to get used to know having all of the keys a full keyboard like the MAX has, so I had to get used to their EasyShift [+] keys, essentially a secondary function layer that can be completely customized to whatever your needs are. The clever move Roccat has done though is used the dual LED's in each key to indicate if these are active or not, but this will take a little time to figure out and setup in their Swarm software. I'll admit, I loved the idea of the secondary function layers, but it's a bit convoluted to setup and figure out and I simply spent more time trying to figure out how to do what I needed rather than instinctively knowing.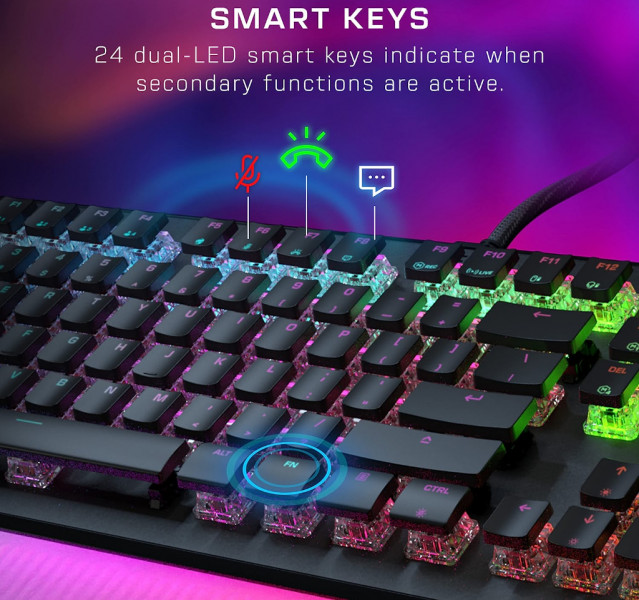 Thankfully because the MAX is a full sized keyboard, I didn't have to rely on these secondary layers of keys very much. Sure, if I really wanted I could set up some macros, multimedia controls, hotkeys or more if I really wanted to customize it, but I was more than happy having every key and a trusty number pad back.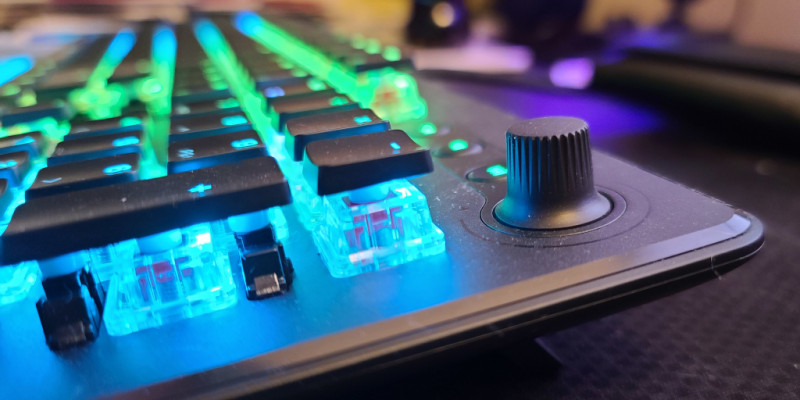 Included on the MAX is also some media controls in the top right corner above the number pad. Here you have three buttons and a volume knob. 'Back', 'Play/Pause' and 'Forward' are the three round buttons flush on the face of the keyboard itself and the volume knob just slightly lower than the keycaps themselves. What I do like about the volume knob is that it has the notches that 'click' distinctly and a quick press is also how you can mute on the fly if needed. There's also a good texture around its edges to prevent any slips when trying to adjust quickly or without looking.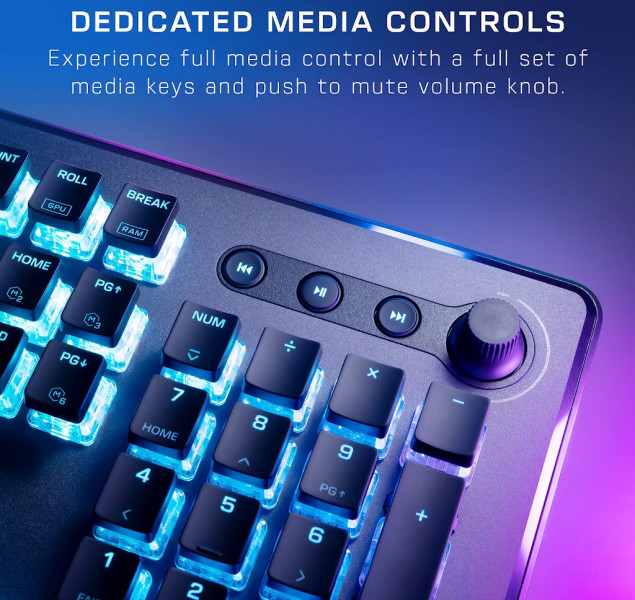 RGB – Function AND Looks

Is a gaming keyboard even truly a gaming keyboard if it doesn't light up the room with its RGB? Roccat seemingly didn't want to have any doubt, and the Vulcan II MAX has some of the brightest and over the top RGB I've seen on a keyboard lately, and that's not even including the palm rest that accentuates it even further. Of course for those that don't want the RGB at all it can be turned off or dimmed, but I wanted it to light up my room, and it does just that.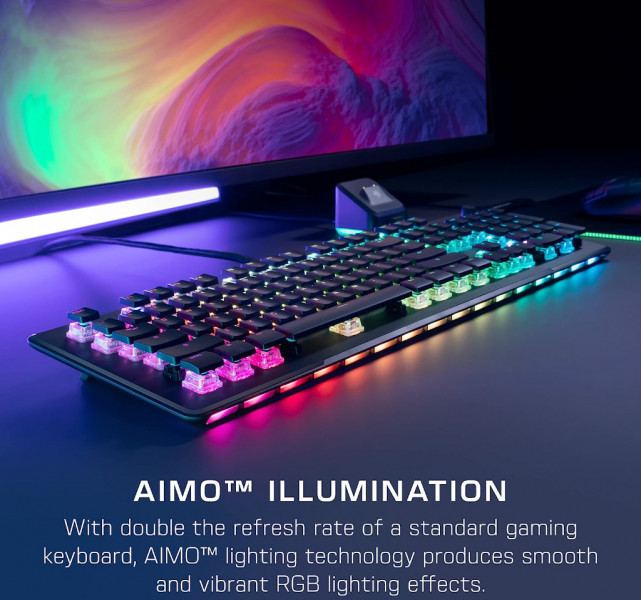 Roccat boasts that it's the first to have Dual LED's in their switches, and I believe they're correct. This isn't just to add more RGB lighting, but there's a functionality reason behind it as well. Each switch and key can display two different LED colors, one on the top and bottom of the switch (north and south). This is how you can denote what secondary function will happen if you use specific key combinations. For example, folding the 'FN' key down will highlight the icon at the lower part of each keycap to indicate that's what will be used if you combine the presses. For example, when the NumLock or CapsLock key are pressed, the bottom of the switch glows, indicating it's enabled at a quick glance.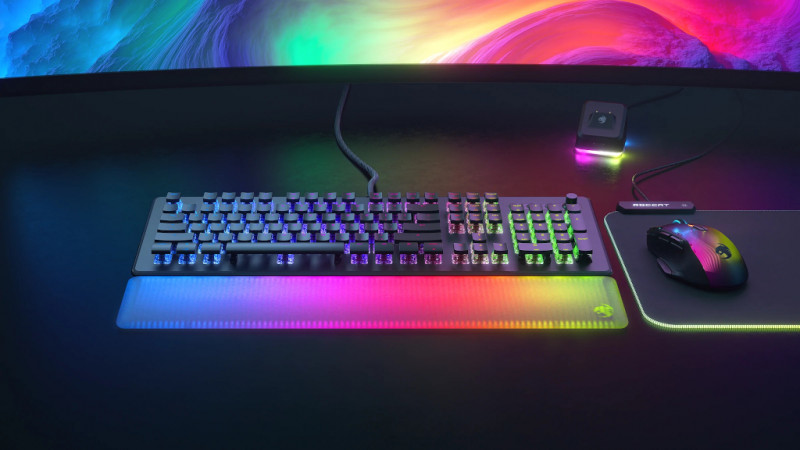 While the dual LED's are novel, there's not as much distinction between the 'north' and 'south' LED's, so it's sometimes hard to see what secondary function is lighting up when you're still learning the keyboard. Because of the very thin and low profile keycaps, the dual LED's are quite bright and easily shine through the keyboard itself at all angles. At its brightest setting you can type in the complete dark with ease with the bright colors coming through the keycaps themselves but not to the point of being distracting.


Again, you'll need two USB-A ports to plug the keyboard into, somewhat of a surprise since there's no USB pass-through or ports to plug anything into the MAX directly, which is why you usually have a second USB plug-in. Not a deal breaker, just something to be aware of.


Swarm Software


You can unbox and plug in the Vulcan II MAX without any software needed should you wish, or quickly wanting to use on another machine, but Roccat's Swarm software is how you configure it to your exact liking and specifications. Not only can multiple profiles be saved to the keyboard and swapped to on the fly with some key combinations, the Swarm software is how you're going to customize the keyboard even more so. Not just from the RGB settings either, but if you really want some interesting sounds for every key press, like laser 'pew-pew's', go for it. While the software itself is simple enough to figure out, it's a little convoluted when it comes to setting up the different key combinations, but I think that's more due to Roccat not explaining it simply. Not only can you customize the keys, but you can fully reprogram them, make macros and more.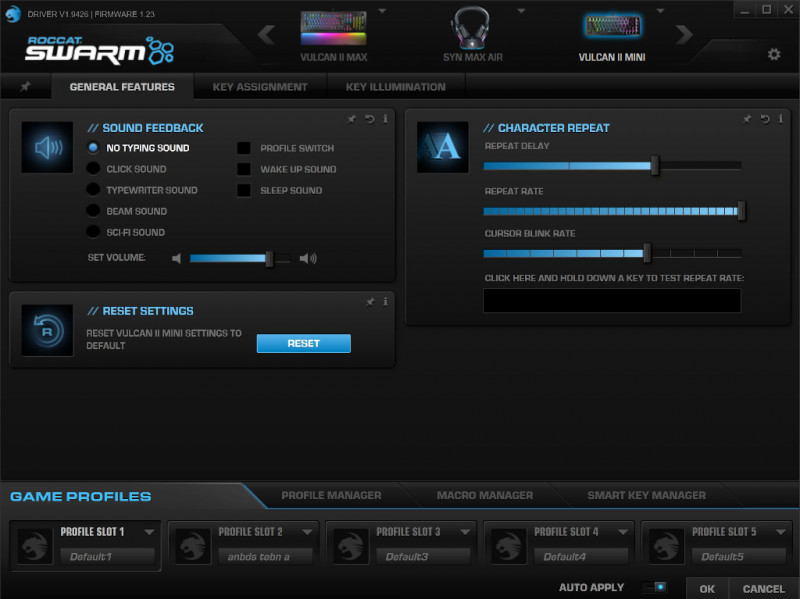 Most will most likely use the Swarm software to customize the RGB lighting, giving a good amount of options based on your setup and preferences. While it doesn't seem like you can set the RGB on a per-key basis for full customization, there's a handful of different RGB lighting options to choose from then alter the brightness, color(s) and speed.

You can choose from Waves (changing colors like a rolling wave, right to left), Snake (just like the old school phone game that goes around the keyboard randomly), Lighting Off (self-explanatory), Fully Lit (choose your favorite color and blend of two), Heartbeat 2.0 (which pulses the left and then right side of the keyboard much like a heartbeat), Breathing 2.0 (much like Heartbeat, but expands from the top middle of the keyboard outwards, like someone breathing), Fade FX (keyboard is off other than when you type, fading out slowly), Ripple FX (like Fade but LED's extend outwards at each key press), Custom Mode (allowing you to make specific choices for WASD, Arrow and FN keys) and lastly my favorite, AIMO Intelligent Lighting.




AIMO is almost like an AI that adjusts to what you're doing, learning as time goes on. When not in use it will change its pattern of idle lighting, but as I type, keys highlight and then slightly expand outwards for the lighting. It's a really interesting effect and if you have other Roccat peripherals or AIMO compatible devices, it will all sync flawlessly together as if it's one unit. The biggest miss here is that there's no specific lighting around or on the volume knob, as it would have been cool to see a level meter or something fill based on the system volume as you change it.

Final Thoughts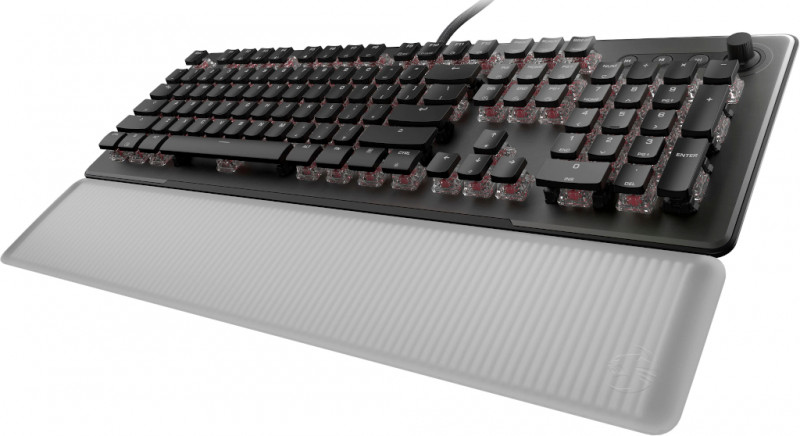 The ROCCAT Vulcan II MAX is a tad pricey, but if you're an RGB enthusiast that also wants a full sized 100% keyboard, it might be worth looking at. It's a very sexy looking keyboard, and the dual LED's may seem like a gimmick at first, but they do have a practical function also. Gamers looking for any advantage for competitive gaming will surely appreciate its incredibly quick actuation point and the incredibly bright RGB surely screams gaming peripheral.

**Roccat Vulcan II MAX Keyboard was provided and reviewed with a PC**



Overall: 9.5 / 10